Request A Quote
(Elevation, CAD Details & Specs)
---
Maximum Glazing Panel Height: 30'-0"
Maximum Glazing Panel Width: 48"
Glazing Available: 3/8", & 9/16"
Available Glazing Types: Clear Tempered, Low Iron, Laminated & LCD Privacy Glass
Standard Frame Finishes Available: Polyester Powder Coated (RAL colors), Brushed Stainless Steel, & Custom Finishes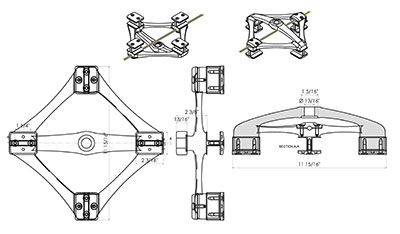 The Elevare™ Tension High Wall System is an innovative supporting system for monolithic, laminated or insulating glass without drilling or cut outs. The system features a system of studs of composite materials, top mechanical resistance and REI certification for fire resistance. Allowing glass panels to be in direct contact with the use of articulated screws (rotules) which allow axial and rotation, gaskets and fillers are not required for installation. It's design allows for the movement/reconfiguration/relocation the connection elements in a monolithic, laminated or insulating glass system.
The maximum panel height is 30'-0". Configurations may be straight, angled or curved. LCD, pivot, sliding and hinged doors may be installed. Glass doors (single glazed and double glazed) are all compatible within the system. Standard frame finishes include: polyester powder coated finish (RAL), brushed finish, stainless steel finish and custom finishes are also available.
---
LEED 2009 (v3): MRc3, MRc4, MRc5, MRc7, EQc4.2, EQc8.1 and EQc8.2.
LEED v4: MRc1, MRc3, MRc4, MRc8, EQc2, EQc7 and EQc8.
(Elevation, CAD Details & Specs)

Elevation Overview:
A The component is fixed directly to the supporting structure; tubular supports, pillars, brickwork through mechanical retention.
B The component is fixed to pre-tensed cables:

B1 Single large-diameter high-tension cable to resist to vertical burdens (own weight) and horizontal burdens (positive and negative drive from the wind and accidental actions).
B2 Vertical cable plus wind-bracing with rod systems.

C The component is fixed to a glass wind-bracing structure (Glass Fins).
Have A Question?
We would be happy to assist you with any additional information you may need. To send us a message, please fill out the form below. If you are looking for pricing or a formal quote please request a quote here.