Eclipse

™

Sliding Glass Pocket Doors
Request A Quote
(Elevation, CAD Details & Specs)
---
Highlights: 4″ Stainless Steel handles are standard, Locking mechanisms are available, Curved applications are available, Floor track for the door location, top hung door rollers
Glazing Available: 3/8″ & 1/2″
Available Glazing Types: Clear Tempered, Low Iron, Laminated & LCD Privacy Glass
Standard Frame Finishes Available: Standard RAL 9006 and Clear Anodized. Custom Color Powder Coating Available
Integration: The Pocket Sliding Glass Door slides smoothly into any of our double glazed wall systems. It retracts between the fixed panels for an ultra-modern entryway.
Description
The Pocket Sliding Glass Door slides smoothly into our Solare™ Double Glazed Partition System or a solid traditional wall offering a space saving, ultramodern interior entryway, pleasing to the eye.
Tempered, laminated and low iron glazing is compatible with the door, and may be clear, patterned or have a custom graphic. The Glass Pocket Door fits into straight or curved configurations. A pair of Glass Pocket doors is also an option for wider entryways. Our 48" stainless steel pull handle comes standard with each door. Lockable pull handle hardware is also available. Each pocket door system includes stainless steel components and a floor track for door location. Available frame finishes include our standard polyester powder coated finish (RAL color choices), Brushed Finish and Stainless Steel Finish. Custom finishes are also available.
(Elevation, CAD Details & Specs)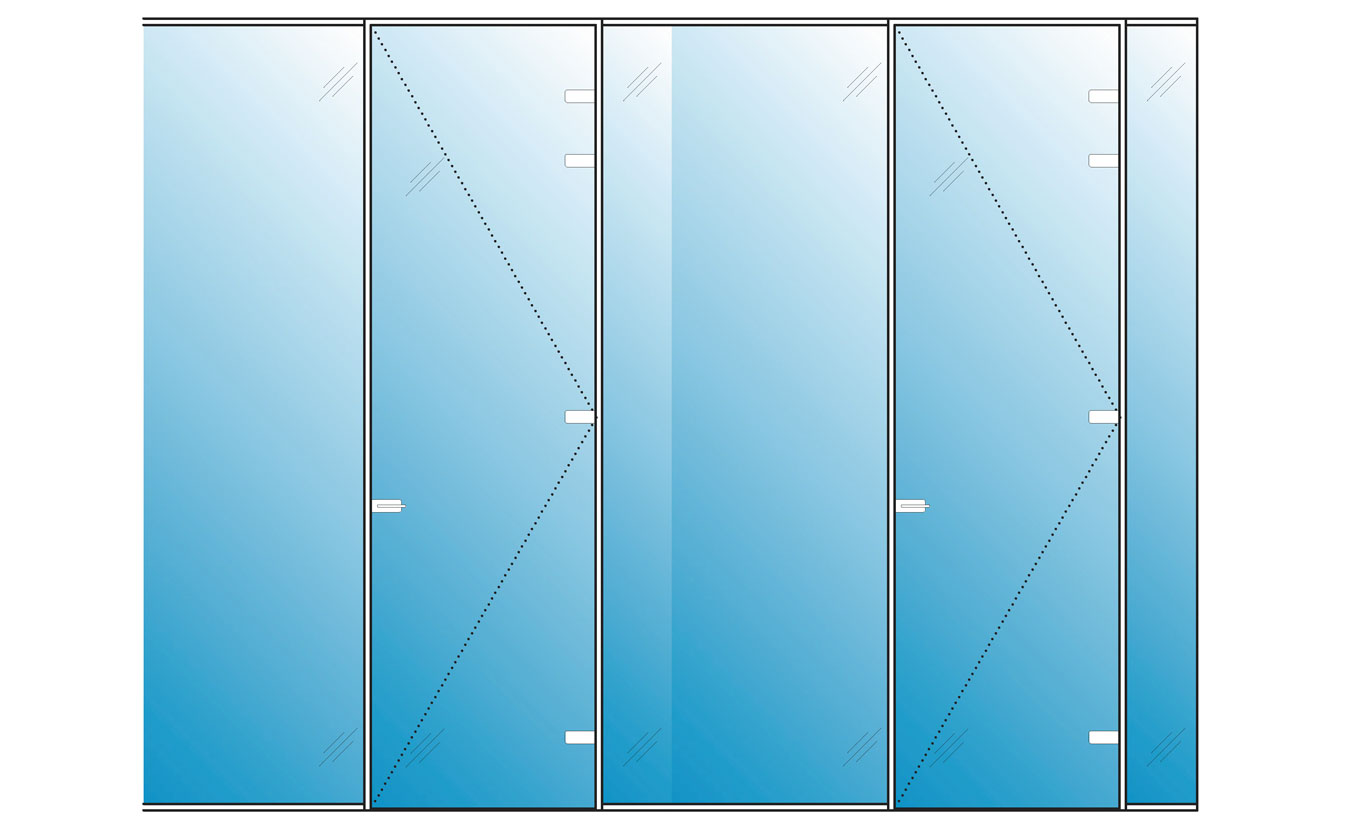 Specifications (3 Part Spec)
Download Individual Specifications:
The Pocket Sliding Glass Door is completely compatible with all of our systems which are fully demountable, which qualify for LEED credits.
Q: Maximum height achievable?
A: Standard height allowable 10'0" for 1/2″ glass. We can go higher with 5/8″ or 3/4″ glass and/or structural fins. (Anything higher can be engineered accordingly with the assistance of heavier track or seismic header channel and/or thicker glass).
Q: What is the maximum glass size available?
A: 48" x 120" as a rule of thumb however, job conditions, unloading conditions and elevator size may determine the largest glass size that can be used on the job.
Q: What are the glass thicknesses that can fit the system?
A: Our system is extremely versatile, we can support – 1/2″, 5/8″ & 3/4″ glass thicknesses.
Q: Which doors can I incorporate with the system?
A: All glass doors, all glass doors with acoustic frame, acoustical double glazed door with acoustic frame.
Q: What are my Finished opening Tolerances?
A: On the floor or ceiling or walls the tolerance allowable out of plumb , level and square are 1/8" – 3/8" at Maximum. (anything outside of these tolerances will require either shimming or custom shaped or cut glass to fit perfectly).
Q: What are the standard aluminum and hardware finishes available?
A: Brushed or polished stainless steel.
Q: Can I select a custom color for the aluminum paint finish?
A: You may choose any color or finish of your choice but know that anything outside of the standard, additional costs may apply. We can match any RAL color.
Q: Does Avant offer design and engineering assistance?
A:Yes, we can assist in the planning of your project, please see our Engineering & Design Service
Q: What is the tested sound rating for the system?
A: Lab tested 35 STC for a single glazed system, up to 44 STC for a double glazed system.
Q: What is the Avanti material warranty?
A: Our material warranty is 2 years.
Q: What is the lead time for the framing system?
A: 4-6 weeks for most systems and applications. Custom finishes, custom hardware and custom details will add to the lead time.
Q: How ready should my surrounding opening be for dimensions to be taken?
A: Preferred to be a finished/finalized opening when taking dimensions but if it is for an un-built space, we would work off HOLD to dimensions and you and or your Framing Carpenter agree on and have signed off so the opening is built to the dimensions that all the parties agree and the Glass was the same. This will help with lead times so that as soon as your opening is built, your glazing materials are there and ready to go.
Solare

™

Double Glazed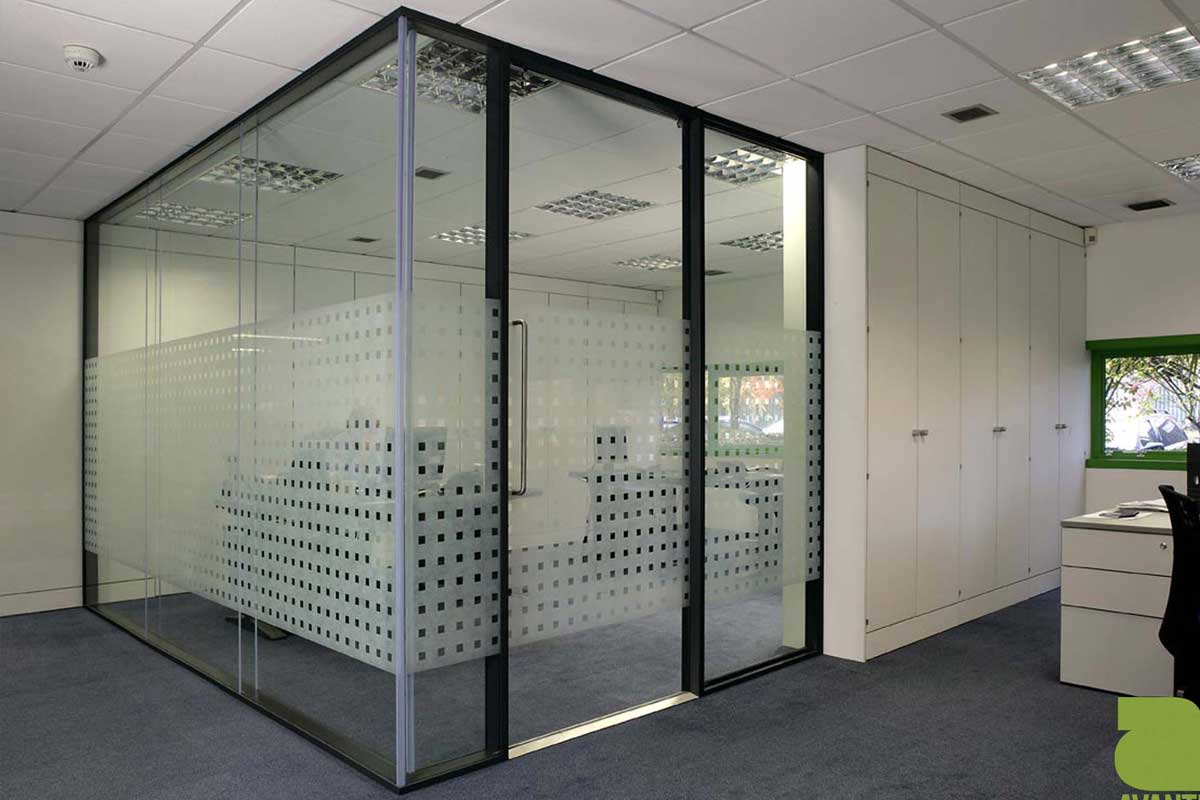 Have A Question?
We would be happy to assist you with any additional information you may need. To send us a message, please fill out the form below. If you are looking for pricing or a formal quote please request a quote here.