Flexible architecture, as it relates to a space's ability to be "malleable, movable, and multi-purpose," is increasingly becoming the goal in modern design, and more and more companies are turning to flexible architecture to meet the changing needs of their space. To achieve this goal, it is essential to choose materials that encourage an environment of innovation while supporting the ability to meet its changing needs.
5 Benefits of Demountable Architectural Walls
Movable and demountable walls provide a host of benefits to support a space that meets the needs of people where they are. Whether it's creating a conference room in seconds or opening a space for a large scale event, these partition systems are changing the way people do business.
1. Creates a Flexible Space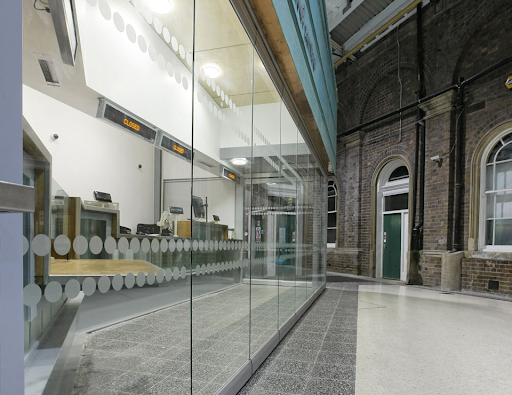 The flexibility of demountable systems is apparent in a situation where a space needs to be closed and secure outside of business hours and then open and easily accessible during business hours. The MovareTM Movable Single Glazed Partition System creates the option to open or enclose a large area quickly and efficiently, and with multiple parking configurations to choose from, they are a flexible, hassle-free solution.
2. Promotes Sustainable Architecture and Design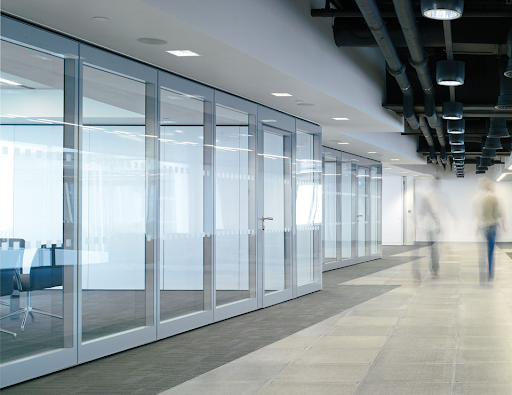 Demountable architectural walls are an integral part of a flexible design, and they also promote sustainable architecture. These wall partition systems have components that contain recycled material and are infinitely recyclable. They serve multiple purposes in the same space, and when they are no longer needed, they can live on when they are recycled.
Using a MovareTM Movable Double Glazed Glass Partition system allows natural light into the building, creating a healthy space for employees with the potential to reduce energy costs on heating and lighting.
3. Contributes to the Aesthetics of the Space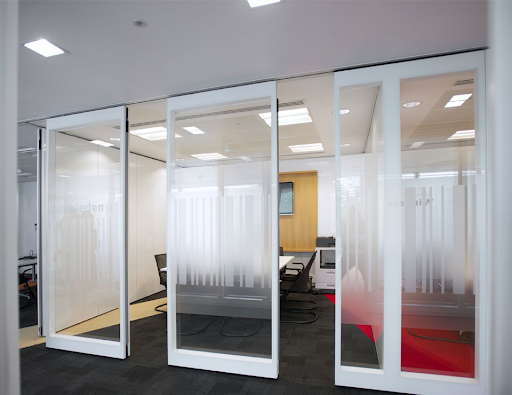 Modern design incorporates glass for a variety of reasons — it's sustainable, easy to clean, and flexible — but it's also a beautiful material that enhances the aesthetics of a space. Whether it's frameless or framed, glass provides outside views and visual connection within the space, as well as allowing natural light. Adding customized frosting or graphics can increase privacy while further enhancing the space's aesthetics. 
Many of Avanti's glazed partition systems are available in full height floor to ceiling applications, and can be a straight, angled, or curved configuration. Partition systems can be further customized with a variety of doors. Depending on the needs of the space, Avanti offers ArboroTM Timber Swing Doors, Pivot Frameless Swing Doors, Hinged Framed Swing doors, an Acoustic Double Glazed Glass Swing Door, and a variety of sliding doors that allow you to create the perfect entry into any space.
4. Seamlessly Incorporates Biophilic Design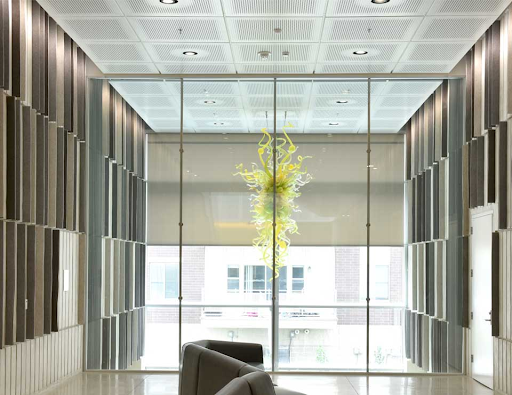 The main tenant of biophilic design is that humans naturally crave a connection to nature, and this design philosophy seeks to satisfy that craving. By connecting humans to the natural world through natural light and views of the outdoors, glass is a quintessential biophilic design material.
The Atrio AltoTM Atrium Wall System can be used to create an open and inviting interior space. Creating a visual connection to nature can help alleviate issues of fatigue, lack of inspiration, and low productivity. Choosing to incorporate glass demountable architectural walls into a building's design can have a significant impact on the health and wellbeing of those that inhabit it for years to come.
5. Enhances User Experience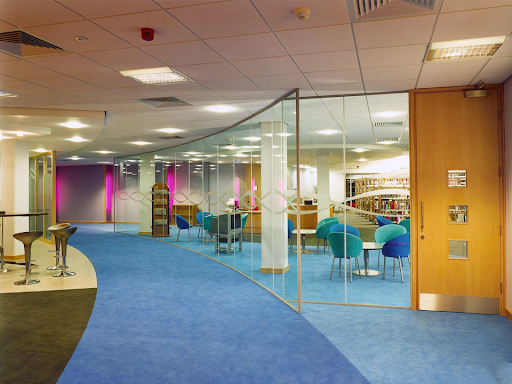 Demountable architectural walls that are installed in hospitals, schools, or offices, provide many benefits for those that use the building whether they are employees, students, visitors, or patients. The natural light that can penetrate into the interior of the building provides an extraordinary number of health benefits, both physical and mental. By allowing a visual connection to other parts of the building, those inside can feel a connection to others around them, even if they are in their own space.
A Demountable Wall for Every Project
There are multiple demountable architectural wall systems to choose from, and Avanti Systems has a demountable or movable wall for every project. Demountable partitions can be removed and reconfigured and movable walls can be parked in different ways that allow the space to adapt, and these partition systems provide the best in flexibility and customization.
Contact an expert at Avanti today to design a flexible space that can adapt to a business's changing needs.