In a modern office, open concept designs are giving way to new strategies that maintain a feel of openness while creating privacy for those that need it. To achieve this balance, glass office doors and partitions are often used which offer a host of benefits. 
Some of these benefits include allowing natural light into the interior of an office, providing privacy without feeling too closed off from the larger office, and creating a chic and modern aesthetic office design. 
As offices have become increasingly collaborative and open, it's become clear that privacy is essential to being productive and getting work done. And while "Work is fundamentally social, and plenty of work requires collaboration," privacy is also necessary to complete certain tasks, do deep work, make phone calls, or meet with clients. 
Glass partition systems and glass doors can provide sound privacy, but one concern you may have is their ability to provide visual privacy for those in the office. That's where customized frosting comes in.
Add Frosting Strategically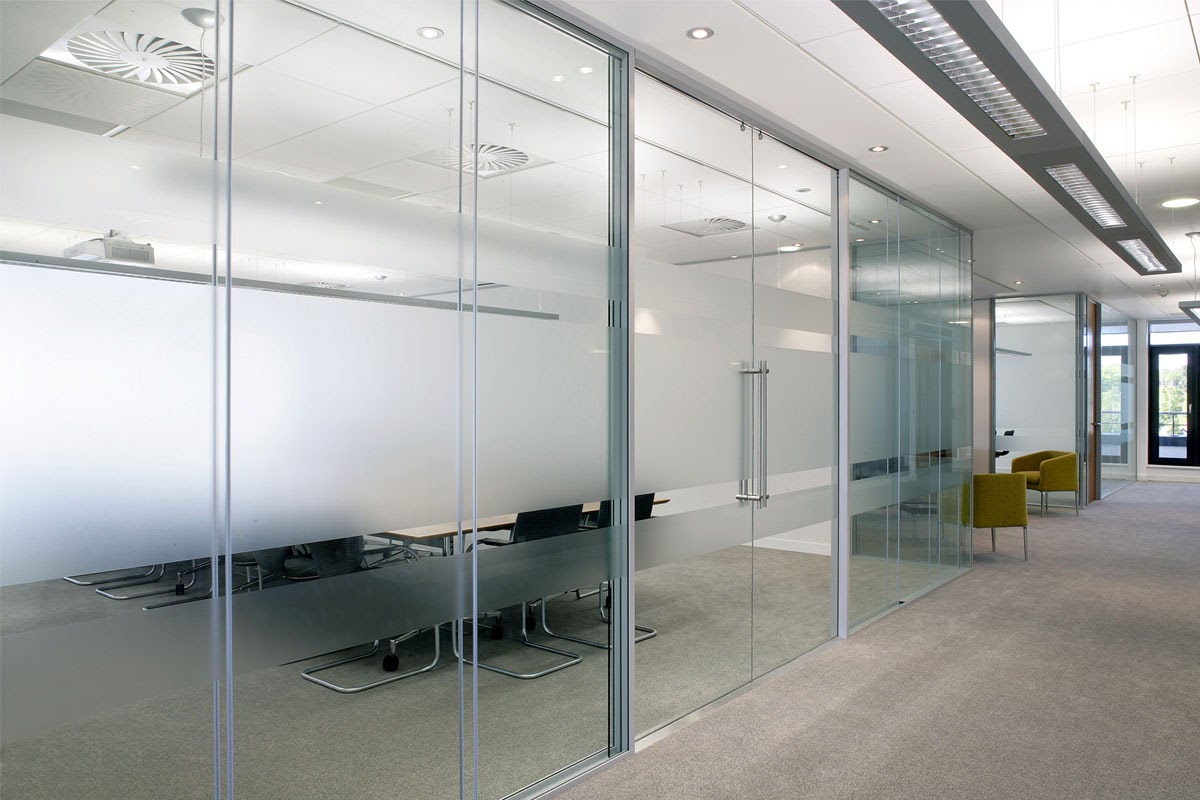 Where an open feel and natural light is a priority, you want to have as much unobstructed glass as possible in your glass doors and partitions. When privacy is a necessity, strategically frosted glass doors can give you the best of both worlds. Frosting the center section of glass creates privacy for those inside whether they're standing or sitting.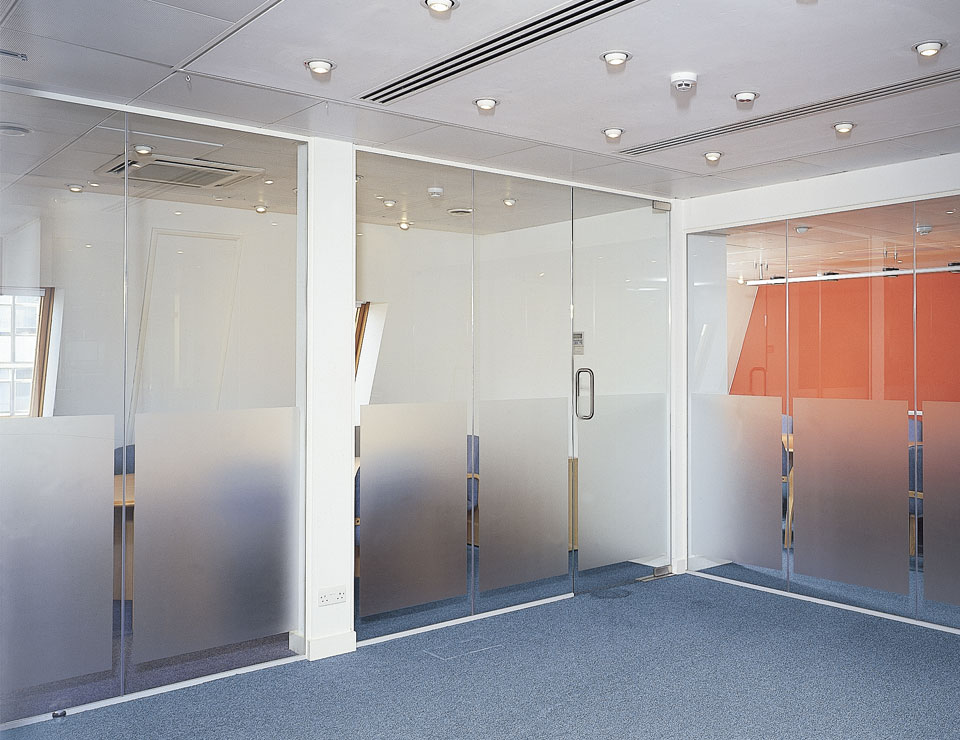 Frosting the lower half of the glass partition while leaving the top transparent provides necessary privacy while still allowing for a view into the larger office and doesn't obstruct natural light from reaching the interior space.
Opt for Full Coverage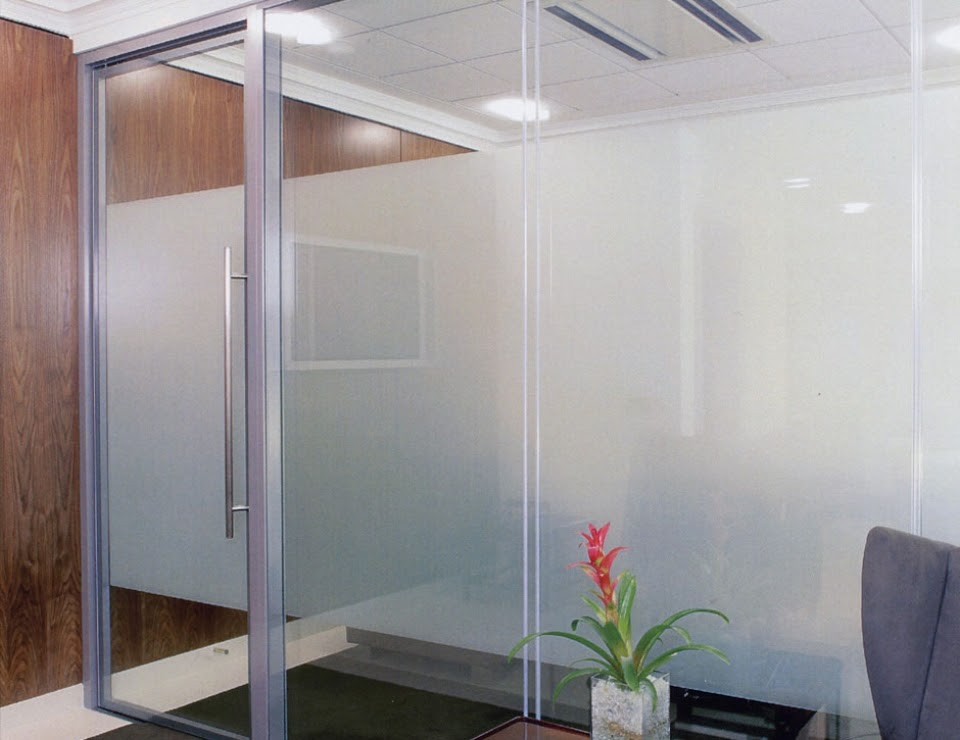 For the perfect marriage of privacy and openness with full coverage in the middle, is this frosted Hinged Frame Swing Door . Full height wall partitions allow clear glass at the top and bottom to welcome natural light. The frosting in the middle of the glass provides the perfect amount of privacy for conference room meetings or individual offices.
Create Complete Privacy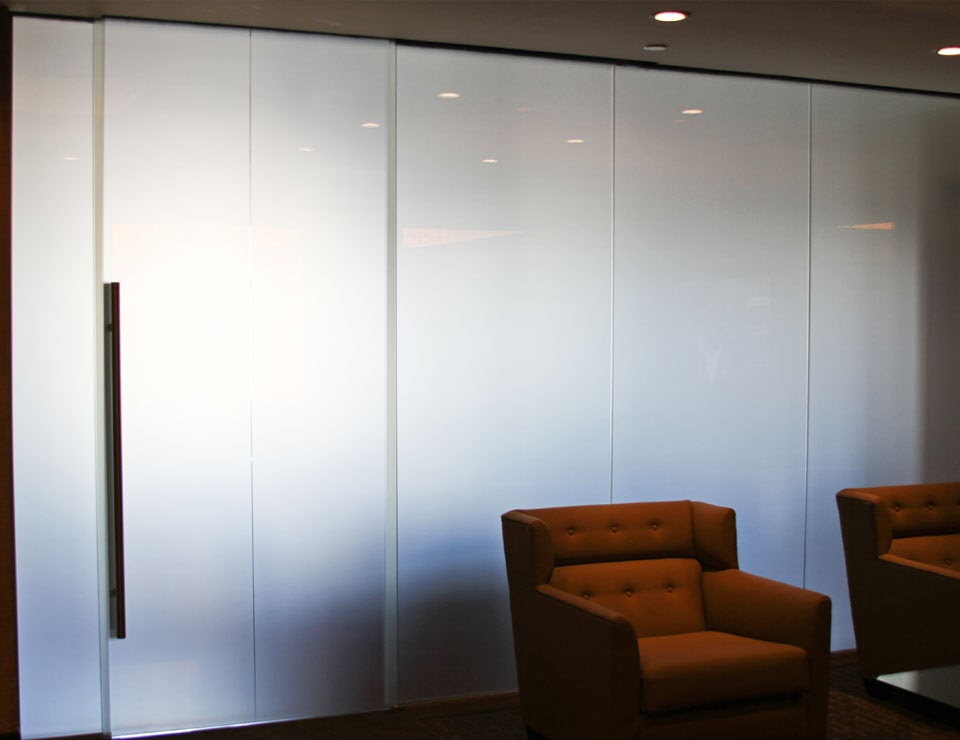 For offices where privacy is the highest concern, choose a fully frosted glass door to provide privacy whether you're meeting with patients, clients, or colleagues.
Soft light still filters in through the translucent glass, but the full glass frosting creates complete privacy. Integrating a fully frosted glass door with a glass partition system fits well with a modern aesthetic or contemporary design. 
For a more traditional design with a twist, a frosted glass office door can be incorporated with traditional walls to brighten the interior space while still maintaining the appropriate level of privacy.
Add Some Movement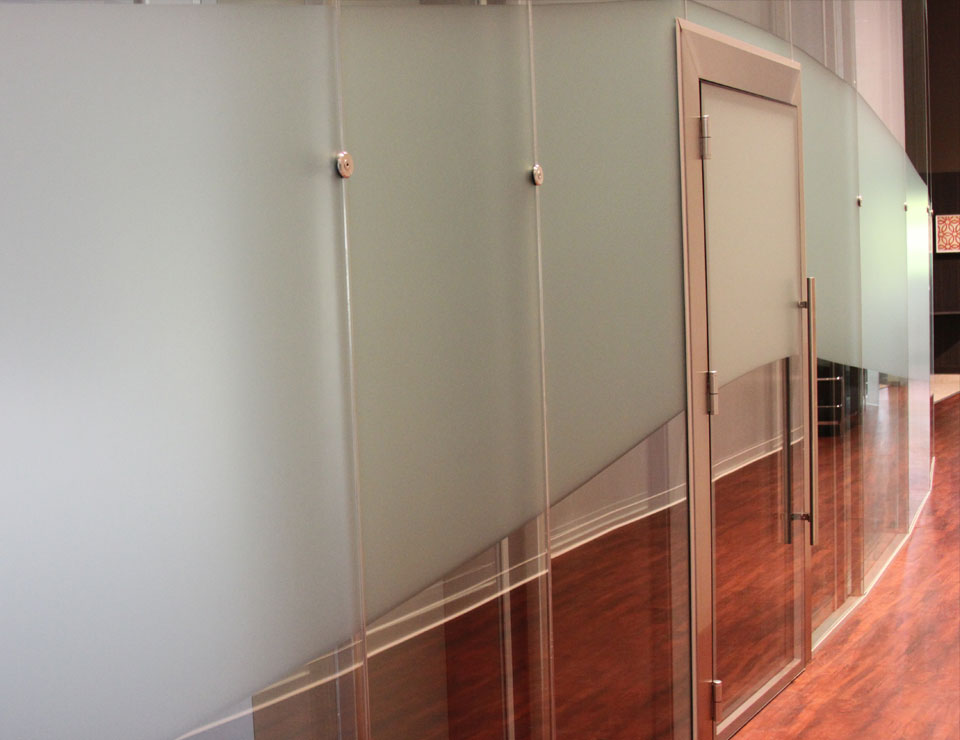 For this conference room that uses an Acoustic Double Glazed Glass Swing Door, the frosting creates a wave-like pattern of movement that flows over the door as well as the glass partition system. This aesthetically pleasing touch also adds privacy in the conference room.
Add Just the Right Amount of Filter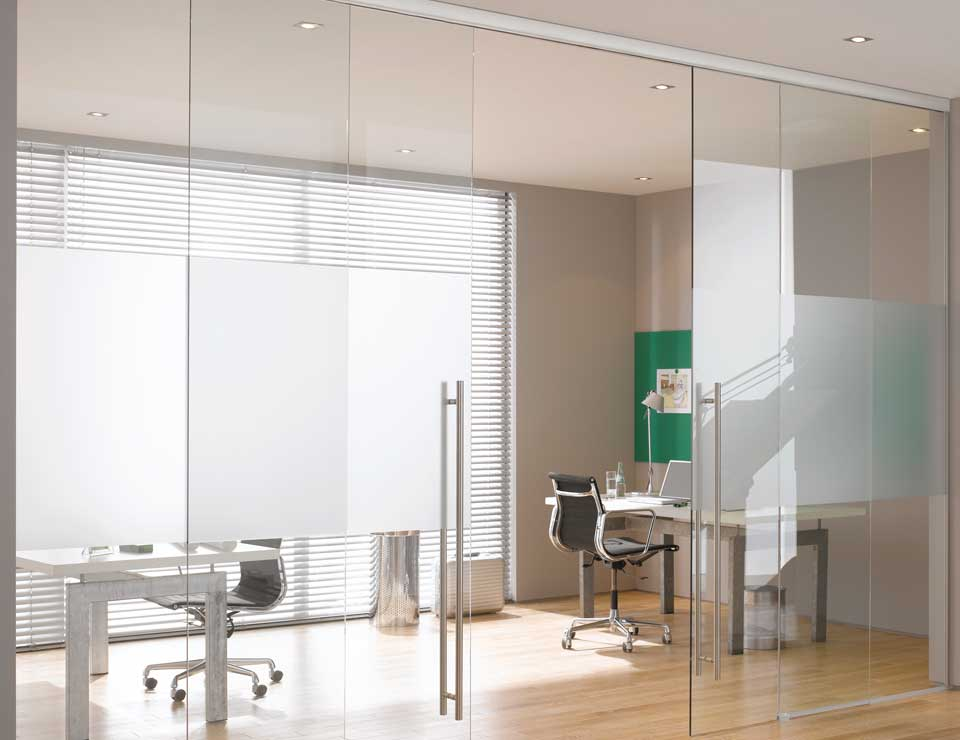 Natural light is a wonderful addition to any office, however, the glare can sometimes hinder productivity. In those cases, blinds and strategically placed frosting can prevent the glare of the sunlight from keeping people from doing their work. Frosting the middle section of the glass also creates a pleasing symmetry.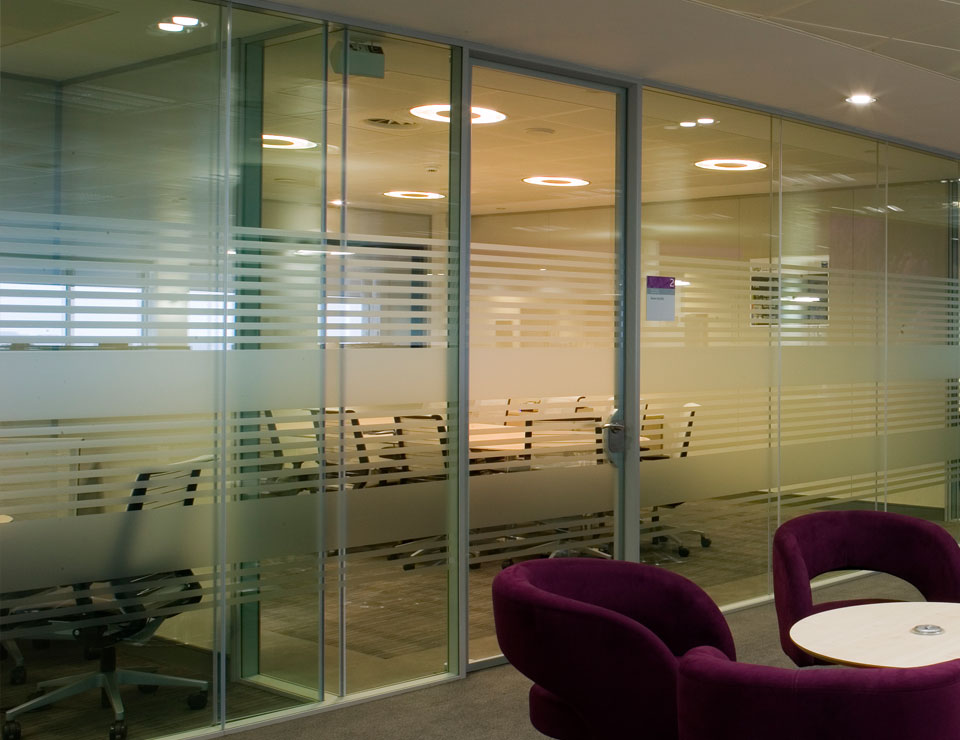 A frosted glass office door along with frosted glass office partitions can even add privacy with minimal amounts of frosting. Combining thin and thick strips of frosting disrupts the view enough to maintain a semblance of privacy and reduce glare, but it also has an open feel that keeps offices and conference rooms connected to the larger overall office.
Create a Beautiful Accent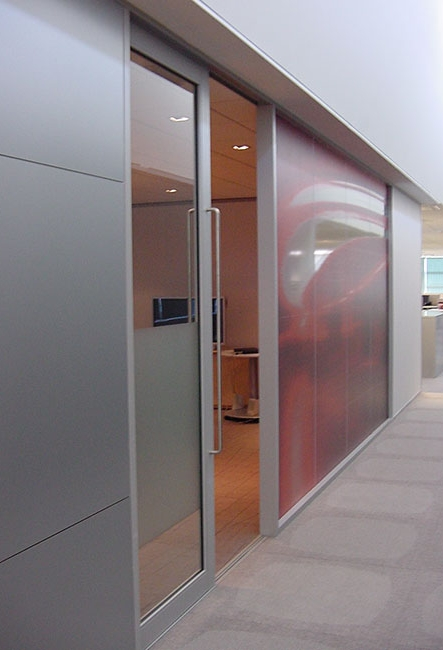 In many designs, the frosted glass door is a continuation of the frosting on the glass partition system. In some cases, it is best to use complementary frosting on the door. In the case of this pocket door that slides into a standard wall, the rest of the partition system features a different design, and the door provides adequate privacy while still leaving room to be able to see in and out when necessary.
Frosting Is Completely Customizable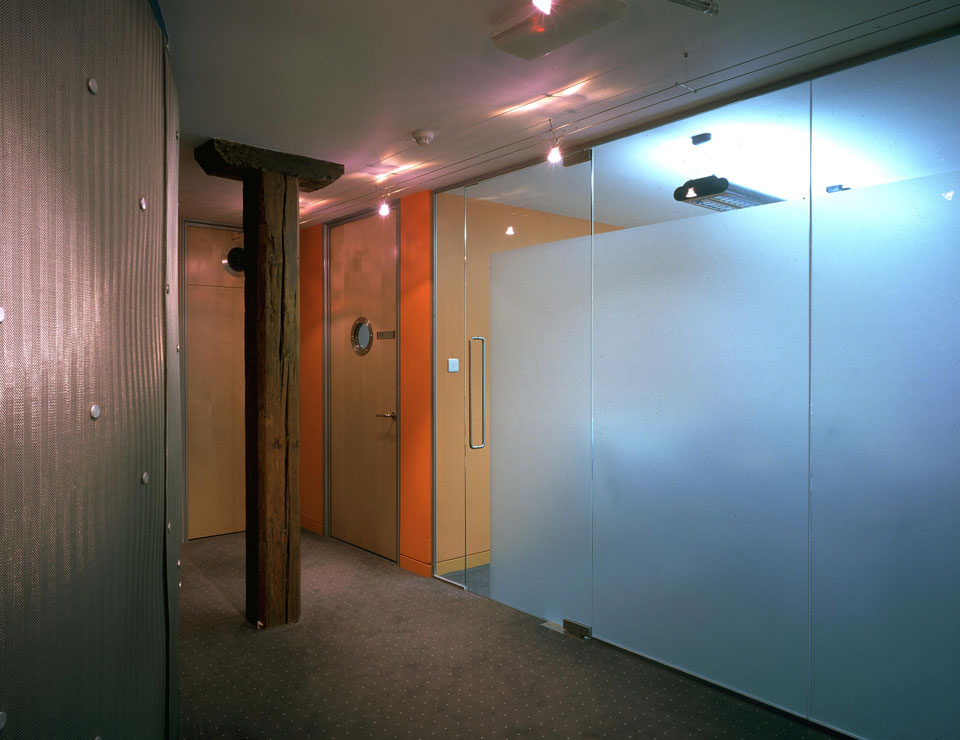 The best thing about a frosted glass door is that the frosted areas are completely customizable. In this design, for instance, part of the door and a small panel were left clear so it is easy to see who is at the door. 
Frosting designs can also include business logos and other graphics to create privacy and further your brand and company culture.
Frosted Glass Doors for Added Privacy
Whether you need full coverage, complete privacy, strategic visual obstruction, or have something entirely unique in mind, a frosted glass door will add privacy to your office where you need it. 
At Avanti Systems, we'll work with you to design the frosting that best fits the needs of your office and project. Contact us today.