When it comes to design styles, an industrial look is at the top of modern design.
Certain features are a hallmark of industrial design, and incorporating them into your office space can create the look and feel of industrial style while enhancing productivity and creativity.
A Brief History of Industrial Design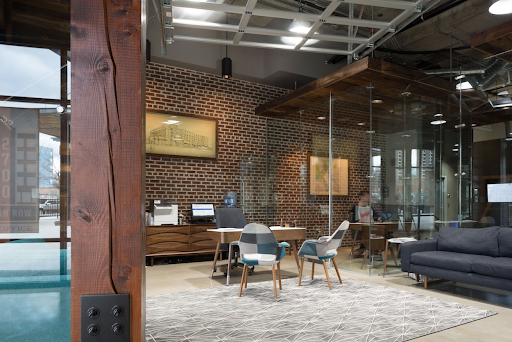 To understand the industrial look, it's important to take a look at the history of industrial interior design. In the first Industrial Revolution in the 1760s, large factories were built to handle the growing manufacturing in the U.S. These buildings allowed for mass production of goods (which also led to more people being able to afford to decorate their homes as interior design goods were produced on a large scale).
Building materials such as steel, glass, and brick became more readily available and new building styles allowed these factories to accommodate large numbers of workers and the machinery necessary for production. These buildings included large windows set into a steel grid, later known as Crittall-style windows. They also left brick exposed as well as the concrete and steel that created the building's structure. While the industrial style that originated during the Industrial Revolution was a necessity rather than an inspiration for future interior design, it has served as a guide and inspiration for today's modern industrial look.
It wasn't until the housing shortages of the 2000s that the industrial style was adapted to interior design. As New York and other highly populated, urban areas experienced a lack of adequate housing, they began to take abandoned factories and repurpose them into apartment buildings. Exposed brick, concrete, and steel, large windows, open floor plans, lofted floors, and Edison bulbs, all elements in these 18th and 19th century factories, were included as part of the design, to create an industrial style bring it to the forefront of residential interior design and keep it relevant for modern businesses.
It is these structural elements that, when left exposed, help to define an industrial space. Today's industrial design focuses on style and functionality, blending industrial materials — exposed brick, large grid-paned windows, exposed ductwork — with other elements that soften the space and increase comfort. When rustic materials, like wood, burlap, stone, and canvas, are included, they serve to warm the space and make it more personal.
Achieve An Industrial Look with Glass Wall Dividers
Showcase Exposed Infrastructure Elements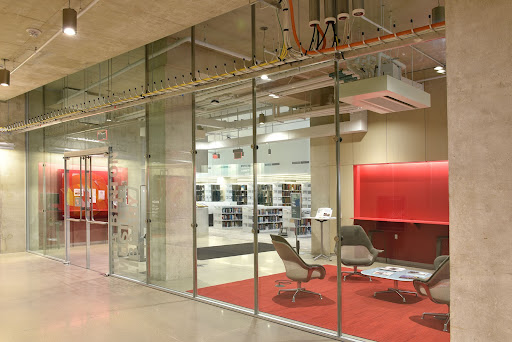 Industrial glass wall dividers make it possible to showcase other design elements while standing as a design element in their own right. Exposed ductwork and wires are often seen in conjunction with high ceilings, another hallmark of industrial design, and glass wall dividers capitalize on the additional space, keeping the space open and inviting.
An Open Floor Plan
An open floor plan is an instant nod to industrial style. Including exposed columns and beams into the design only enhances the look further. Using wood platforms to lower the ceiling in areas can also have a grounding effect on the space and create areas that feel more intimate.
Glass partition panels, particularly those that are part of the  EliteTM Freestanding Partition System, create substantial design flexibility to integrate partitions anywhere without compromising an open floor plan.
Concrete Floors
The no-fuss look of concrete floors completes the industrial style. For businesses, concrete offers high levels of durability and can be enhanced with rugs that make the space inviting and tie the floor into the overall design. Concrete can even be tinted to further enhance the design. Set against concrete, glass partition panels complement the industrial look.
Black-Framed Partitions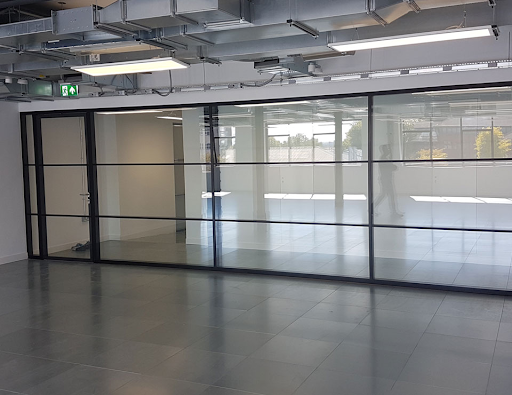 Made popular in the early 20th century, Crittall-style windows, doors, and walls feature panes of glass separated by black steel muntins. This style was used in factories to create large windows of smaller panes to allow natural light into factories. The TransversoTM Monoblock Modular Partition System, when integrated into a design as an industrial glass wall divider furthers an industrial look while allowing in natural light and enhancing a visual connection throughout the office.
Achieve an Industrial Look with Glass Partitions from Avanti Systems
Avanti Systems has a range of glass partition systems that blend seamlessly into an industrial look. When paired with other industrial elements — concrete floors, an open floor plan, wood beams, and exposed brick and ductwork — glass partitions help to create an industrial look, perfect for a modern workplace.
Contact the experts at Avanti Systems today to complete the industrial look in your office design.