Sustainability is not only now viewed by most consumers a corporate responsibility — it's crucial to lowering your overhead, reducing your carbon footprint, and helping to preserve the planet for future generations. What's more, companies that engage in greening up are able to use their environmental accountability as part of their messaging. Millennial's, Gen Xers, and others who are concerned about climate change and other environmental challenges we face today usually choose the product that is branded as sustainable over a similar product that has no environmentally conscious messaging.
So what could you do to make your workspace more sustainable?
Skylights: Using Natural Light to Lower Cost and Energy Use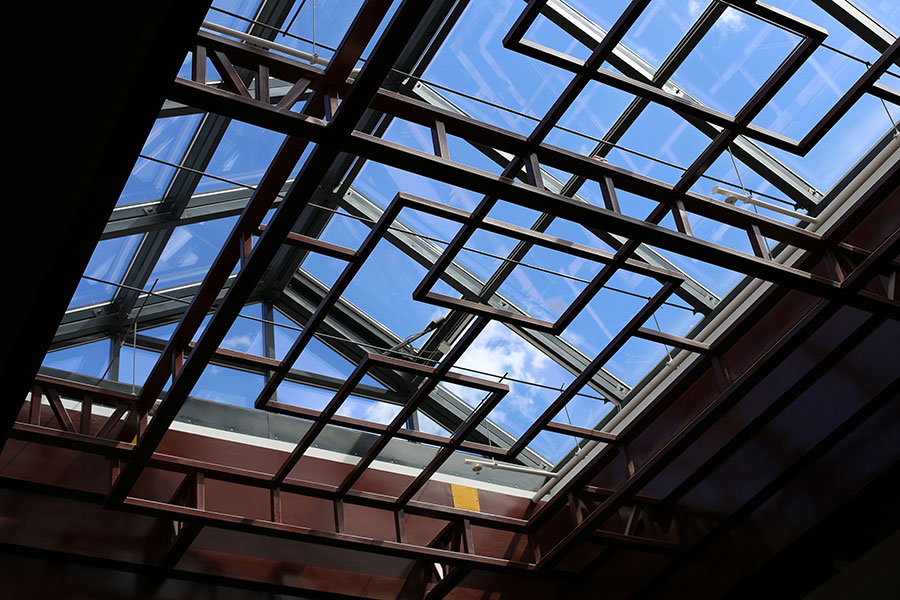 One of the best ways to make your office more sustainable is through the use of glass skylights. When each individual office suite and common areas all have their own skylights, there is little to no need to use electricity for lighting. When you have skylights, not only are you allowing in more natural light, you're letting it come in right above workers. This reduces the need for desk lamps and/or overhead fluorescent lighting, which have proven to be bad for the environment because of the waste created when we throw away light bulbs. The more skylights, the fewer light bulbs you'll need, and the less likely your workers will need to turn on lights in any room where there's a skylight.
Bigger Windows, and More of Them: Save on Electricity and Boost Employee Health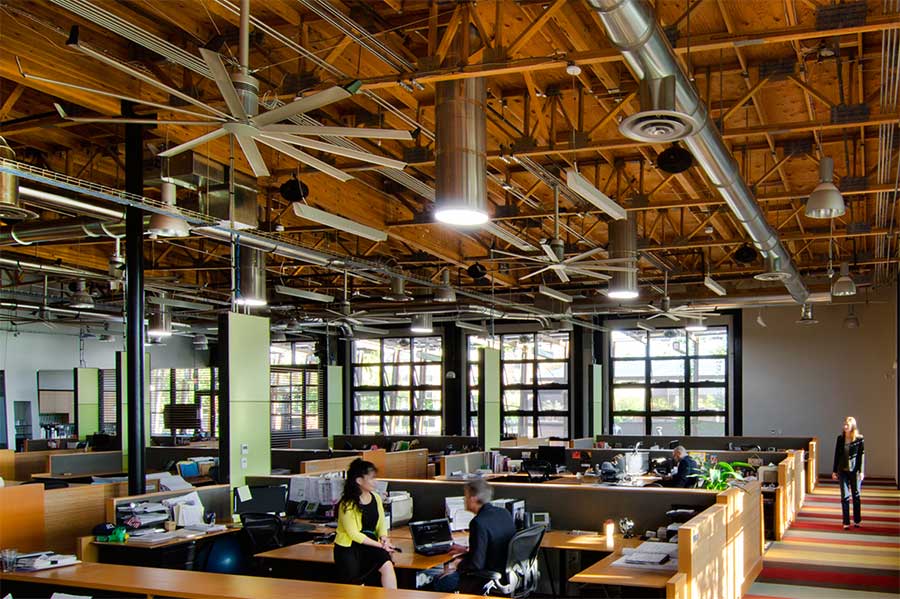 Buildings being constructed today are quite frequently designed with very large windows, in stark contrast to the office buildings of the past, some of which did not utilize any windows at all. One of the most infamous outdated corporate office locations is the Wal-Mart home office in Bentonville, Arkansas. The dreary, gray interior of this office is lit entirely with fluorescent lights and does not have a single window (with the exception of the front entrance, which is not a place where any work is done).
Outdated themes like this one are slowly but surely being replaced with new construction: the home offices of other retailers and large corporations are more progressive and utilize as much natural light as possible. Good examples of this are Ikea, which also uses solar panels, and the Siemens Headquarters, which was constructed in accordance with green building guidelines by Henning Larson Architects. Large interior spaces, expansive windows, and best-in-class energy efficient materials are all part of the new Siemens building in Washington, D.C.
Up-cycled and Re-purposed Building Materials and Furnishings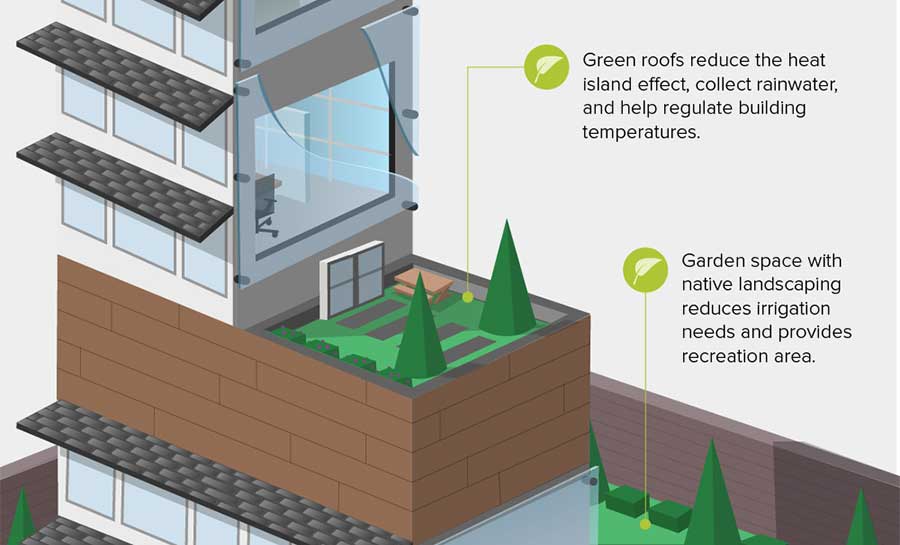 Many small and medium-sized businesses, especially retailers, restaurants, and bars are now being constructed and/or designed and decorated with up-cycled and re-purposed materials. Reusing pallet wood, aluminum cans, or prefabricated construction materials that are made from recycled wood, aluminum, copper, and other materials is especially popular in the Northwestern U.S., New York, parts of New England like Portland, Maine and Hartford, Connecticut, among others. Reused materials are also making huge advances in interior design and office decor, and this significantly diminishes landfill waste.
Create a Sense of Personal Responsibility Among Staff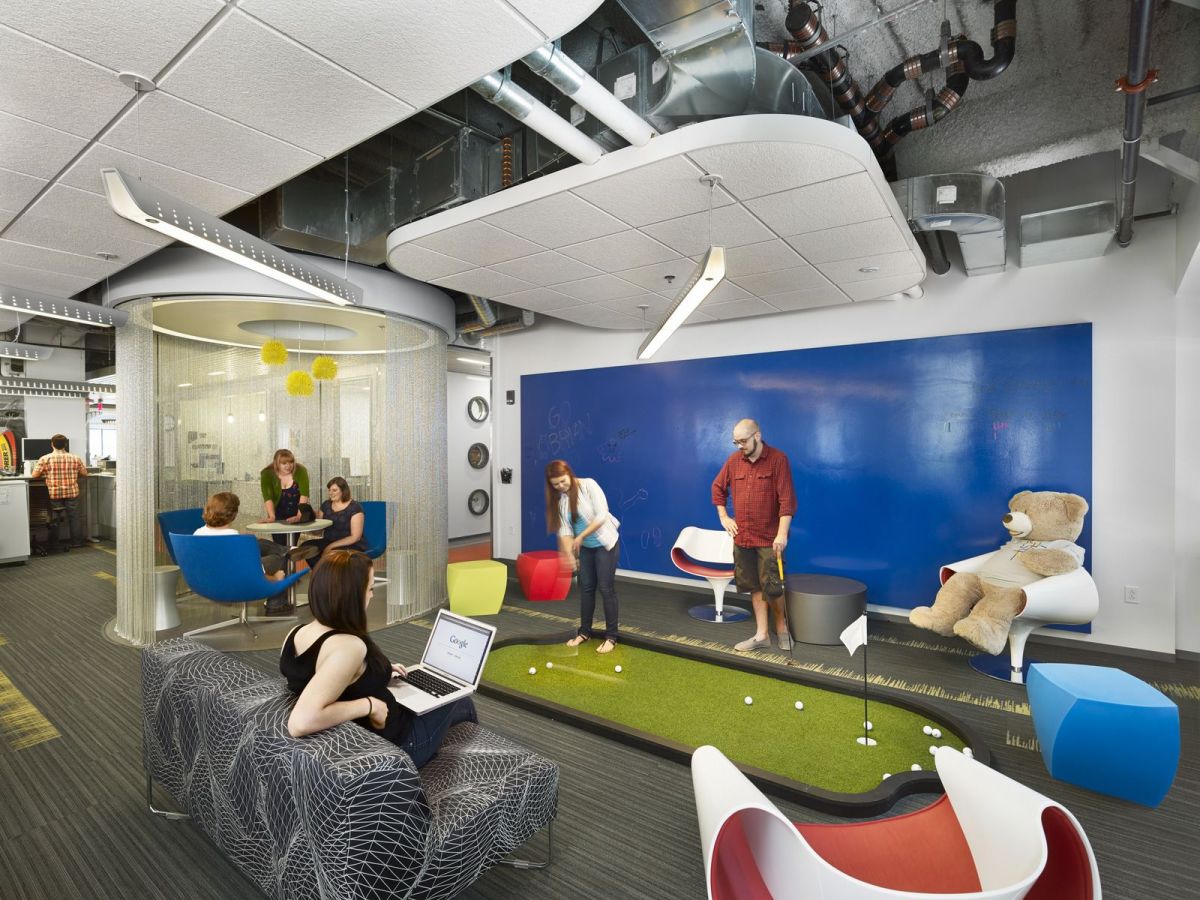 Generate a company culture that promotes a buddy system for employees to help each other be responsible for things like recycling, reusing, and other ways of taking part in "greening up" the company headquarters and attitude. When workers hold each other accountable it makes it easier than just using self-reliance. Because work gets busy, people have deadlines, and the office can become chaotic as the staff works hard to reach goals, trying to remember to recycle or reuse things on your own can be stressful. With a buddy system in place, set monthly and quarterly goals, create an incentive to do green things, and offer rewards to those who do things both at work and in their personal time to help the environment. As the old adage denotes, "Think globally, act locally." With this in mind, help your staff brainstorm ways to make all that you do more sustainable and greener for the community around you.