After the upheaval of the last two years from the COVID-19 pandemic, people are ready to return to normal life — whatever that looks like in 2022. While there are places that are still implementing restrictions aimed at mitigating the spread of COVID, there are other places easing restrictions and moving towards an environment where COVID is still a factor without casting a shadow over every moment.
As people return to their corporate offices after more than two years of working from home or taking a hybrid approach, it's understandable that many have mixed feelings. The excitement of feeling like things are returning to normal mixed with the fear that we've lived with as we've watched COVID turn the world upside down can make the return to work tricky for employers and employees alike.
Incorporating modern glass office partitions into the office design is one way to mitigate the dangers of COVID while still encouraging employee interaction and bringing people back together to feel like they are a part of a community. Glass partitions provide many benefits that keep people connected, while still keeping them safe.
6 Modern Glass Office Design Ideas
1. Incorporate Wide Sliding Doors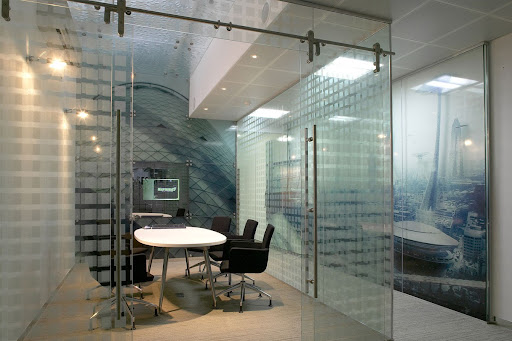 One thing that has been heightened over the last two years is a concern of small and confined spaces where germs can spread quickly. Offering large openings in small rooms is a way to open the space up when bigger groups are meeting. If people inside the room feel comfortable, the door can be closed easily and quietly as it glides smoothly on its track. An An EclipseTM Sliding Glass Barn Door can be used individually or in a pair to accommodate wider entries and add a touch of modern style.
2. Increase Privacy and Protection with a Freestanding System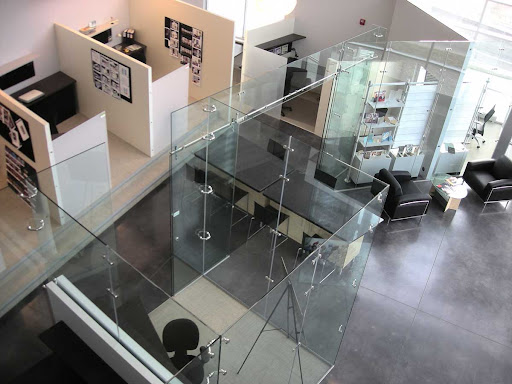 In offices that previously had an open floor plan, costly renovation projects to enclose offices may not be financially feasible or desirable as it creates disruptions and creates a closed-in feeling throughout the office. The EliteTM Freestanding Glass Partition System can be installed anywhere you need an office space. It can have an open doorway or incorporate sliding, swing, or pivot doors to create more privacy. Since glass is easy to clean, it also provides the opportunity to enhance sanitation and mitigate the spread of germs.
3. Blend Natural and Modern Elements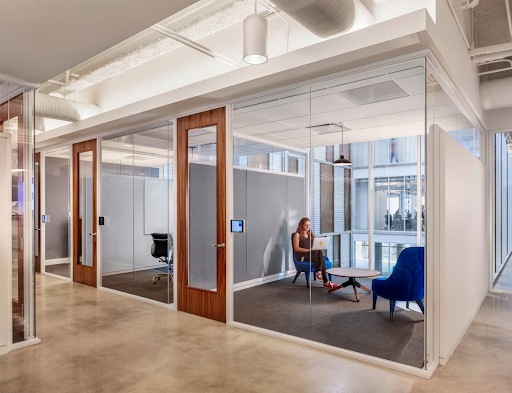 Modern elements are all about a clean streamlined look, but the same elements that create a modern look can also lead to an environment that feels cold and sterile. Adding natural elements, like a timber door, and blending them in with modern concrete, glass, and steel creates a space that feels both modern and warm. Timber doors can fit into straight or curved configurations and can be used as a single or double door.
4. Add Color to Enhance the Office Design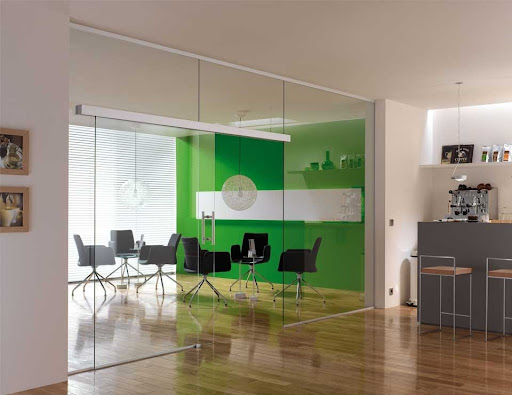 In many offices, going with a neutral palette is a desirable design choice since it creates a sense of calm throughout the space. Strategically placed colors can also liven up the space. Done right, a bright wall or patterned accent piece can infuse a lively energy into an office.
5. Go High Tech with LCD Privacy Glass

Modern offices thrive on flexibility, and that's just what LunarTM LCD Privacy Smart Glass provides. It can switch from transparent to translucent in 1 millisecond, thanks to Polymer Dispersed Liquid Crystal (PDLC) technology, so it gives the office the ability to adapt to changing levels of privacy needed throughout the day.
6. Photovoltaic Glass
Incorporating photovoltaic glass into a modern office design can lessen the building's carbon footprint by producing energy that will offset the energy costs of the building.
Photovoltaic glass is created when solar cells are sandwiched in between two sheets of glass. This creates glass that captures solar energy and converts it into power, in order to create a sustainable energy source for the building.
Photovoltaic glass isn't 100%-transparent, so it can also help reduce the electricity costs from the additional air conditioning needed when glass allows in light that heats up the space.
Complete Your Modern Office Design with Avanti Systems
In a post-COVID-19 world, figuring out how to navigate a return to the office is going to be of the utmost importance. Continuing to implement COVID protocols or restrictions when necessary can help people feel more comfortable, and designing the office with COVID needs in mind can also enhance the level of comfort employees feel as they return to the workplace. Incorporating glass partition systems, LCD privacy smart glass, natural touches, and pops of color can all help in creating a safe and productive space.
Contact the experts at Avanti Systems today to design a safe and functional post-COVID office.