Office doors sustain a substantial amount of use throughout their life. To ensure that they stand up to high levels of everyday wear and tear, it's important to consider the best materials for your space.
Aluminum clad wood doors, timber doors, and glass doors are all options, each offering their own benefits. Timber and glass doors come out on top as a better alternative to aluminum clad wood doors.
What Are Aluminum Clad Doors?
Aluminum clad doors are wood doors that are coated with aluminum on at least one side to increase strength and durability. The aluminum cladding is then powder coated in the finish of your choice.
Many times, aluminum clad doors are used as an exterior door. This allows the outside to be coated in aluminum to increase protection against the elements-rain, wind, snow, and sun. The interior can remain wood and bring a warm, natural quality to the design.
A Better Alternative to Aluminum Clad Wood Doors
For your office, timber swing doors and glass doors provide a better alternative to aluminum clad wood doors, offering both style and flexibility.
Timber Swing Doors
Using timber for your office doors is a beautiful choice with many benefits that make it a better alternative to aluminum clad wood doors.
Sustainable
Timber is a natural and sustainable resource, so it is an environmentally friendly product to integrate into your office. The reverse carbon footprint of timber means that it stores carbon while releasing oxygen.
If the door sustains damage such as scratches or dents, it can be sanded and returned to a smooth finish. It can also be refinished, re-stained, or re-painted over the years if needed, or if the design of the office changes.
Natural Warmth
Wood creates a natural warmth in any design. In more modern and contemporary designs, it adds a grounding effect and ensures that the space doesn't seem cold or sterile, and it also blends in seamlessly with rustic and traditional designs.
A Uniform Look
Oftentimes, aluminum clad wood doors can be coated with aluminum on one side and remain wood on the other. This leads to a dissonance in the design. Timber doors have a uniform look on the inside and outside, leading to a more cohesive design.
Glass Doors
Glass doors are another alternative to aluminum clad wood doors that come with a host of benefits.
Customizable Options
Glass doors are offered in a wide range of options in two categories: Sliding, and swing.
Sliding glass doors are available as pocket doors, barn doors, assisted close, or automatic. Swing doors can be pivot or hinged.
Within these two broader categories, there are endless possibilities for custom frosting and hardware. They can also be installed as part of a glass partition system or integrated with traditional solid walls.
Natural Light
Glass doors come with the added benefit of welcoming in more natural light from the outside. In an interior office, incorporating a glass door will make employees feel like they are part of the larger office rather than shut away and separated.
Versatility
Glass is an incredibly versatile material. It can be curved to create a circular office or conference room, or it can be installed at acute or obtuse angles to add design interest that deviates from standard right angles.
Integrate Timber Swing and Glass Doors for a Beautiful Office
Creative Configurations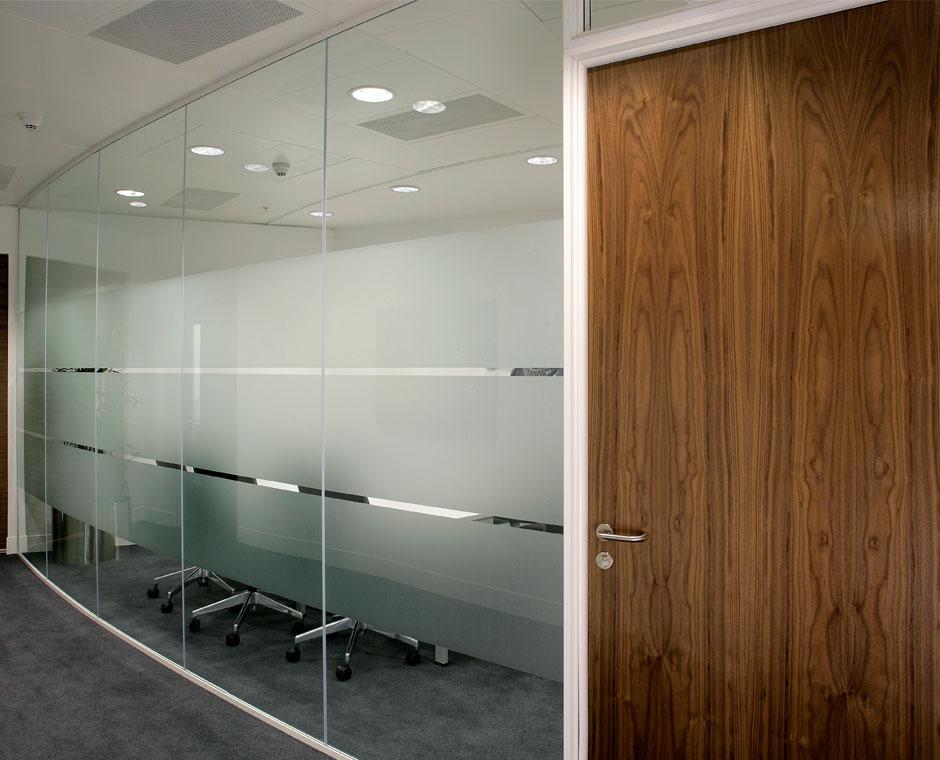 An Arboro™ Timber Swing Door can be integrated into a curved, angled, or straight configuration, allowing for greater design flexibility.
Play with Shapes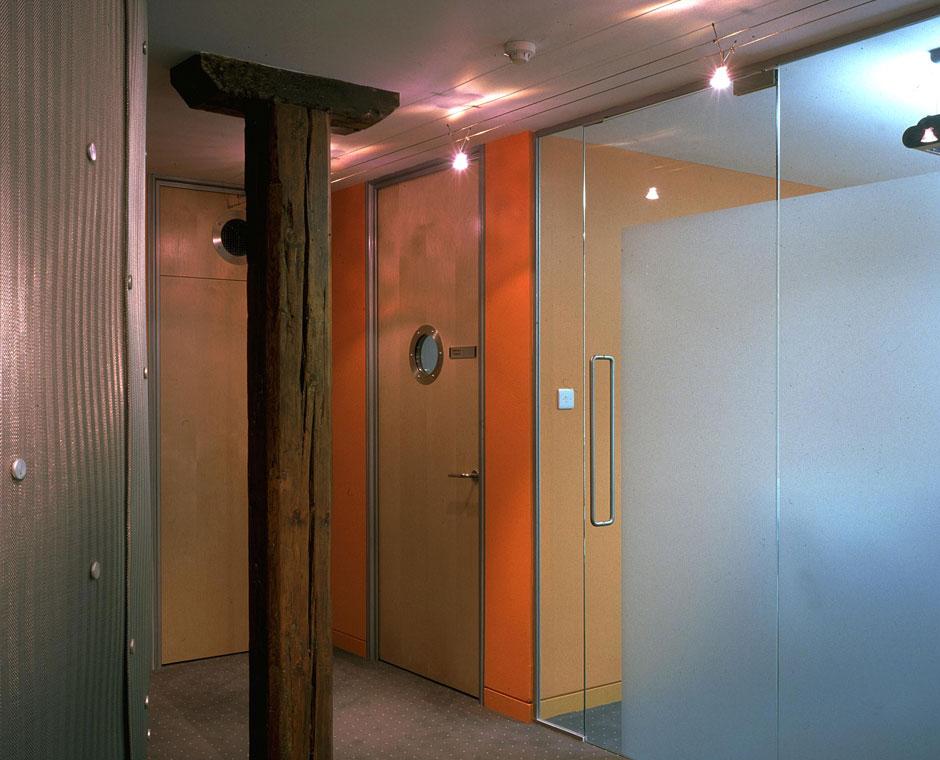 Windows can be incorporated into a timber door. Traditionally, windows are square or rectangle, but you can add an element of surprise with a circular porthole shaped window.
A Stylish Contrast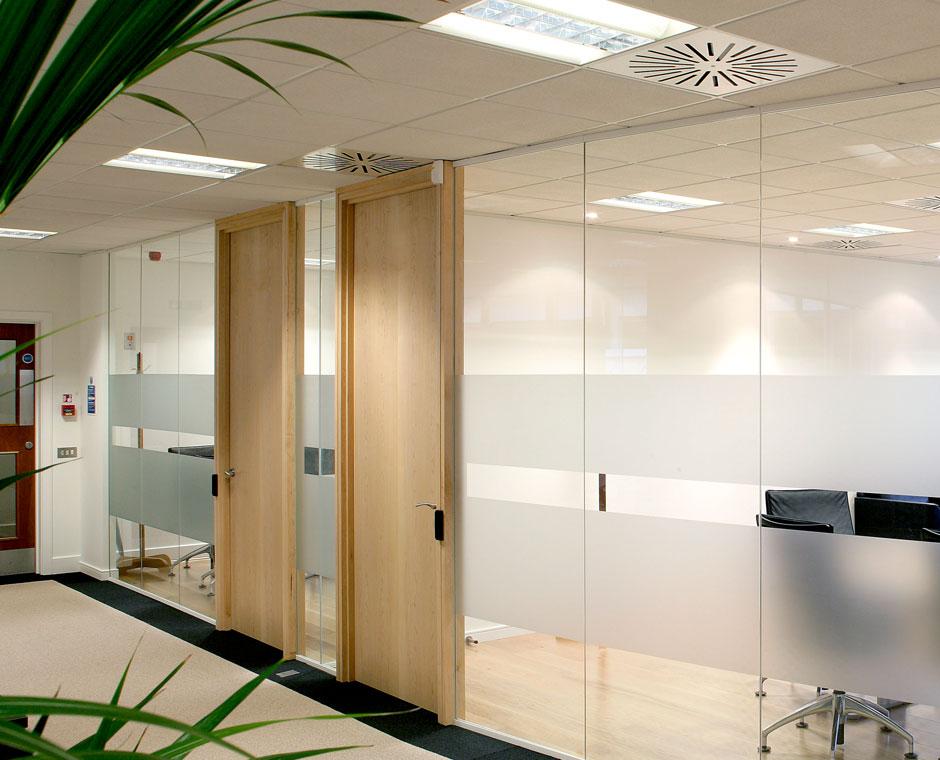 Pairing traditional timber doors with modern glazing partition systems creates a stylish contrast and an interesting office space.
Assisted Close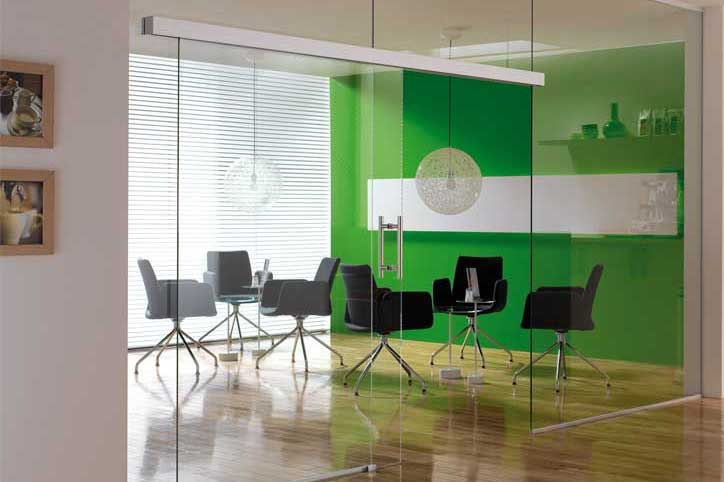 Assisted close glass sliding doors will slide open and closed smoothly with little contact. The Cloud™ Assisted Close Premium Sliding Glass Door can be installed as a single panel or as a double door system for wider entryways.
Contactless Entry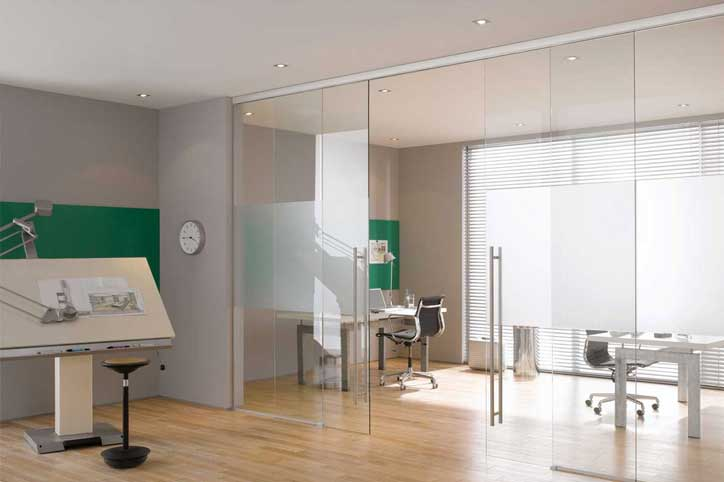 Automatic doors such as the Polaris™ Auto Magnetic Slider are the perfect solution for any busy office. They also reduce contact points where germs can spread, making them particularly useful as workplaces try to stay open amid the COVID-19 pandemic.
Increase Sound Privacy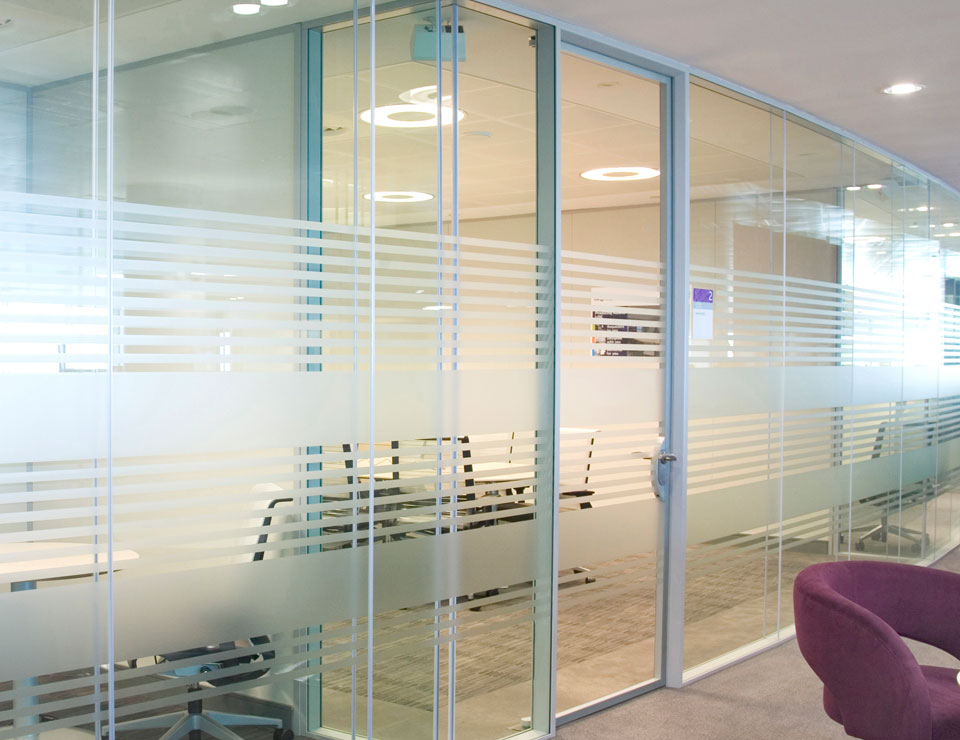 If sound privacy is a concern, many people choose a timber or aluminum clad wood door to reduce noise. An Acoustic Double Glazed Glass Swing Door has the acoustic rating rivalling that of a solid wall.
A Better Alternative
While aluminum clad wood doors have their benefits, choosing a timber or glass door is a better alternative. For more information on a better office door, contact an expert at Avanti Systems today to discuss the options that are right for you.