Glass partition systems provide a host of benefits for separating a space. From welcoming in natural light to being fully demountable, and their ability to be recycled at the end of their life, glass partitions are a versatile building material that will stand up to years of use.
For a clean and modern aesthetic, aluminum frame glass walls create a visual focal point while maintaining a view throughout the space.
Why Choose Aluminum Frame Glass Walls?
Choosing an aluminum frame partition wall allows for flexibility in the space as well as a number of other benefits:
Welcome Natural Light
Natural light is known to boost productivity, create a healthier work environment, and positively impact mood. Incorporating glass partition walls with an aluminum frame welcomes natural light from exterior windows further into interior spaces than traditional walls that only act as a barrier to natural light.
Add Flexibility
Many aluminum partition walls are fully demountable and able to be reconfigured if the needs of the space change. Some aluminum partition systems are modular and easy to install with little disruption to daily business. Movable wall systems can transform a large gathering space into smaller meeting areas quickly and efficiently. The flexibility that aluminum frame glass walls create means that the space will be functional and aesthetically pleasing.
Eco-Friendly and Modern
Modern designs are increasingly using eco-friendly materials as they try to minimize their negative impact on the planet. Glass walls can be made from recycled content and at the end of their use, their components are recyclable. 
Easy to Maintain
Glass is an incredibly easy material to clean and maintain. Glass won't rust or corrode over time, even when exposed to moisture and air. It is also  stain-resistant, so it will look great for years to come.
Pest Free
Unlike other building materials, glass isn't an organic material, which makes it an inhospitable environment for pests.
7 Stunning Aluminum Glass Wall Design Ideas
Designing with aluminum glass walls is a smart, sustainable solution, so we've rounded up 7 design ideas to inspire your next project:
1. Wrap Around a Corner for Added Visibility and Access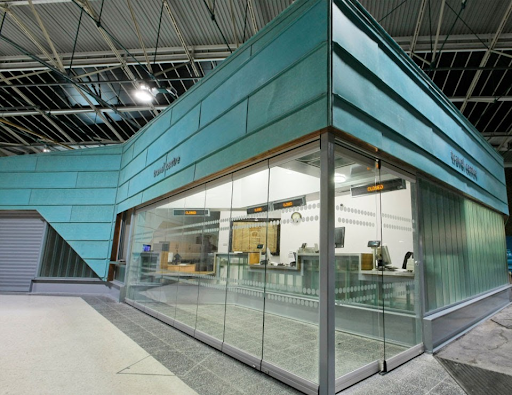 Corner entrances and storefronts benefit from the ability of aluminum frame glass walls to wrap around from the front to the side. This allows for easier access with multiple entry points as well as creating more visual access to goods and services within. With the MovareTM Movable Single Glazed wall system, the aluminum frame adds additional stability to panels that can be parked in multiple positions to open up the space.
2. Choose a Modular System for Quick and Easy Installation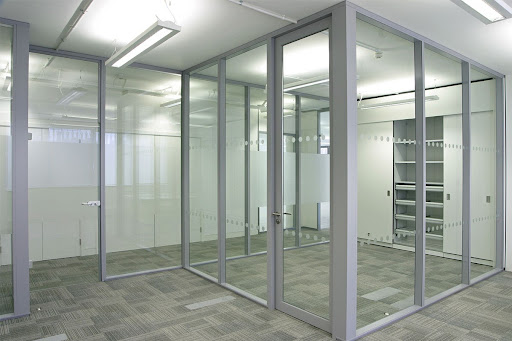 The needs of an office can change quickly, so it's important to design with products that are able to meet these changing needs. A modular partition system with aluminum partition walls made of pre-assembled units can be put into place quickly, creating office space, conference or breakout rooms, or storage, in record time. 
3. Less is More in Minimal Designs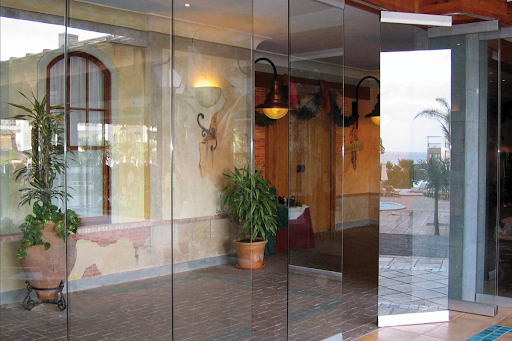 For some designs, less is more. The MovareTM Movable Single Glazed Partition System features aluminum framing on the top and bottom of each panel rather than framing the entire wall or each panel individually. This allows for maximum visibility with a minimal design while still adding support and structure to each panel.
4. Incorporate Color Into the Design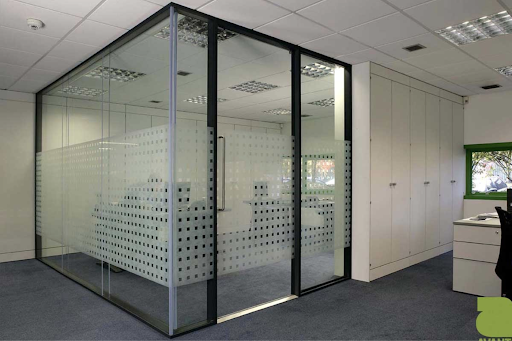 For a twist on a standard aluminum frame glass wall, the aluminum frame can be painted any color that best suits the design. On this TransversoTM Monoblock Modular Partition System, the black frame enhances the space by creating a customized design element. The aluminum paint finish can be customized to your specific needs.  
5. Create a Multi-Functional Space with Movable Walls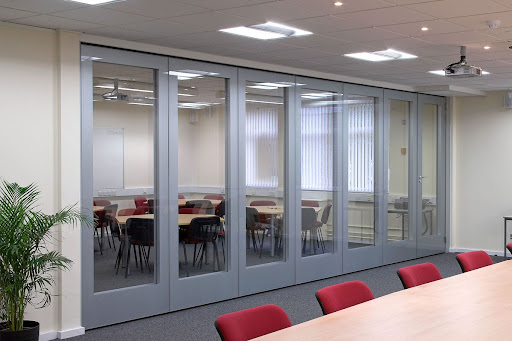 The wide aluminum frame of the MovareTM Movable Glazed Partition System makes the movable wall a distinct design element that allows you to turn one large area into smaller meeting rooms, gaining flexibility in the space. The grey aluminum frame makes the partitions easy to see and creates stability in a movable system.
6. Use Frosting to Increase Privacy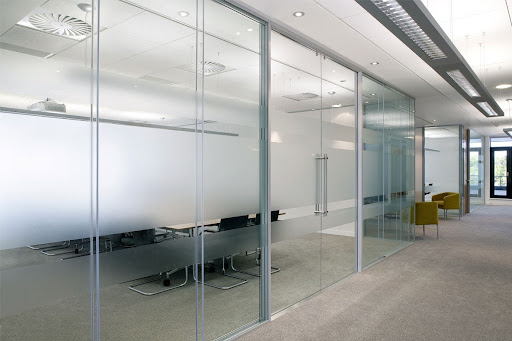 Aluminum frame glass walls provide many benefits, including increased natural light and a modern aesthetic. However, the lack of visual privacy can be a concern in some settings. That's where customized frosting comes in. By strategically frosting the aluminum framed partitions, you can gain visual privacy where you need it without compromising the benefits of using glass in the design.
7. Use Point-Supported Glass as an Alternative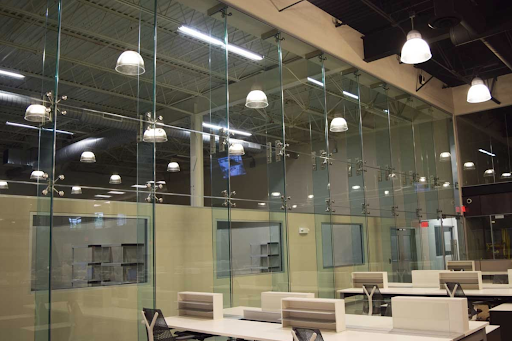 Some spaces are too large to support traditional aluminum partition walls, but with a point-supported system, the aluminum supports give you the modern flair of aluminum with the glass partition panels. The ElevareTM Point Support Single Glazed partition system is a flexible and modular way to separate a space that allows for reconfiguration and relocation when necessary.
Choose Stunning Aluminum Frame Glass Walls from Avanti
Aluminum frame glass walls can meet the changing needs of a business, create the ideal space, and allow employees and clients to reap the benefits of natural light in one shot. Supported by an aluminum frame, these dependable walls are the perfect choice for a variety of applications.
Contact an expert at Avanti Systems today to choose the best aluminum frame glass wall for your business.