Churches are a hub for their congregation and community. Whether members of the congregation have come together for quilting or a local organization has rented out space for a community discussion, churches can serve a wide variety of needs. 
Churches need to accommodate a wide range of uses, so it is essential that the church space itself be accommodating and flexible. Some churches only use the sanctuary for worship, while others offer it for many other purposes throughout the week. Church basements and smaller rooms might be used for food prep one day, and bingo games the next.
With all of these needs in mind, it's important to design the church in a way that can be flexible. One of the best ways to meet this goal is to incorporate accordion room dividers throughout the design. 
Accordion room dividers can create a movable wall that can be left open for large gatherings or can be closed to provide a smaller, temporary space when needed.
Why Choose Accordion Room Dividers?
In addition to creating more flexibility within an existing space, room dividers provide other benefits such as reducing the spread of germs, providing acoustic comfort, and inviting in natural light.
Mitigate the Spread of Germs
Churches are opening back up in the wake of the COVID-19 pandemic, more attention than ever is being paid to the appropriate social distancing. Keeping people safe from illness while working within the existing design presents a challenge that  room dividers can easily solve. 
For large numbers of people that are gathering, creating a physical separation of spaces will help to mitigate the spread of germs by blocking off areas that aren't in use, or by creating small areas where smaller groups can meet.
Easily Cleaned
The fact that glass commercial room dividers are so easy to clean warrants special mention. A spray of glass cleaner and a quick wipe will keep the dividers looking beautiful and will bring a modern look to any church design.
Acoustic Comfort
If multiple events or meetings are happening at the church at the same time, accordion room dividers will help to contain the noise level within each space. If a private group is meeting, or the church is hosting a class, sound privacy matters. Utilizing room dividers, especially an acoustically-rated double glazed system, allows everyone to gather, work, and worship in comfort.
Natural Light
Incorporating glass room dividers into a church design allows natural light to reach as much of the space as possible. In churches that have stained glass windows, partitioning off the space means that the light and beauty of the widows won't be blocked from the rest of the church.
Create a Flexible Space
Room dividers give you the flexibility of turning a large space into a smaller area whenever it is needed while still maintaining an open and welcoming feel. This is especially important in a church where the building is often used for a variety of needs. As a community hub, churches need to be able to adapt at a moment's notice, and flexible spaces make it easy.
Movare
™ 

Movable Single Glazed Partition System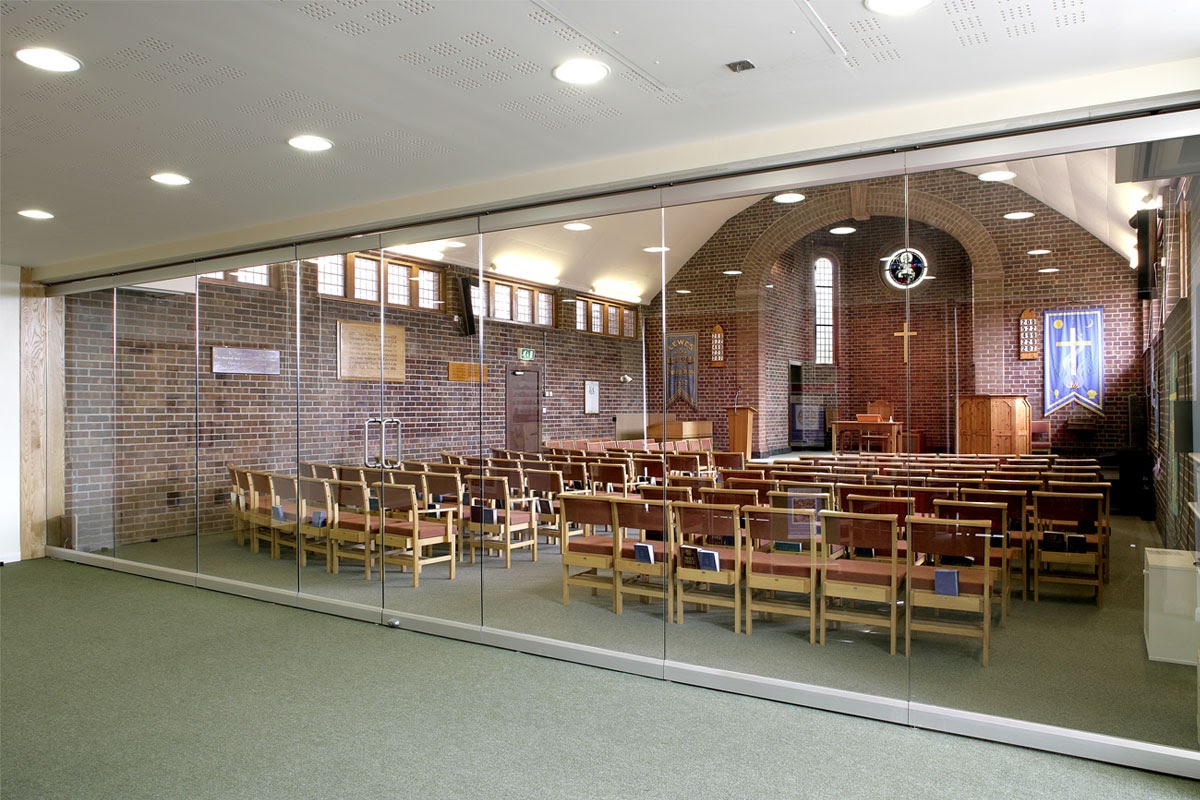 The Movare TM Movable Single Glazed Partition System is ideal for sectioning off different areas when needed and then quickly opening them back up again, and since it allows multiple parking configurations, you can be sure to seamlessly fit the partition into your space. There are also features such as end panels that are free swing pivot door access, which allows people to come and go without moving or disturbing the room dividers.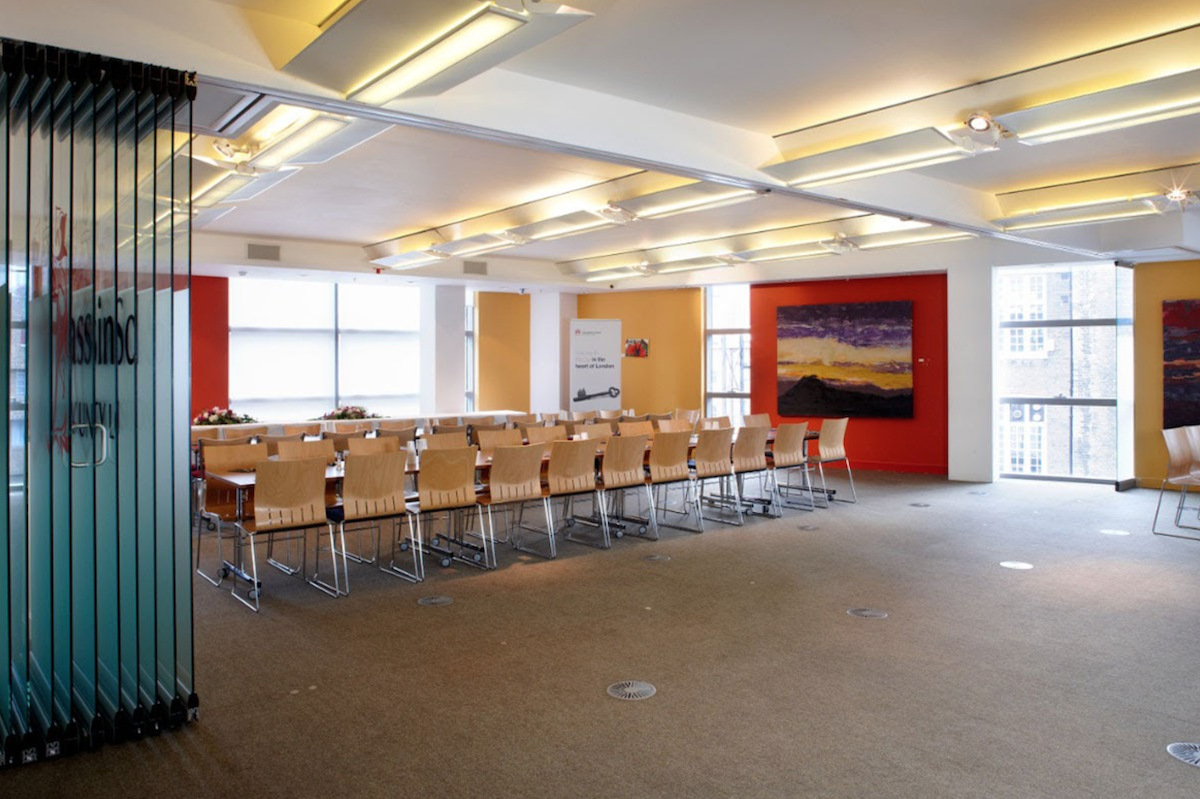 Commercial room dividers can be used to create a pleasing temporary space that can then be opened up to accommodate large gatherings. The dividers slide smoothly on their tracks, and with a panel height of up to 13', they will fit most spaces. Glazing options include tempered, laminated, or LCD glazing.
Movare
™ 

Movable Double Glazed Partition System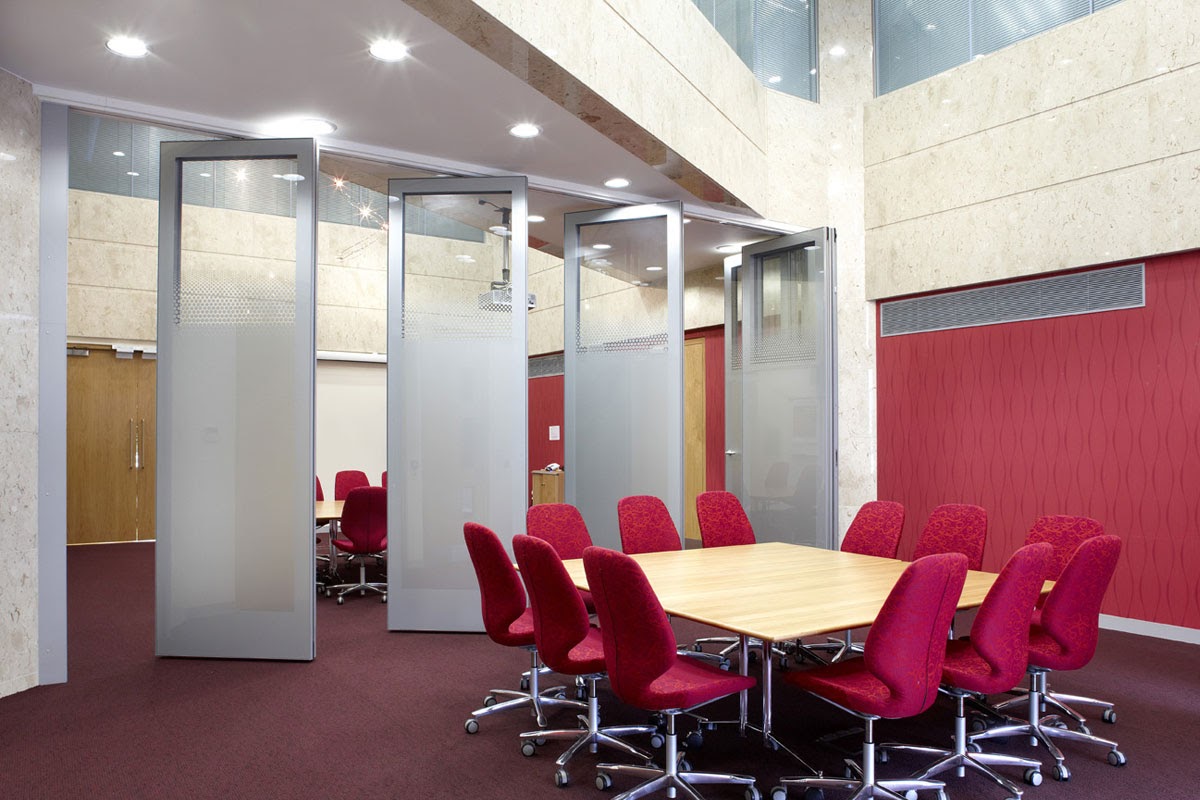 For added acoustic performance, the Movare TM Movable Double Glazed Partition System has been laboratory-tested acoustically rated. Its STC wall rating of 40dB means that it will instantly deliver acoustic performance when and where it is needed. For added visual privacy, blinds can be integrated in between the two panels of glazing.
This system can be configured to park in the center or on the side, or it can be parallel stacked at one or both ends. It also offers the option of single point, twin point, or heavy duty roller options. You can also choose from full height pass doors, pivot doors, or access through the free swing pivot access door on the end panel.
Upgrade Your Space with Avanti
Avanti Systems movable partition systems work perfectly as room dividers for all types of churches. These types of room dividers give each church the flexibility to serve their congregation and community without worrying about the constraints of their space. 
Contact the interior glass wall specialists at Avanti today to add room dividers to your church design.