As we enter a new decade, it's important to look ahead at upcoming trends in commercial office design. Design trends are constantly changing and fluctuating, but many of the upcoming trends bring improvements to out-dated commercial office designs that are here to stay.
Moving into 2020, commercial office design space ideas will continue to evolve but will likely build on the trends that have been gaining traction in recent years. There will be a continued focus on spaces that are open and welcoming and that encourage a collaborative culture. In addition, there will be a growing focus on sustainability, clean lines, flexibility, and designs that represent the brand.
Commercial Office Design Trends in 2020
As you design your commercial office space in 2020, consider these 5 commercial design trends:
1. Open Floor Concept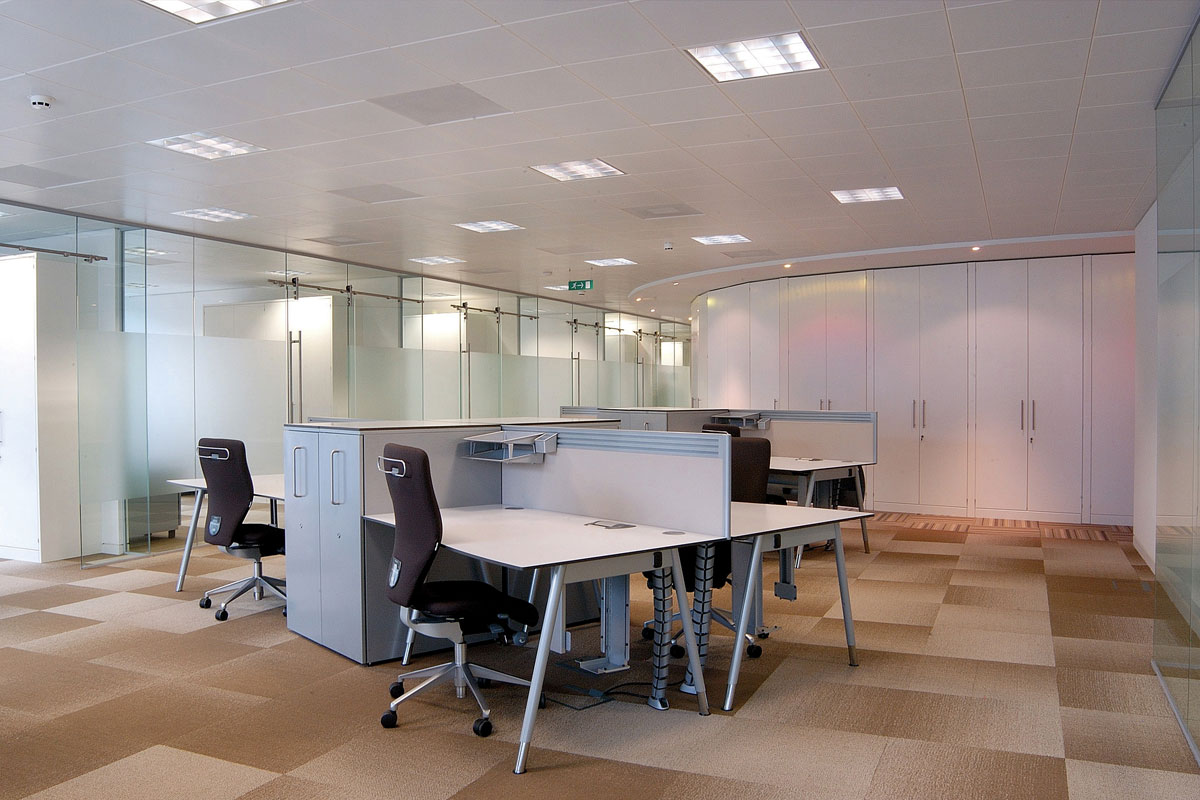 At the forefront of commercial office design ideas is the open floor concept. As collaboration culture has taken over the modern office, office interiors have followed suit. Open floor plans allow for a lot of flexibility and a variety of workspaces.
One of the best ways to stay with the current trend of an open office design is installing glass partitions between workspaces and conference areas. The benefits of glass partitions include low maintenance and flexibility, allowing for a continuous office flow while still delineating a specific purpose for each space.
Additionally, glass walls, doors, and partitions can be customized to the needs of the office and most systems are demountable, meaning that they can be moved and reconfigured if the needs of the space change. They also add privacy without obscuring the overall views of the office to outside light.
2. Industrial Warmth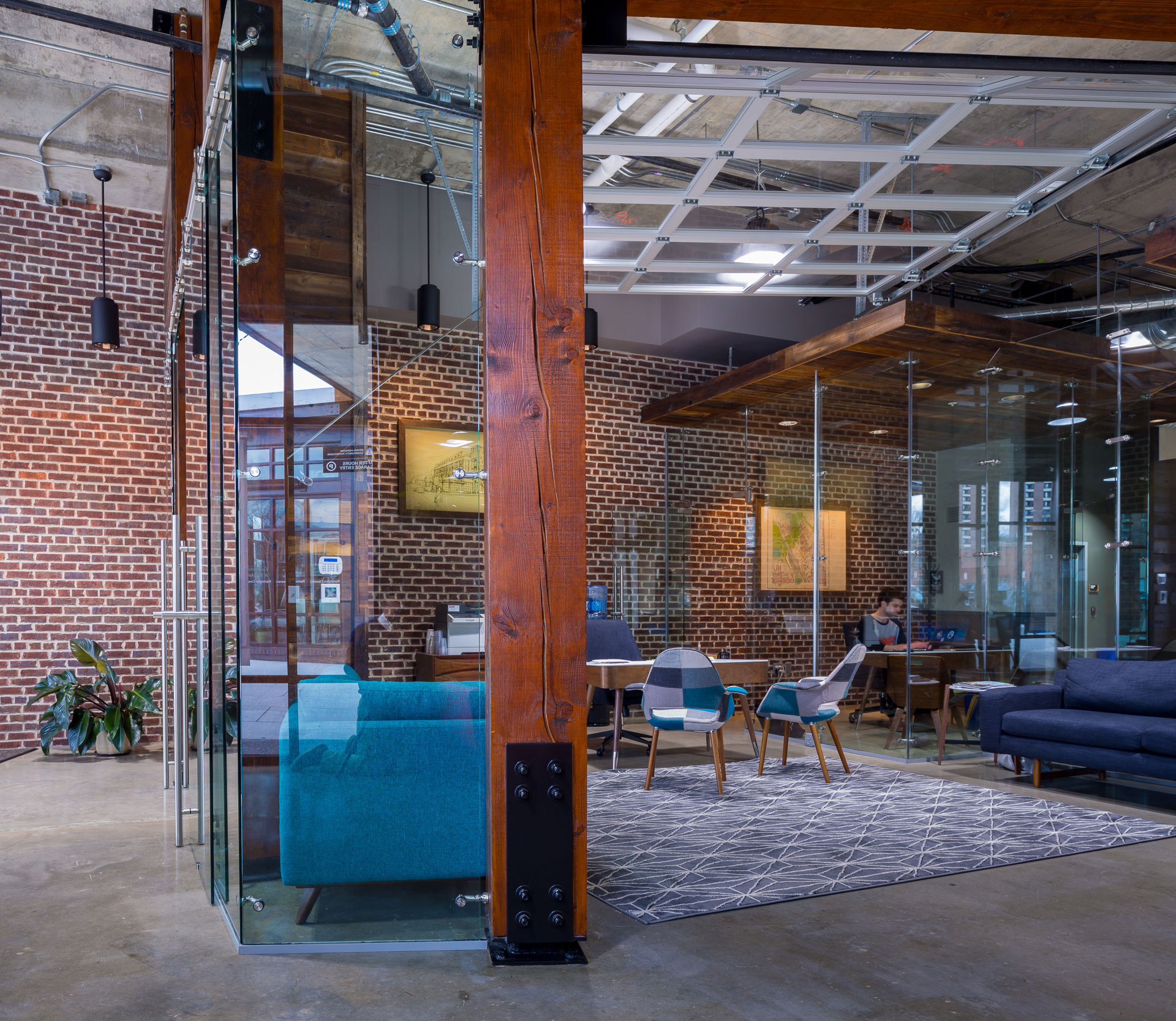 Many commercial office interior designs are blending industrial designs with warm touches. Exposed brick, sliding glass barn doors, and cement floors create an industrial feel but the dark wood touches bring warmth to the space. The open floor plan is separated into workspaces with glass partitions that encourage collaboration while still giving employees space to work.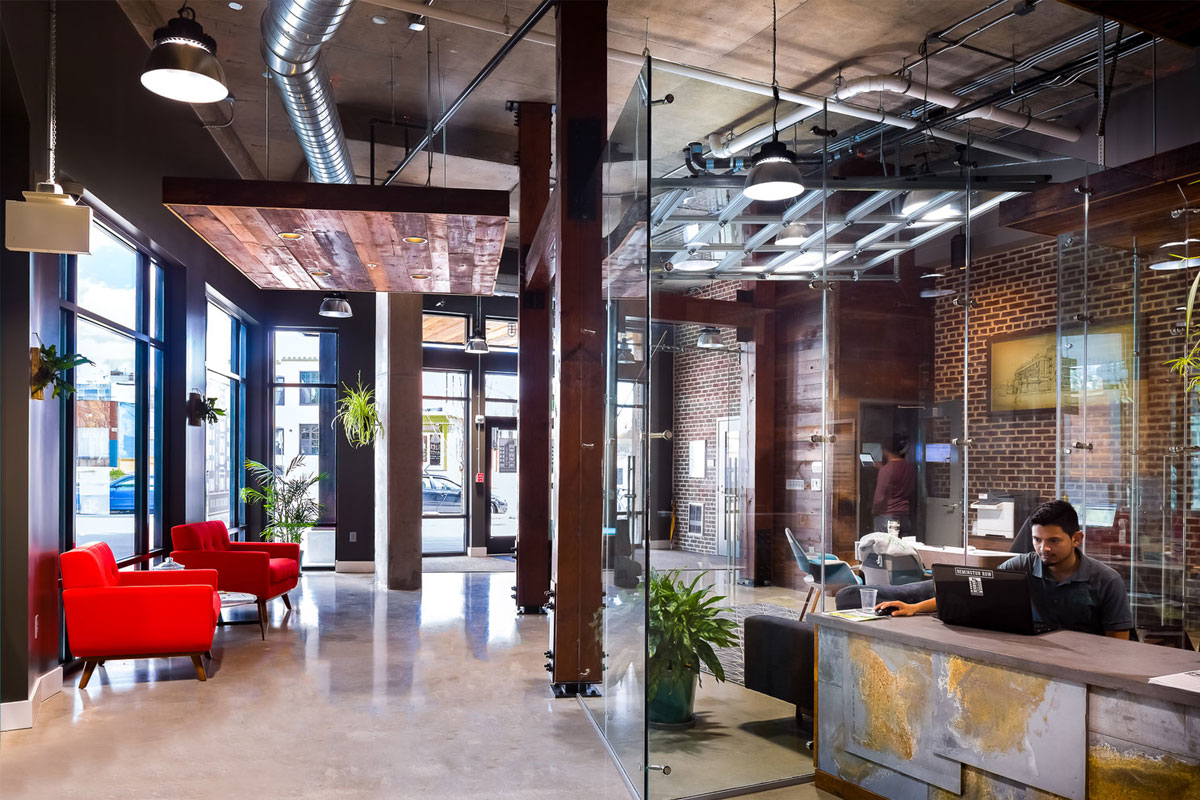 Creating unique spaces that blend industrial elements with warm touches creates a unique and interesting office space where employees can be inspired to do their best work.
3. Sustainability and Flexibility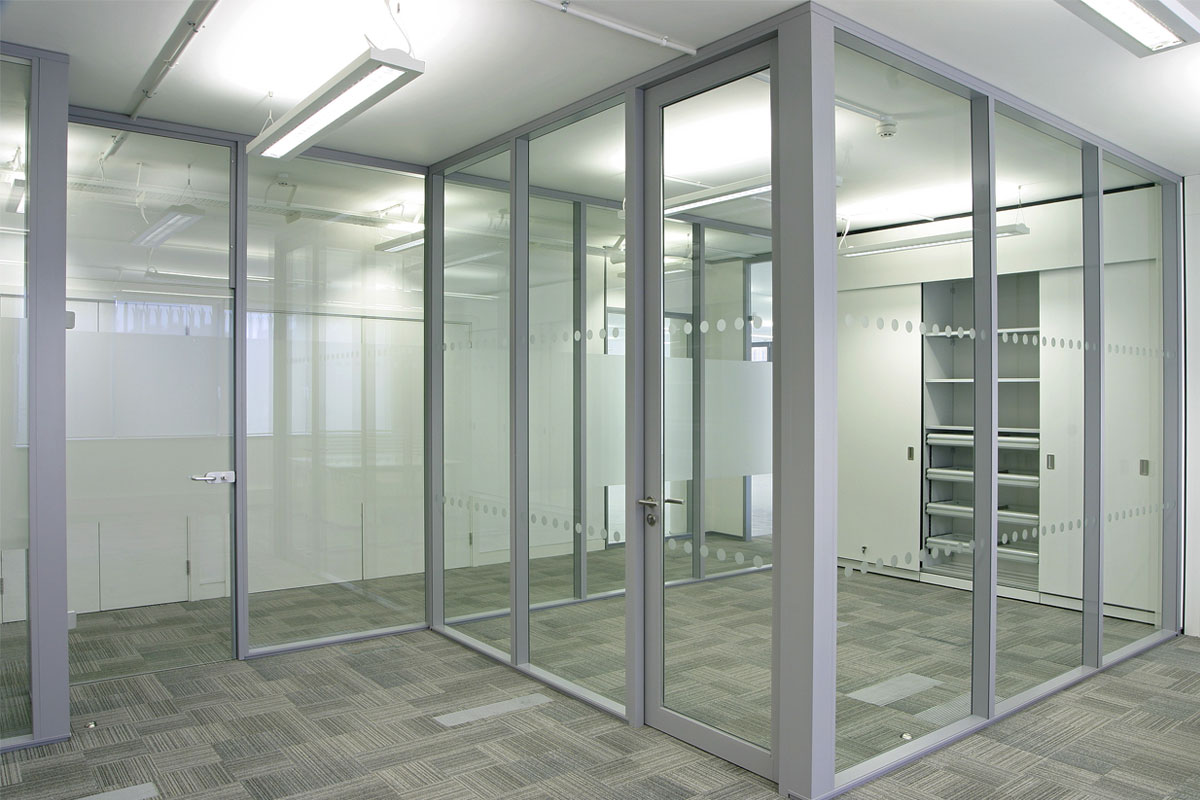 Designing sustainable spaces is more important now than ever. One way to increase the level of sustainability is to increase the flexibility of the commercial office design. The needs of an office are ever-changing, and remodeling to fit the current needs can be costly and wasteful. Luckily, there are options available that build flexibility into the space from the very beginning.
Movable walls and modular systems are one option that allow for flexibility in offices. As the needs of the office and its employees evolve and change, flexible configurations are necessary. Rather than investing time and money in costly and wasteful renovation projects, installing movable walls and modular systems at the outset will allow for future needs to be met quickly and efficiently.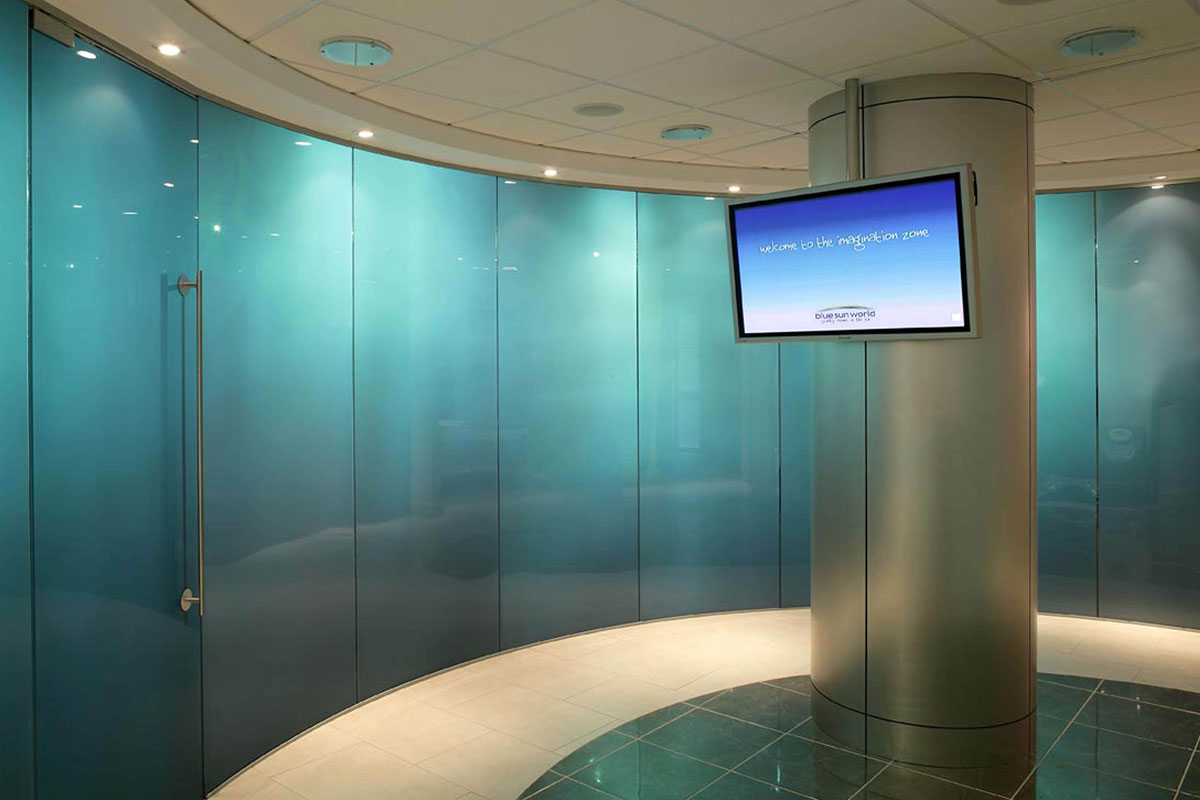 LCD privacy glass is another commercial office design trend that can increase the sustainability and flexibility of the office space. Transparent conference rooms or cubicles can quickly change to a private meeting area with the flick of a switch.
This innovation in glass partitions is created through Polymer Dispersed Liquid Crystal (PDLC) technology. This technology is achieved through incorporating suspended liquid crystals in the glass. When an electrical current is applied by flicking the switch, the crystals align and the glass becomes transparent. When the current is cut off, the crystals return to their natural random state, turning the glass translucent. This multi-functional glass increases both the sustainability and flexibility of any commercial office design.
4. Allow the Brand to Speak for Itself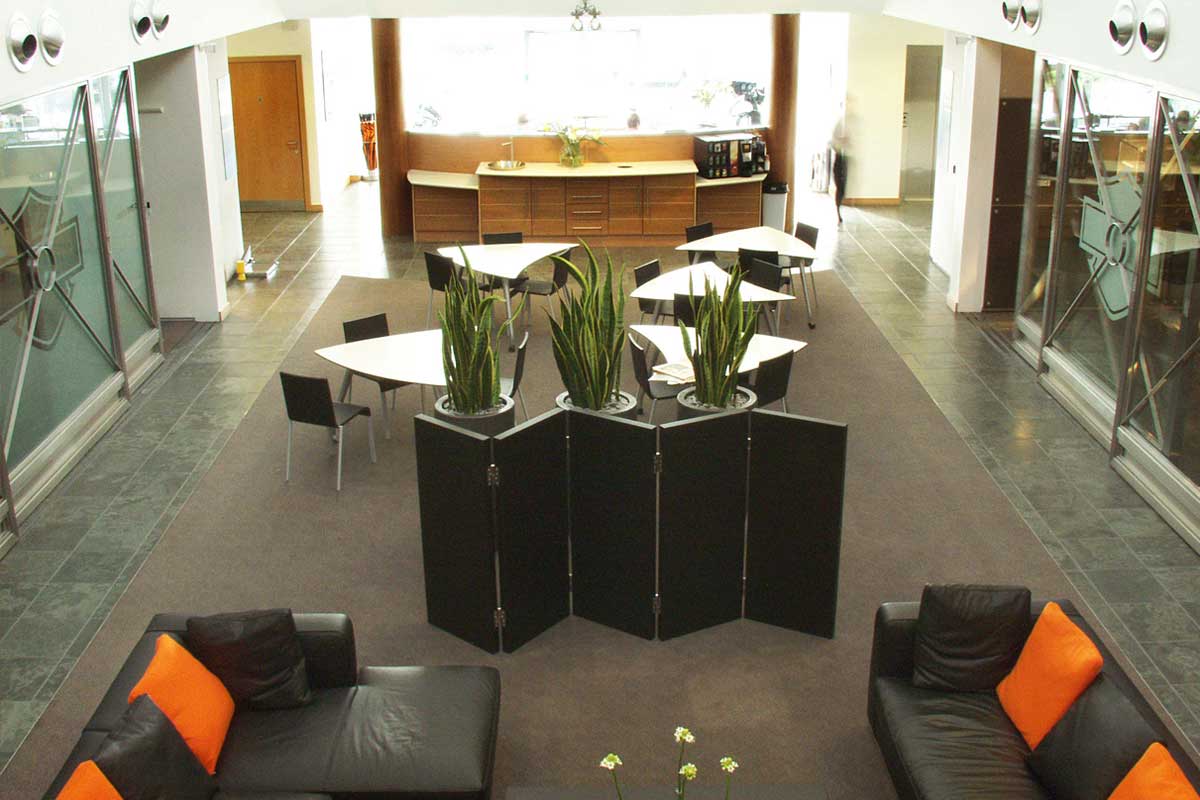 There is no doubt that this entryway belongs to Harley Davidson. Custom designed atrium glass walls and sliding glass doors make this commercial office interior design stand out. From the Harley Davidson logo on the doors to the orange and black pillows on the couches, brand values are inherent in this design.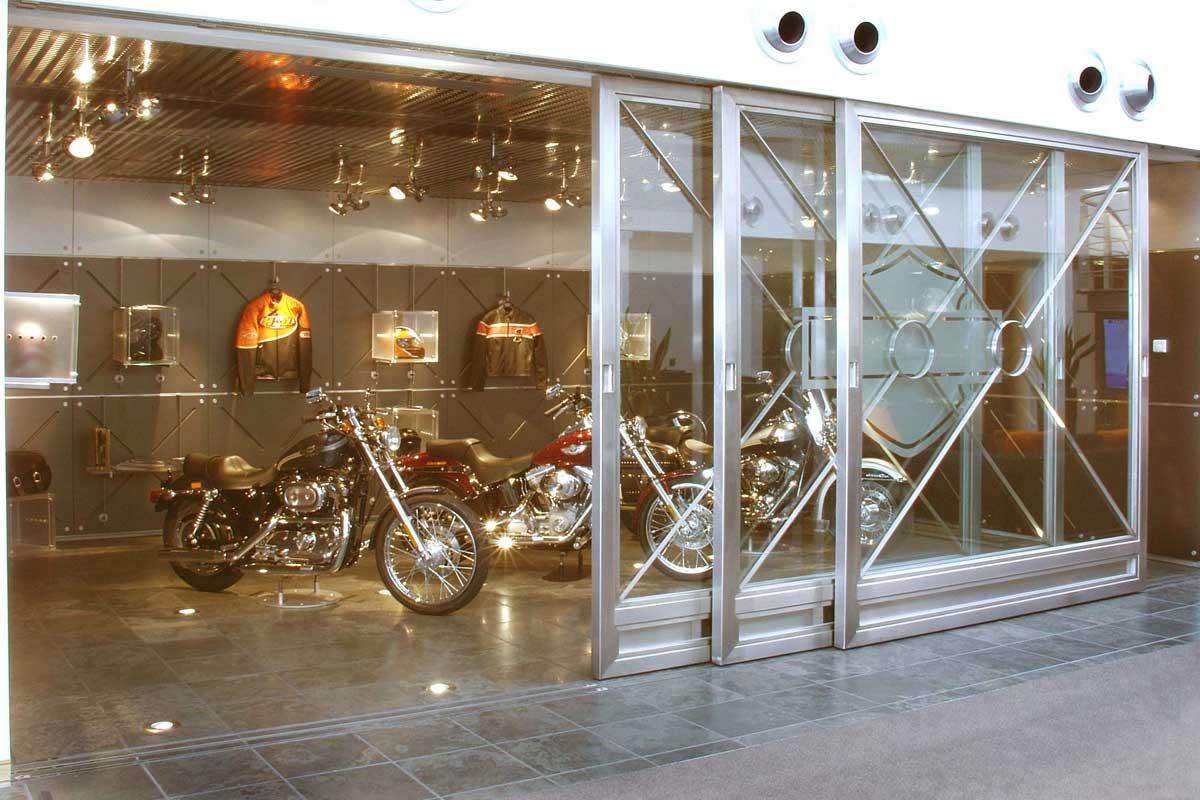 A display of Harleys, helmets, and jackets further reinforce the brand identity in this commercial office design. The company's identity is captured in its colors and images, and including these unique elements in the design allows the company culture to weave itself through every aspect of the office.
Keeping the brand at the forefront makes it easy for employees to maintain their sense of identity as part of something larger than themselves. Rather than entering a sterile environment that could be the headquarters of any company anywhere, they enter a place that builds a connection between them and the brand from the moment they enter the building to the end of the day.
5. An Abundance of Natural Light
In an effort to increase employee well-being and enhance sustainability, many commercial office designs are incorporating as much natural light as possible into their design. Providing employees with outside views and natural light instead of fluorescent light encourages well-being and increases productivity and workplace happiness.
As an added bonus, LEED credits can be earned through this introduction of natural light into the commercial office design. This can be achieved through incorporating lots of exterior windows that create outside views as well as installing glass partitions throughout the office.
Installing glass partitions throughout the office is a commercial office design idea that allows natural light to flood through the entirety of the floorplan.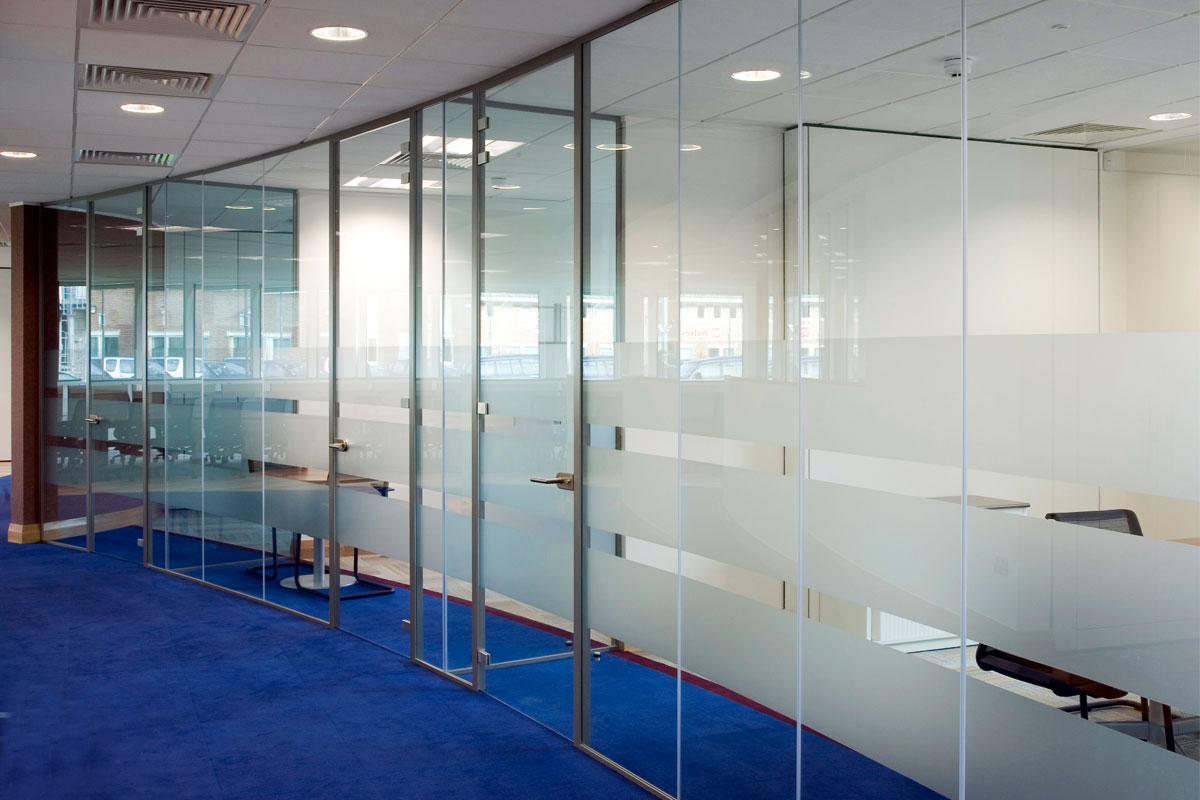 In this office, glass walls have been installed where traditional walls would have been. These glass partitions allow for the outside light to flow into the other areas of the office rather than be captured in the few exterior rooms.
Gone are the days of sterile office environments that left little room for inspiration and creativity. Commercial office design trends for 2020 encourage collaboration, protect the environment, increase employee health and well-being, and support the company culture and identity.
For assistance incorporating these commercial design trends into your office design, contact Avanti Systems today.