Creating a corporate office design that encourages productivity, welcomes employees and clients, and looks beautiful is a delicate balance. From corporate office lobby design to individual workspaces, these 11 corporate office interior designs and concepts will inspire you to create a beautiful and functional space: 
1. Double Glazed for Acoustic Comfort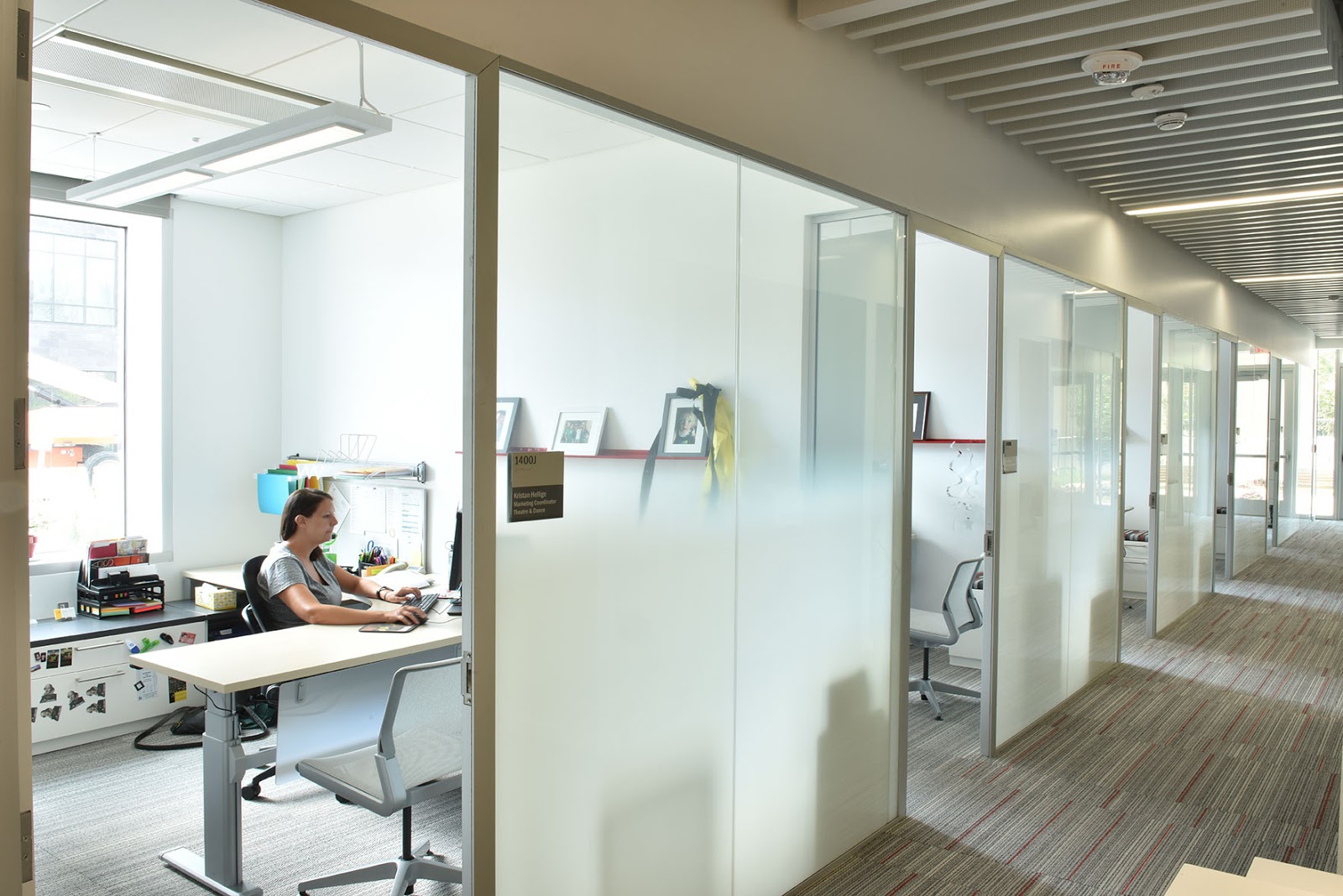 For individual offices, ensuring sound privacy is an important consideration. Solare™ Double Glazed frameless glass partitions allow natural light and a connection to the outer office, but also provide the acoustic rating of a solid wall.
2. Incorporate Pops of Color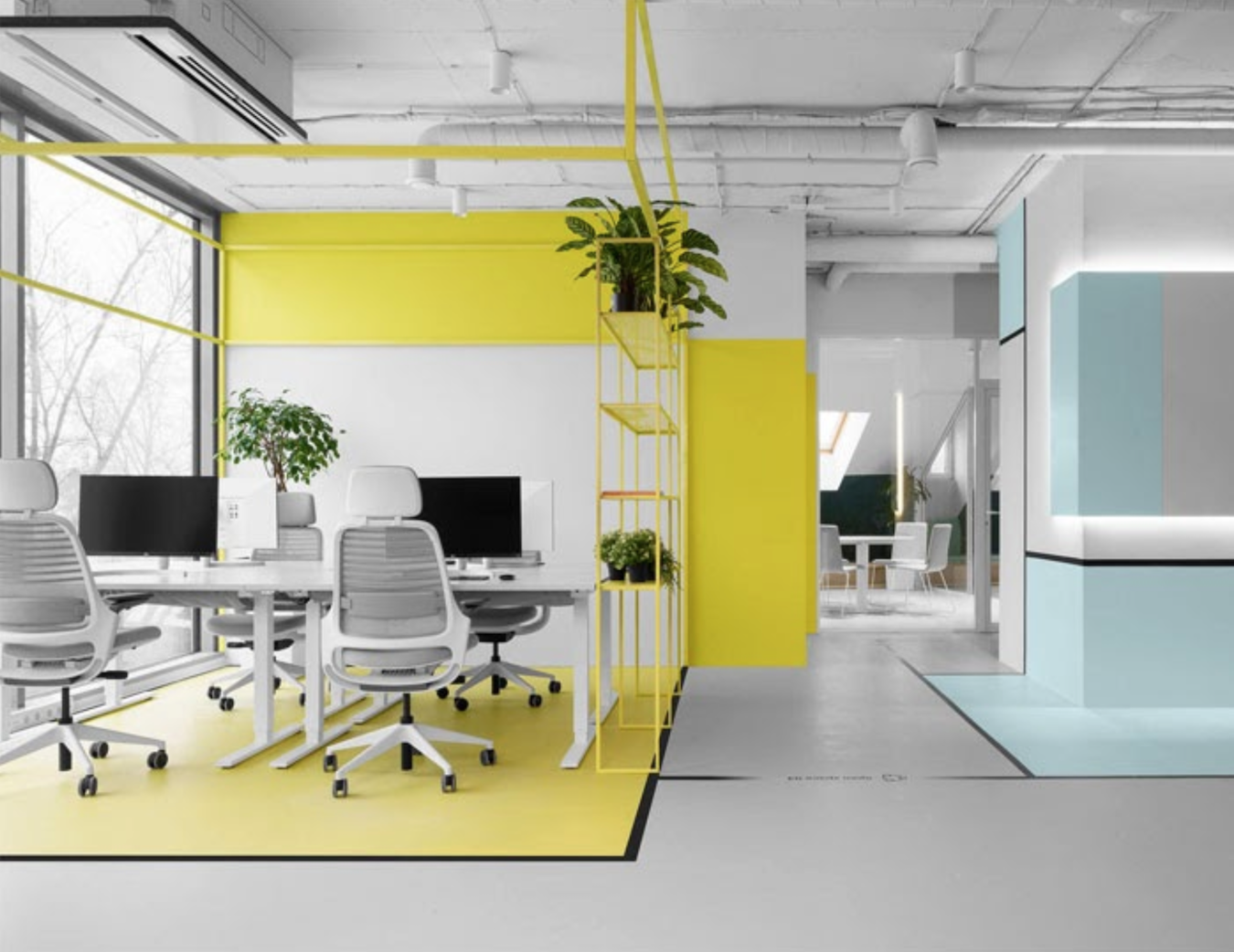 Incorporating pops of color into a corporate office design adds an element of excitement and brightens the space without overwhelming it. Splashes of color can take many forms. Adding color to the wall or floor, installing art, and incorporating plants and succulents are all ways that color can make an appearance.
3. Living Walls to Bring Nature Indoors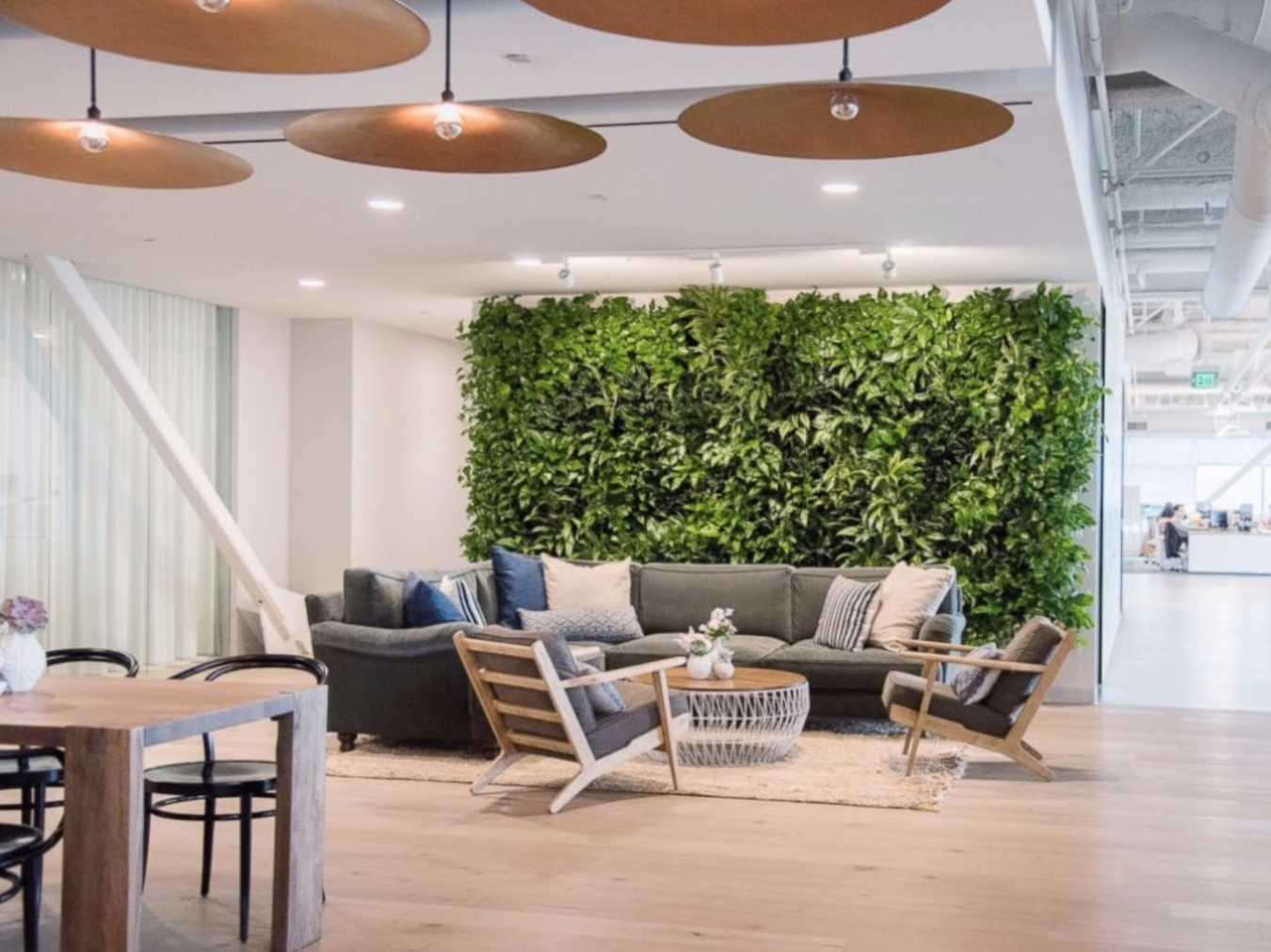 One of the fastest growing trends in corporate office design, and any interior design for that matter, is a living wall. Composed of a variety of plants and mosses, living walls help to improve air quality, boost employee morale and well-being, and beautify the space. If you really want to get creative, you can create the wall from herbs and lettuces that employees can harvest. Talk about an added perk!
4. Open Concept with Targeted Work Zones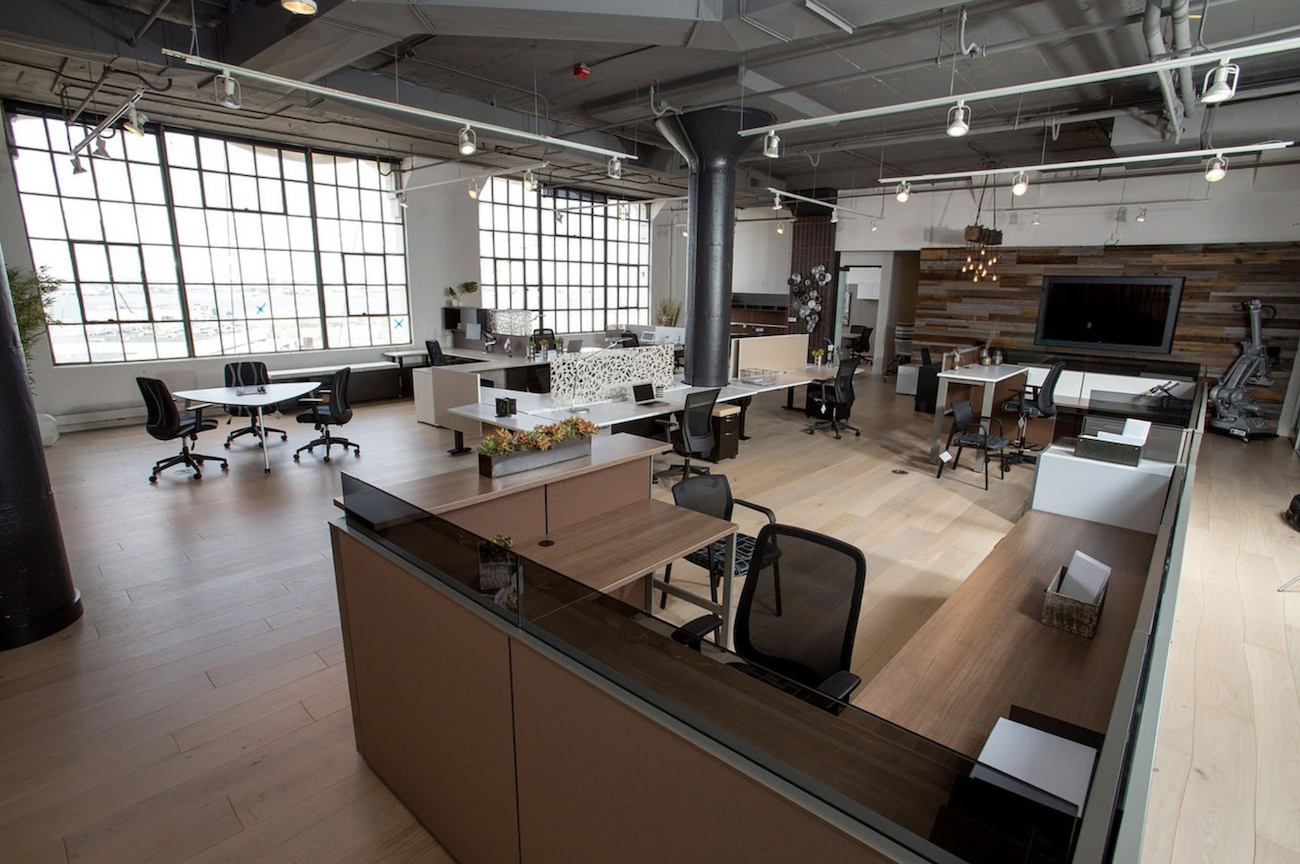 Open concept offices have their pros and cons, but one way to make it work for everyone is to provide a variety of workspaces to accommodate everyone's needs. Targeted work zones can be created to allow for small collaboration sessions, individual work, and client meetings. 
Paired with corporate office reception design, it can all come together to create a hive of activity. In the event that you want to separate the workspaces while still maintaining visual contact, glass partitions can be added to create the best design for everyone.
5. Separated Industrial Space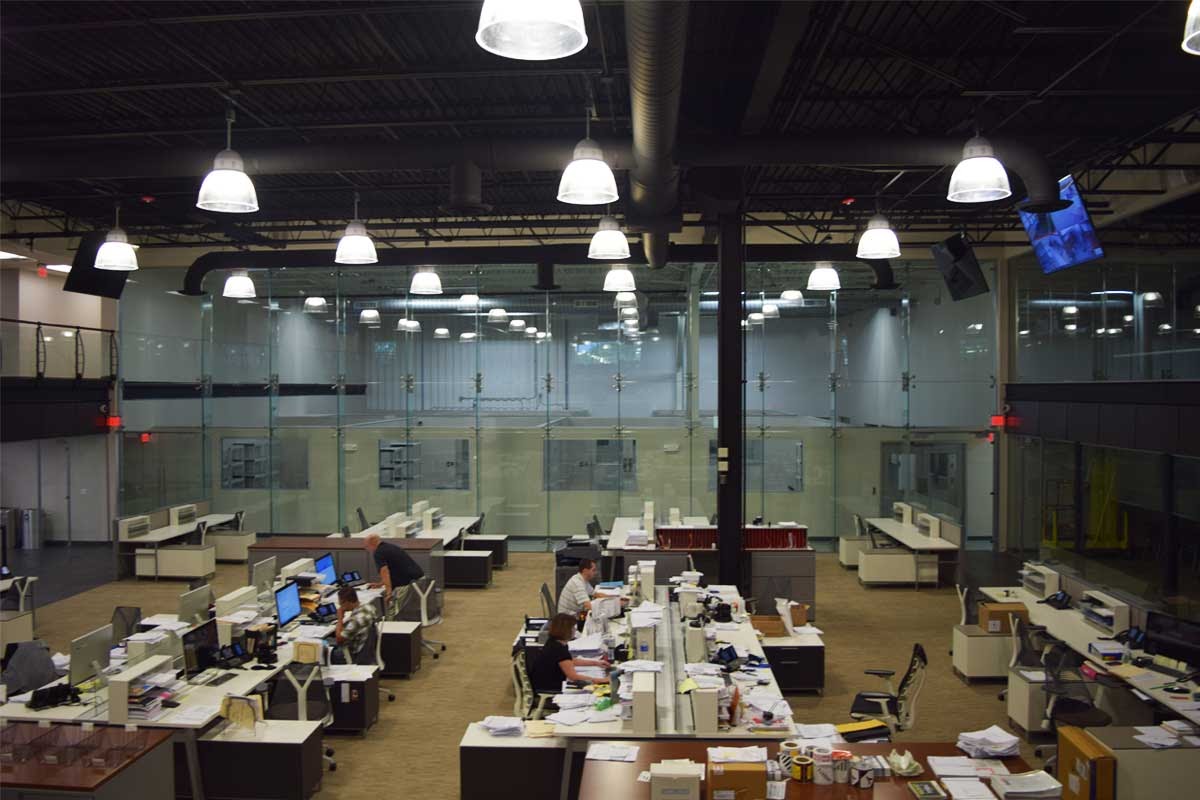 Large industrial spaces can serve multiple functions when separated with an Elevare™ Point Support Single Glazed glass partition system. This completely versatile system is suited for a variety of different needs and environments. It can be reconfigured and relocated with minimal holes in the main support structure, and this flexibility makes it perfect for corporate office interior design.
6. Common Space Flooded with Natural Light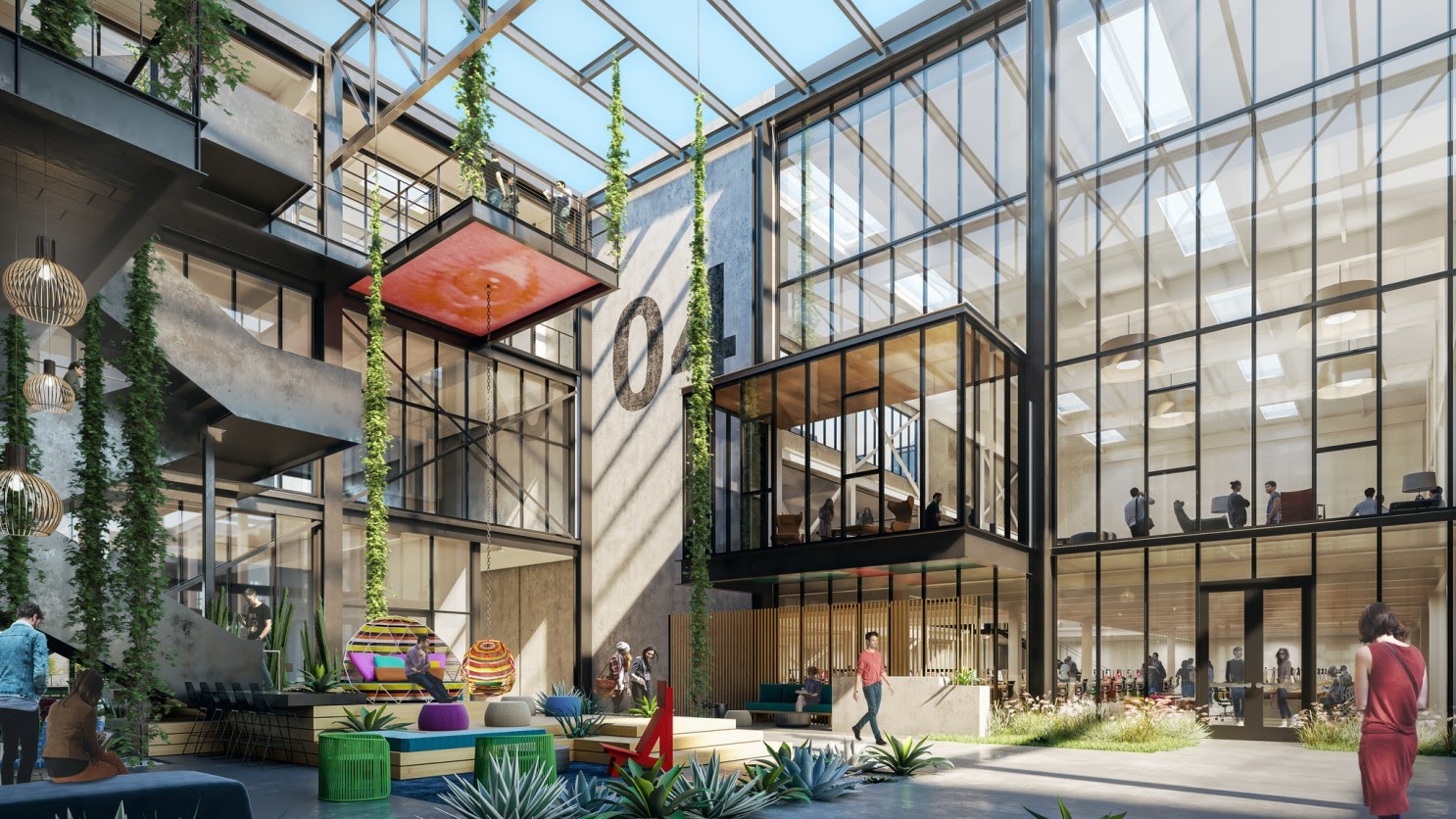 When it's time for a break, one important office design idea isn't inside at all. Providing a common area that is separate from the main office allows employees to take a break, stretch their legs, and socialize. Fostering strong social connections at work can increase happiness and decrease stress. A courtyard area, whether outside or under skylights, can use modern interior design to create the best employee experience possible.
7. Factory Chic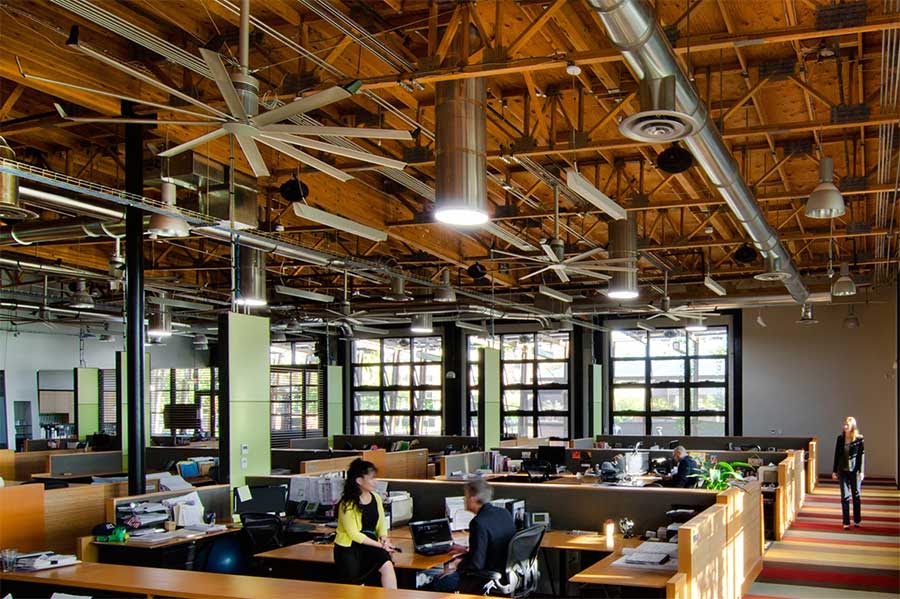 Modular wall systems, like the Transverso™ Monoblock Modular Partition System, are adaptable to changing circumstances and needs. They can be parked in various configurations out of sight, so they can transform a space from a private meeting room into a large area for bigger groups in seconds. This versatility is ideal for a coworking space design that must meet a variety of needs in a dynamic way.
8. Timber Doors for a Natural Touch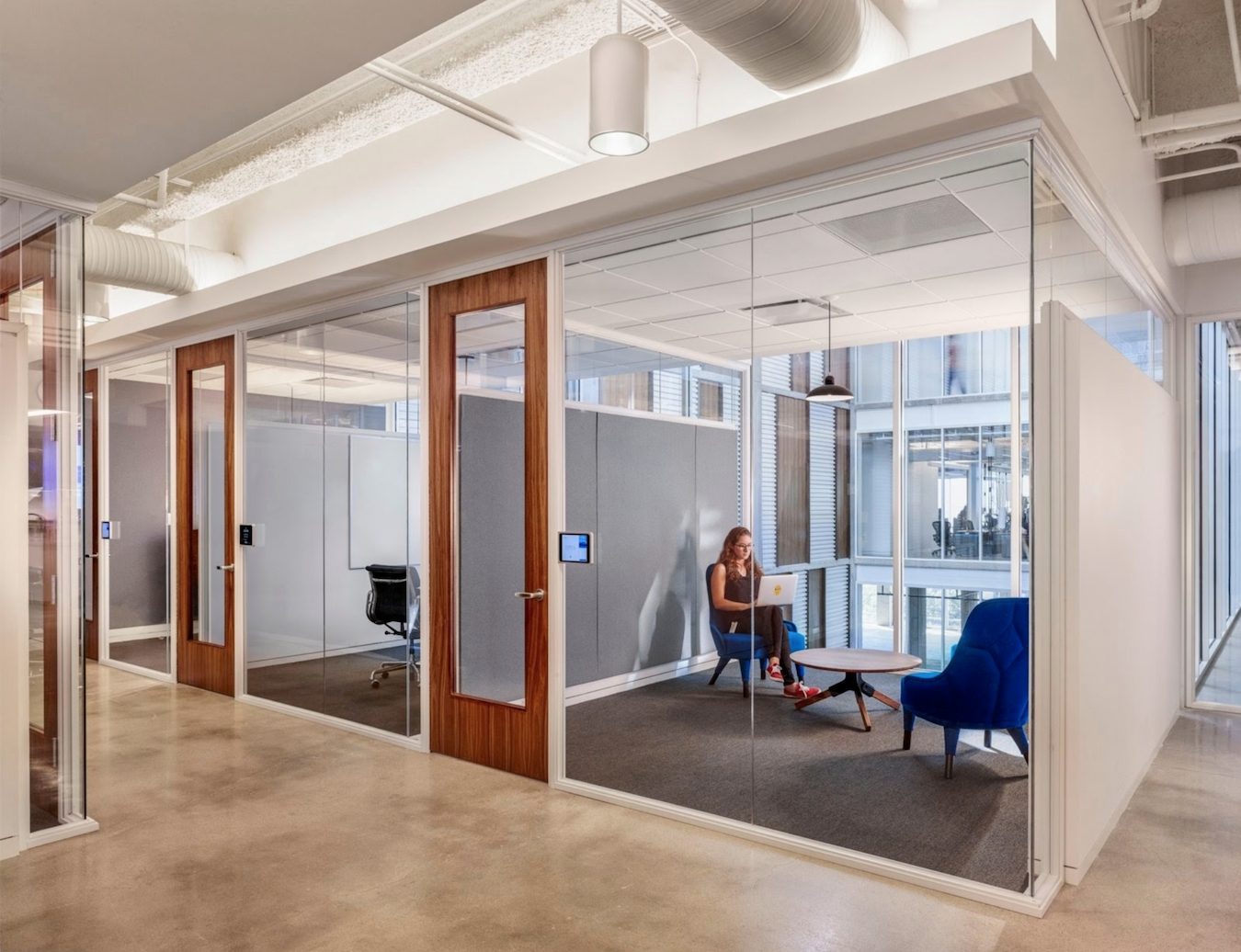 Some people think modern corporate office design is a cold and sterile environment. That couldn't be further from the truth. In fact, corporate office designers are incorporating natural touches into office interiors. Arboro™ Timber Swing Doors from Avanti offer customization options including standard or full height, vision panels, and the ability to fit into straight or curved configurations.
9. High Contrast Design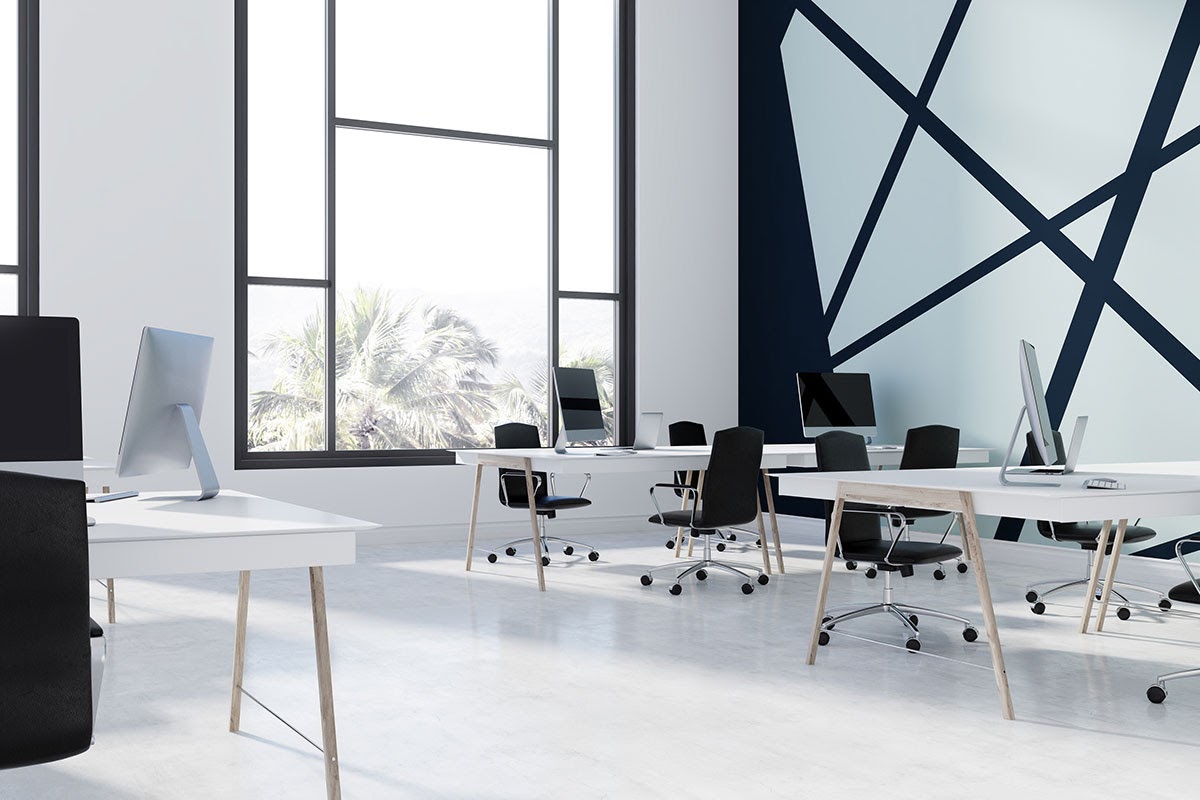 The pinnacle of edgy, high contrast designs, especially those that feature a black and white palette, created a stark contrast between elements. Pair this corporate office design concept with natural light and views of the outdoors, and you've got an unforgettable office design.
10. Working Cubbies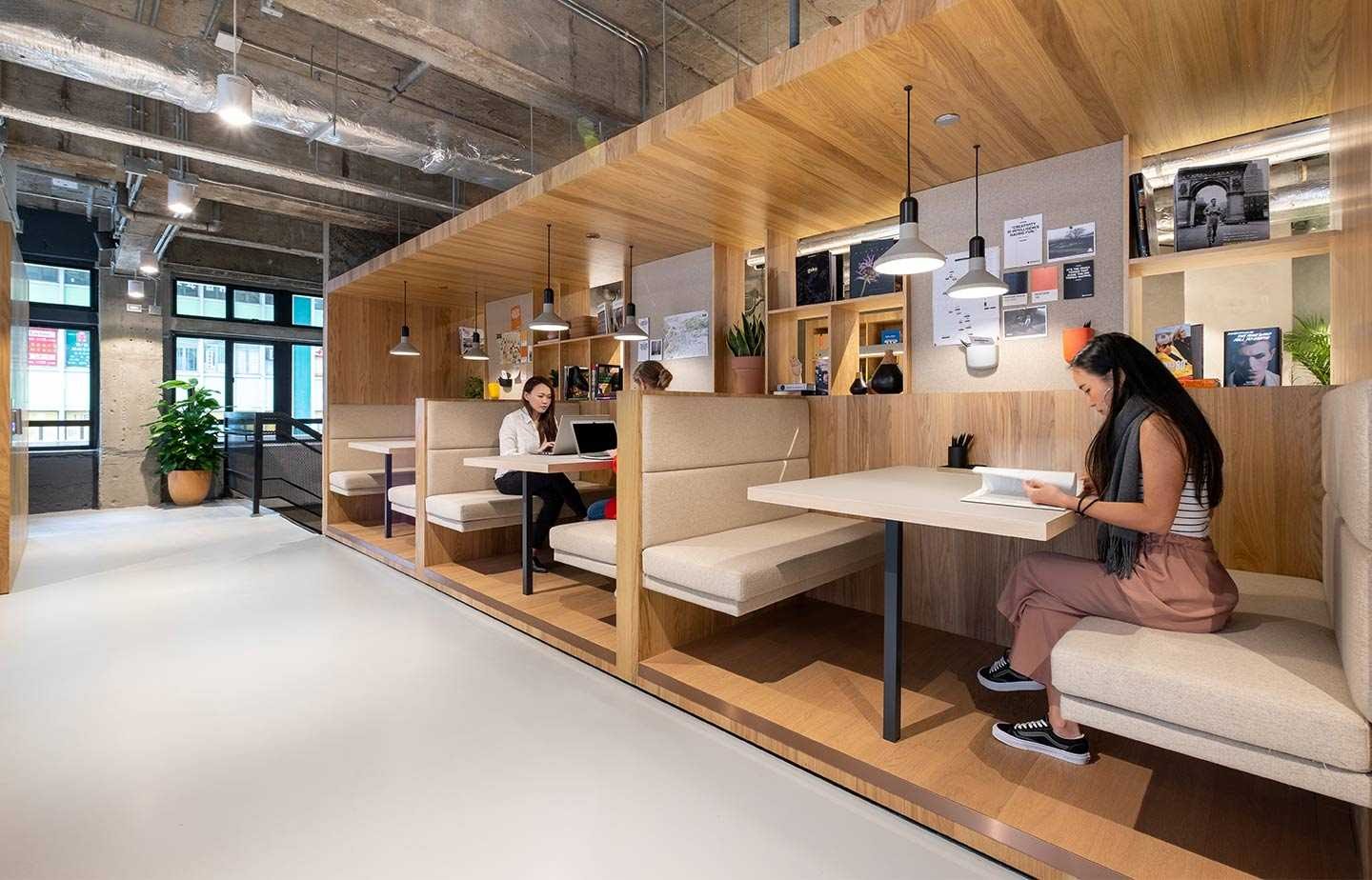 Setting up semi-private individual work spaces is a great way to support employees' needs while still encouraging collaboration and a sense of community. The best corporate office design seeks to balance the needs of employees while maintaining a pleasing and functional aesthetic.
11. Modular Walls for a Dynamic Space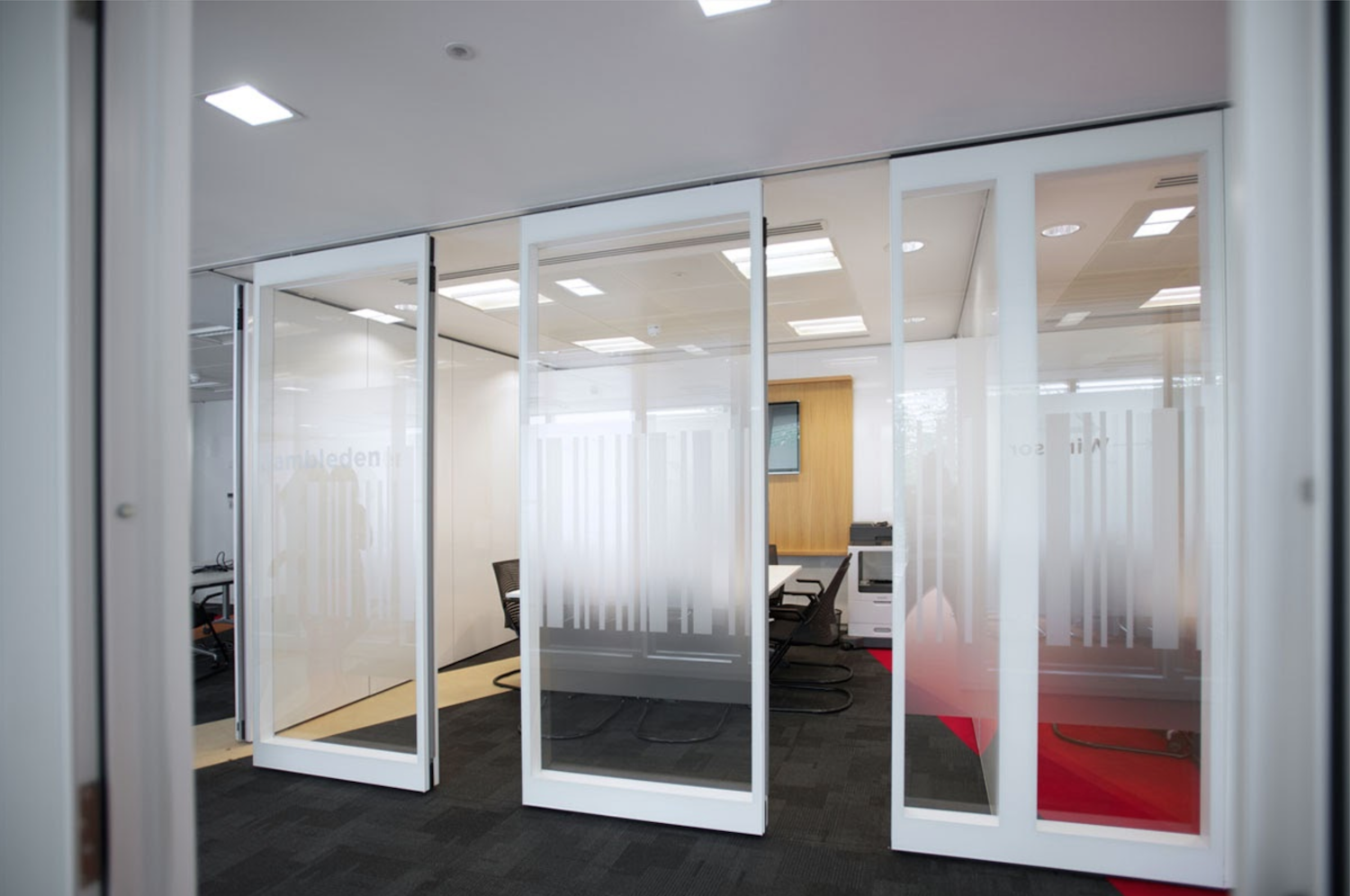 The modern office has to accommodate a wide range of purposes. From team collaboration to large group meetings to client consultations, these dynamic needs require a dynamic solution. The Transverso™ Monoblock Modular Partition System offers pre-assembled units that can quickly go into place, allowing you to create and use your new space in record time. 
Elevate Your Corporate Office Design with Avanti
Avanti makes a range of glass partition systems that allow you to create a functional and aesthetically pleasing office design. Whether you need the dynamic capabilities of a movable wall system or want superior acoustic comfort, we will help you find the right product for your space. To see Avanti's partition systems at work, check out these school and corporate office interior design case studies. 
Contact the interior glass wall specialists at Avanti Systems today to start planning your corporate office interior design.