A coworking space is a shared place that houses a variety of different workers that don't necessarily work for the same company. Freelancers, remote workers, entrepreneurs, and the self-employed can all benefit from using a coworking space to get their work done.
In a coworking space, people can work independently or collaboratively as it suits their needs. With so many different people coming together in a shared space, it can be difficult to meet all of their needs—but not impossible.
These creative coworking space design tips will help you create a productive office environment that people will return to again and again.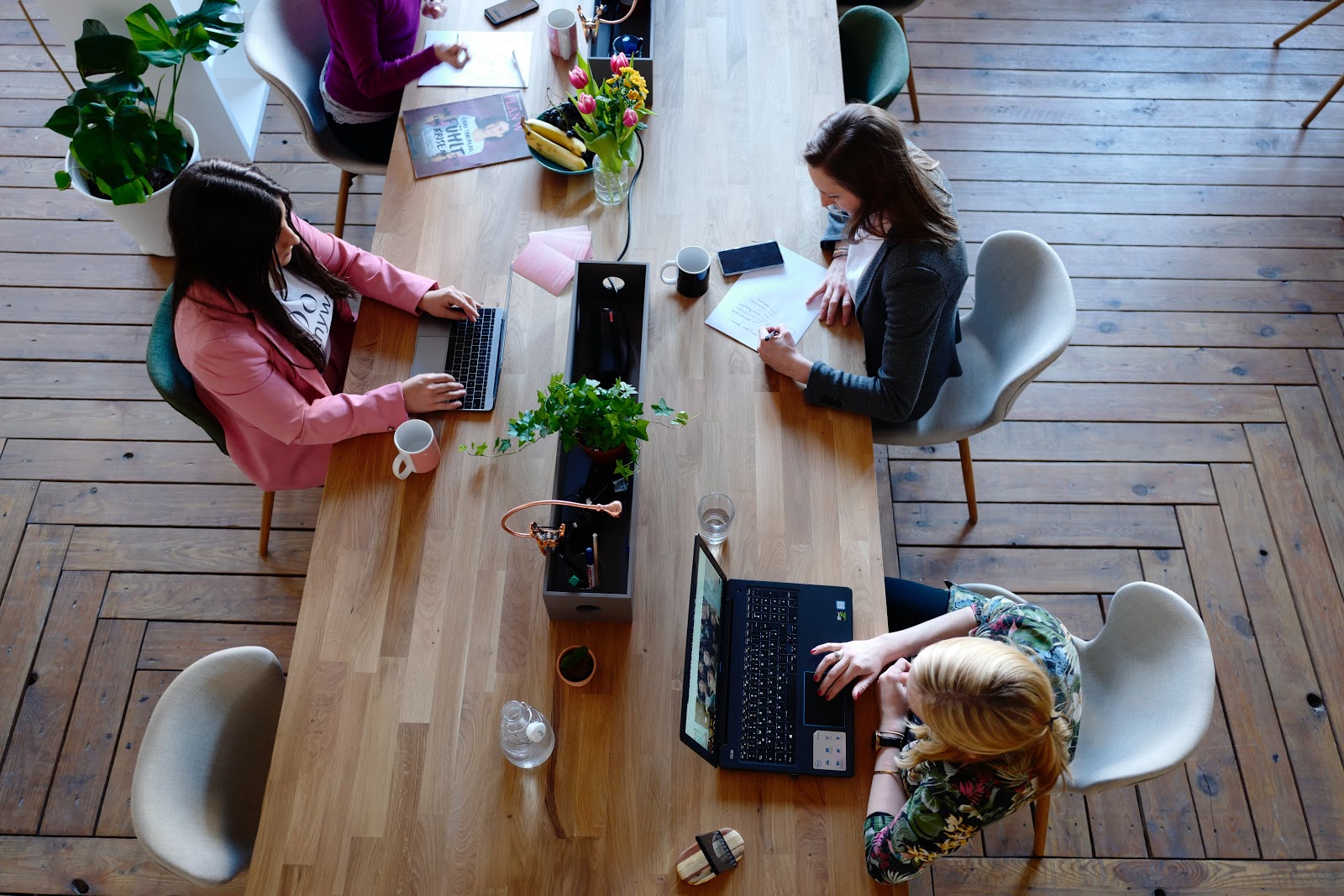 1. A Space for Collaboration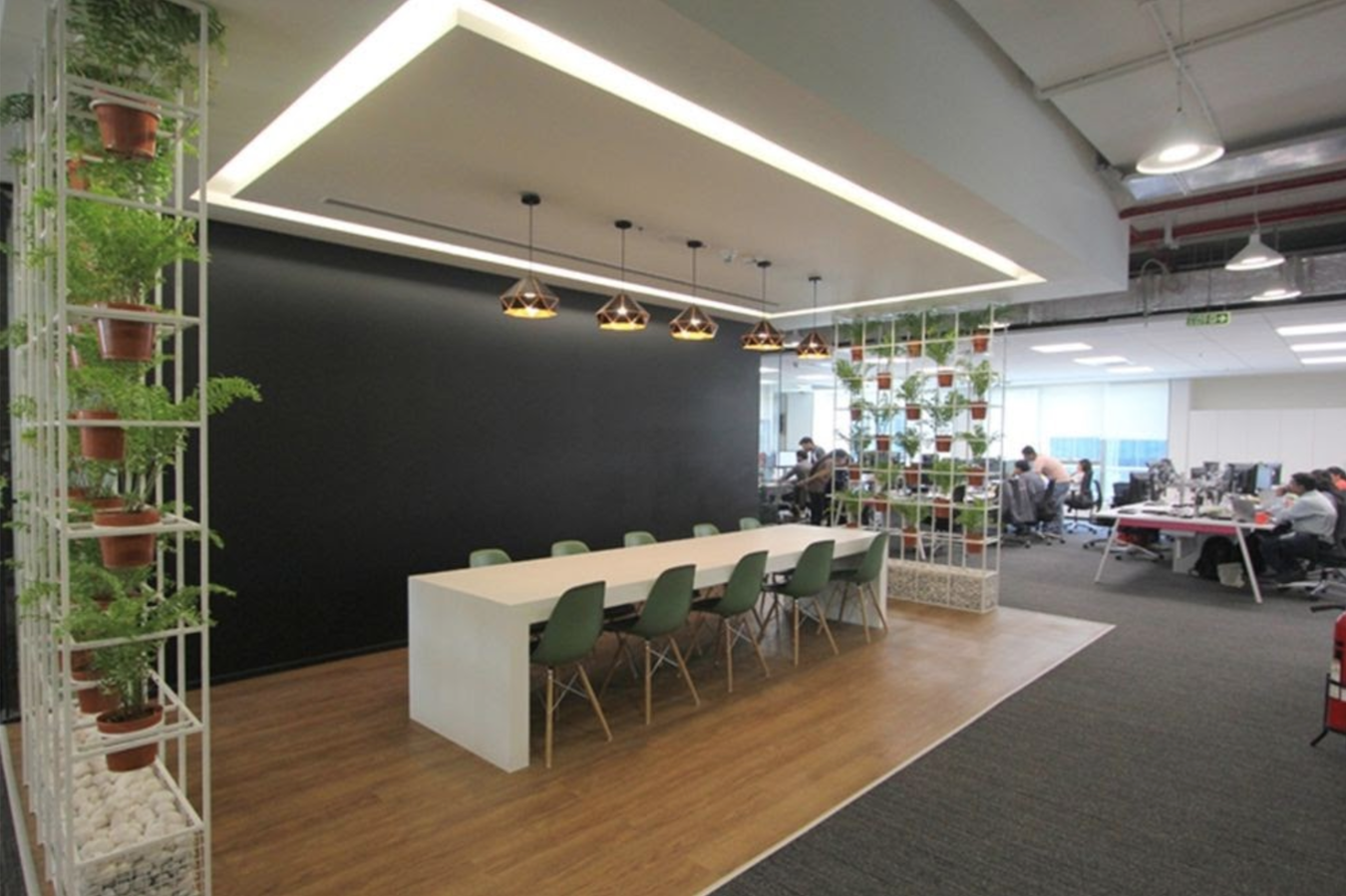 Coworking spaces must meet a wide variety of needs. Some people may desire quiet, independent workspaces, and others may thrive in a busy environment teeming with collaboration. Setting up a space that is open and welcoming is the perfect way to meet the needs of those seeking collaboration.
Deep earth tones and green plants draw people to the space and encourage them to work together and feed off of one another's ideas. If social distancing is an issue, simply remove a few of the chairs to create a collaborative space that is also safe.
2. Standalone Breakout Space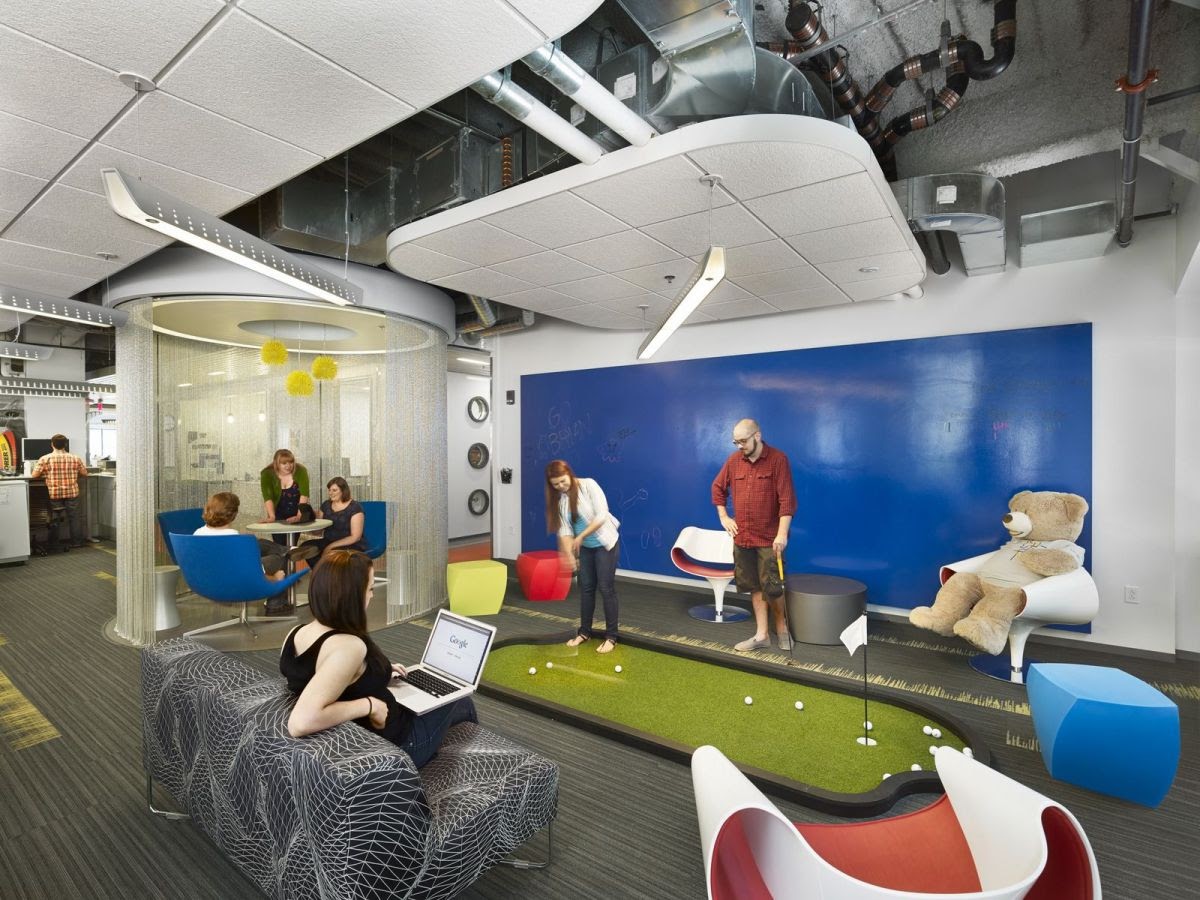 Creating a standalone breakout space gives people a private space to share ideas where they won't be disturbed (or disturb anyone else). The great thing about creating a standalone breakout space is that it can be placed anywhere it is needed-even next to a putting green with a stuffed bear audience.
Using a glass partition system, like those offered by Avanti Systems, that can be straight, angled, or even curved, will allow you to designate the perfect space that creates sound privacy where people can collaborate without distraction.
3. Creative Lighting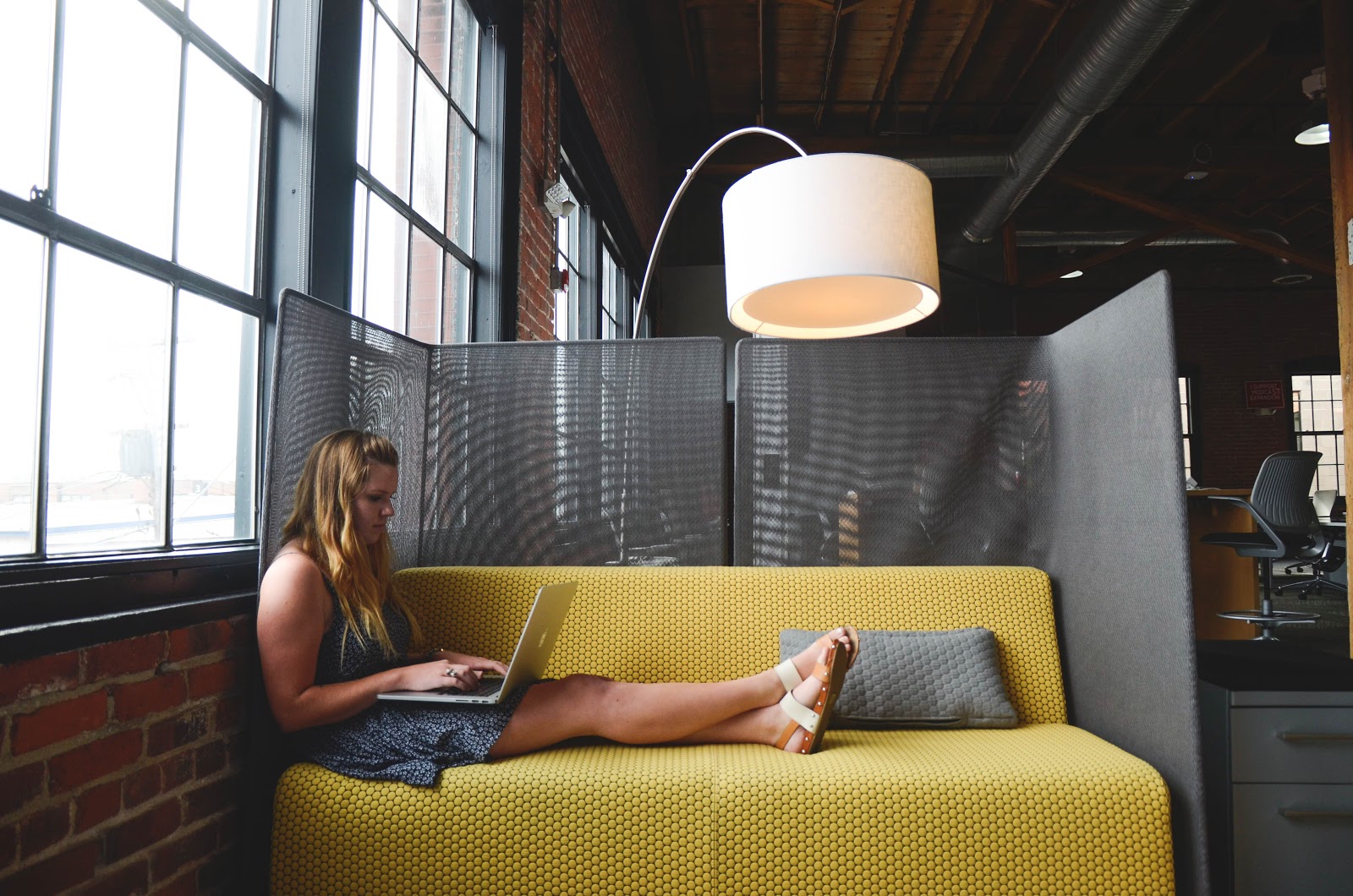 One of the most important aspects of any work environment is adequate lighting. In a coworking environment, you want to ensure that every workspace has dedicated lighting. A unique lamp or fixture can mean the difference between a dark cave-like environment and a bright, vibrant one that excites and inspires.
The corner office, where natural light was a perk of the position, has given way to coworking spaces where this light is available for everyone. Wherever possible, encourage the flow of natural light into the interior of the office, whether it is creating workspaces with screens that allow light to penetrate through or utilizing glass partitions that don't obstruct the flow of light.
If you really want to increase the level of light in your coworking space and are up for a larger project, installing skylights is a great way to introduce even more light.
Lighting can even serve as a way to designate workspaces, whether at a long table or on individual couches or other seating areas.
4. Freestanding Cubicles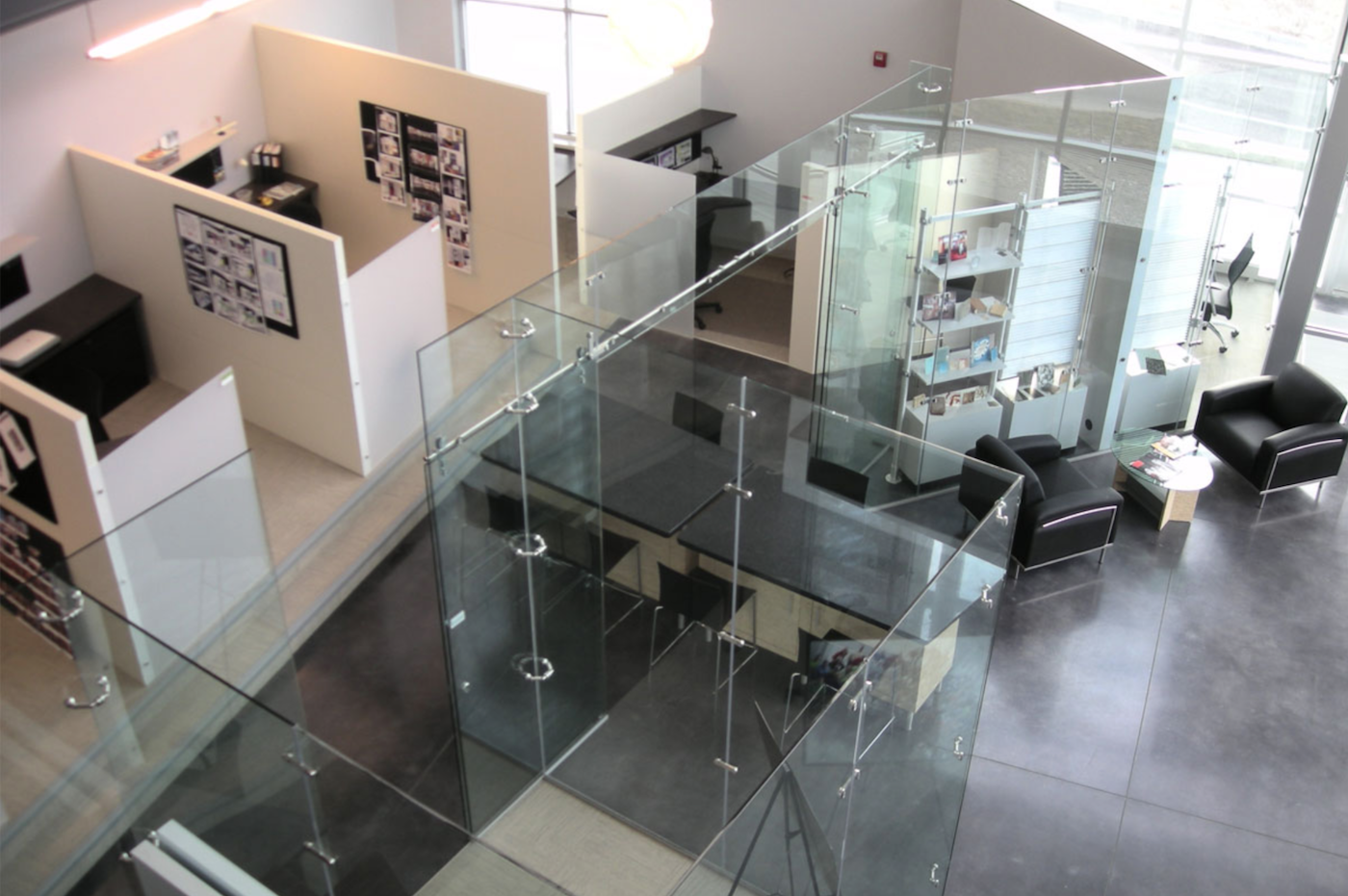 Freestanding cubicles can be placed where they are needed and reconfigured as necessary. They can be set up as a way to create larger spaces where workers can collaborate or they can be smaller and only accommodate one workspace.
Blending a glass freestanding partition with a more standard cubicle set up can give workers the best of both worlds in their coworking space. These cubicles can also help with social distancing and giving people their own space to work without fear of germs..
5. A Variety of Storage Options
Some workers will want to have locking storage available for things they don't want to cart back and forth each day. A setup of lockers works nicely as they can provide their own lock and use one when they need it. 
Other options include individual workspaces that people can rent out on a monthly or weekly basis that includes private locking storage, or you can choose an unconventional method with lockable medical file cabinets.
6. Provide Coffee
Is it really a workplace without coffee? Correct answer: no.
While you likely won't have a full-time barista on staff, you can create a serve-yourself coffee area. Something as simple as a Keurig or Nespresso machine will help workers feel like you care as they treat themselves to a much-needed shot of caffeine, and in today's COVID climate, single-serve is the way to go. You can even leave some disinfecting wipes next to the machine, so people can wipe it down when they're done.
7. A Space for Supplies
Yes, much of today's work is done on a phone or laptop, but there are times when paper is the only thing that will do the job. 
Since most workers using the coworking space are setting up in shared spaces, they may or may not have the supplies they need. If they need a paper clip, stapler, notepad, or pen, it's nice to set up a space with a few standard office supplies that can be pulled from if the need arises.
8. A Sanitization Station
This one almost goes without saying, but providing hand sanitizer and disposable masks at the entrance, and in strategic places throughout the coworking space, can help people take advantage of the space while remaining as safe as possible.
If you really want to get creative, you can sew reusable masks or even order some with your coworking space's logo that people can keep. Little touches like this will help people feel welcome and cared for.
Set Them up for Success
Whether you're providing a coffee station, supply spot, perfect lighting, or glass partitions for privacy, a coworking space creates a wonderful place for creatives, entrepreneurs, remote workers, and freelancers to be productive. 
Even in these strange times, coworking spaces can adapt to be a safe and familiar place for workers to get things done. Creating these spaces can be accomplished by incorporating glass partition systems from Avanti Systems into the design. Contact an expert at Avanti today to create privacy and social distancing while still maintaining a collaborative feel.