Office designs have undergone many changes since a large portion of the country began reporting to offices for their 9-5 jobs. In the 1950s, open office concepts took center stage as desks were arranged in rows or groups that allowed for conversation but ultimately proved distracting. Add in the big-wigs looking on from their offices around the perimeter, and by the 1970s and 80s, it was clear that a change was needed.
Enter the "cubicle farm." What began as a revolutionary way to give employees privacy quickly turned into an excuse to pack as many employees into an office as possible, all while depersonalizing the space and creating working drones. It became clear in the early 2000s that this model wasn't working, and office design again experienced a shift that saw workplaces incorporate more elements of fun into their designs. Brighter colors and funky furniture were meant to make employees more comfortable and excited to come to work and the open office concept returned in force.
Again, the design was lacking. As we move into the 2020s, a new office space revolution is taking place that takes into account a wide variety of workplace configurations, leaving room to create spaces for collaboration, small groups and teamwork, and quiet individual work. This dynamic office layout can be achieved in a variety of ways, but one way that is sustainable, customizable, stylish, and versatile is the incorporation of office cubicles with sliding doors.
Office Cubicles With Doors Increase Privacy and Acoustic Rating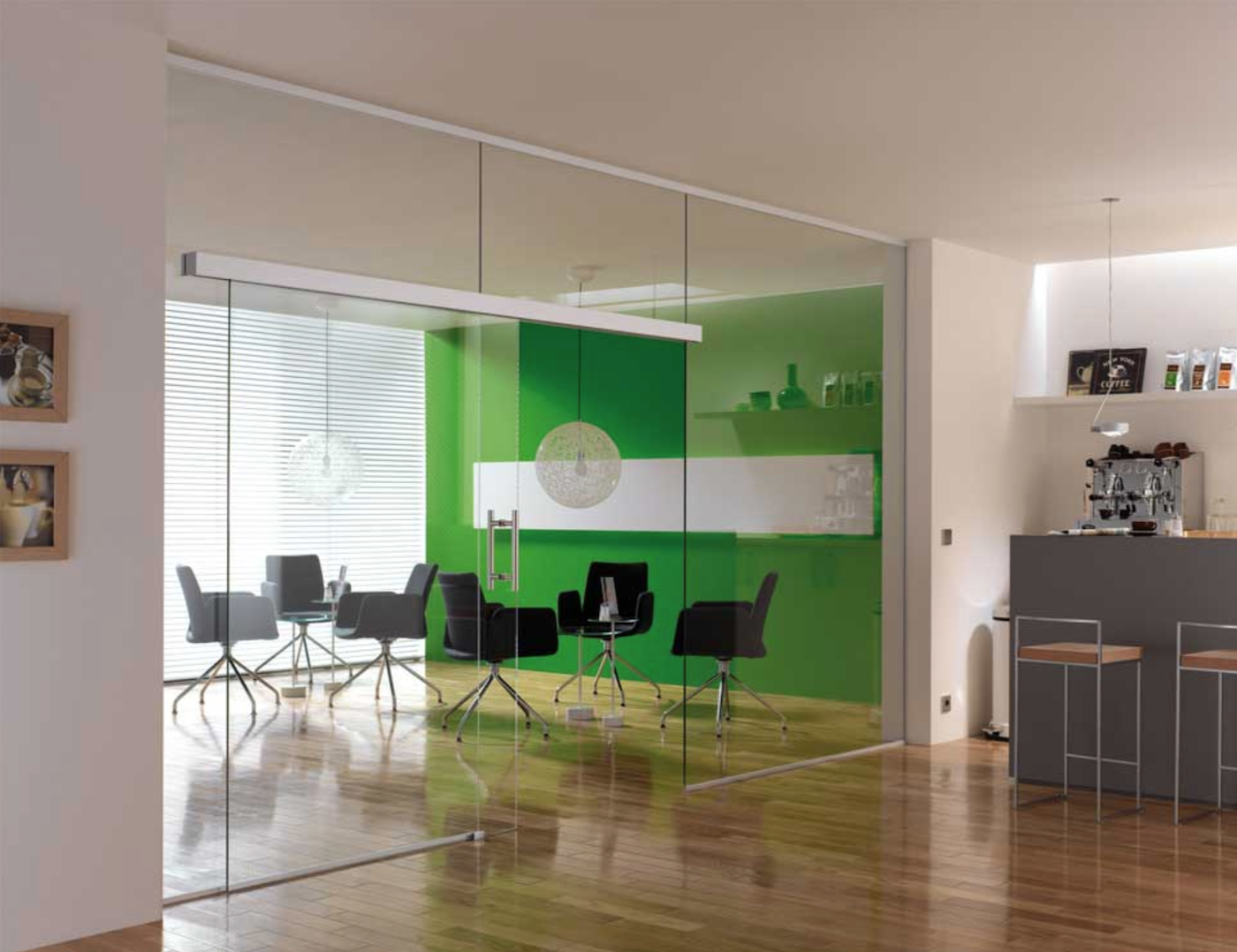 The major complaints about an open office floor plan is the disruptions that stem from a lack of visual and sound privacy. Distractions are difficult to avoid if employees are right in their midst. A colleague's phone call or the bag of chips they're eating for lunch can cause disruptions to the colleagues around them, leading to decreased productivity and morale. On the same token, knowing that their own conversations and chip crunching can be overheard by coworkers can make employees feel uncomfortable doing their jobs or taking a lunch break.
Not only is the lack of sound privacy an issue, but visual privacy can also decrease employee morale and increase workplace discomfort. While steps can be taken to reduce sound distractions-noise canceling headphones for instance-it's more difficult to avoid the lack of visual privacy. A Harvard Business School researcher and Associate Professor Ethan Bernstein notes that "If you're sitting in a sea of people, for instance, you might not only work hard to avoid distraction (by, for example, putting on big headphones) but — because you have an audience at all times — also feel pressure to look really busy." 
Adding space to an office where privacy is protected is essential to creating a comfortable and productive work environment. Incorporating office cubicles with doors achieves this goal and adding sliding doors creates an even more aesthetically pleasing and efficient space. For additional sound privacy, a double-glazed partition system provides the aesthetics of glass while having the acoustic rating of a solid wall, ensuring sound privacy.
Maintain a healthy environment and prevent the spread of germs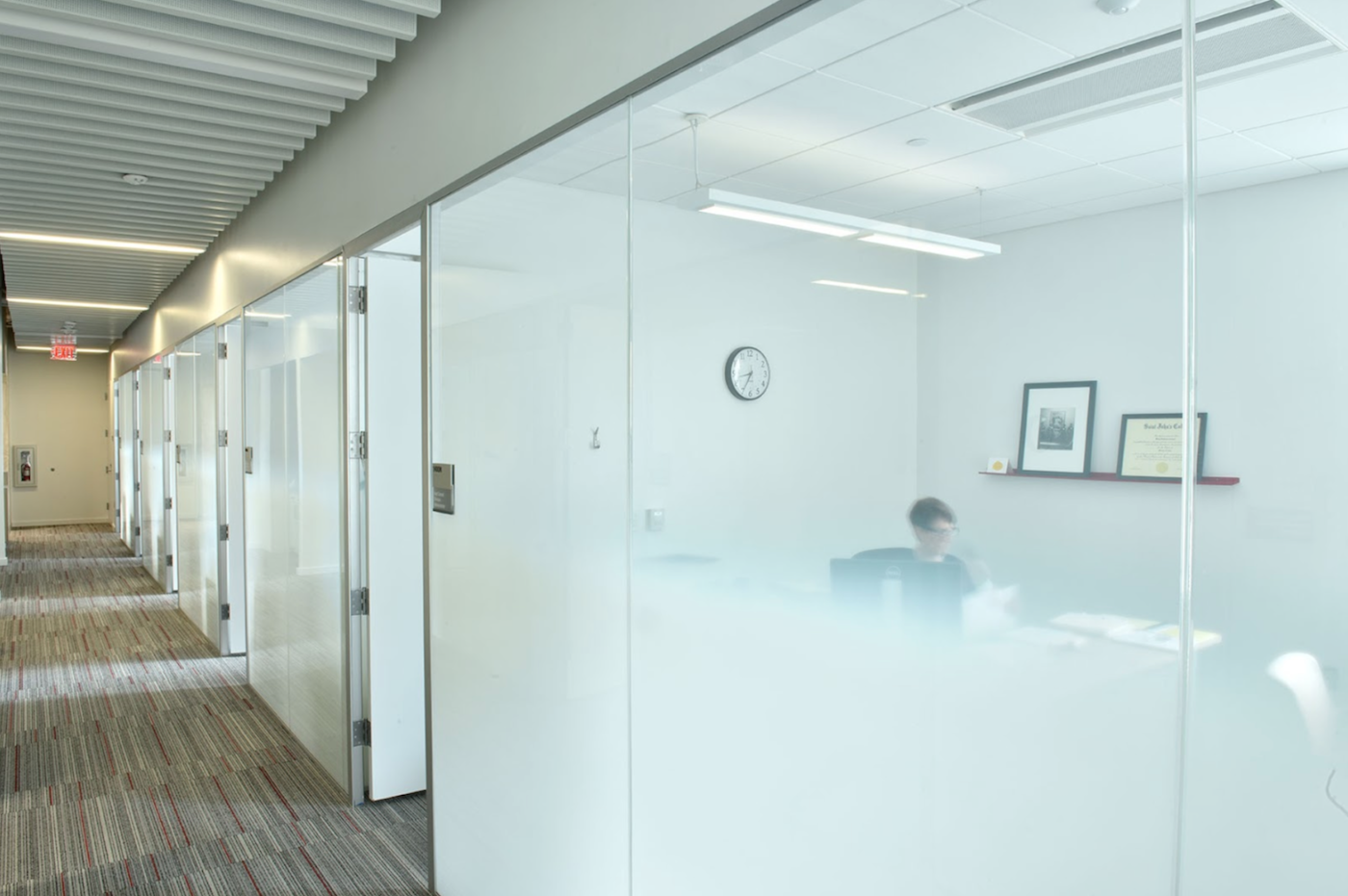 In this time of uncertainty surrounding the coronavirus, many offices have switched some or all of their employees to remote work. Those who still work in a physical office have no doubt had to make changes to adhere to social distancing guidelines for the health and safety of themselves, coworkers, and clients. 
As more and more people return to their offices in the wake of the pandemic, one change in office design has already been a growing trend in modern offices. Office cubicles with sliding doors help to maintain a healthy environment and can prevent the spread of germs in a variety of ways.
Glass Cubicle With Doors Can Be Easily Cleaned
Unlike traditional drywall, glass is quickly and easily wiped down and sanitized. As per the CDC recommendations, a regular cleaning with soap and water or an approved disinfectant will help to kill the virus that may be living on surfaces. A glass cubicle with doors can be cleaned quickly, ensuring a reduction in germs.
Glass Cubicle With Door Allows Light In
According to the CDC's reopening guidelines, "warmer temperatures and exposure to sunlight will reduce the time the virus survives on surfaces and objects." Glass cubicles with sliding doors welcome warmth into the office and encourage the flow of light from exterior windows, helping to kill the virus.
Office Cubicles With Doors Reduces Sick Days
A 2011 Danish study that took into account 2,400 employees found that those working in an open office as compared to a single-person office took 62% more sick days, and that was before the rise of the Covid-19. The free flow of germs in an open plan office can exacerbate the number of people taking sick days, which is yet another reason that office cubicles with doors can benefit both employees and their employers.
A Variety of Options
It's clear that integrating cubicles with doors into an office design is an improved alternative to a fully open-concept office design. And depending on the design of the office, a cubicle with sliding doors can incorporate a variety of styles to best enhance the office aesthetic, help adhere to social distancing protocols, and limit touch points in the office. Even in large spaces, high wall office cubicles with doors can be installed to create privacy and help reduce the spread of germs.
Pocket sliding door – Office cubicles with doors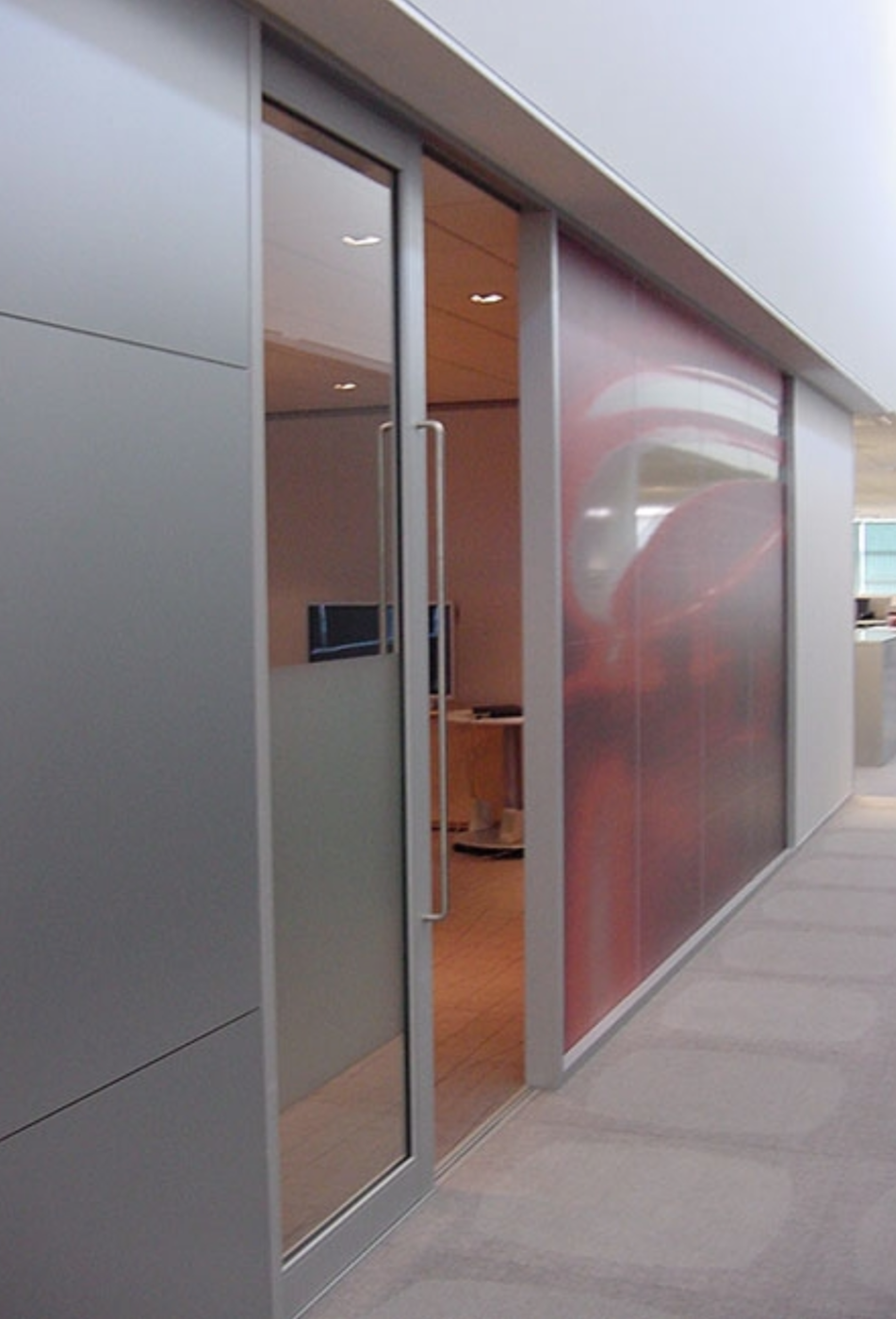 A manual sliding door creates quiet entry and exit from a glass cubicle as it slides smoothly on its track. Manual sliding doors can also be integrated into the design as a pocket door, include a screen on the inside, creating a seamless office cubicle profile when the door is open and increasing privacy when it is closed. 
Sliding barn door – Office cubicles with doors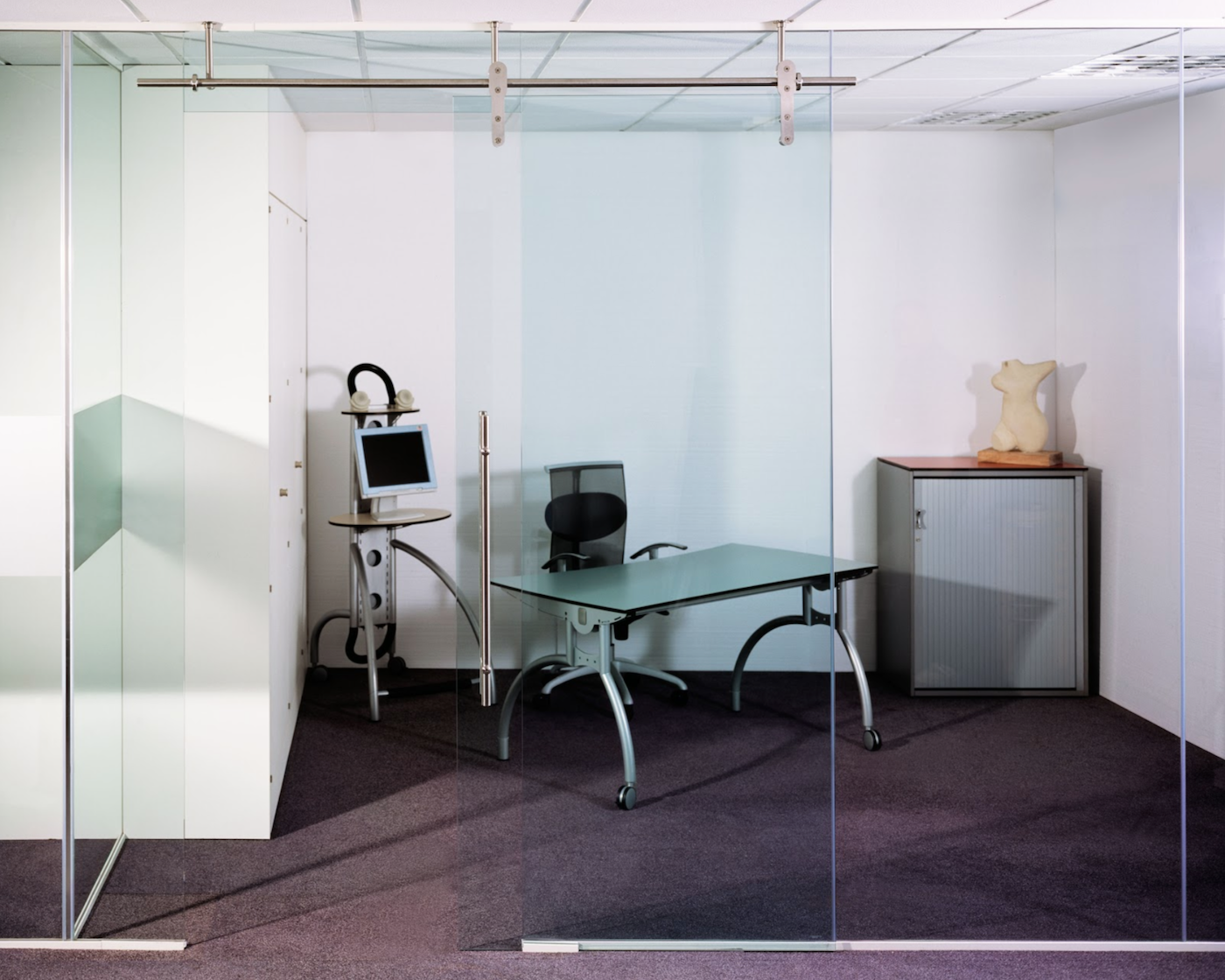 A stylish addition to nearly any office design, a sliding barn door adds a modern farmhouse touch that is incredibly popular in interior design. Sliding barn doors slide smoothly on their track and provide quiet entry and exit within an office.
Assisted close sliding door – Cubicle door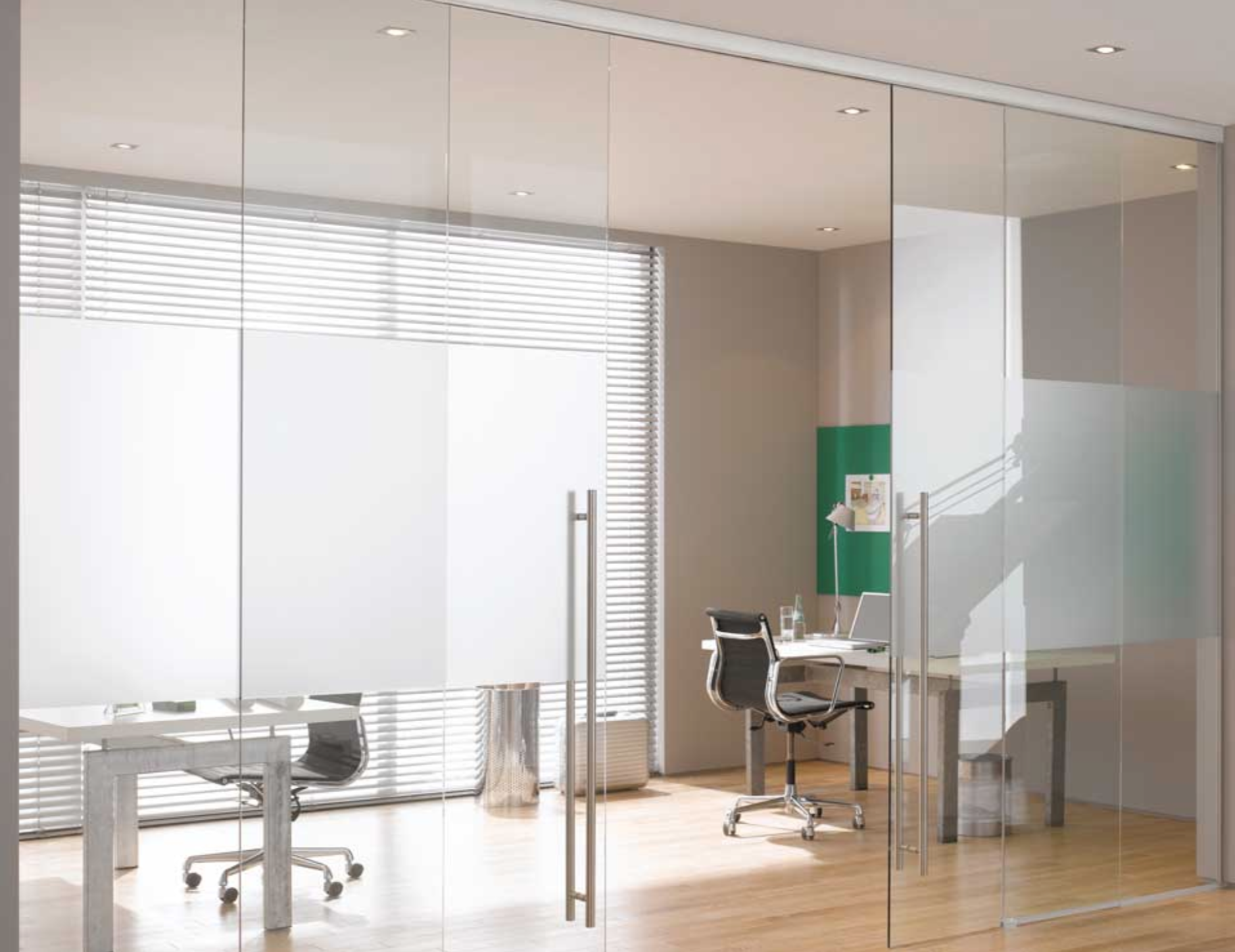 Assisted close sliding doors reduce the number of touch points in the office. With one light touch or the automatic close feature, employees will rest assured, knowing that they are reducing the spread of germs by reducing their touch points.
Automatic sliding door – Office cubicles with doors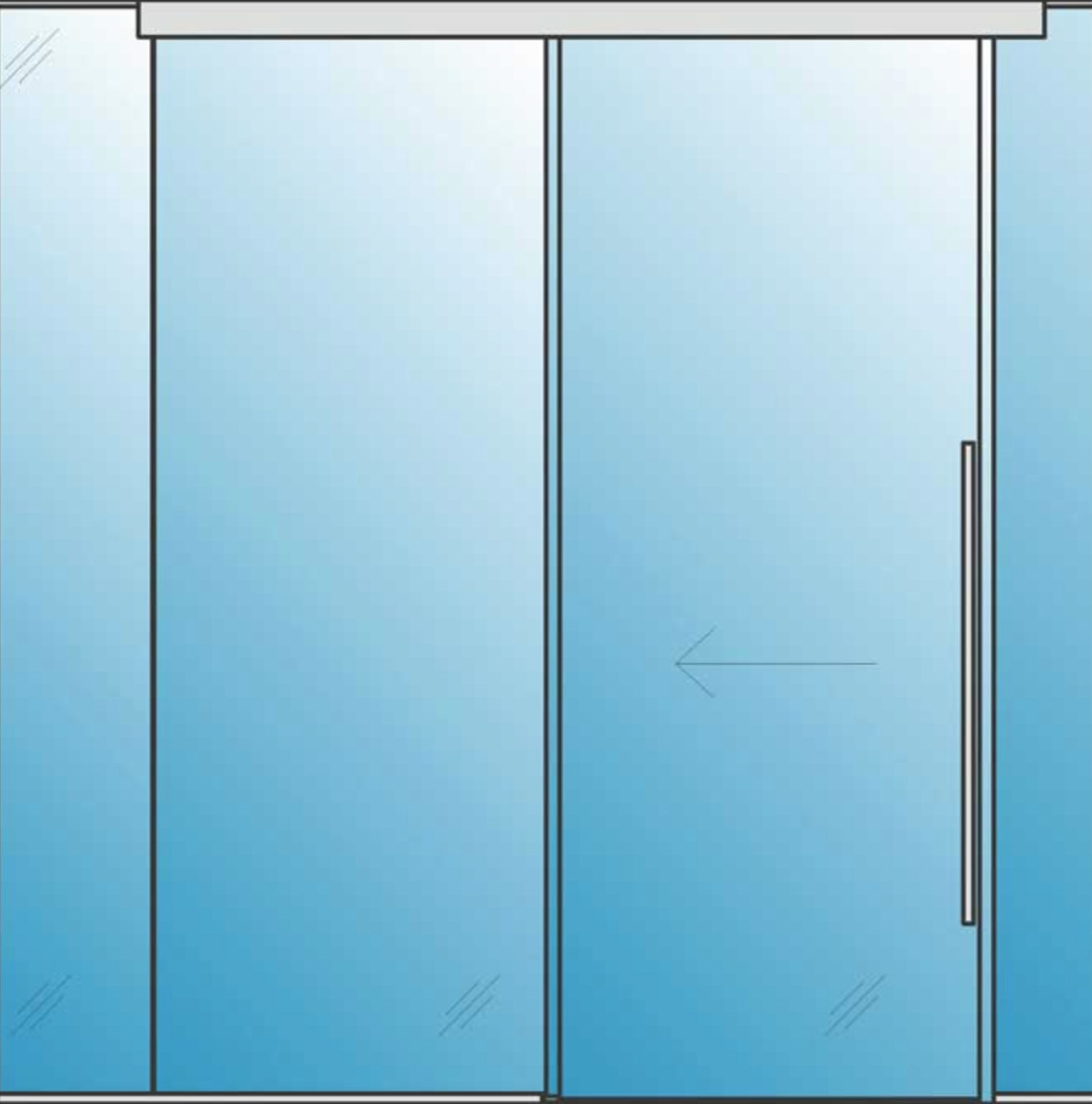 For a sliding glass cubicle door that all but eliminates touch points, an automatic sliding door is the perfect option. Generally seen in store fronts, integrating an automatic sliding door into an office cubicle ensures one less place where germs can be spread.
Office cubicles with sliding doors is a growing trend
Moving into the post-Covid world is going to require adjustments for businesses, employees, and clients alike. Where things can easily get over-complicated, taking simple steps such as installing office cubicles with sliding doors will create a solution that not only protects clients and employees from the spread of germs, but also increases the aesthetic appeal of the office. 
Upgrade your office with Avanti Systems' glass sliding doors for a safer, more productive environment.
Other Doors Resources