Make spaces appear larger with floor to ceiling glass doors
Many modern design trends seek to create spaces that are as large, or that seem as large, and as open as possible. Dark spaces and cave-like rooms are quickly becoming a thing of the past as designers for both commercial and residential spaces find ways to bring natural light and high visibility into their designs. 
One way to achieve this modern style is to include floor to ceiling glass doors in your design plan. With the simple addition of these stunning doors, you can create a space that appears bigger and more open without needing to physically expand or undergo an extensive remodel.
Floor-to-ceiling glass door ideas
Glass doors are easily incorporated with any glass partition system, and the variety of design styles virtually guarantees a one-of-a-kind style while easily incorporating it into your home or office aesthetic.
13 ways to incorporate floor-to-ceiling glass doors
1. Make a small space feel larger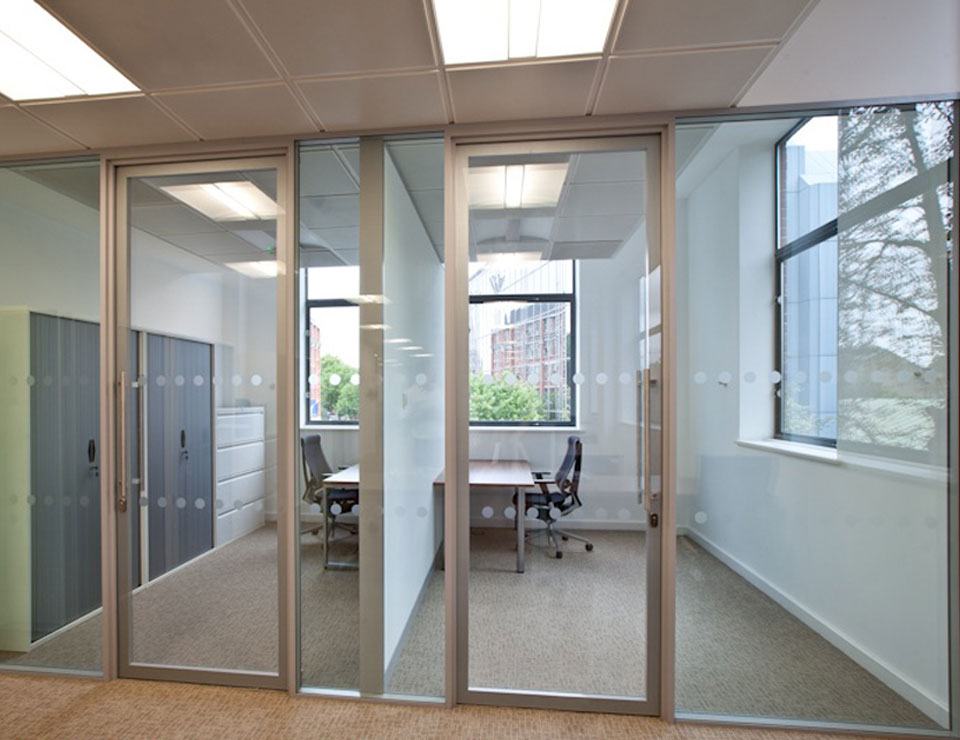 This modular partition system utilizes floor-to-ceiling glass partitions paired with a glass door that reaches to the office ceiling tiles. As a result, this small room that would otherwise feel isolated and closed in (if traditional walls had been used) becomes an integrated part of the floor plan. The exterior windows allow light to enter the room, and the floor-to-ceiling glass doors welcome light into the larger area as well.
2. Create a bright space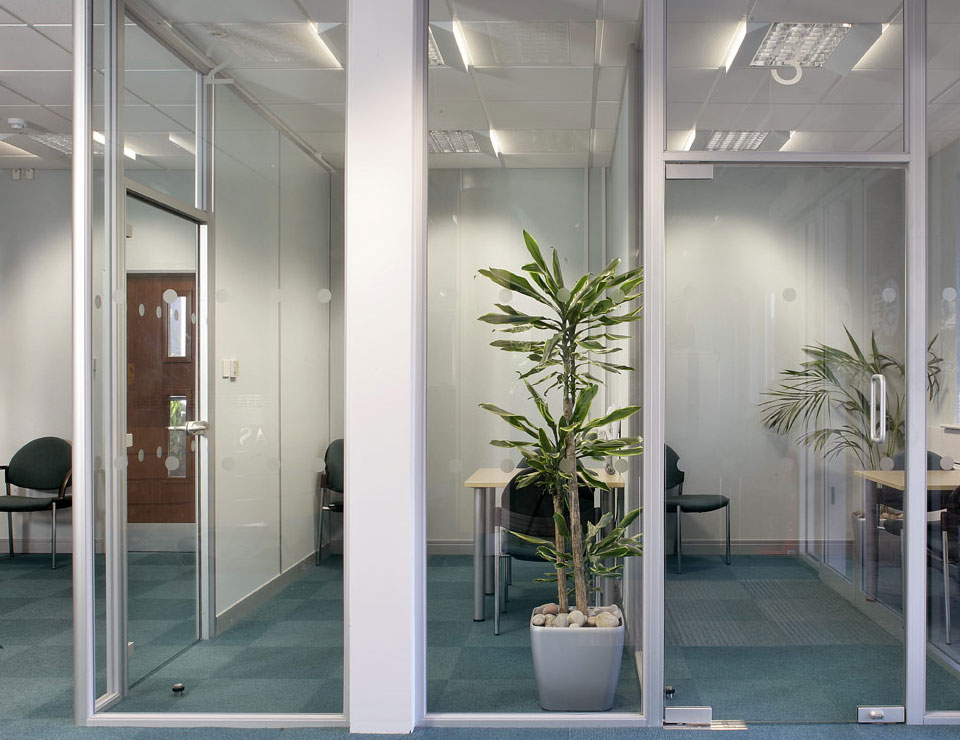 The white walls and plants in white planters create a brightness in this space despite the lack of windows. Natural light from other areas in the building is able to flow into the smaller rooms and is reflected off of the white walls. Incorporating floor-to-ceiling glass doors ensures that no light is lost.
3. Share the light with floor to ceiling glass doors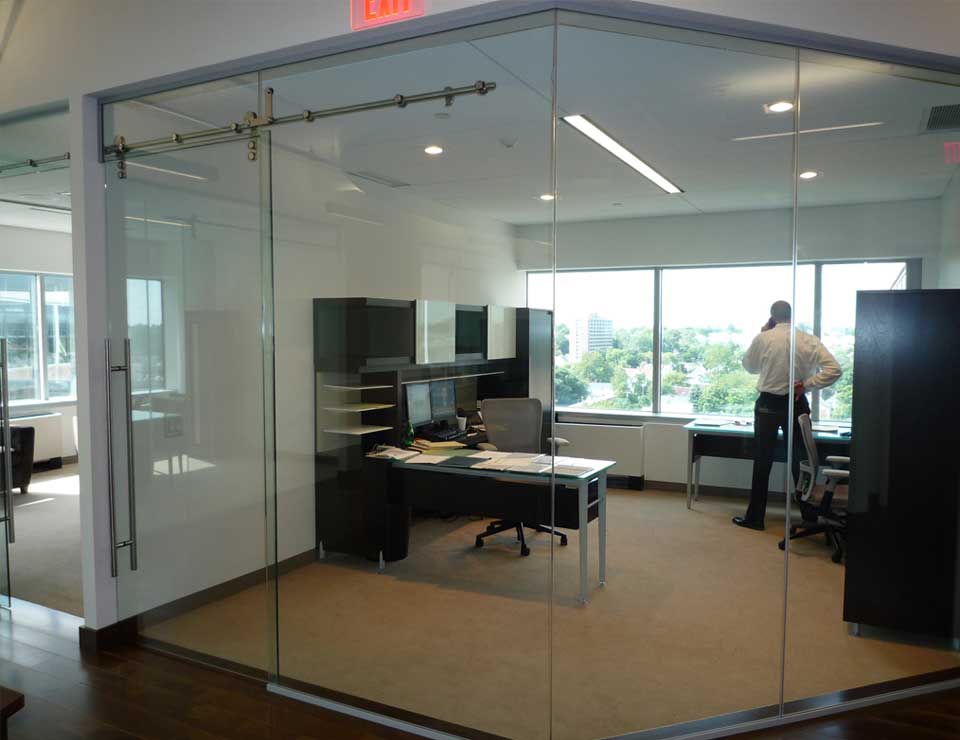 In this office, the light from the large exterior window is able to flow into the larger office space through the frameless glass partition system and floor-to-ceiling glass door. The barn door adds a stylish flair, and the use of glass to partition the office space creates a private work space without a sense of isolation so common to offices that are walled off with drywall.
4. Use minimal hardware with floor to ceiling glass doors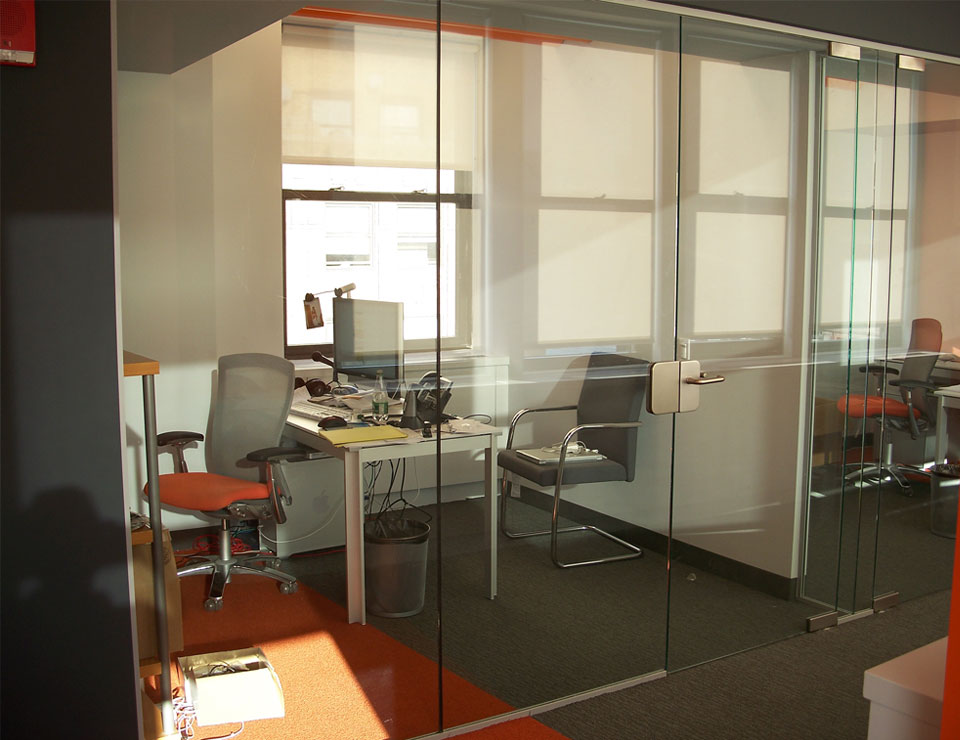 Using minimal hardware on this pivot frameless swing door allows the focus to fall on the light coming through from the exterior window and unobstructed views from the small office into the larger office space.
5. Take advantage of custom frosting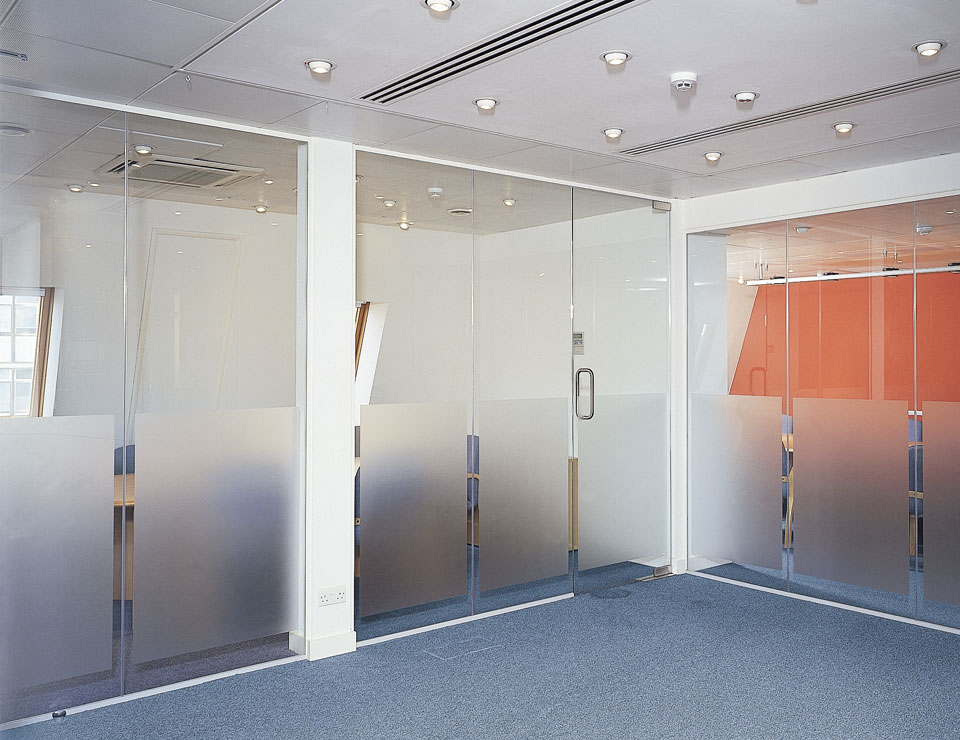 Frosting these floor-to-ceiling glass doors and frameless partitions creates privacy for those using the rooms for conference meetings or small group discussions while still allowing natural light to flow through the upper area. It also creates visual interest and adds to the overall design of the space.
6. Take advantage of technology – Floor to ceiling sliding doors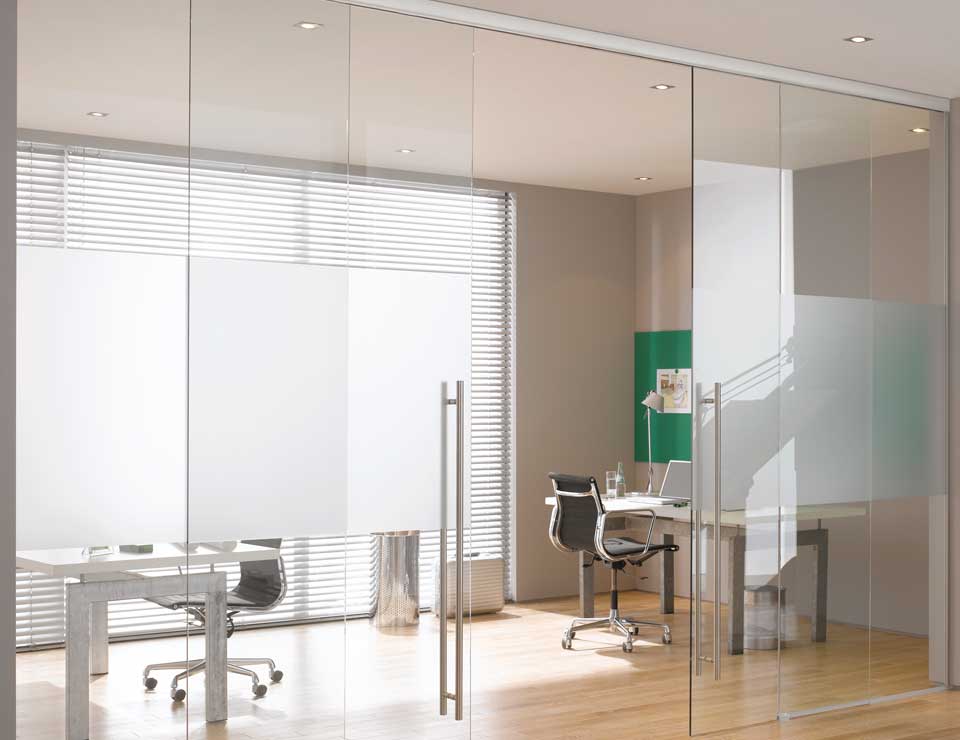 The Cloud™ Assisted Close Sliding Door is one of Avanti's premier interior sliding doors that uses cutting-edge technology to achieve their patented comfort stop and exact trigger engineering. With a light touch, these doors slide smoothly into place (floor to ceiling sliding doors), reducing the excess noise that comes with doors slamming closed throughout the day.
7. Integrate a custom design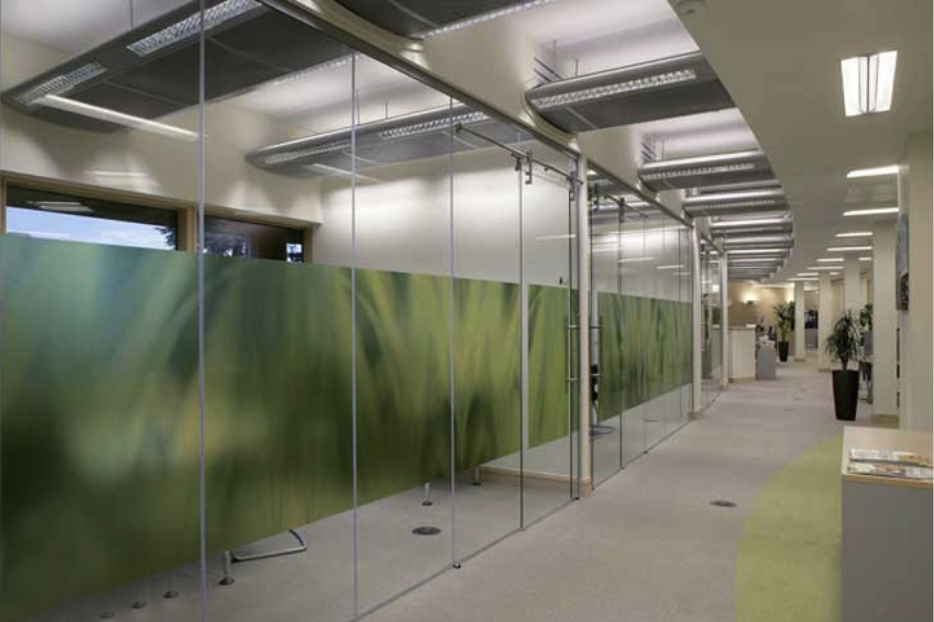 Another great way to add privacy to a conference room, meeting area, or individual office is to add a custom design to the glass. As the floor-to-ceiling glass doors merge seamlessly into the glass wall partition, the design can remain unbroken. Not only does a custom design enhance the company's aesthetic, but it can also help reinforce the brand and its values.
8. Add texture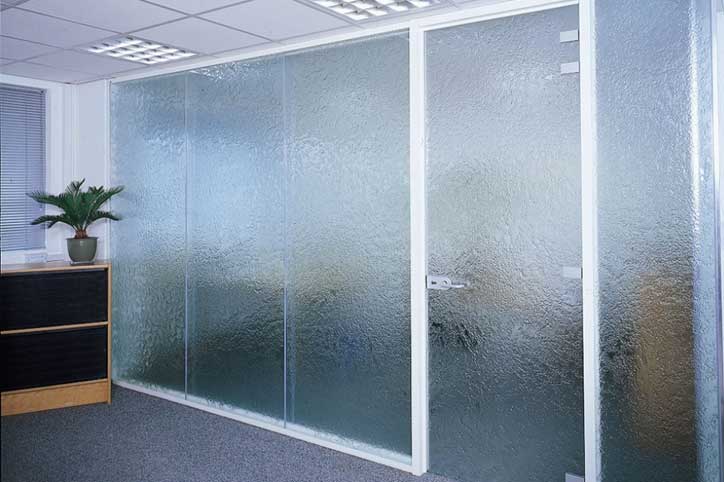 In this unique office design, textured glass is used on the floor-to-ceiling glass door as well as the rest of the glass partitions. This texturing keeps the interior of the room bright, allowing for light to flow through. It also creates privacy without relying on traditional drywall.
9. Frame the door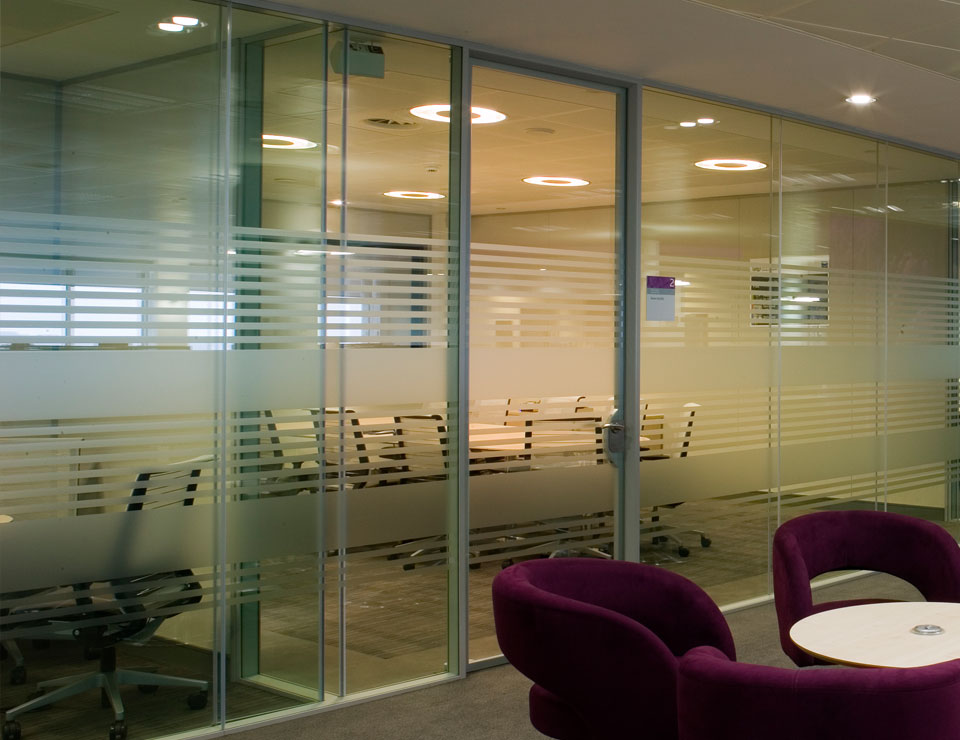 When it comes to customizing glass partitions and floor-to-ceiling glass doors, the sky's the limit. With this frameless glass partition system, the door is framed so that it is distinct from the rest of the wall, making for easy entry and exit.
10. Make it moveable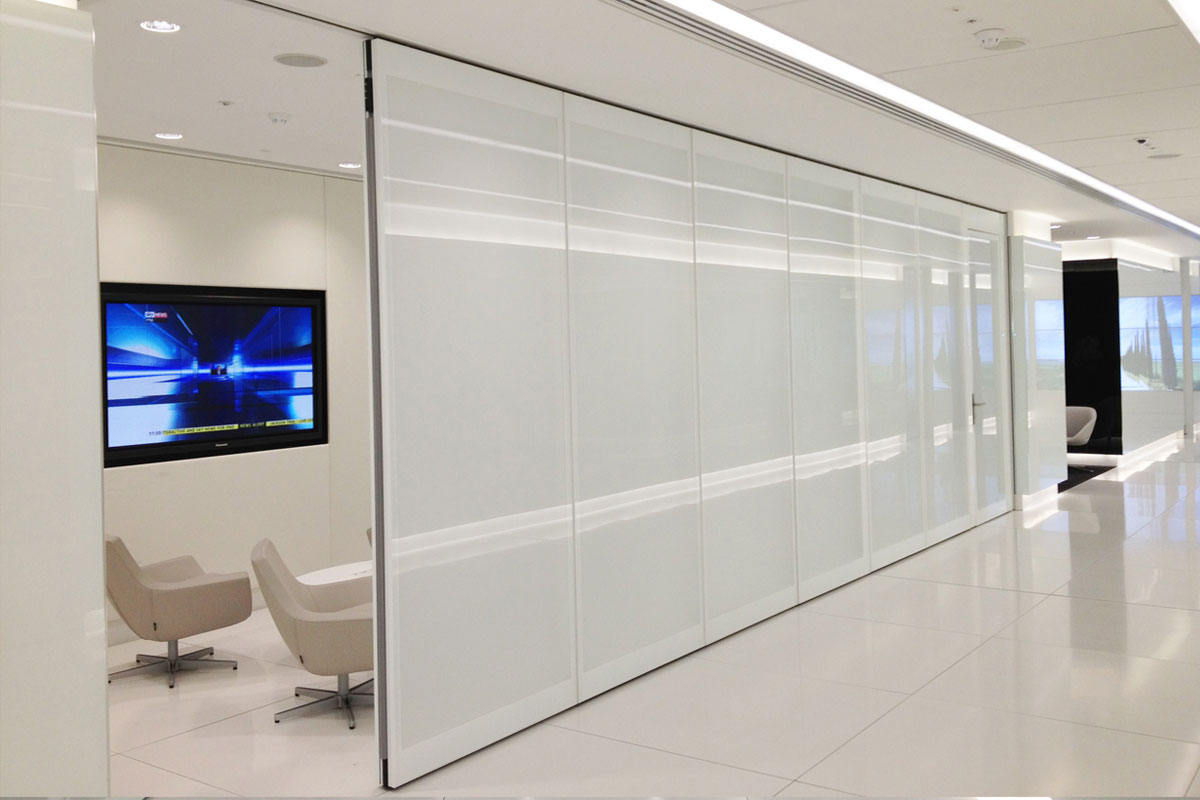 Many glass partition systems are made of demountable glass walls, making it easy to create a multifunctional space quickly. These glass partitions and floor-to-ceiling glass walls can be easily removed to add extra seating to the larger office space, or replaced to create a smaller meeting area when necessary.
11. Integrate blinds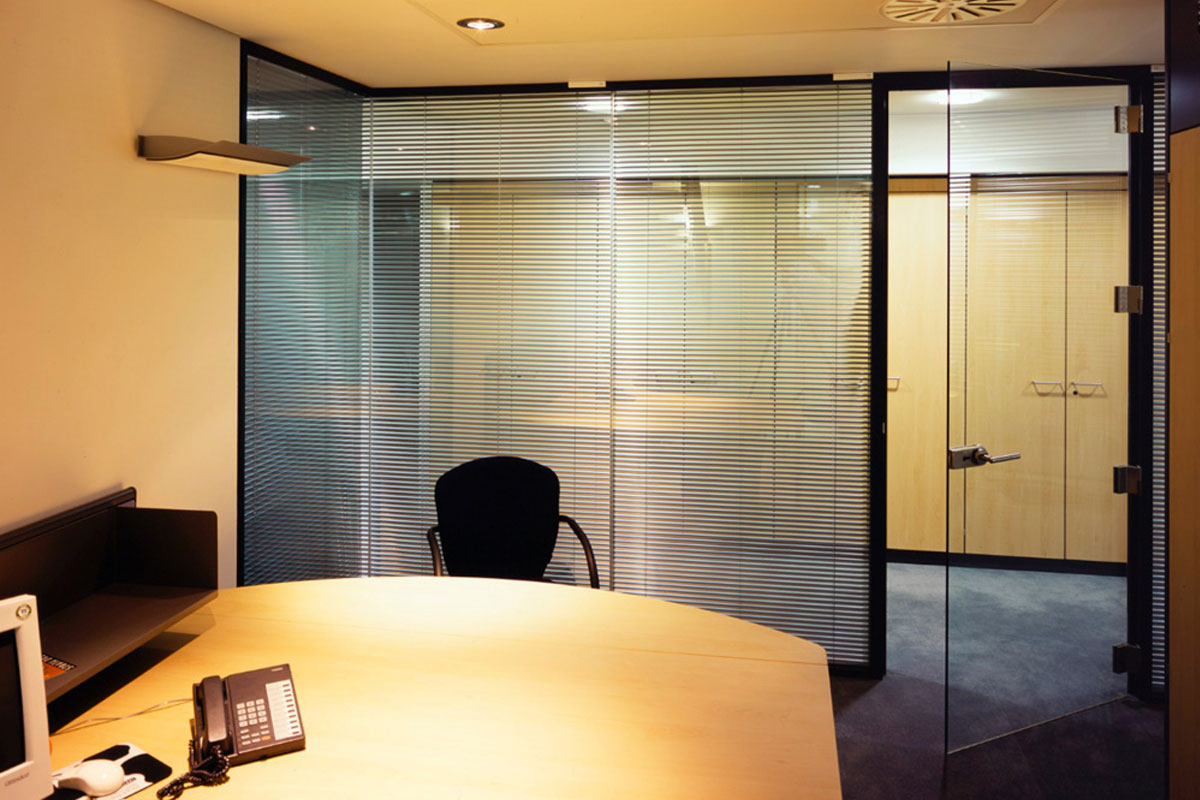 In a double glazed partition system, blinds can be installed in the gap between the two glass panels and can be operated manually or by remote control. Integrating blinds into this space ensures that they won't be damaged, saving on replacement costs. These blinds also create the option of additional privacy in a room that would otherwise have a view into the larger office space.
12. Curve the configuration

Most glass partition systems, including floor-to-ceiling glass doors can be manufactured in an angled or curved configuration in addition to the standard straight configuration. This creates visual interest and makes the space appear larger since the walls curve.
13. Modular systems add flexibility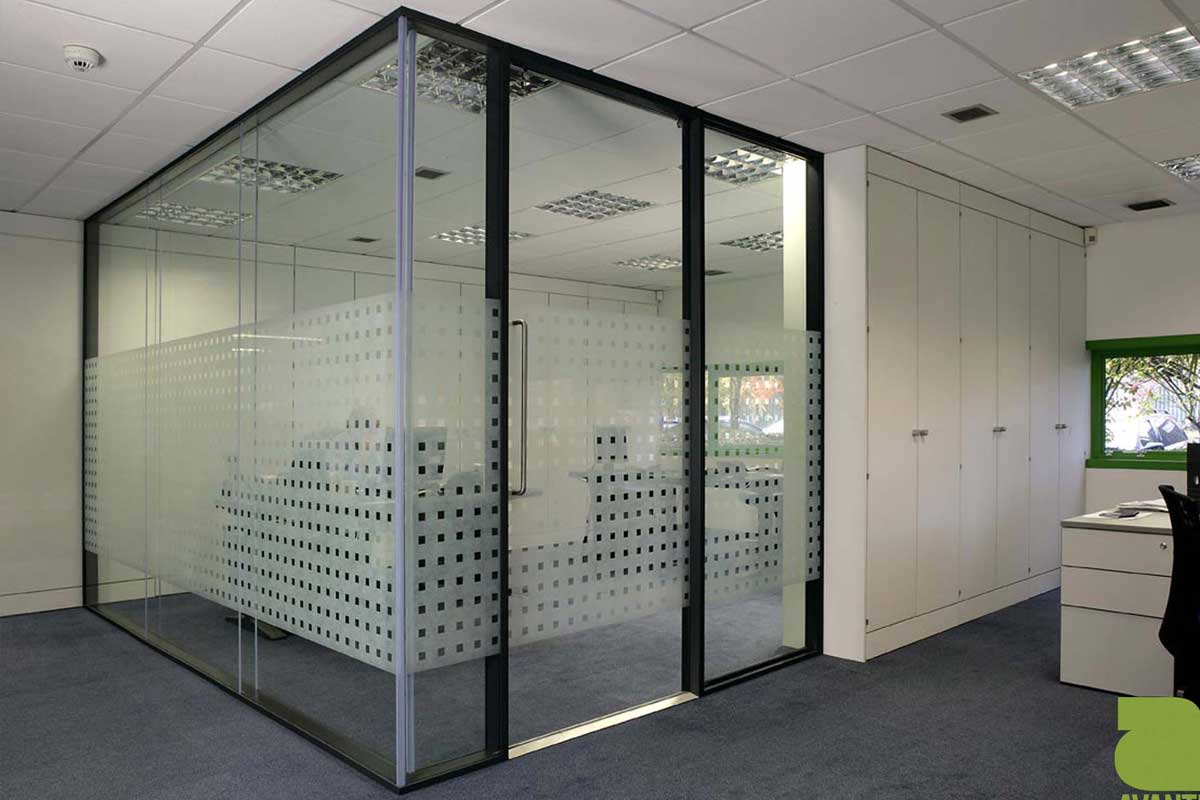 Using a modular system that incorporates a floor-to-ceiling glass door makes switching up a space based on current needs an easy task. Today's meeting room may need to be opened up to create space for a company-wide gathering, and a modular system allows for this flexibility.
There is a glass partition system with a floor-to-ceiling glass door option for every need. With a wide variety of customization options that includes sliding barn doors, assisted close, pivot, and hinged doors, custom frosting and designs, and a large number of framing options, you will find what you need to complete your modern office design.
For assistance getting started, contact Avanti Systems.
Other Doors Resources