In today's ever-changing work environment, business and office designs benefit from building in flexibility and a variety of options for different configurations based on their evolving needs. Achieving this level of flexibility sounds like it's easier said than done, but this is where folding glass walls come to the rescue.
Folding Glass Wall Systems
From creating workplace dividers to privacy barriers, the inclusion of folding glass walls in your office space creates the flexibility needed to adapt to changing needs and a variety of scenarios. 
1. Workspace Dividers – Folding Glass Walls
Workspace dividers provide you with the option of creating a large space for meetings and large group collaboration. Folding glass walls can be stored discreetly, creating an open area that not only allows for the free flow of traffic but also the free flow of ideas and energy throughout the room.
When smaller areas are needed, the folding glass walls can be replaced to create separate work spaces for individuals or smaller groups to engage in their work with added privacy. This ability to create multiple areas from one with folding glass walls increases the flexibility of a space. The glass panels are available in multiple parking configurations, giving you even more options for customization.
In the case of the Cass Business school, choosing the Movare™ Movable Single Glazed Wall System allows them to quickly transform a large meeting room into smaller areas that adapt to their current needs, whether it is a large group lecture or smaller breakout sessions. 
2. Acoustic Barriers – Folding Glass Walls
Folding glass walls can also be used as acoustic barriers to contain sound in a specific area. From schools to offices to churches, adding a glass wall that also acts as an acoustic barrier can improve the experience for everyone. Those inside the room won't be disturbed by outside noise and vice versa. This allows everyone to focus on what's important at the moment rather than dealing with sound distractions.
3. Restaurant Dividers – Folding Glass Walls
Using folding glass walls as restaurant dividers is an innovative solution that allows for the creation of a multi-purpose area. While food is being prepped and serving areas are being cleaned, the movable glass walls can be closed to block the area from view. When service begins, the walls can be moved to reveal a sparkling food service area.
The dining area can then be used as a gathering space for people in between service times, and the glass walls create separate spaces, allowing the area to be used for a multitude of purposes.
4. Indoor/Outdoor Accordion Door Alternatives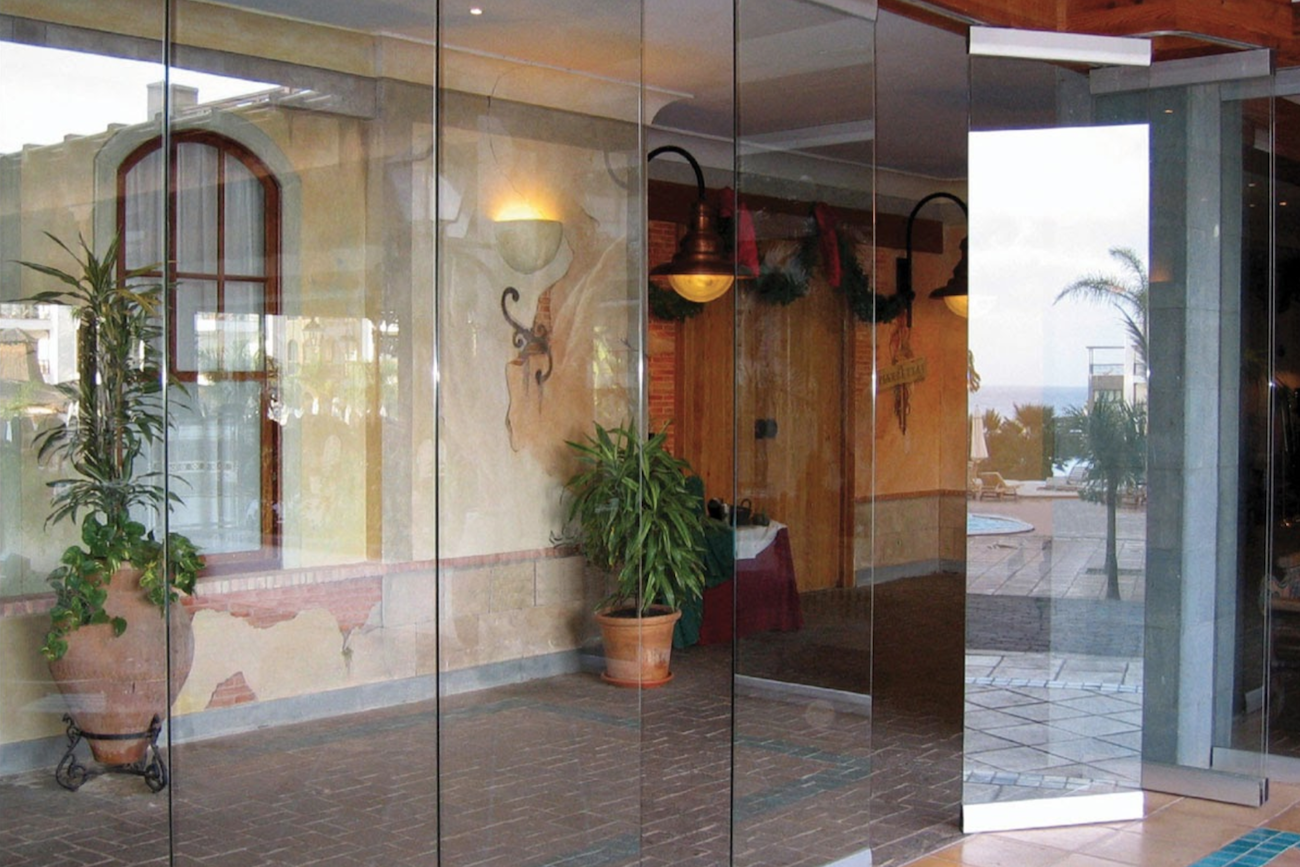 Installing folding glass walls in an indoor/outdoor patio area allows the space to be separated or opened up as needed. This adds versatility to an already beautiful space. In perfect weather, the glass walls can be tucked to the side, creating an open space in which to enjoy a light breeze and warm sunshine. When the weather is less than ideal or separate spaces are needed, the foldable glass walls simply move back into place, creating an area protected from the elements or simply a place to sit and enjoy a conversation separate from other activities.
5. Storefront Barriers – Folding Glass Walls
Incorporating foldable glass walls into a storefront creates a flexible barrier that can be opened wide to welcome customers. This flexibility also allows the store to open only a few panels and control the flow of traffic depending on the needs at the moment.
The Movare™ Movable Single Glazed Wall System also has the option of incorporating a pivot door that allows for a single entrance and exit without moving wall panels. The incorporation of glass walls in a storefront allows potential customers to see what you have to offer and be pulled into your business when they like what they see.
6. Conference Room Separators – Folding Glass Wall Systems
Conference room separators allow for the option of creating a large group space for keynotes, large group presentations, and get-to-know-you activities. When a smaller area is needed, the room can be transformed to accommodate small group collaboration and breakout sessions. Because the foldable glass walls can be quickly moved into place, privacy can be created almost instantly.
7. Privacy Barriers – Folding Glass Wall Systems
The Movare™ Movable Double Glazed Wall System creates the ultimate in flexible space and versatile configurations. With its ability to be controlled semi-automatically or manually, it provides convenience and adaptability in a variety of situations. 
As a privacy barrier, it provides temporary acoustic walls for any dynamic space. Additional privacy options include integral blinds with manual or remote operation or customized frosting. The various customizable parking options allow them to simply be moved to one side or the other or disappear from view completely when opened.
When you need to create a space that is versatile and can accommodate a variety of needs, look no further than folding glass walls from Avanti Systems. Adding folding glass walls to your space ensures that you will enjoy the flexibility of spaces that can be tailored to your needs each and every moment. 
Contact us today for more information on your custom folding glass wall project.