Glass curtain walls are a way to add unique style and originality to the interior of your building design. Characterized by glass paired with an aluminum track or framing, glass curtain walls are generally non-load bearing and provide a beautiful aesthetic throughout an office, school, or retail space while creating necessary separation between spaces. 
They can also aid in hallway or cubicle creation in large spaces where redesigning the space using traditional drywall would require a lengthy and expensive renovation process.
Glass Curtain Wall Systems
With a variety of glass curtain wall options to choose from, there's sure to be one that will fit your needs and the needs of your business.
1. Atrium Wall Systems – Glass Curtain Walls
Atrio Alto™ Atrium Wall System
Atrium glass wall systems create a glass curtain wall that allows for a view into lower interior spaces in a multi-level building. Incorporating this type of glass curtain wall creates an open feeling while allowing additional light into the conference room, dining area, or office space. 
Available in a variety of configurations, including curved, an atrium glass wall system allows for noise reduction while still maintaining a visual connection to other parts of the building.
2. Frameless Partitions – Glass Curtain Walls
Solare™ Single Glazed Frameless Partition System
With its full-height floor-to-ceiling installation, a single glazed frameless partition system can be erected in areas where space separation is needed. Gently curved configurations can be used to create a hallway or walkway at the same time they separate locations for various purposes. It can also be configured in straight and angled designs.
In a break from traditional glass curtain walls that include an aluminum frame, this frameless partition system can be recessed into the wall to create a seamless transition from the glass to the wall, achieving a more modern look. The more traditional framing is also available.
Glass or wood doors can be integrated into this system, providing a variety of options for customized style. The glass panels can also be frosted with a custom design to enhance the visual elements within the design.
3. High Wall Systems – Glass Curtain Walls
Elevare™ Point Support Single Glazed high wall system
For large interiors that need to create separate spaces, glass curtain walls provide the ideal solution. High wall systems are specially designed to achieve space separation while maintaining the flow of light and visual connection throughout the interior. Based on the concept of structural glass facades, these glass curtain walls use glass fins to create a versatile system that is suitable for a variety of applications from offices to trade shows and even retail spaces.
4. Freestanding Glass Partition Systems
Elite™ Freestanding Glass Partition System
For the pinnacle of flexibility and versatility, freestanding glass partition systems allow for the creation of cubicles, private offices, conference rooms, hallways, and meeting rooms in places where adding traditional walls would prove tricky-in the center of the room, in an area with high ceilings, where there is exposed ductwork, etc.
These glass curtain walls allow for customized frosting on the glass where you can include a company logo, increase privacy, or simply provide a beautiful aesthetic touch.
5. LCD Privacy Smart Glass
Lunar™ LCD Privacy Smart Glass
LCD privacy smart glass is the ultimate in customizable privacy. Polymer Dispersed Liquid Crystal (PDLC) technology allows the glass to turn from fully transparent to translucent in one millisecond, creating instant privacy in any office, conference room, or showroom.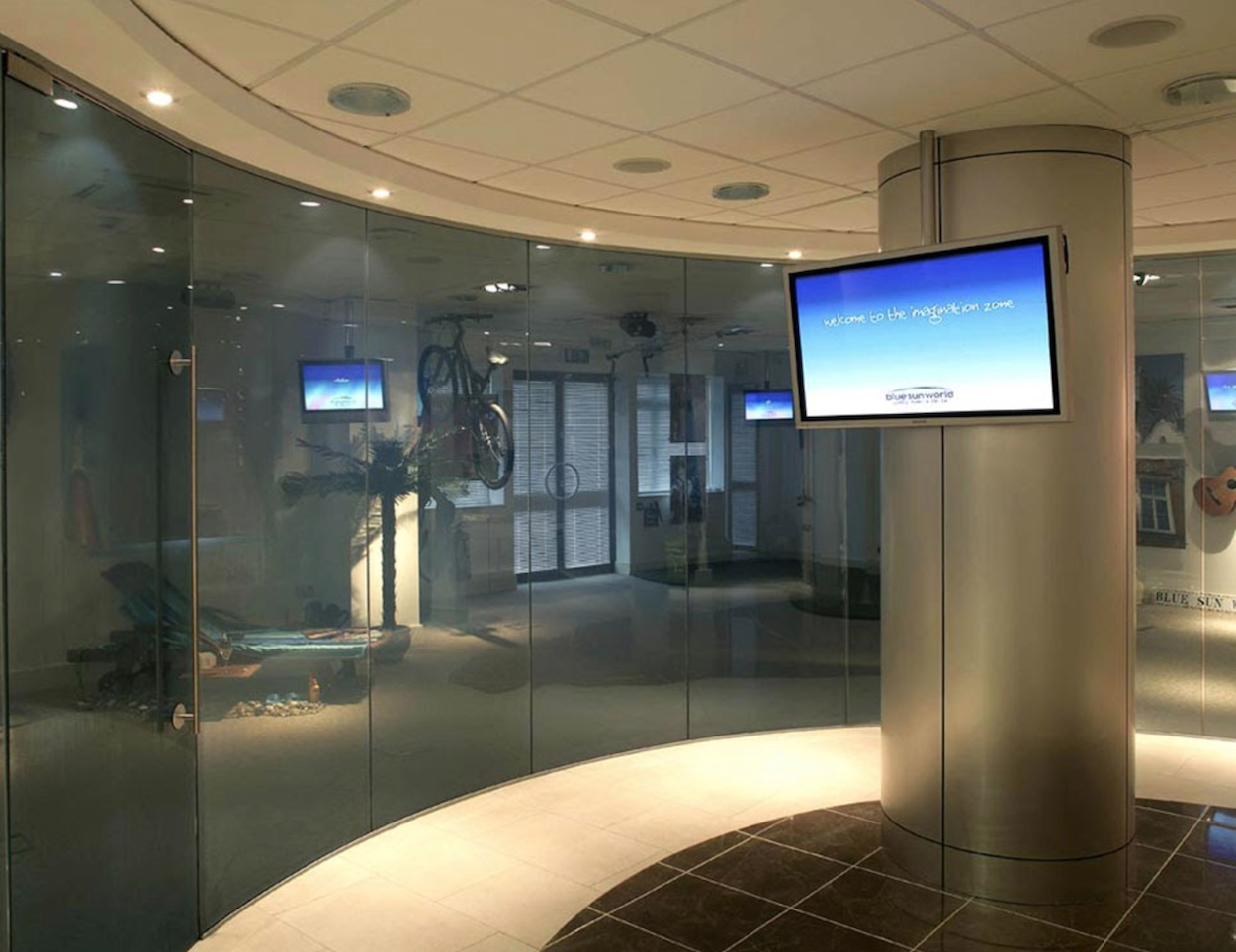 Taking advantage of this technology for your interior glass curtain walls means that you'll be on the cutting edge of advancements in glass technology. And because they can be integrated with floor-to-ceiling and freestanding wall systems, the options for installation are wide-ranging, allowing them to fit seamlessly into nearly any office design.
6. Foldable Glass Walls
If you need ultimate flexibility in a space, choosing foldable glass curtain walls will provide the versatility that you need. Not only do foldable glass walls move smoothly on their tracks, moving silently across the room, they can be parked in a variety of customizable configurations, tucking neatly away when a large space is necessary. 
To complete their look, custom frosting can be included on the glass. The glass can be fully frosted, partially frosted, or include logos and words, as beautifully incorporated at the Cass Business School. 
7. Frameless Double Glazed
Solare™ Double Glazed Frameless Partition System
In a double glazed frameless partition system, two panels of glass create a glass curtain wall that acts as an enhanced acoustic barrier. Incorporating a double glazed modern office partition system also gives you the option of creating additional privacy by including customizable frosting on the glass. 
You can also incorporate integral blinds that fit between the two glass panels and can be operated manually or with remote control. Taking advantage of the integral blinds means that you can create visual privacy or allow for a view into the wider office area when privacy isn't essential.
The incorporation of interior glass curtain walls can provide an incredible aesthetic touch to your office, school, or nearly any other space. The variety of glass curtain walls that are available allow for a high level of customization, giving you the opportunity to create the perfect interior. 
Contact Avanti Systems today for glass curtain walls that fit your needs.