Glass partitions have wide ranging applications that include shower doors, storefronts, museum exhibits, and office partitions. The thickness of a glass partition wall is highly dependent on its application — what it is used for and where it is located.
What Are Glass Partition Walls?
Glass partition walls are non load-bearing walls used to create separated spaces in a larger area. In an office, glass partition walls can create:
Individual offices
Small collaboration areas or workspaces
Conference room
Atrium walls
Temporary spaces
Movable room partitions
What Type of Glass Are Glass Partitions Made Of?
Glass partitions are made of safety glass. In certain applications, safety glass is required to minimize injury in the event that the glass is cracked or broken. The two most common types of safety glass are laminated and tempered glass panels.
Laminated glass is manufactured by adhering two or more panels of glass to PVB (polyvinyl butyral) resin glue film and then bonding them together through heat and pressure. If the glass sustains an impact and breaks, the glue layer holds the shards of glass, keeping them from falling to the ground and possibly causing injury.
Tempered glass is created by heating the glass to over 1112-degrees Fahrenheit (600-degrees celsius) and then undergoing a high-pressure cooling process (quenching). This causes the outer layers of the glass to cool at a higher speed than the center and as the center cools, it tries to pull back from the outer layers, causing it to remain in tension, strengthening the glass. If tempered glass breaks, it breaks into small, relatively harmless pebbles.
How Thick Should Glass Partitions Be?
The thickness of a glass partition is highly dependent on its application and type of partition system. The thickness of a bathroom glass partition, for instance, can be ¼" for framed shower doors and range up to ½" for shower walls. Mall storefronts and glass floors are typically much thicker, at ¾".
The thickness of glass partition walls used in office partitions — laminated or tempered — typically ranges from as thin as ¼" to as thick as ¾".
Depending on your application, the thickness you need may dictate the glass partition systems that you can choose from, or vice versa. For instance, the EliteTM Freestanding Glass Partition System is available in ⅜", 7/16", ½", 9/16", and ¾" whereas the TransversoTM Monoblock Modular Partition System is only available in ¼" glazing, but it is double glazed for a total of ½" of glazing.
Freestanding Partitions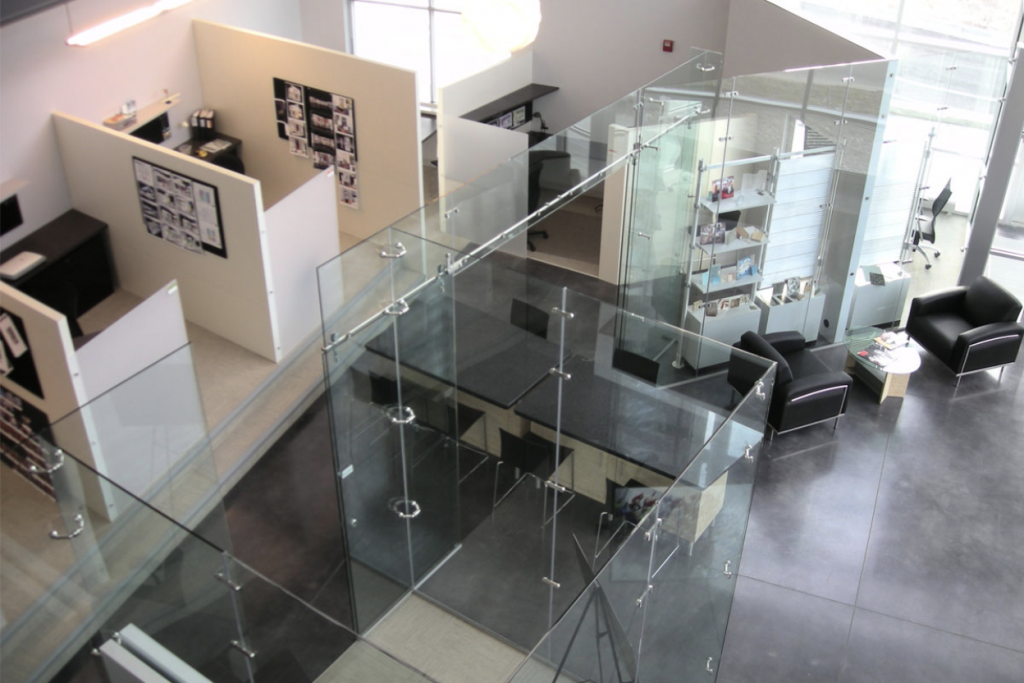 Freestanding partitions are ideal for an open space that needs to be separated into smaller areas. With a wide range of thickness options — ⅜", 7/16", ½", 9/16", and ¾" — you'll be able to choose the thickness that works best in your particular application.
Movable Glass Partition Walls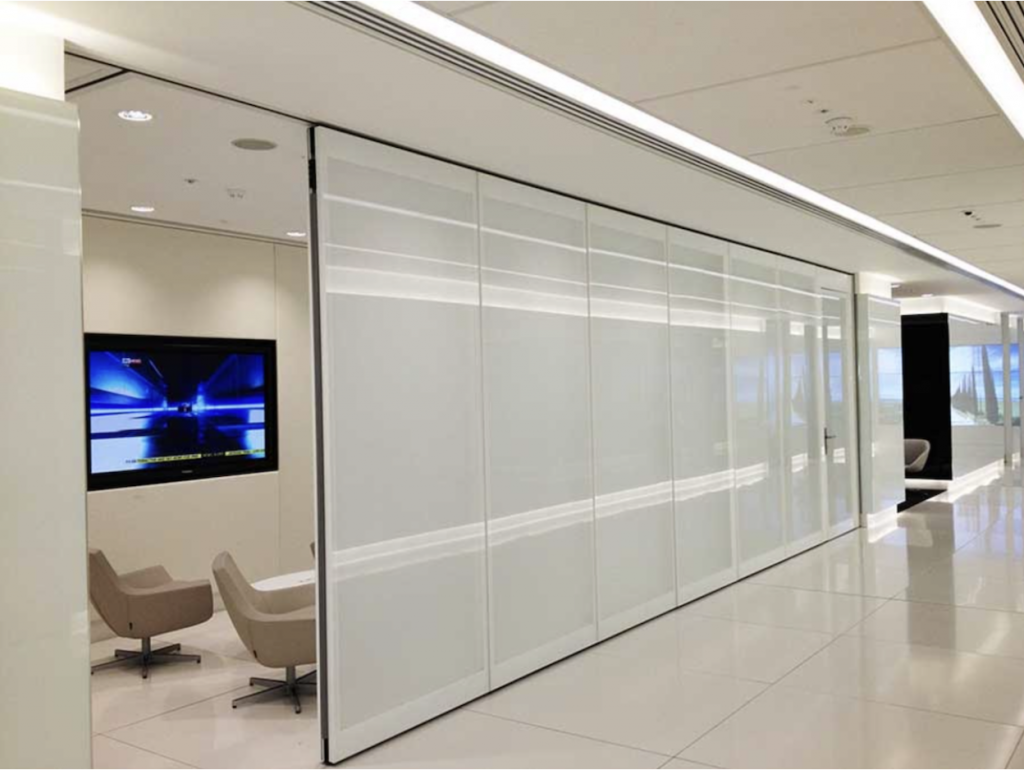 The movable glass partition walls offered by the MovareTM Movable Double Glazed Glass Partition system are available in ¼" thickness, but their double glazed configuration increases their strength, which is important in a movable wall system.
Frameless Partition Systems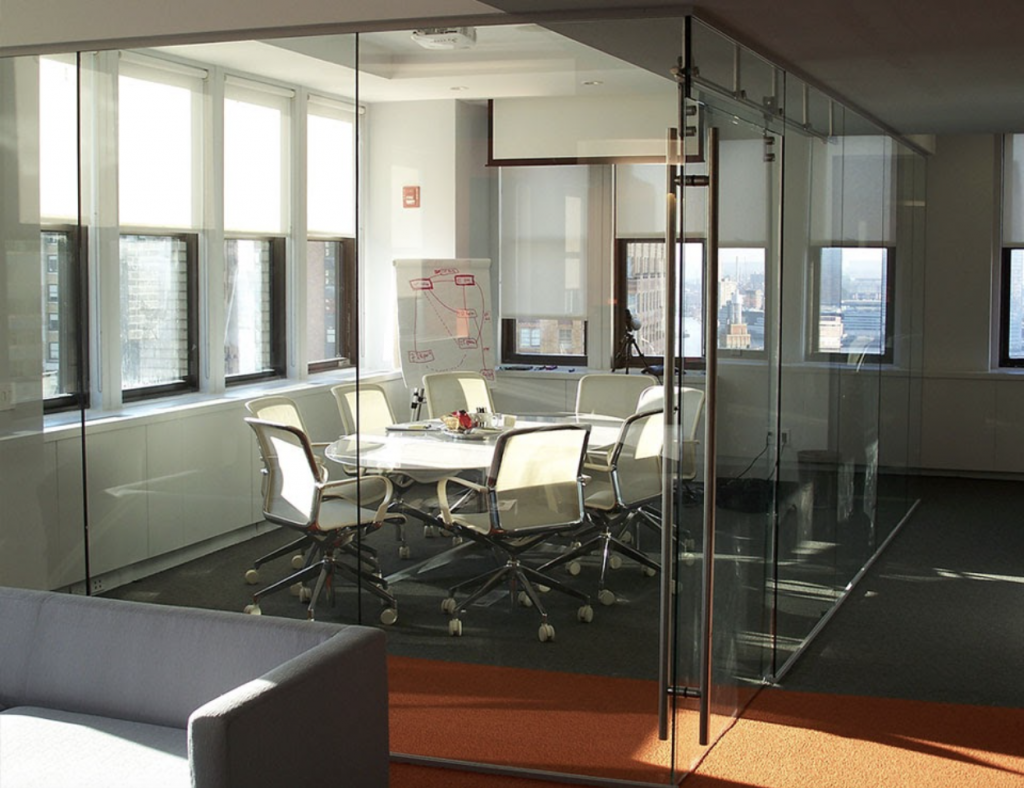 The SolareTM Single Glazed Frameless Partition System is the perfect choice for a corner office conference room and is available in ⅜", 7/16", ½", 9/16", and ¾" thickness, so you can evaluate the needs of each individual space to choose the right thickness.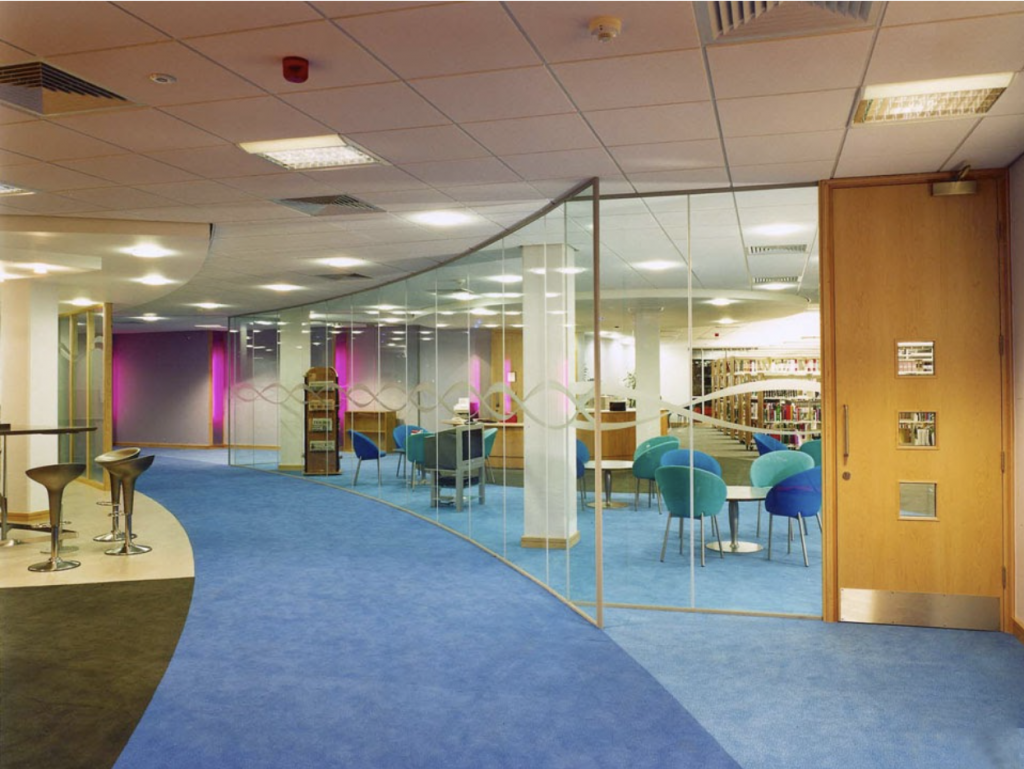 Frameless partitions are also available in curved or angled configurations that allow you to work within the available space or simply create a design worthy of a second glance. The thickness of a curved glass partition is dependent on its application.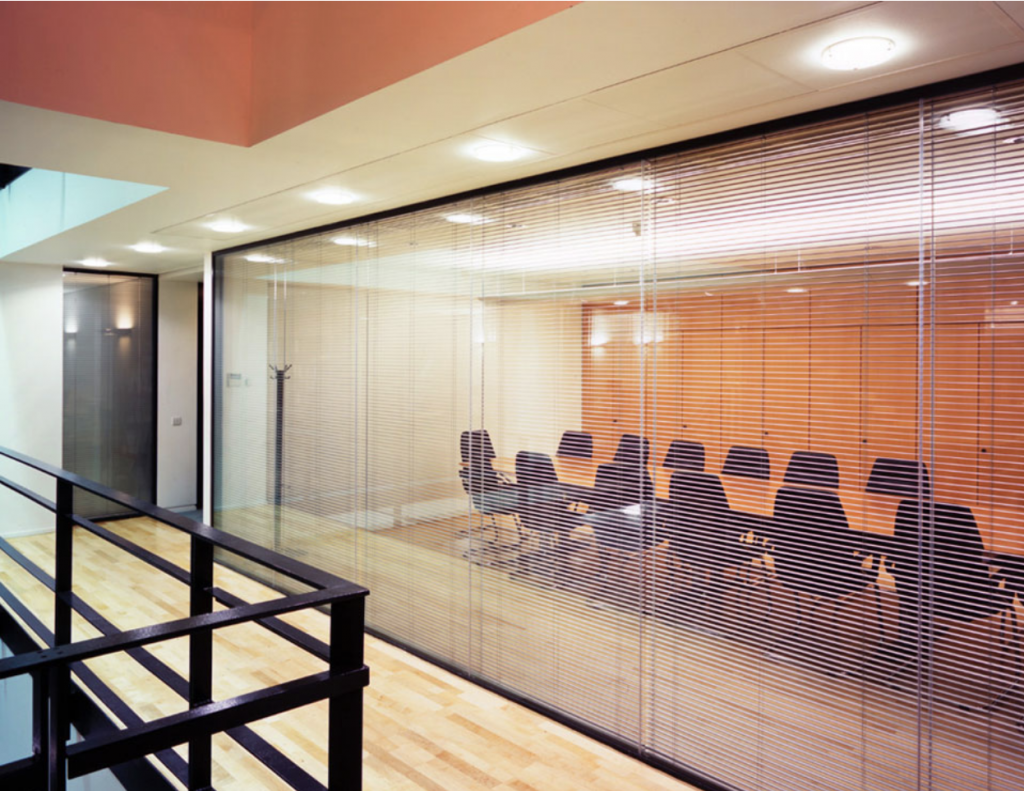 The SolareTM Double Glazed Frameless Partition System offers the same options for the thickness of the frameless glass partition, but the double glazed system results in twice the thickness for more strength. The space in-between the panels is ideal for adding privacy in the form of integrated blinds.
High Wall Glass Partition Systems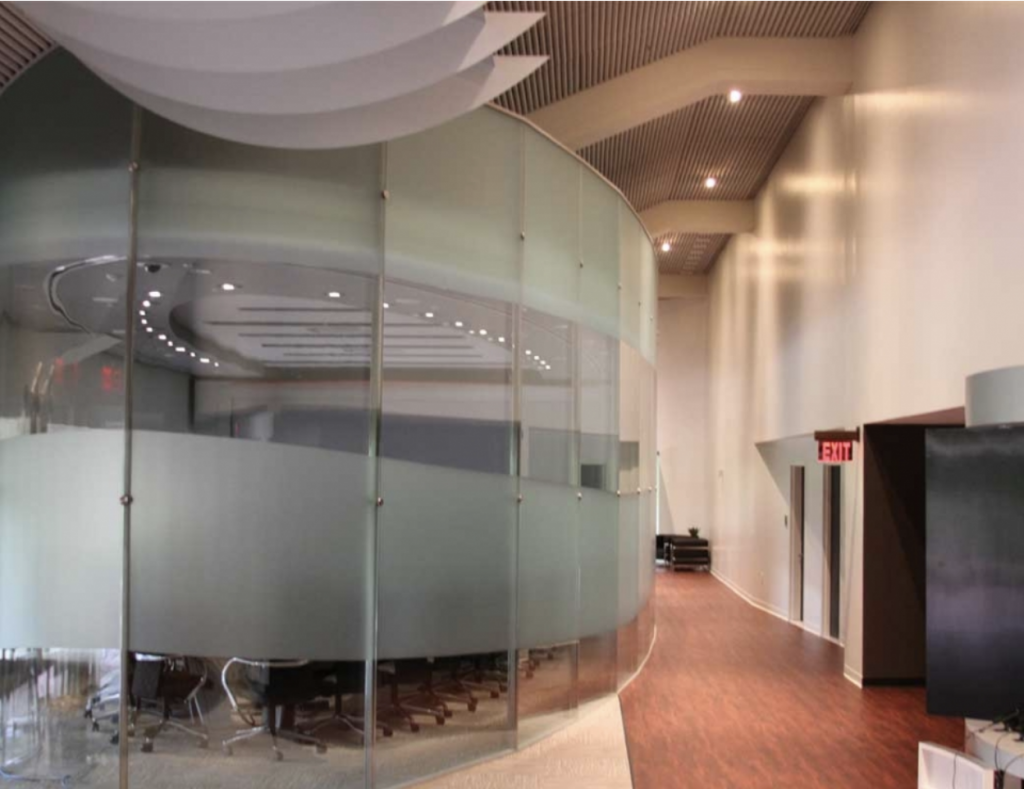 For spaces with high ceilings, a high wall glass partition system allows you to create conference rooms, offices, or separate a large space into smaller designated areas. The ElevareTM Mullion and the ElevareTM Point Support Single Glazed glass partition wall thickness is available in ⅜", ½", and 9/16" thicknesses.
Modular Systems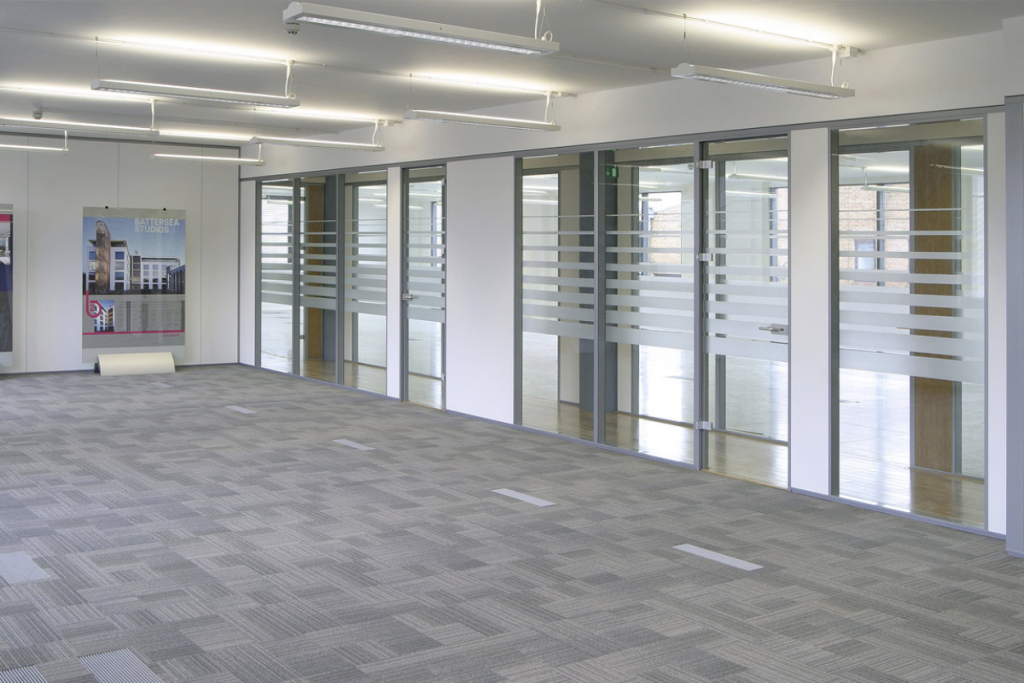 Modular systems provide increased office flexibility because the pre-assembled units can be installed quickly and without the mess of a full renovation. This double glazed system is available in ¼" thickness and can be in a straight, angled, or curved configuration.
Choose the Right Thickness for Your Application
Avanti has a range of glass partition systems and partition thicknesses. The thickness of interior glass partitions depends on your particular application, but there is flexibility in which partition system will work best for you and your needs.
Contact the expert team at Avanti Systems today to discuss the right glass partition wall thickness for your project.