A commercial space must walk the line between being completely functional and aesthetically pleasing while also encouraging productivity and focus. For this to happen, the design needs to be well thought out and incorporate materials that achieve each goal. 
Swinging glass doors, whether they are pivot or hinged, help to bring the look and function of a room together while also creating a cohesive and beautiful space. Compatible with both glass partition systems and traditional walls, glass swing doors create a distinct entry point without the visual obstruction of a traditional door.
Benefits of Commercial Glass Swing Doors
A Pivot Frameless Swing Door is a luxury glass two-way pivoting door solution that looks stunning when integrated with a glass partition system. It can also work seamlessly with traditional walls giving you design flexibility and the ability to work within a given space.
A Hinged Frame Swing Door is completely customizable and compatible with various glass partition systems as well as traditional walls. Aluminum frame finishes include Avanti's standard polyester powder-coated finish, brushed finish, and stainless steel finish. You can also choose a custom finish.
With the option to choose tempered, laminated, low iron, or LCD glazing, and the choice between clear glass, patterned frosting, or custom graphics, these doors are sure to fit both design and building code specifications. To mitigate the spread of germs and reduce maintenance, these doors have a self-closing option. They also offer locking and non-locking hardware options.
The height of the glass swing doors is only limited by the height of the wall or partition, giving you the option to create a standard height door or a stunning floor-to-ceiling entryway. There are also overhead closer and recessed floor closer options.
When you're designing a commercial space, you need the best commercial glass swing door solutions to provide the most stylish and convenient entry into the space. We rounded up these designs to inspire you and show you just how stylish commercial glass swing doors can be:
Seamlessly Integrate with High Walls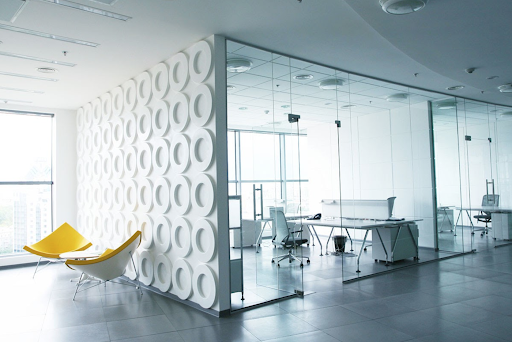 In this space where the glass partition system reaches all the way to the ceiling, the pivot frameless swinging glass door provides a seamless entry point without compromising the visual impact of the walls created with the SolareTM Single Glazed Frameless Partition System. The glass partition system is enhanced by the presence of a glass swing door that works in concert with the partitions to allow in as much natural light as possible.
Customize Hardware to Comply with Building Codes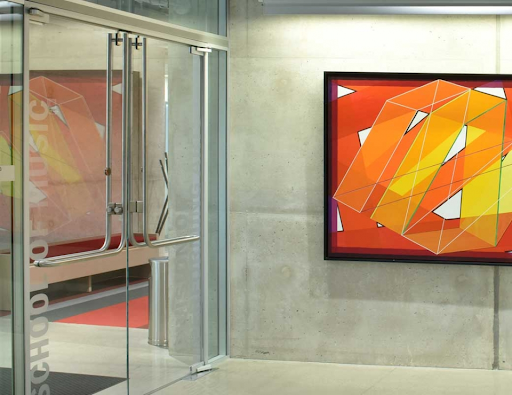 Swinging glass doors can be further customized with panic exit devices to comply with building code egress requirements. Available with different closing system options, adding panic hardware to a glass swinging door will create a safer method of exit and entry.
Swinging Glass Doors for Modular Systems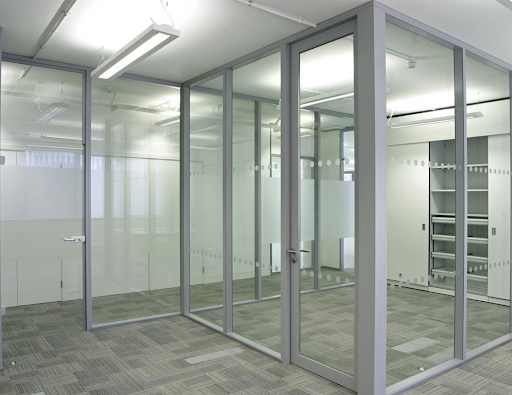 A modular glass partition system can accommodate pivot or hinged swinging glass doors depending on the needs of each particular space. Modular systems, like the TransversoTM Modular Monoblock Partition System are pre-assembled and can be installed on site quickly and easily, instantly customizing any space.
Angled Doors Create a Unique Space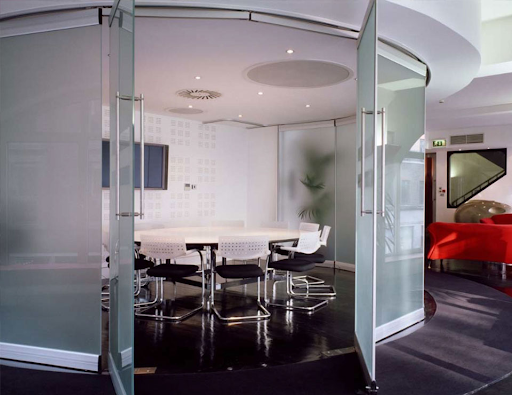 In this unique conference room, the angled glass partition panels section off a smaller area where private meetings can take place. Since glass swing doors can be installed in an angled configuration, they are equipped to accommodate this non- traditional room design. They can also accommodate straight or curved configurations, taking room design to the next level.
Glass Doors Make Maintenance Easy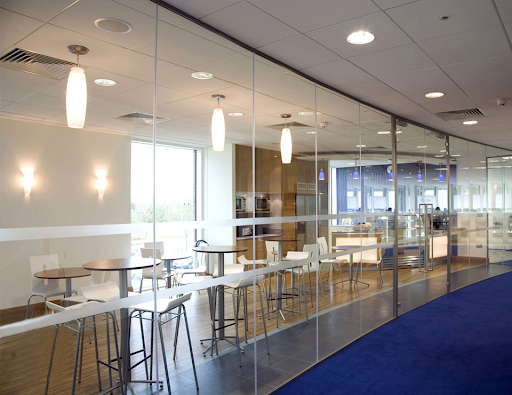 Glass is easy to clean, so it is an ideal choice for food service spaces. Commercial glass swing doors fit seamlessly into this curved glass wall configuration and look great while helping to maintain a sanitary environment. By using simple cleaning materials, fingerprints, food, and germs can easily be wiped away without wearing on the material itself.
Mixed Materials for Design Depth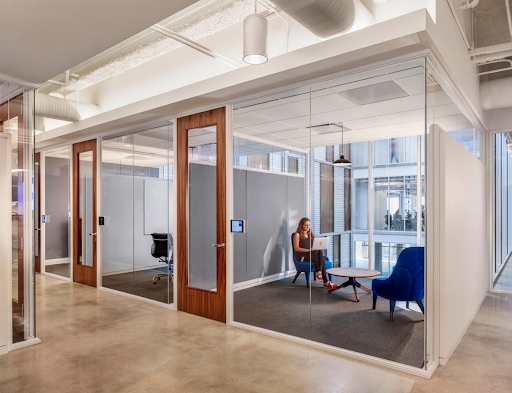 Adding natural elements to a design brings in a layer of interest and depth. Incorporating the grounding energy of a wood framed door with the modern aesthetic of glass partition panels allows the commercial glass swing door to stand out without obstructing the line of sight into and out of the office space. 
The Best Commercial Glass Swing Doors
At Avanti, we offer the best solutions for commercial glass swing doors. Our customization options for both pivot and hinged glass swing doors allow you to choose the type of glass, add custom frosting or graphics, include panic hardware, and accommodate both wide and tall entryways to create the perfect door for your design. 
For the best commercial glass swing doors, contact an expert at Avanti today!