Universities and facilities for higher education must meet a variety of needs every minute of every day. Using glass walls and partition systems for institutions of higher learning bring a host of benefits that help the space meet the needs of students and staff.
From libraries and study areas to common areas and faculty and staff offices, glass walls for universities must account for function, sound control, safety, and aesthetics. It's a big job. And that's why it's important to choose systems that meet the everyday needs of the space, enhancing the experience of those who learn in it.
Avanti Systems offers a range of glass walls for universities that meet these varied needs day in and day out.
Libraries and Study Areas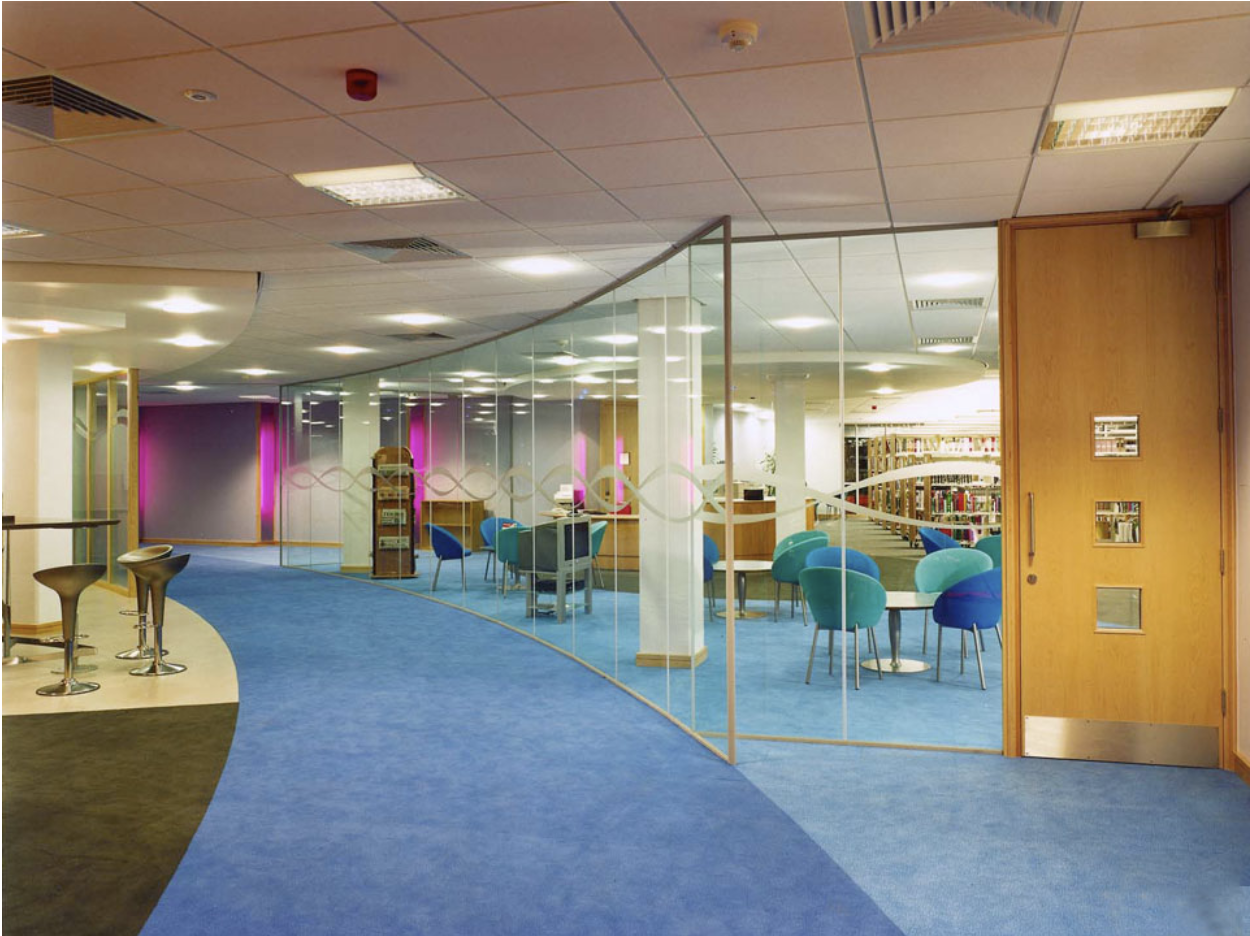 Libraries and study areas have become livelier places in recent years. The quintessential image of the silent library with the "shushing" librarian roaming the stacks and quelling any noise has been replaced by libraries that bustle with activity, are a resource for the community, and offer a space that supports learning, collaboration, and excitement.
To meet these 21st century needs, libraries must create space for technology, study, collaboration, events, and more. The library at the Iowa School of Music used glass partition panels as a way to enhance the space and support its varied uses.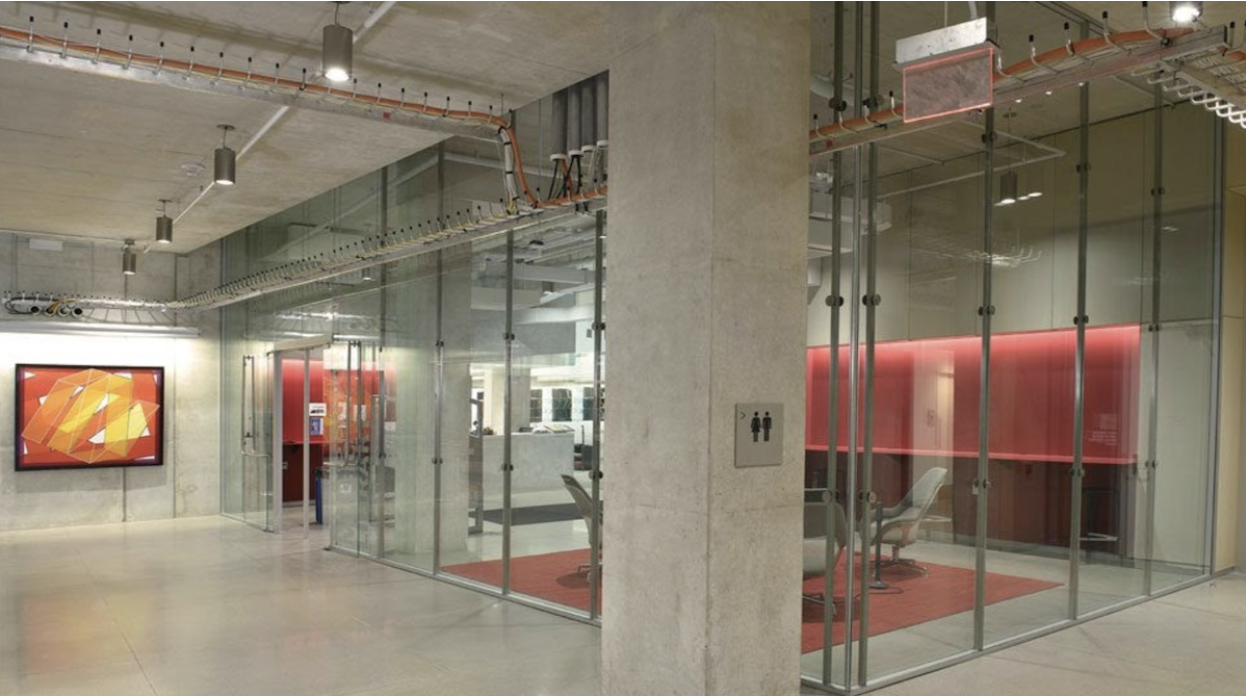 The ElevareTM Mullion High Wall System offered a flexible and modular way to separate the Music Library from the hallways. The high wall system was able to meet the needs in this high-ceilinged space.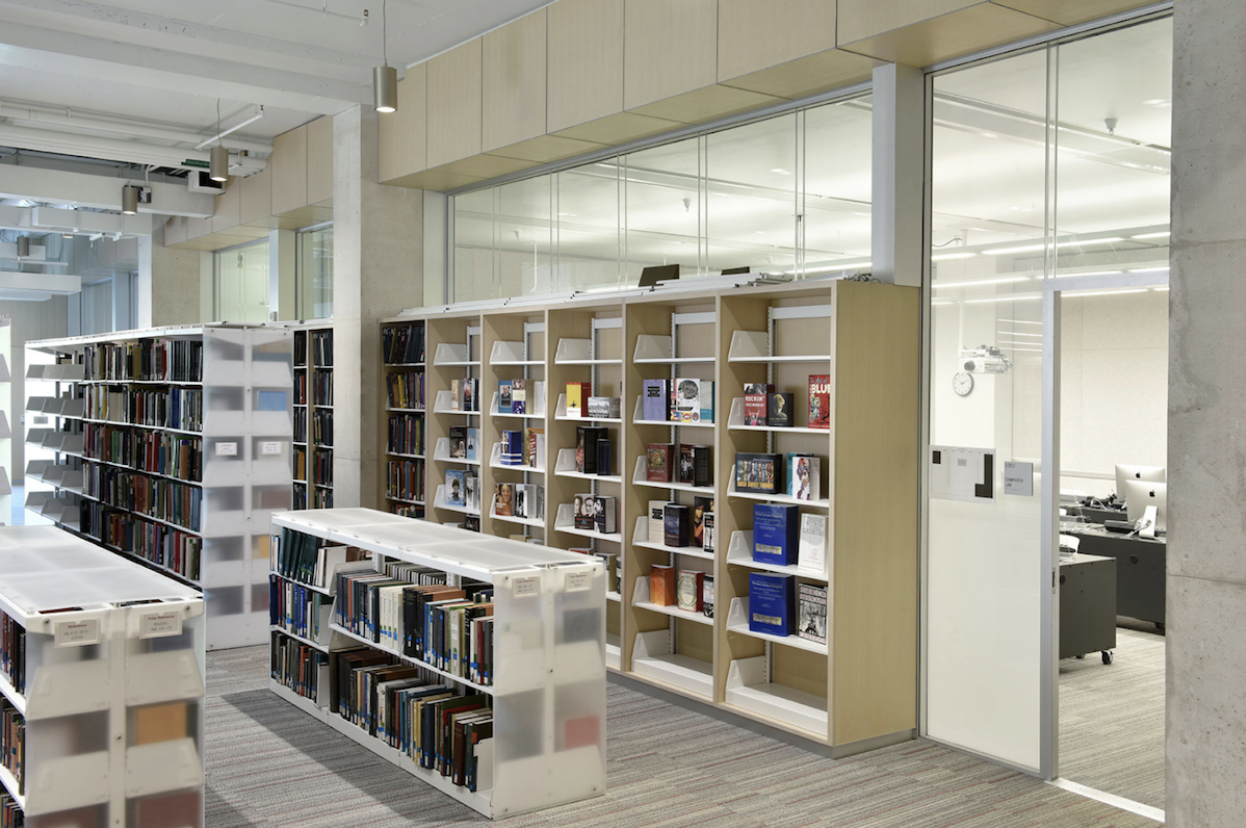 To accommodate computer labs, the SolareTM Double Glazed Frameless Partition System was used to separate the space and provide acoustic comfort. The partitions that run above the bookshelves allow more light to flow into each space.
Common Areas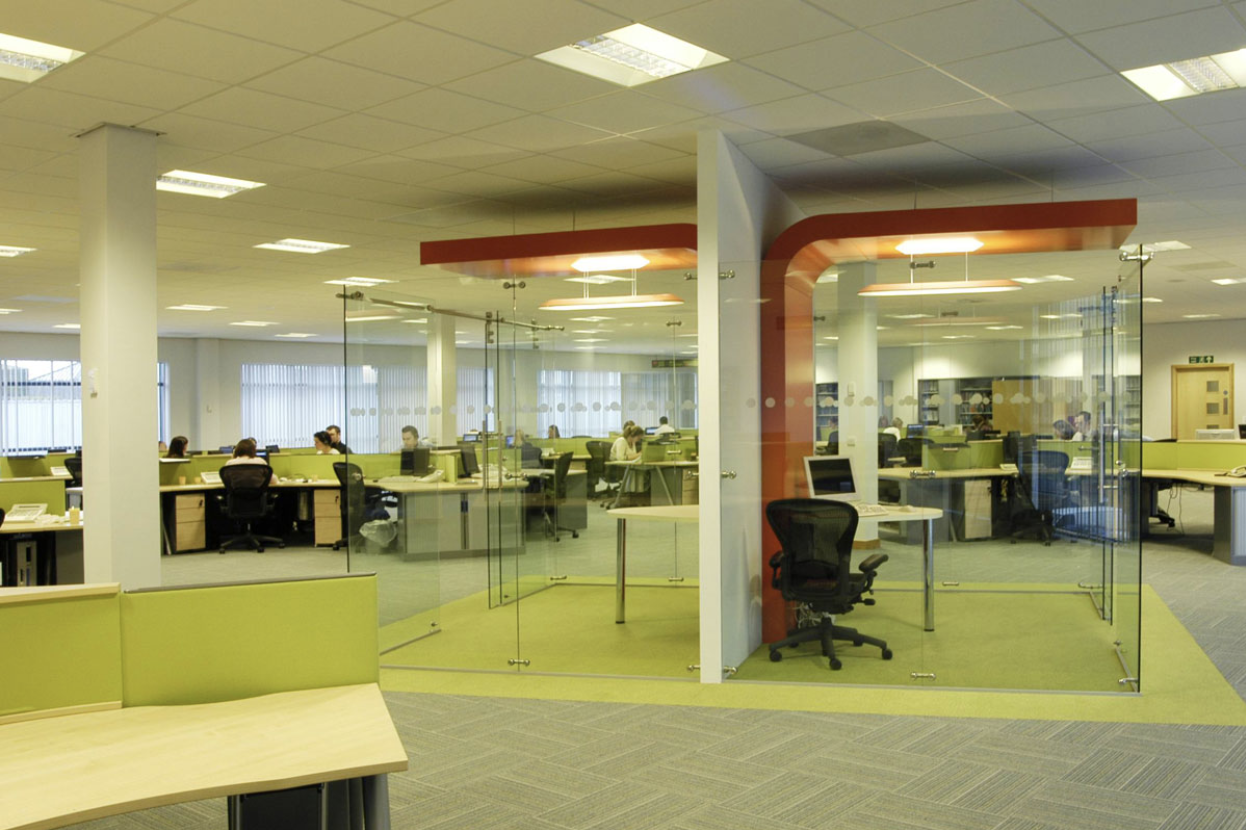 As is the case with library and study areas, common areas must take into account a variety of needs in a university setting. Often, common areas include spaces for individual work, collaboration, lounging, and conversation.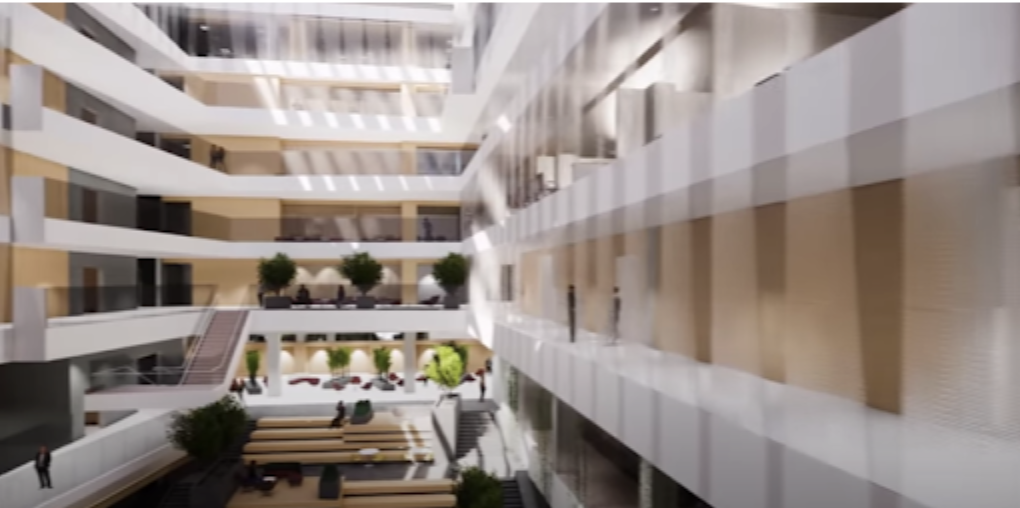 The University of Colorado Denver-Anschutz Health Science Building designed an atrium that accounted for some of these needs. There are areas for students and faculty to gather, lounge, and move between the classrooms, laboratories, data center, and conference center all while feeling connected.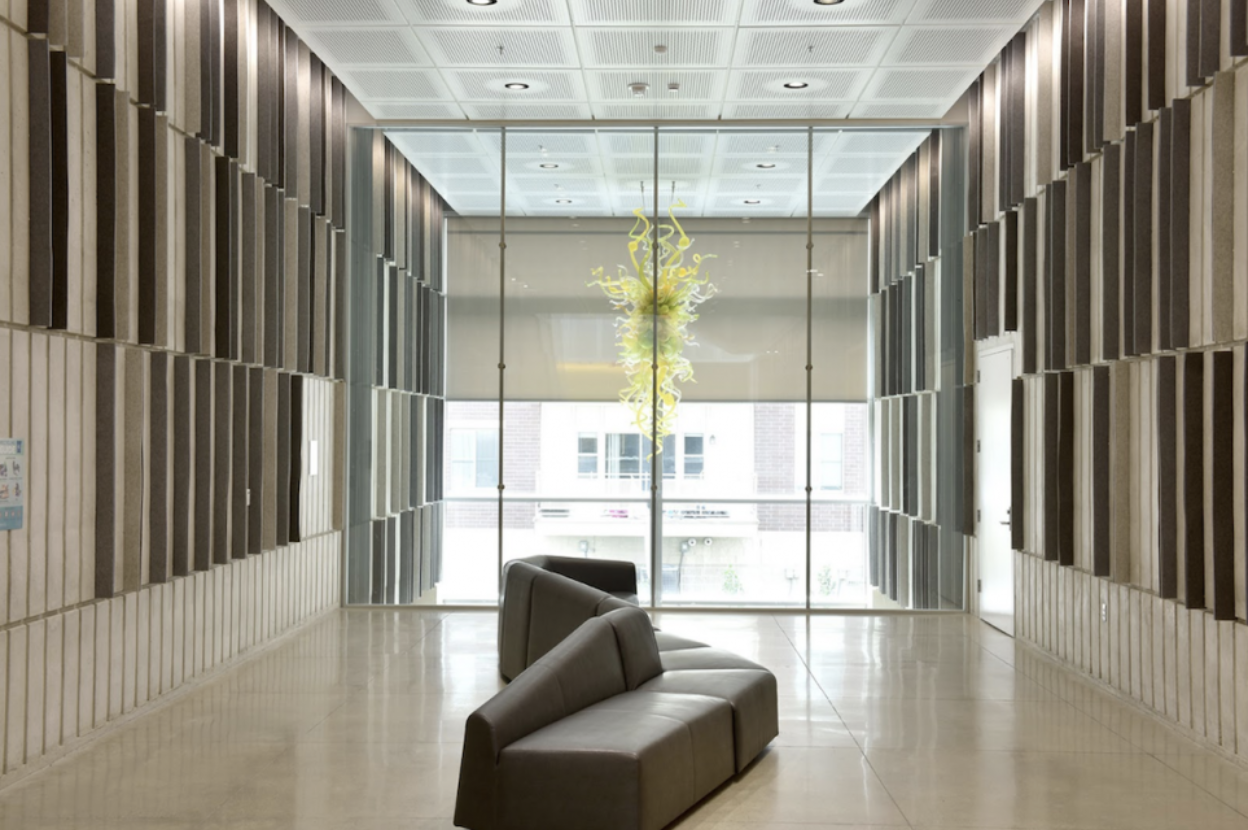 The Iowa School of Music installed a glass wall partition that overlooks the outdoor areas and provides a place for conversation and collaboration or just a place to relax in between classes.
Security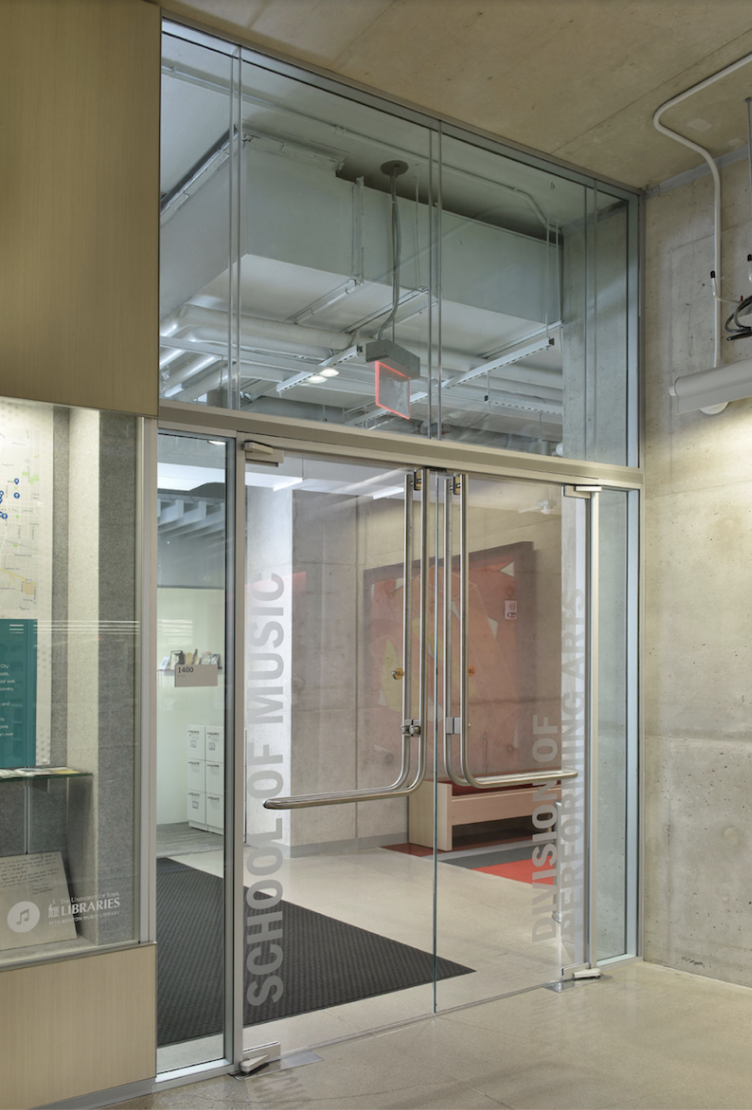 Security in schools and universities is a high priority. Luckily, Avanti Systems offers Panic Doors that create an added measure of safety. For the larger entrance, a pair of panic doors can be used to comply with building code requirements.
Sound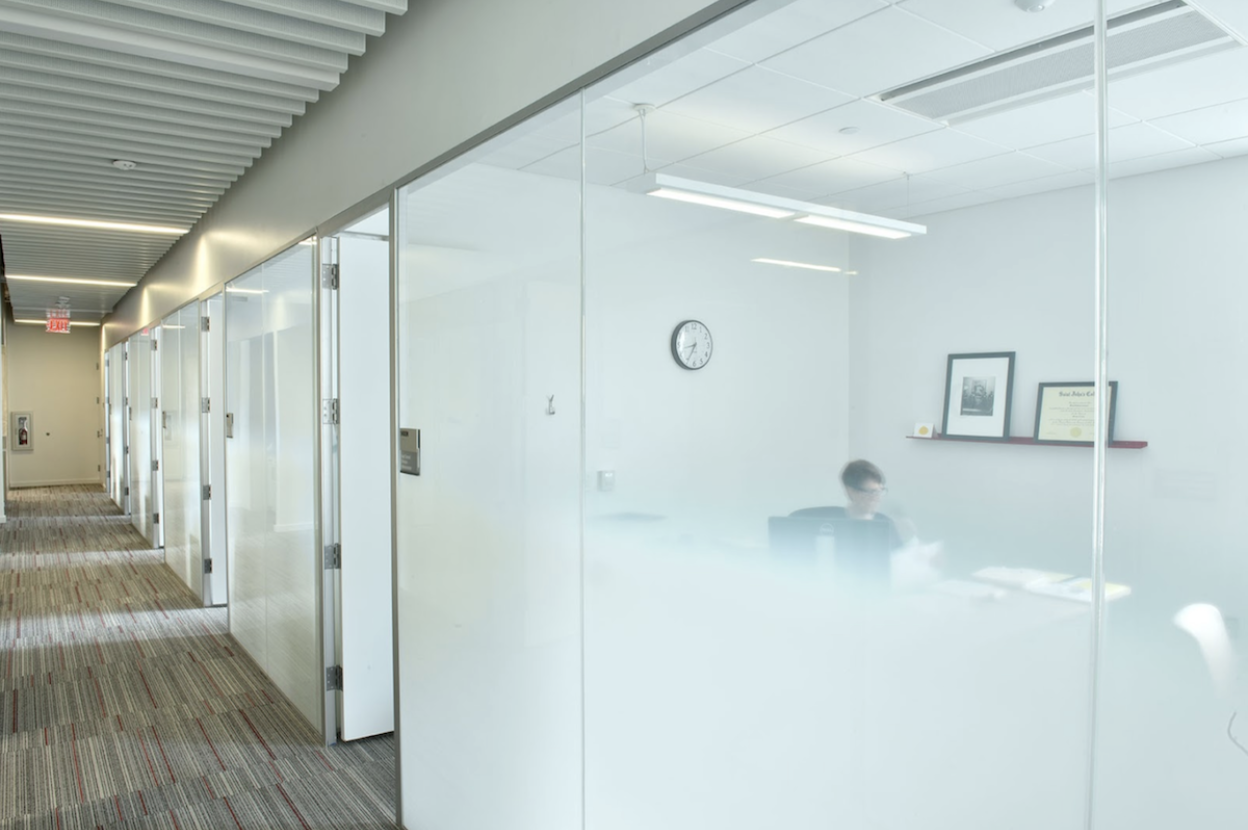 Managing the acoustics of a building presents challenges, and universities are no exception. Glass walls for universities help to create acoustic comfort without obscuring natural light and a view into other areas. The Iowa School of Music utilized the SolareTM Single Glazed Frameless Partition System with custom frosting on the lower half of the partitions to provide acoustic comfort and visual privacy in their office suites.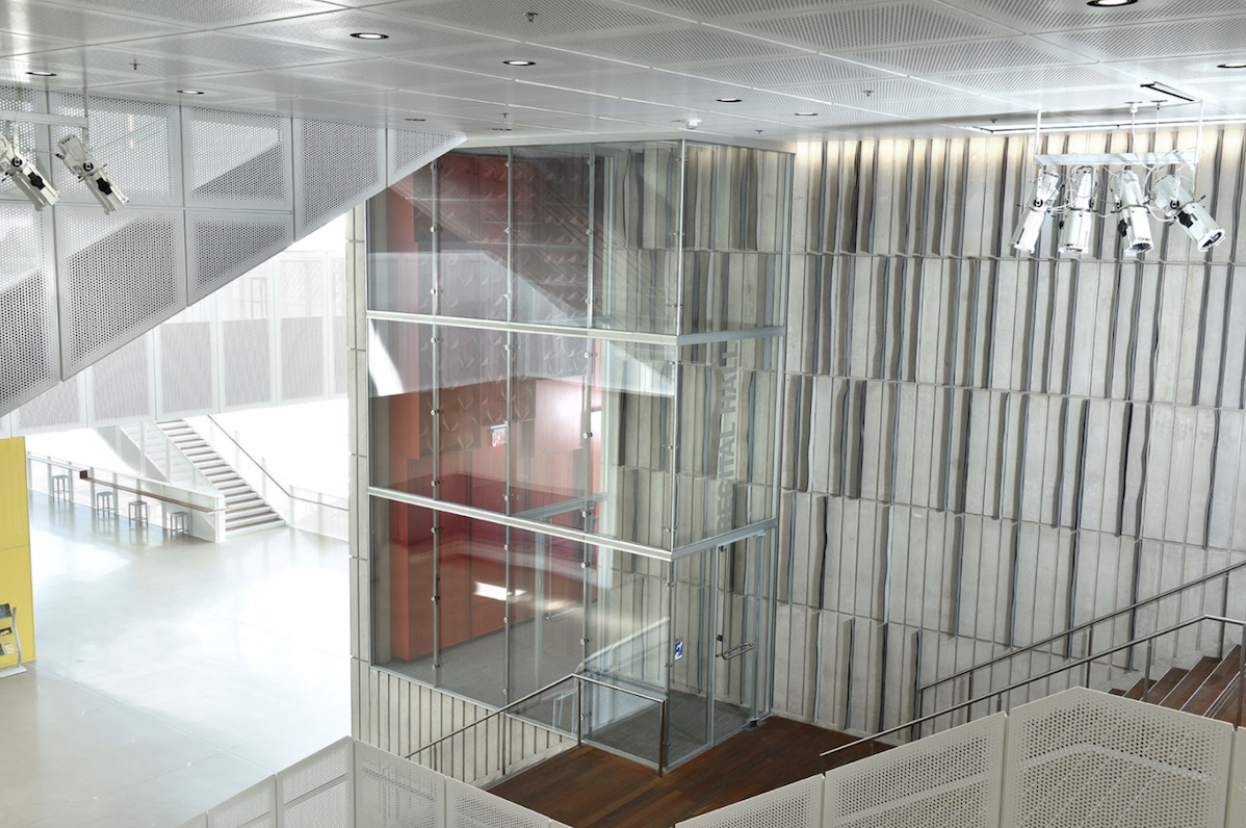 The grand entrance to theRecital Hall at the Iowa School of Music needed to be stunning while also helping to control the noise from performances within. The ElevareTM Stacking Double Glazed High Wall System was up to the challenge. The double glazed partition system creates acoustic control while managing the needs of the large space in this high visibility area.
Function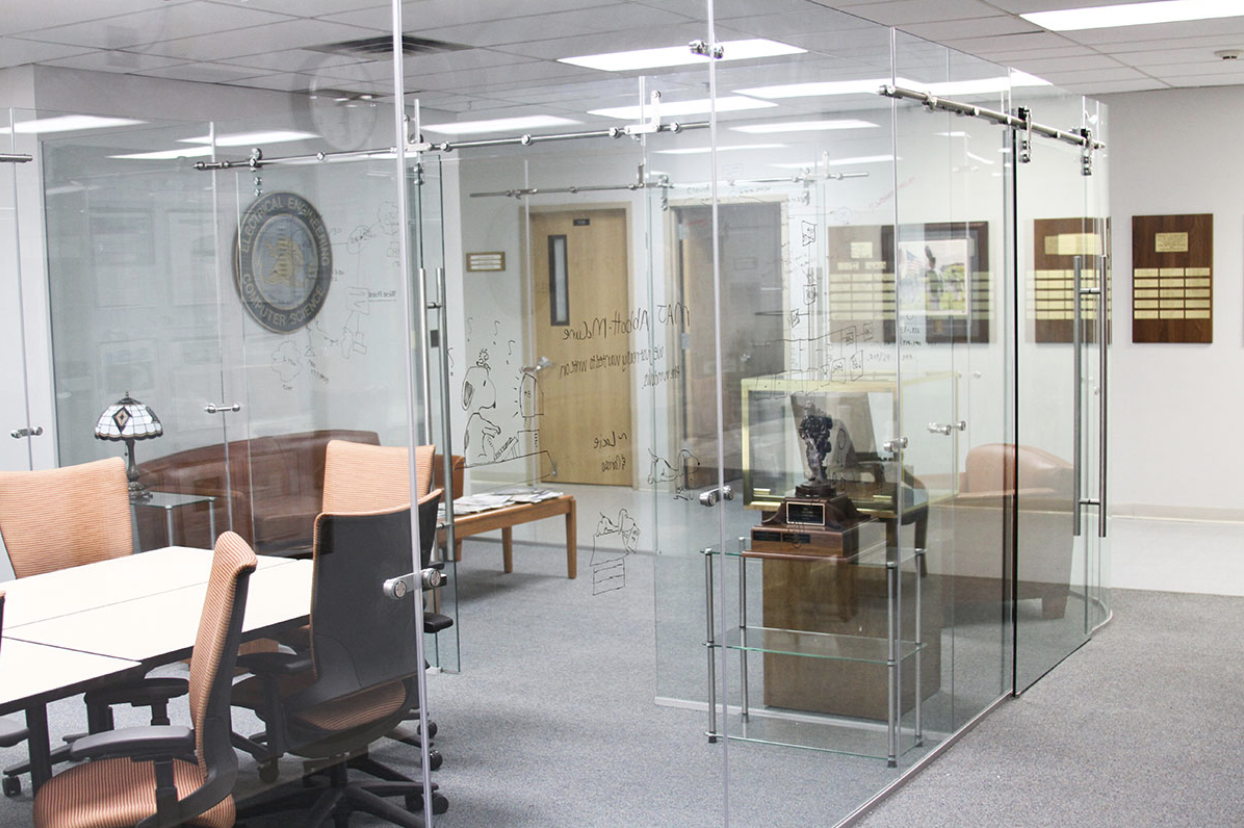 Glass walls for universities serve to separate a space, create sound control, and welcome natural light. But they also serve other functions. In this office at  West Point Military Academy, the glass panels are also used as a dry erase board.
The EliteTM Freestanding Glass Partition System is supported with single point wall and floor fixings, allowing for the creation of flexible configurations. The integration of an EclipseTM Sliding Glass Barn Door allows easy entry to the space without slamming doors.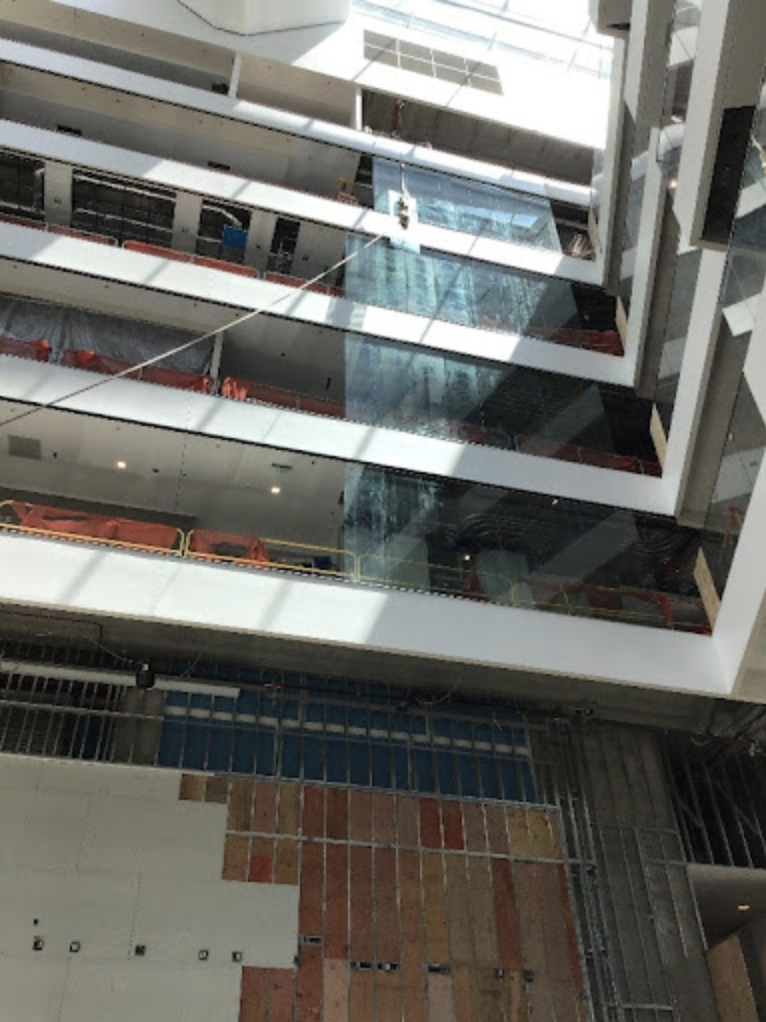 Glass walls for universities can be used to create offices, practice rooms, library space, classrooms, atriums, and more. They're really only limited by your imagination, making them a functional element that you can use in a variety of ways.
Artistic Expression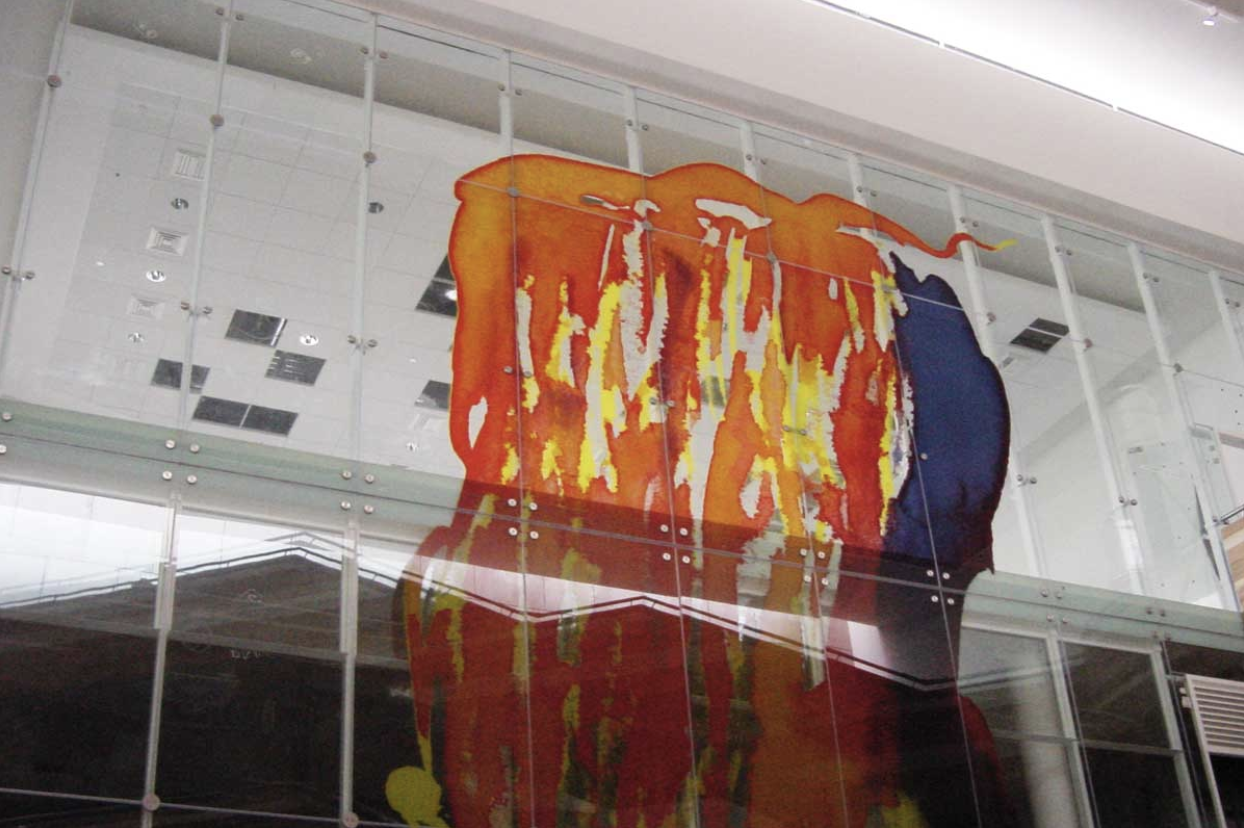 Our glass partition systems integrate seamlessly with a range of design styles and aesthetics. Adding custom frosting is one way to customize the visibility and style, but you can go a step further with custom graphics. Go bold with color or add a simple graphic to make a statement about the university and what it stands for. Whether you want to integrate logos, mascots, text, or abstracts, glass panels allow for artistic expression.
Glass Walls for Universities in Action: 3 Striking Examples
Check out these Project Spotlights to see the versatility of glass walls for universities. From atriums to rehearsal halls, our glass wall systems create functional spaces that enhance the environment of higher education and excellence.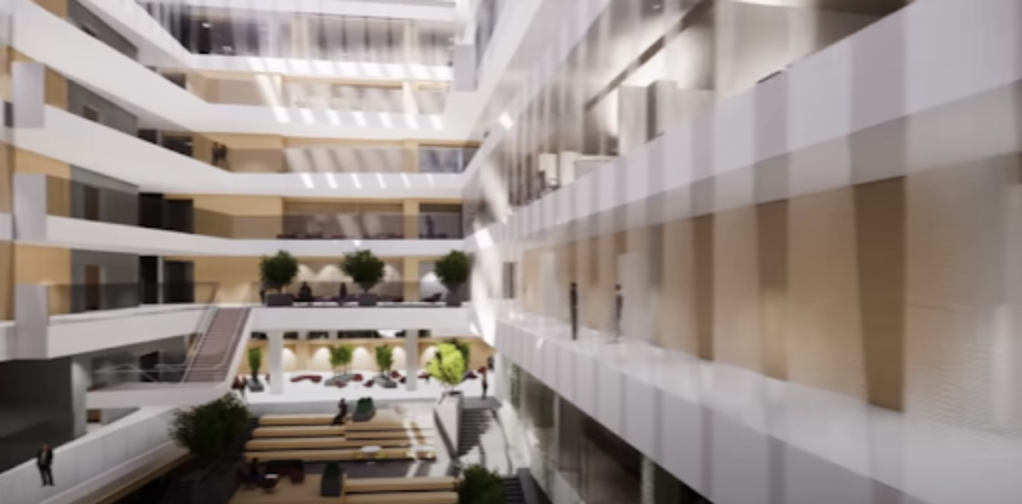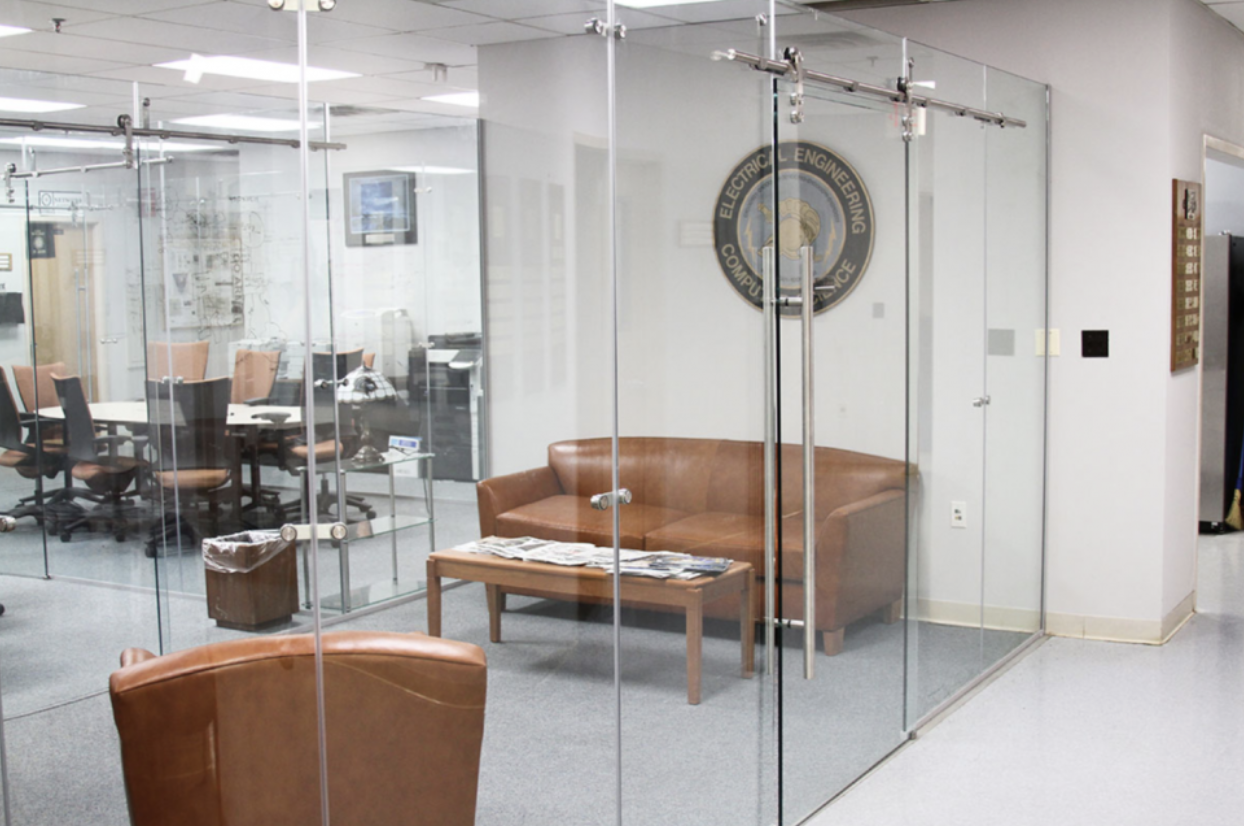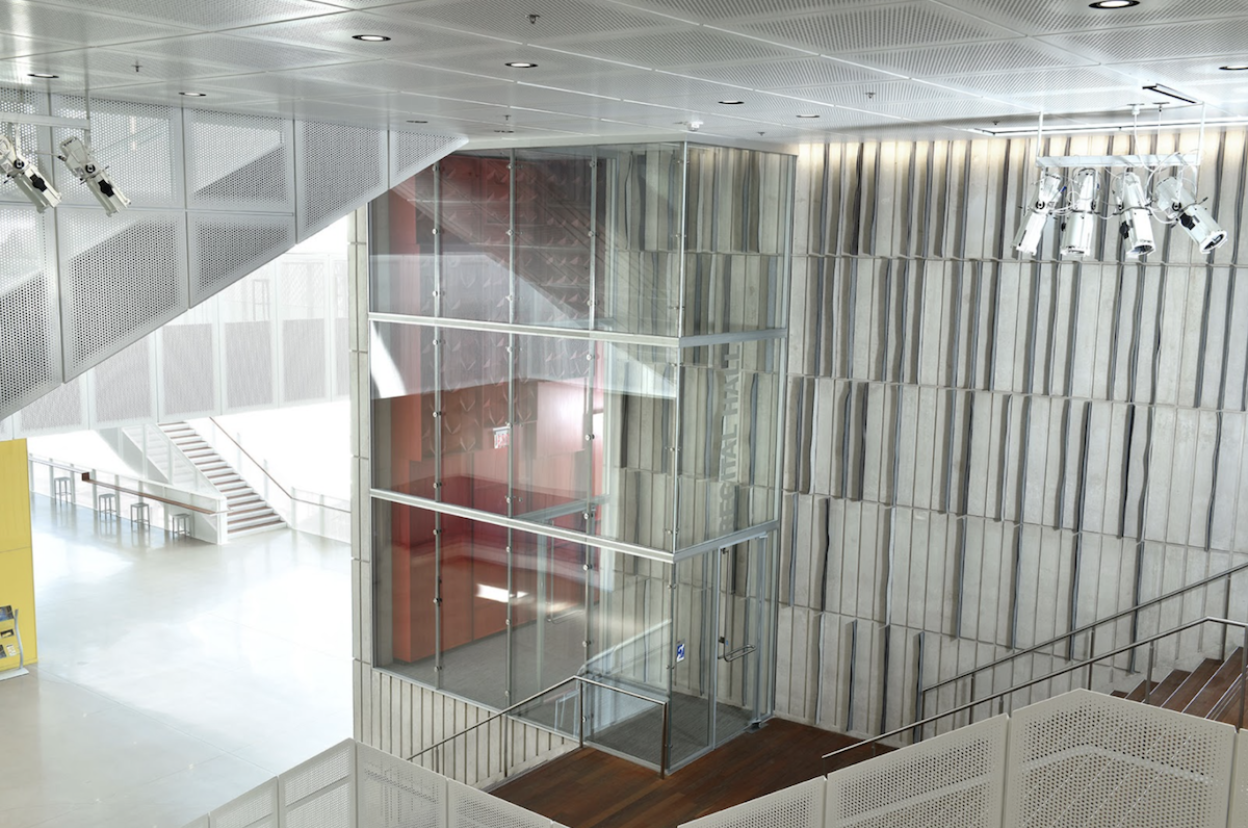 Contact the design experts at Avanti today to design a glass wall system for higher education and universities.