Over the years, hospitals have undergone a significant transformation. What used to be regarded as a design that was impersonal and sterile has now become one that puts patients first and creates environments conducive to healing.
Balancing the needs of patient privacy and confidentiality with their need of spaces that encourage healing is not an easy task, however. Hospitals have the unique challenge of creating an environment that is clean and hygienic without appearing impersonal and sterile. These spaces need to maintain confidentiality and privacy without feeling closed off and isolated, which is not an easy balance to strike.
Benefits of Glass Partitions in Hospitals
Using glass walls in various capacities throughout a hospital's design can go a long way to creating an inviting and open atmosphere while still maintaining high standards of hygiene and confidentiality. One place where this is particularly necessary is in the offices of doctors who work in the hospital. They need to be part of the overall hospital design while still creating privacy to work and meet with patients.
Glass office partitions create a solution and provide many benefits over traditional walls.
1. Sanitary design option for hospital partitions
Utilizing glass partitions for doctors' offices, conference rooms, and even patient rooms creates a sanitary design option, a necessity in a hospital. In some cases, curtains are used to partition off spaces but keeping them clean calls for a substantial amount of time and effort as they must be removed and laundered regularly.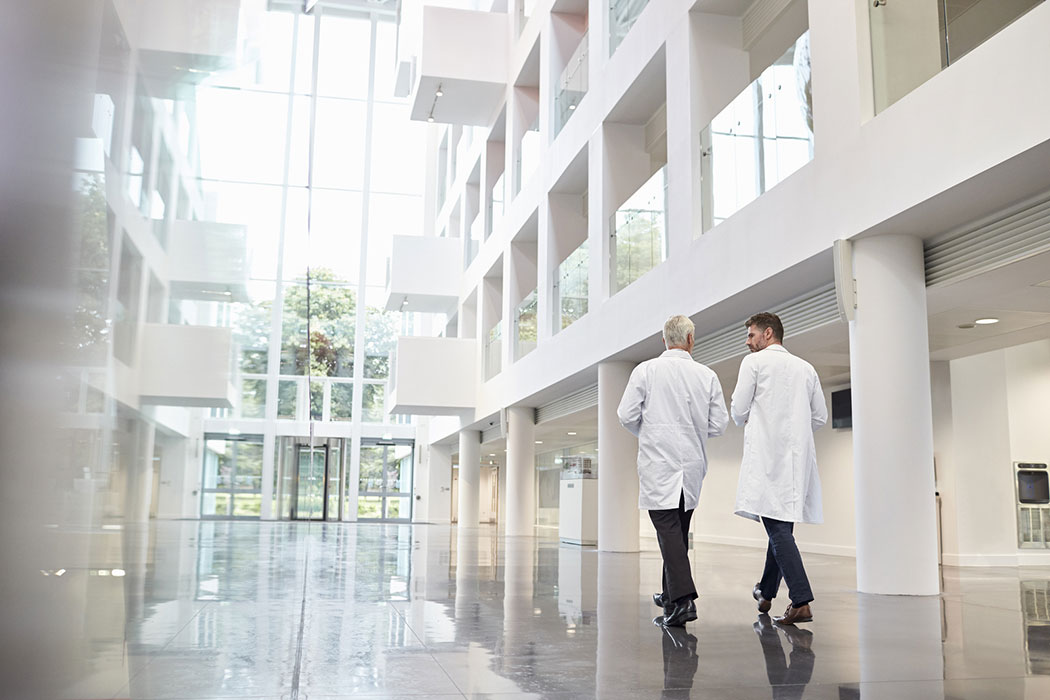 Traditional drywall can be wiped down, but it can also sustain scuffs and damage in high traffic areas, requiring it to be repaired or replaced. Glass partitions, however, are easily cleaned, maintaining the sanitary environment crucial to a hospital's success. Any scuffs or smudges can be wiped off in seconds, and they don't sustain the damage that typical drywall does.
Request a Design Consult For Your Facility Today
2. Hospital partitions increase outdoor views
It is widely understood that a connection to nature has positive impacts on both physical and mental health. Many hospitals are realizing how crucial it is to harness those impacts and use them to the benefit of their patients.
Bringing the outdoors in is no easy feat. Many hospitals are creating outdoor gardens which patients can visit for a breath of fresh air, but those unable to venture too far from their beds are unable to take advantage of them. Strategically installing glass hospital partitions can ensure that all patients are guaranteed the best chance for outdoor views.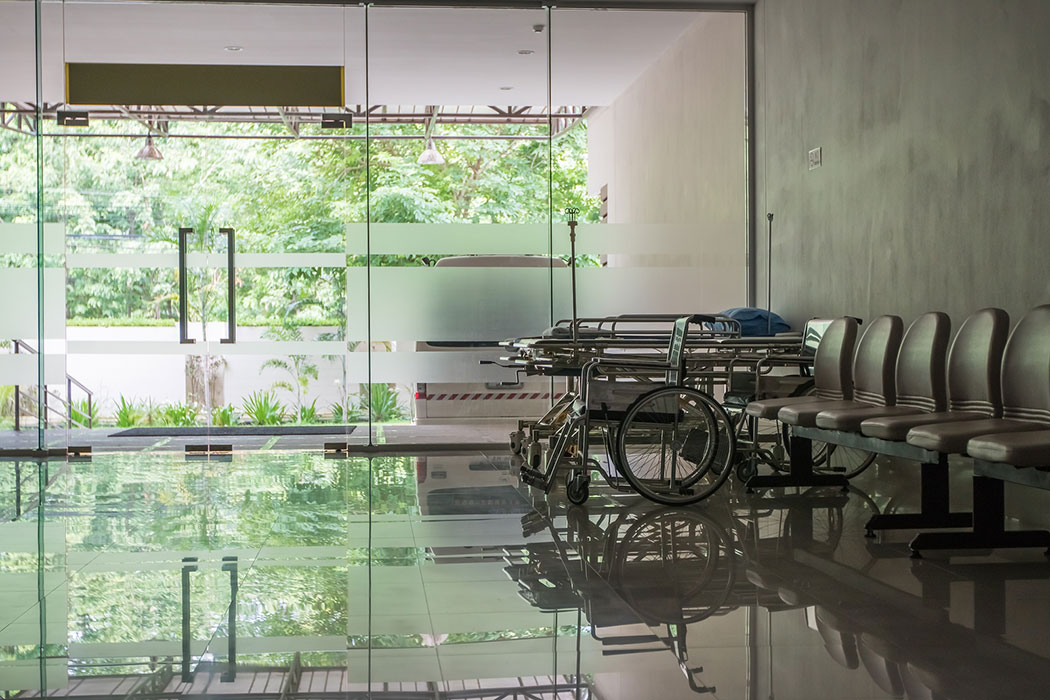 3. Hospital glass partitions are private
When used for patient rooms and doctors' offices, glass partitions create privacy without creating a cave-like atmosphere that many small patient rooms and offices fall prey to.
The benefits of using glass to partition off space are particularly important to patient care and safety. If traditional walls are used, doctors are cut off from patients and nurses and the larger needs of the hospital. Using glass partitions allows doctors to be aware of what's going on outside their office. This can also lead to faster response times.
Patients also reap the benefits of glass office partitions in their doctor's office. Going to the doctor can be a stressful situation, one made worse by walking into a small space with little natural light. The closed space can exacerbate the stress of the situation. Using glass partitions can remedy this problem. They create the privacy needed for confidential discussions between doctors and patients while maintaining a much more open feel that promotes stress reduction.
4. Unobstructed line of sight
For doctors and nurses, having an overall view of what's going on in the hospital is essential to providing excellent patient care. Utilizing glass partitions allows for their line of sight to be unobstructed which gives them the opportunity to respond quickly if needed.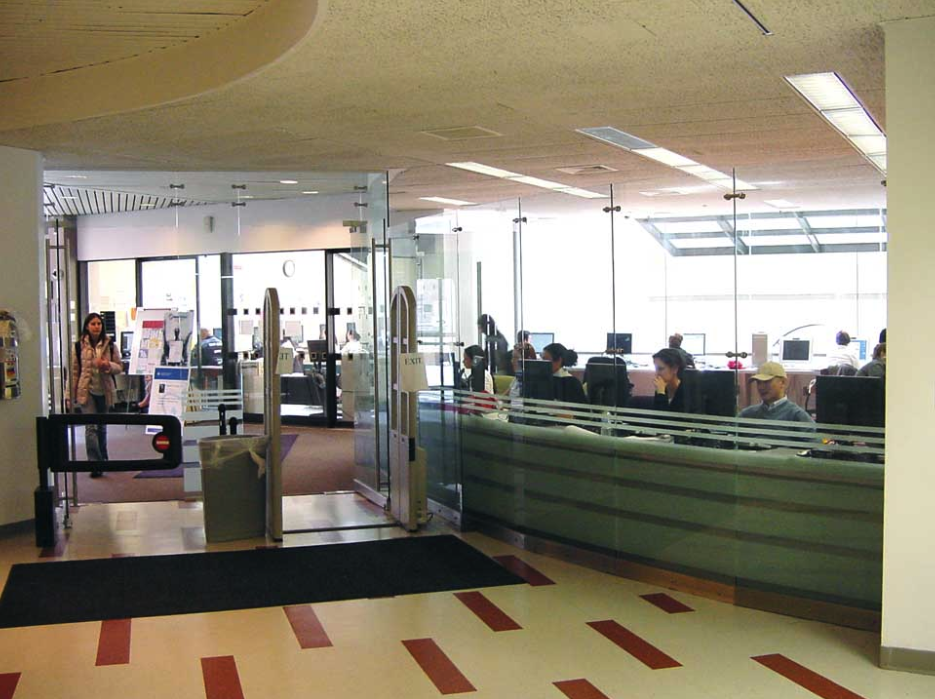 5. Hospital partitions are versatile
Many hospitals are choosing hospital room partitions that can be transparent or opaque depending on the needs of the patient. Smart glass is a versatile option that can transform from transparent to opaque with the mere flick of a switch. This creates options that are unmatched by drywall or curtain partitions. When patients want to feel part of the larger space, they can make the glass transparent, allowing them to see what's going on outside of their rooms, and when they need privacy, flicking a switch is all it takes.
6. Creates individuality
Today's hospitals are havens for healing and they're not interested in cookie-cutter designs. One significant advantage of choosing glass office partitions is that they are highly customizable and will fit with the overall design aesthetic and values of each individual hospital. From frameless options, movable walls, and angled or curved configurations, not to mention customized frosting options, glass office partitions will fit seamlessly into the hospital's design while enhancing the aesthetic.
7. Automatic or assisted-close door options
Glass office partitions are also a good fit in a hospital because of the variety of door options that they provide. Choosing automatic or assisted-close doors helps to decrease the spread of germs since not as many hands will be touching the door handles, which creates a more sanitary space.
A partner through the process
Avanti Systems not only manufactures and installs glass office partition systems, but they also provide design support from the beginning all the way to the end of the process. Assisting in everything from concept creation, project planning, and resource management, Avanti will walk you through the process of creating an environment that is both healing and functional, one that will be the best for your patients, doctors, and nurses. Contact Avanti about superior glass walls for hospitals today.
Other Partitions Resources