Many commercial spaces have turned to smart glass for their glass partitions, doors, and windows to add flexibility to the workplace. Incorporating smart glass ensures that the design is both beautiful and functional. A combination of intelligent glass and Polymer Dispersed Liquid Crystal (PDLC) technology, smart glass walls, windows, and doors will revolutionize your commercial space.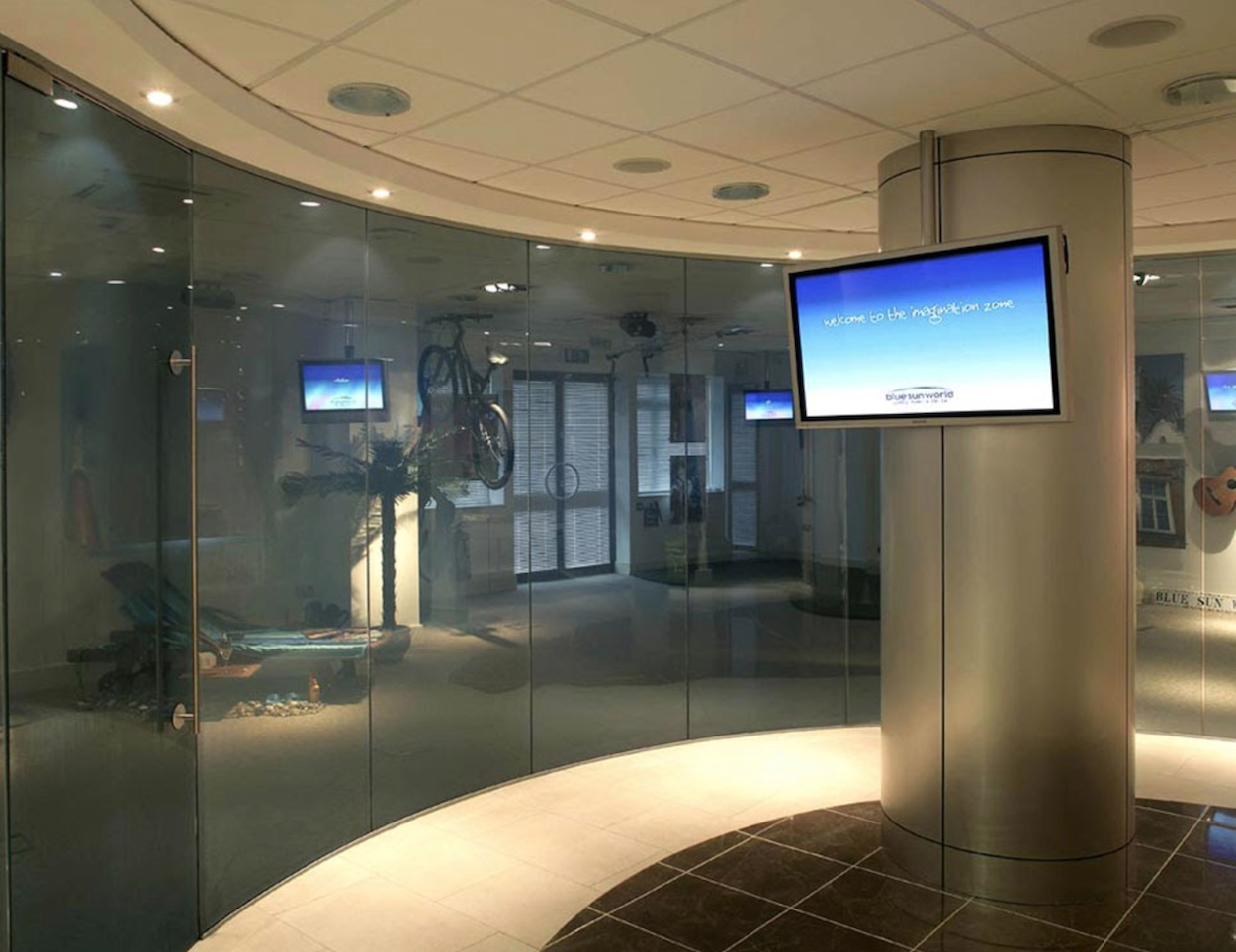 With the flip of a switch, LCD smart glass panels can instantly change from translucent to transparent, providing unprecedented flexibility. Smart glass windows and walls can be installed in a variety of spaces from conference rooms to showrooms, allowing a space to remain visible throughout the larger commercial space or instantly transform into a private area for conferences or meetings.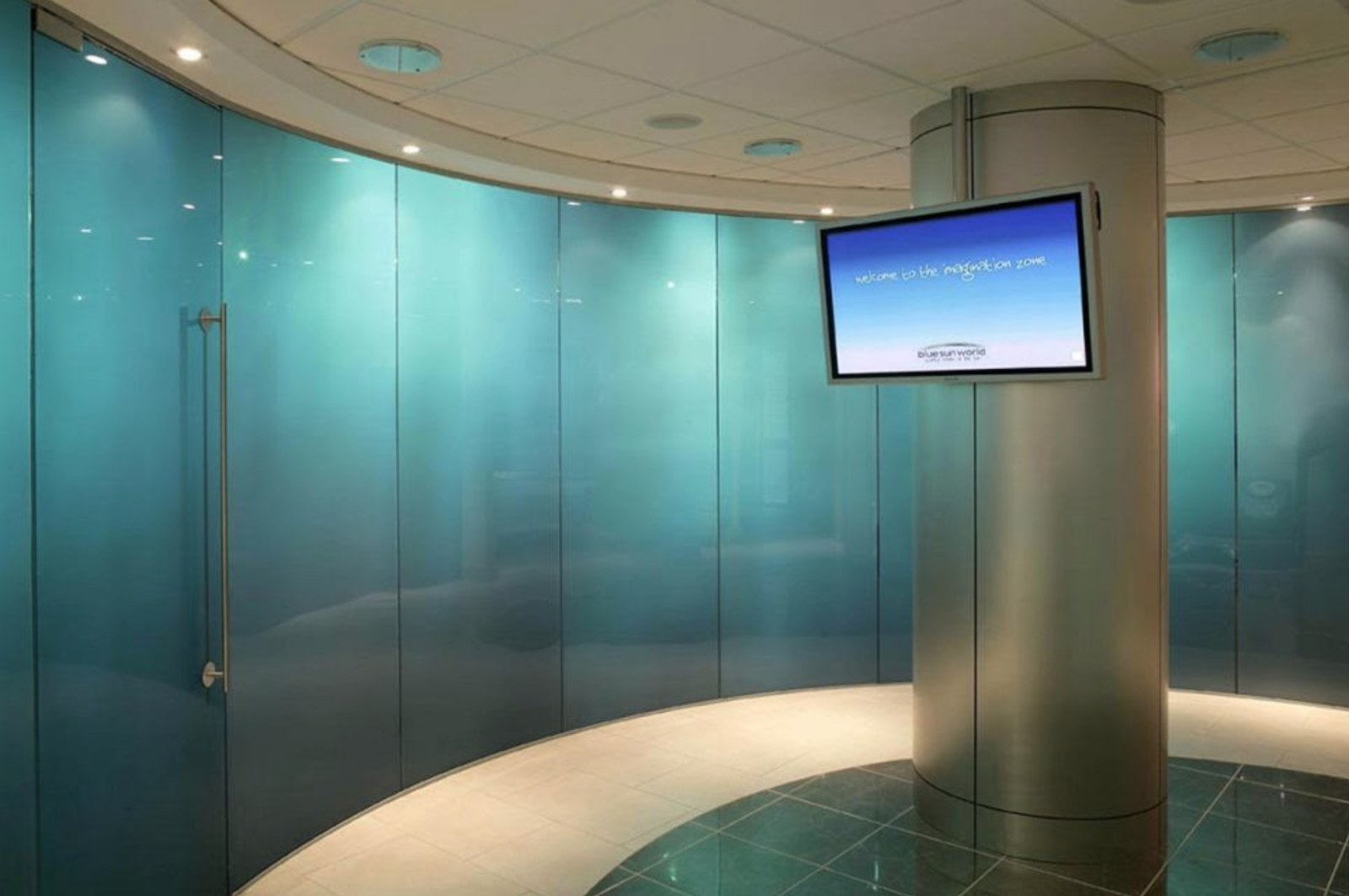 What Is Smart Glass and How Does It Work?
Smart glass is a glass panel that is able to instantly switch between transparent or translucent visibility. Smart glass technology is made by utilizing Polymer Dispersed Liquid Crystal technology. 
The seemingly magical powers of smart glass is a result of the liquid crystals that are suspended throughout an electrical field within the glass. While the smart glass is off, the liquid crystals are randomly dispersed through the glass, creating a transparent partition. When the smart glass is turned on, an electrical impulse is applied and the crystals align to create a translucent surface where only  light will pass through allowing for privacy. 

Smart Glass Commercial Applications
Smart glass windows and partitions are perfect for a variety of commercial applications. From hospitals to schools, incorporating smart glass creates the flexibility needed for a changing space, for example, while still maintaining an open feel.
Hospitals and Clinics
Smart glass walls, windows, and doors provide a hygienic alternative to fabric curtains that are typically used to separate spaces in hospitals and other healthcare facilities. Smart glass provides privacy when needed, whether in an exam room or administrative office and an unobstructed view when visual privacy isn't necessary. It is easily cleaned and sanitized, eliminating the need for laundering curtains and fabric partitions.
Schools
Schools increasingly need to be hygienic environments but with the flexibility to create ideal learning environments for a variety of needs. As COVID-19 creates even more safety precautions in schools, incorporating smart glass walls allows for the separation of spaces without the hassle of remodeling. Smart glass walls are easily sanitized and can provide the privacy of a traditional wall while still allowing natural light to brighten the space.
Government Buildings
Government buildings can also benefit from the flexibility of smart glass walls that can provide instant privacy when sensitive matters are being discussed. With the flip of a switch, they can once again be transparent in a millisecond, creating an open and welcoming environment.
Office Cubicles
The days of cubicle farms are quickly coming to an end in favor of a more open and collaborative office environment. Despite the trend towards open-concept offices, however, there remains a need for both sound privacy and visual privacy in certain circumstances. Smart glass provides both. As an acoustic barrier, smart glass provides sound privacy, and its ability to switch between transparent and translucent allows it to provide visual privacy easily, at any time.
Retail Spaces
Smart glass windows, walls, and doors can be well utilized in retail spaces as well. When displays need to be visible, smart glass can be turned on and transparent, and when the retail space is closed or when a display is being set up, the smart glass can be switched off and become translucent, providing the necessary privacy.
Conference Rooms
When meetings take place in conference rooms, many times there is a need for an open space where ideas can flow. Smart glass technology provides for this need since it can be turned off to create a space that will make the room feel like part of the larger office. If a private conference is being held, then the smart glass can set to opaque, which will create a private meeting room.
How to Shop for Smart Glass
When shopping for smart glass panels, the first thing to consider is the intended application and the needs of your space. 
Smart glass windows, doors, and partitions are ideal for a variety of commercial spaces, including:
Hospitals and clinics

Schools

Government buildings

Office cubicles

Retail spaces

Conference rooms
Depending on the application, the next consideration is deciding on the best configuration to suit the space. Laying out the design of the space will determine the amount of smart glass you will need to achieve the look you want.
Finally, determining how your smart glass will be used within the space will help you make your decisions. The primary function of smart glass is to create privacy when it's needed and allow for unobstructed views when it's not, and it also has many additional health benefits, such as improving morale and raising productivity.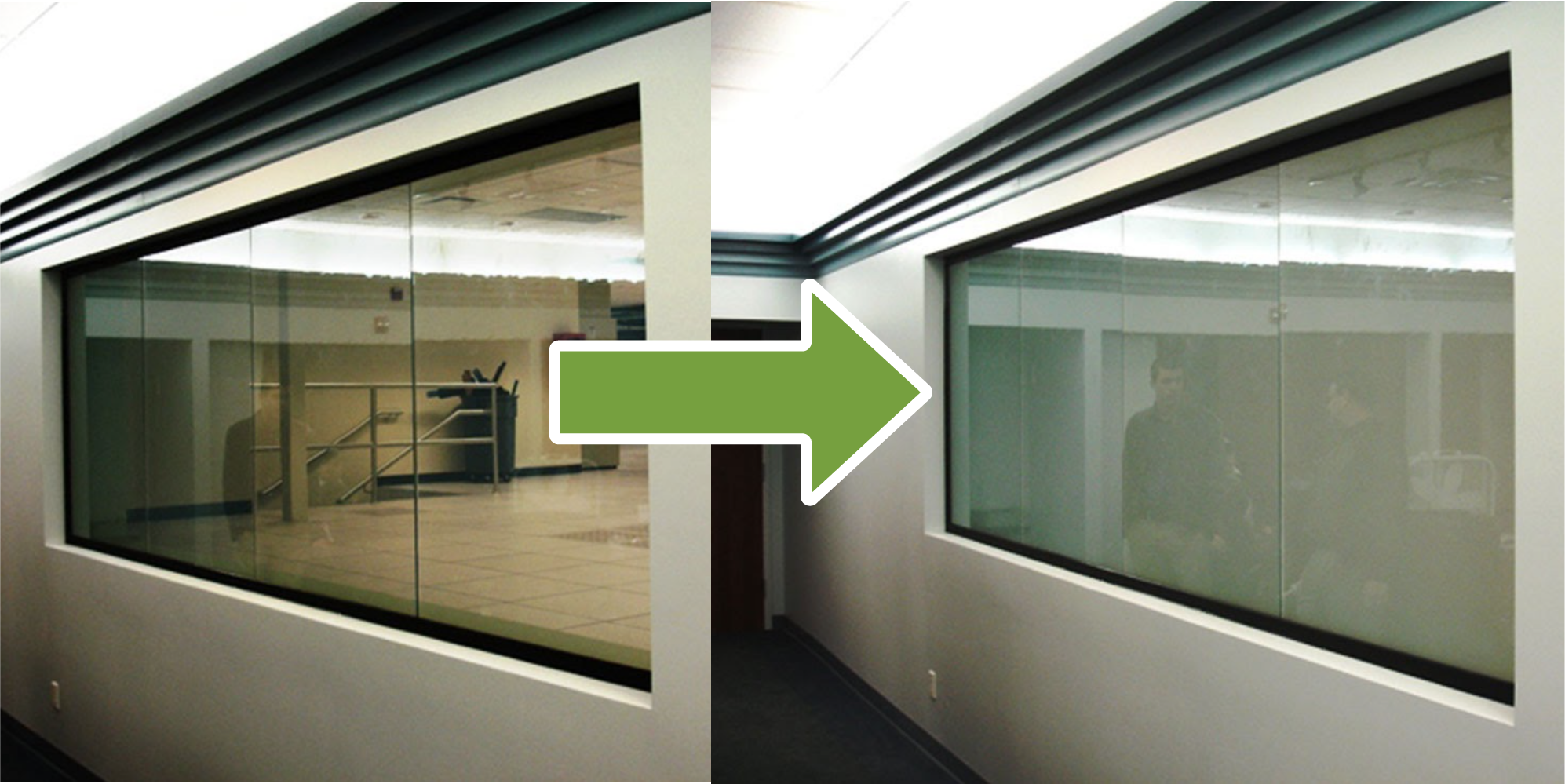 The Best Smart Glass Solution for Commercial Applications
Avanti Systems provides the best smart glass solutions for commercial applications. With our Lunar™ Smart Glass Partition System, you can rest assured that you are getting the best quality and functionality that smart glass technology has to offer. 
Fully demountable and compatible with any of our floor-to-ceiling or freestanding glass wall systems, we provide modern and stylish glass wall solutions with the option of the privacy of a traditional wall. 
Contact Avanti Systems today to learn more about smart glass doors and windows that can meet the design needs of your commercial space.