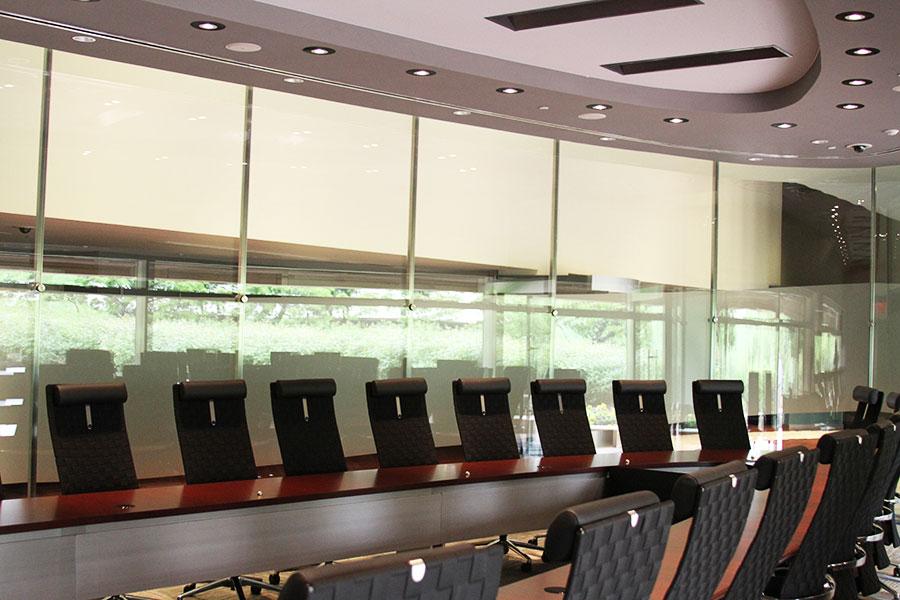 Taking your meetings to the next level and creating a sense of excitement around the work you do can be as simple as designing an innovative conference room that sets the tone of your office space.
Innovative Conference Room Design Ideas
Rather than a drab and impersonal room where you can "get down to business," these innovative conference rooms inspire creativity and collaboration.
1. Built-in privacy options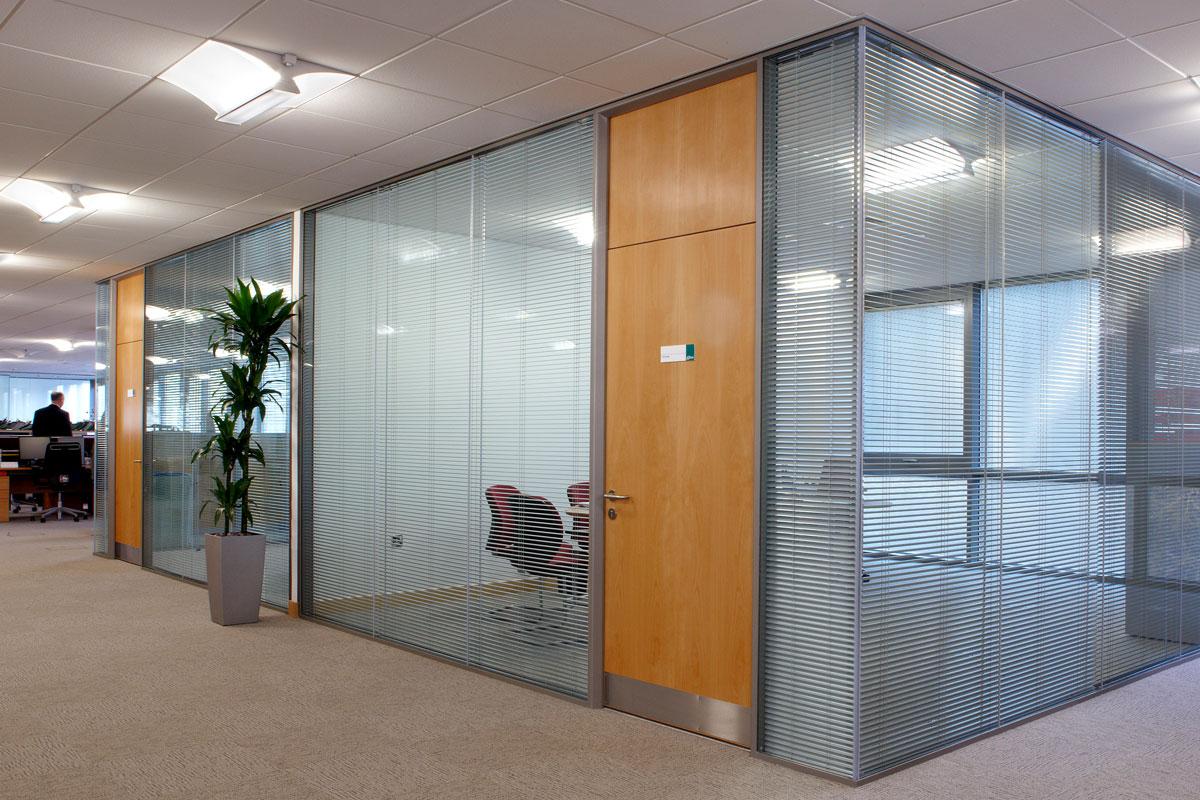 Rather than choosing between a traditional wall or a glass partition system, this innovative conference room combines the best of both worlds. By integrating blinds into a double-glazed partition system, the blinds are sandwiched between panes of glass and can be automatically closed or opened, depending on the needs of those using the space.
The wood door enhances the fact that it is a space used when privacy is needed, but it isn't so closed off as to feel completely separate from the rest of the office. Its placement on an exterior wall ensures that light can flow into the room, and when the blinds are open, that light is welcomed into the interior of the office as well.
2. Take advantage of natural views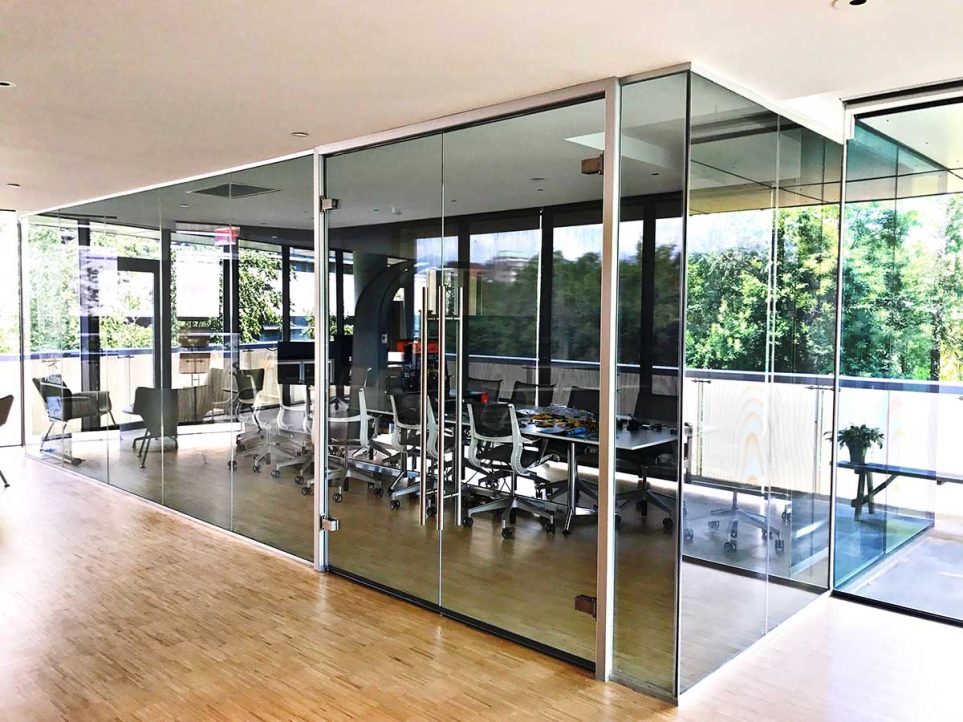 This innovative conference room, also situated along an exterior wall, takes full advantage of the natural views surrounding it. By using glass partitions, it's not only those utilizing the meeting space that can enjoy the outside greenery. There is plenty of space at the conference table or a seating area for a smaller group discussion.
3. Be bold
From the vibrant yellow piping to the tree that stretches from the floor and into the ceiling, this innovative conference room design is bold and interesting. Glass partitions create an open line of sight to the exterior windows and throughout the rest of the office. A space like this naturally encourages creativity and an exciting flow of ideas.
4. Take advantage of angles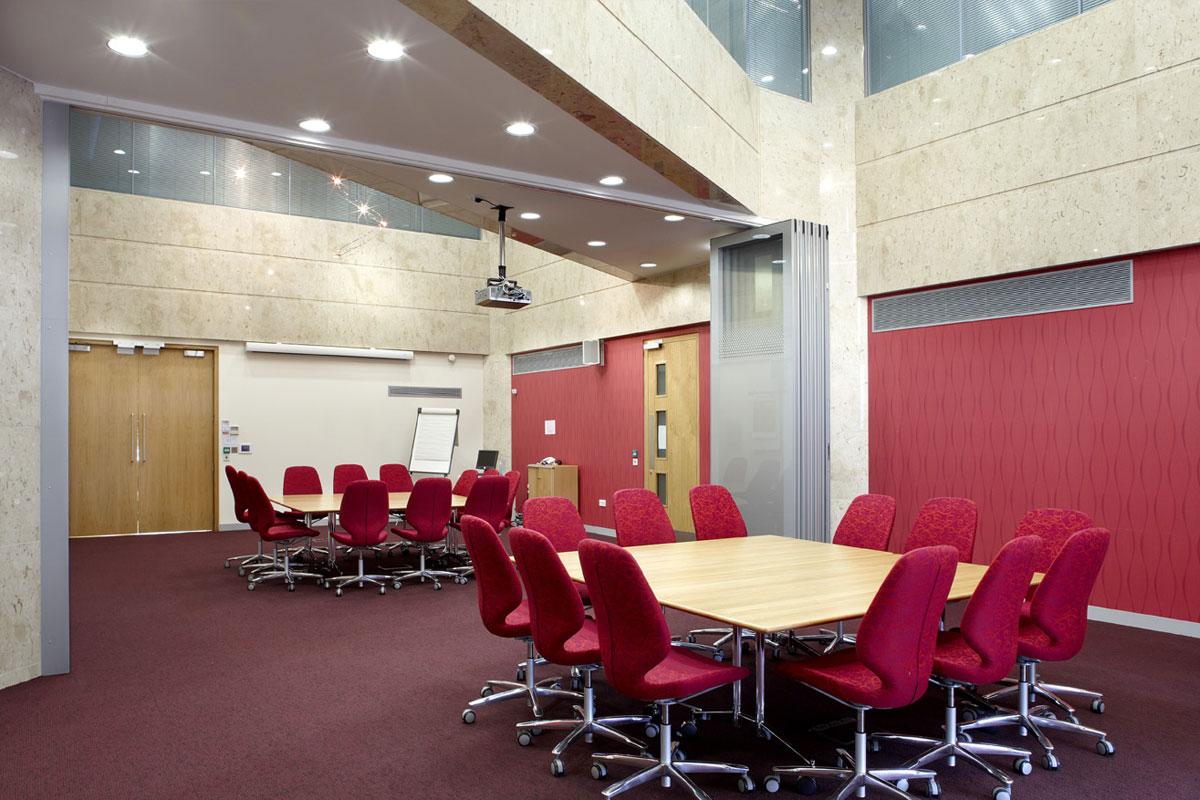 This innovative conference room works with its unique architecture to create either one large conference room or two smaller ones depending on the current need. Despite the high ceilings and angles of the room, a solution was found in a flexible partition system that runs on a track installed on a low piece of the ceiling. It's easy to imagine how quickly this space can transform when it's time to get to work.
5. Choose a unique configuration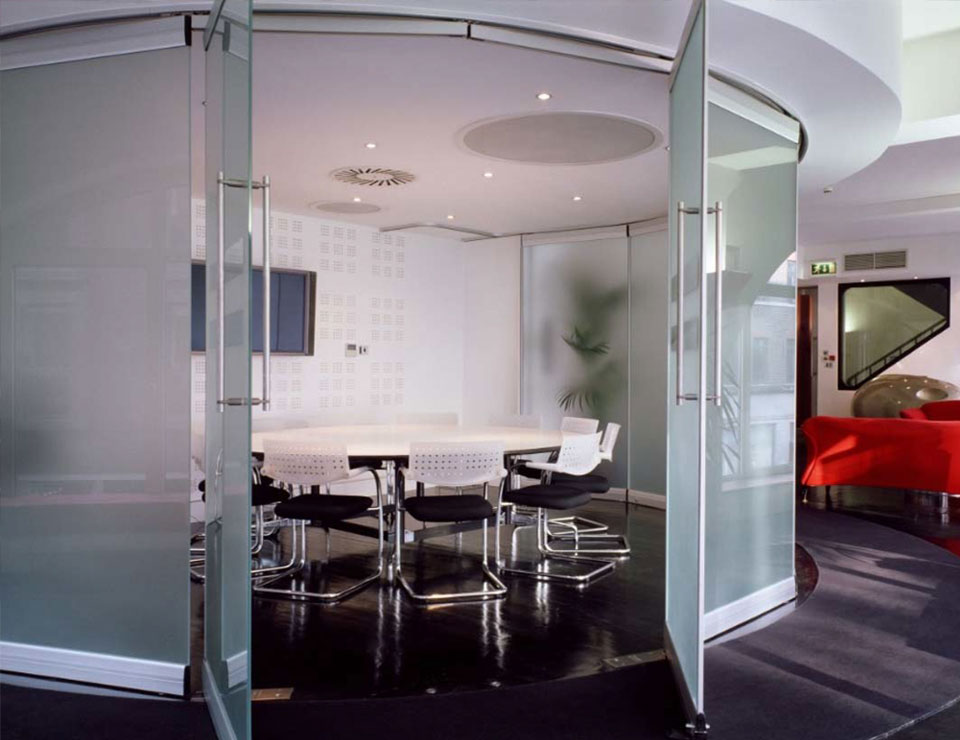 Many partition systems can be installed in an angled or curved configuration. Choosing a unique configuration such as this one adds interest to the conference room and complements the larger office design. This style of conference room also lends itself well to a circular table that encourages conversation rather than one long surface where conversation and ideas can be lost down the length of the table.
6. Use color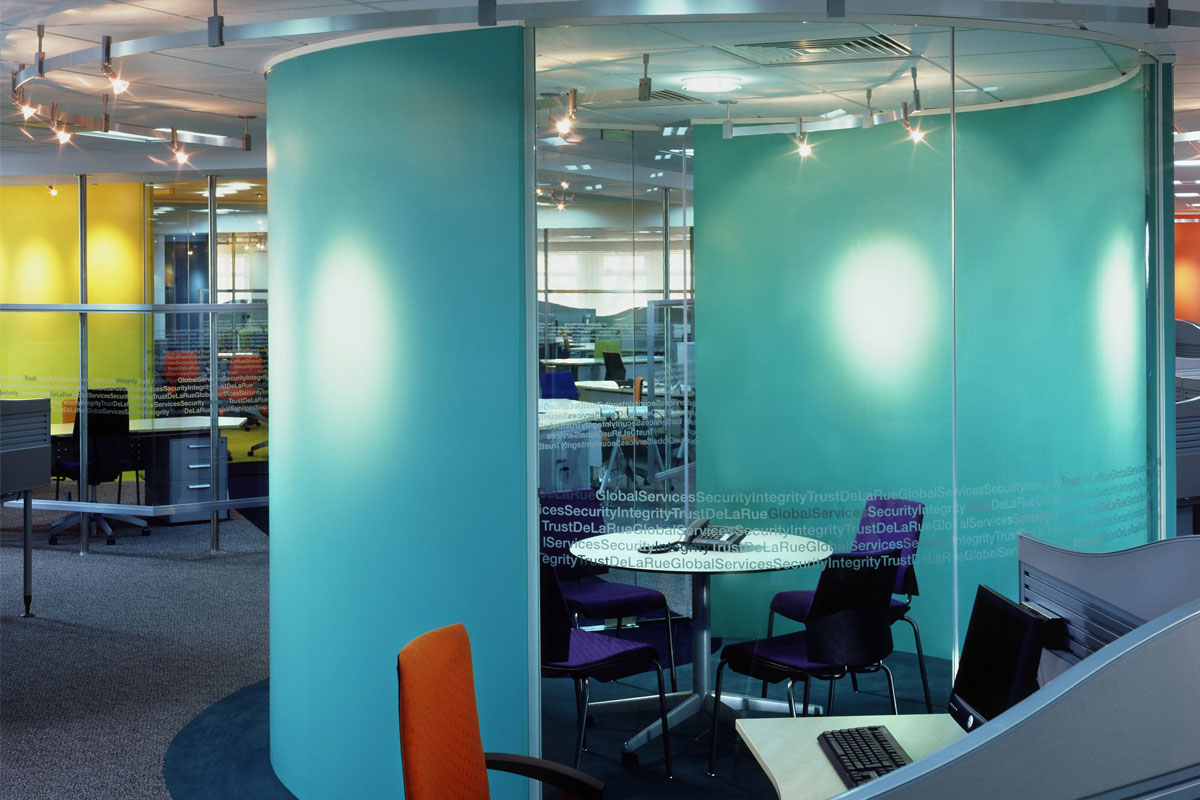 Using color in a conference room design isn't just limited to walls. Choosing to frost the glass in a custom color instantly creates an innovative conference room. Frosted glass allows light to filter softly into the room and can change the mood by creating a quiet space for meetings and collaboration.
7. Add interest with sliding doors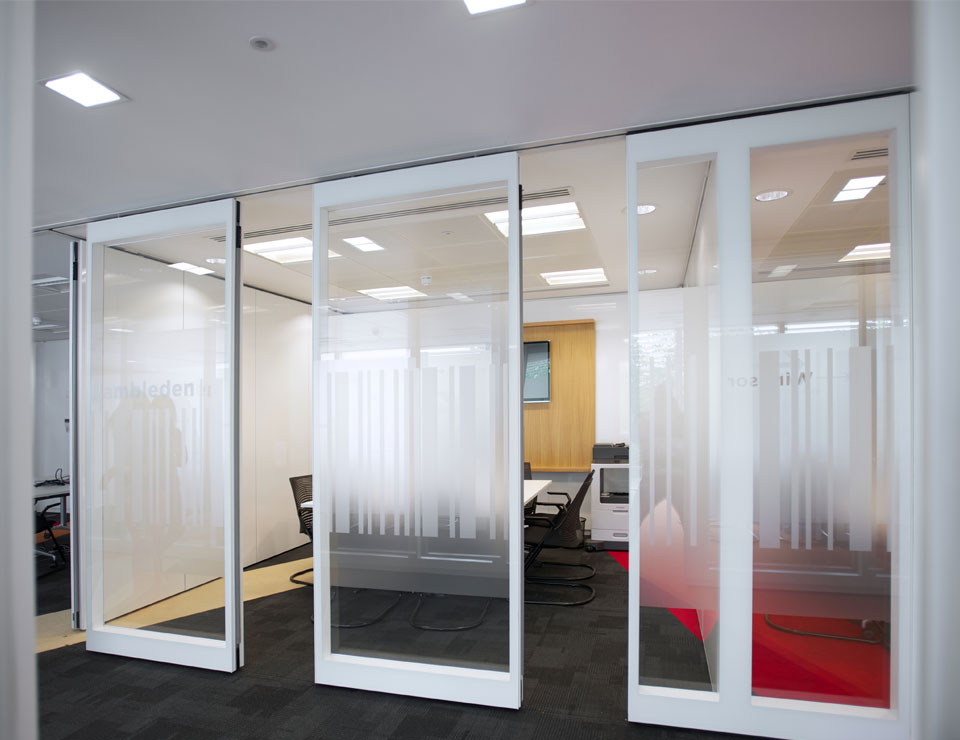 Stepping away from traditional hinged doors to go with the less traditional sliding glass door option can create an innovative conference room while also increasing the level of convenience. Not only do sliding doors allow for quiet opening and closing, but they also add an interesting design element. Customization options include multiple doors on one track and frosted glass designs. Sliding glass doors can also be assisted-close, which allows the doors to open and close with the touch of a button, making them even more convenient for those coming and going from the meeting.
8. Customize the glass
Nearly endless customization options for glass partition systems include customized frosting on the glass. In this innovative conference room design, the frosted design on the glass mirrors the unique chair design in the room, creating a cohesive design.
In addition to customized frosting, images can be added directly to the glass to reinforce brand values and keep the company mission at the forefront while also adding inspiration to the space.
9. Make it yours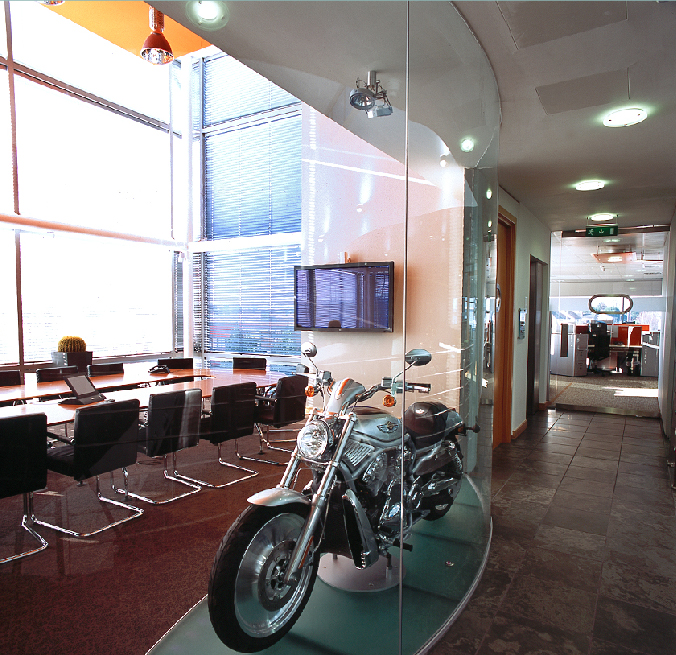 Rather than conducting meetings in an impersonal conference room that could belong to any company, many companies are choosing to infuse their brand and culture into their design. In the case of Harley Davidson, incorporating their motorcycle into the design is the epitome of an innovative conference room. This makes a subtle statement that the values of the company are present no matter where you are or what you're doing. Adding a custom element can reinforce brand values and ideals while also creating interest and inspiration.
No matter what you do to create an innovative conference room, Avanti Systems can help you plan and execute a space that will inspire your employees and help your company reach new heights.