Going to the doctor or dentist doesn't usually top the list of fun ways to spend the day, but a modern medical office that is designed with the patient's comfort in mind can go a long way towards creating a more positive patient experience. In addition to larger elements like partition systems and cabinet materials, any little touches that can make the experience more pleasant are worth the investment.
Medical Office Design Ideas
Medical office design can have a large impact on creating an experience that is less stressful and more enjoyable and that impacts overall health and wellness. For a better medical office design, take these tips into consideration:
Floor-to-Ceiling Glass for Natural Light and Comfort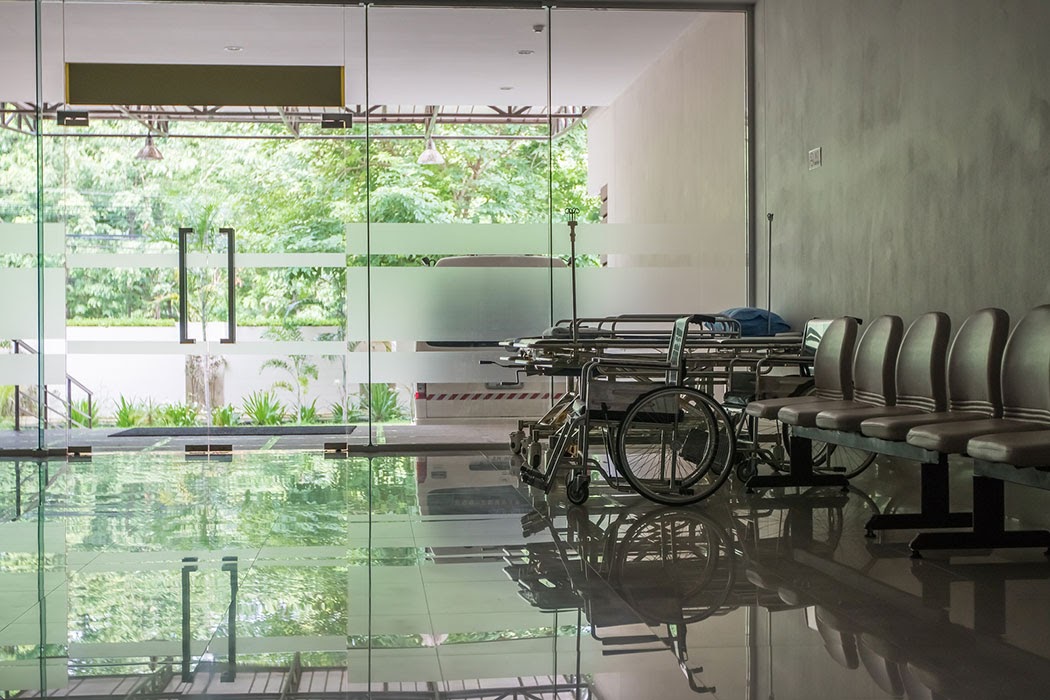 One of the most mood-boosting elements in any space is the presence of natural light. Since many people enter a medical office, clinic, or dentist with a sense of apprehension, including as many mood-boosting and comforting elements as possible is key to a modern medical office interior design. 
Installing floor-to-ceiling glass in the entrance and waiting areas welcomes sunlight and views of the outdoors to create a pleasant space. Frosting can be included in the design to reduce glare and create some visual privacy for those waiting.
Acoustic Privacy for Patient Meetings and Consultations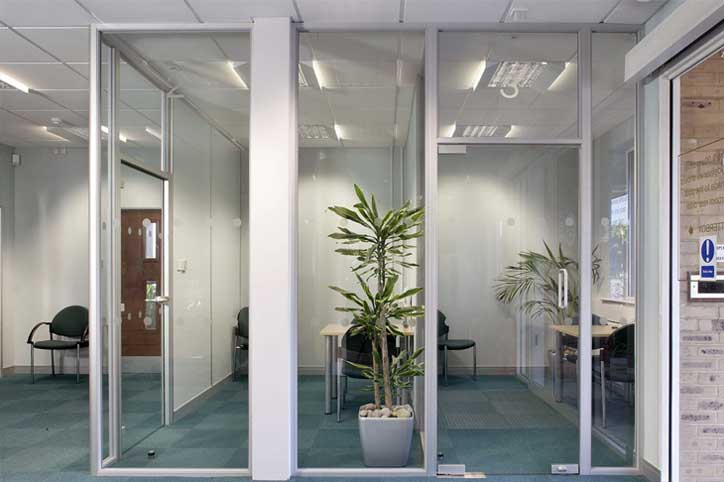 Private meeting space is imperative for a comfortable consultation. Medical office designers cannot always foresee how meeting rooms will need to be used in the future, but choosing demountable and flexible partition systems means that these rooms can be reconfigured to adjust to changing needs. 
Glass partitions are a more aesthetically pleasing alternative to solid, traditional walls, and double glazed systems have the acoustic rating of a solid wall. Plus, with integral blind options, visual privacy can be easily accomplished as well.
Natural Wood Tones for Calming Effect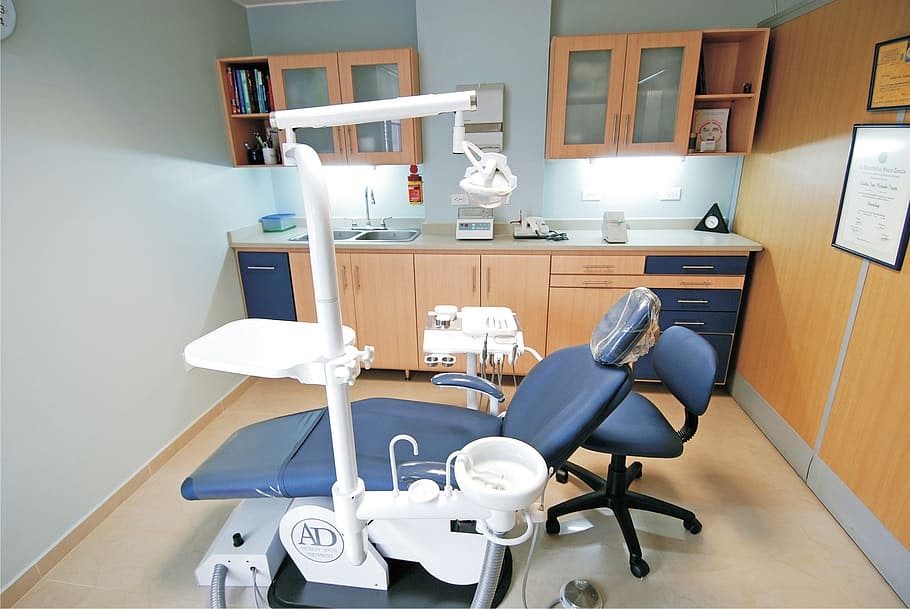 The calming effects of wood and natural wood tones and textures have been shown again and again. What better place to include natural wood than in the notoriously stressful dentist office environment? Bringing natural wood tones and textures into a design creates a connection to nature and can reduce stress and creates a positive emotional experience. The key benefit of wood is when the psychological experience changes into a physiological reaction, calming patients and creating a more positive experience.
LCD Glass for Instant Privacy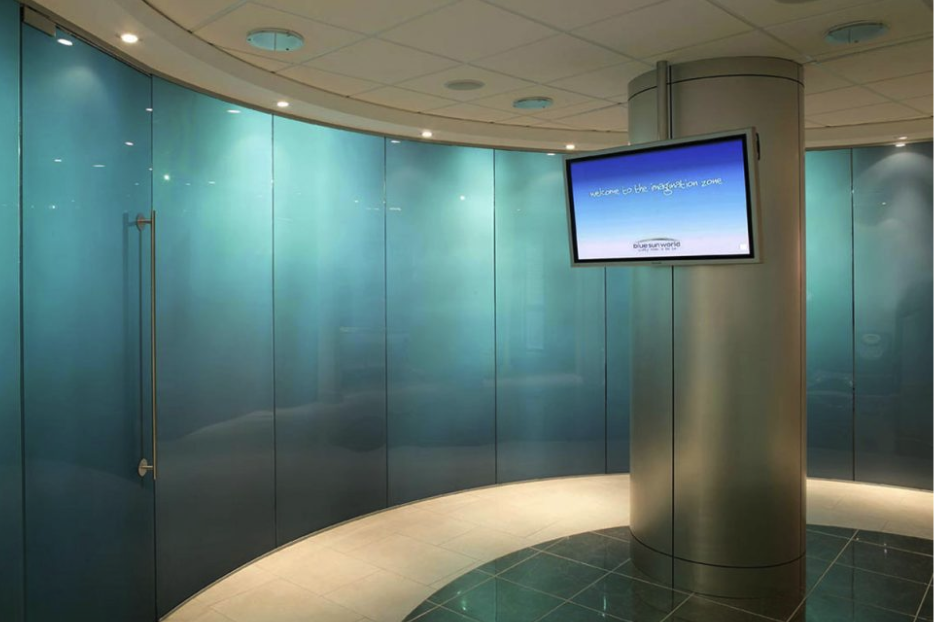 A unique medical office design idea is the inclusion of electronic privacy glass. As a way to account for the dynamic needs of a medical office interior design, Lunar™  LCD Privacy Smart Glass is a high-tech solution that changes from transparent to translucent in 1 millisecond, offering instant privacy when it is needed and an open view of the office when it isn't.
Tailor the Design to the Medical Office
In a smaller clinic or office, making efficient use of all of the space is imperative to a design that flows well and provides all of the necessary spaces. Areas to consider include waiting rooms, offices, exam rooms, and patient consultation rooms. The medical office layout can mean the difference between navigating a stressful and confusing labyrinth of hallways or ensuring an easily navigable space.
Keeping the patients in mind through every step of the design process will help to ensure their comfort whether in a dentist, clinic, or doctor's office design. Each medical office will have different design needs depending on the services they offer and the type of patients they serve. For instance, the design in a pediatric office will definitely differ from that of a dermatology clinic.
Design the Space with Welcome Patients
Medical office designers must consider the anxiety that many feel when entering a medical office. That's why the dentist, clinic, or doctor's office interior design should reflect welcoming spaces that focus on calm and comfort. Easy to clean, comfortable chairs, side tables, plants, and soothing colors can all come together to create a space where patients feel at ease.
Incorporate Biophilic Design Elements
Incorporating the soothing effects of natural elements in a doctor's office interior elicits calming effects. This can be accomplished by choosing natural wood tones, installing living walls, and using glass partition systems to welcome natural light.
Make it an Unforgettable Experience
As medical practice design ideas evolve, it's important to keep patient care and comfort as the number one priority. People generally remember how they feel in a space, so designing a medical office for comfort as well as function will go a long way towards improving the patient experience and leaving a lasting positive impression. Spa-like touches, such as a water feature, can make the experience unforgettable in a positive way.
Let Us Help You Create a Comfortable Medical Office Design
At Avanti, our priority is helping you design the perfect space. Incorporating glass partition systems into a medical office design can welcome light, create privacy, and add flexibility. Contact us today to get started.