Modern offices are more and more becoming an expression of a company's brand and values, taking it much further than just a place to do business. Office design is incorporating a variety of styles and individual touches that not only say a lot about the company itself, but help make it an exciting place to come to work each day.
Office Interior Design Ideas for Inspiration
Office design inspiration can be hard to come by, which is why we've compiled 11 office design ideas to help spark your creativity and bring an element of excitement to the office.
1. Include greenery – office design inspiration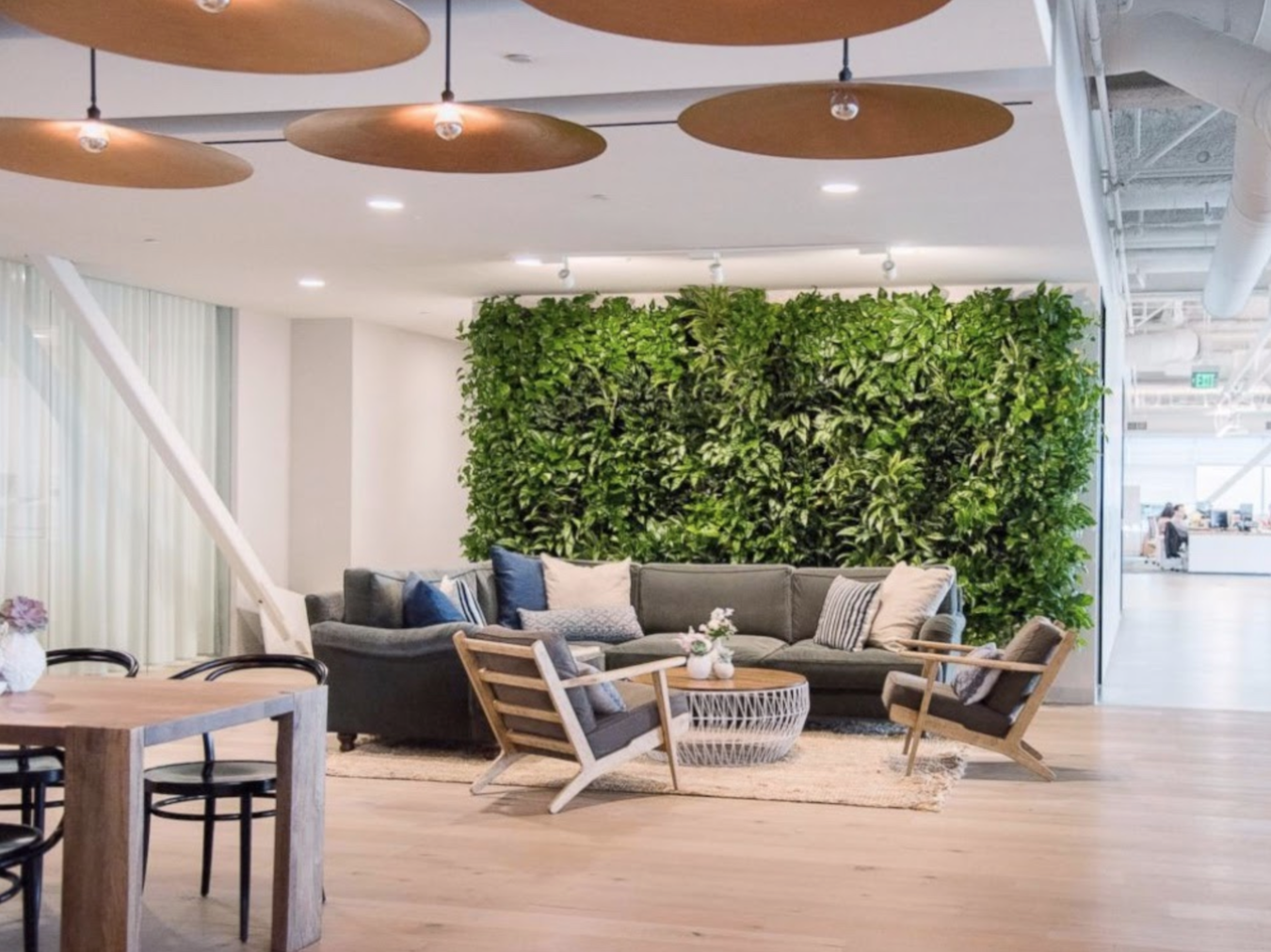 Introducing greenery into an office design has an incredible number of benefits for employees, clients, and the overall office environment. Plants clean the air and create a healthier space. They can also boost moods and creativity.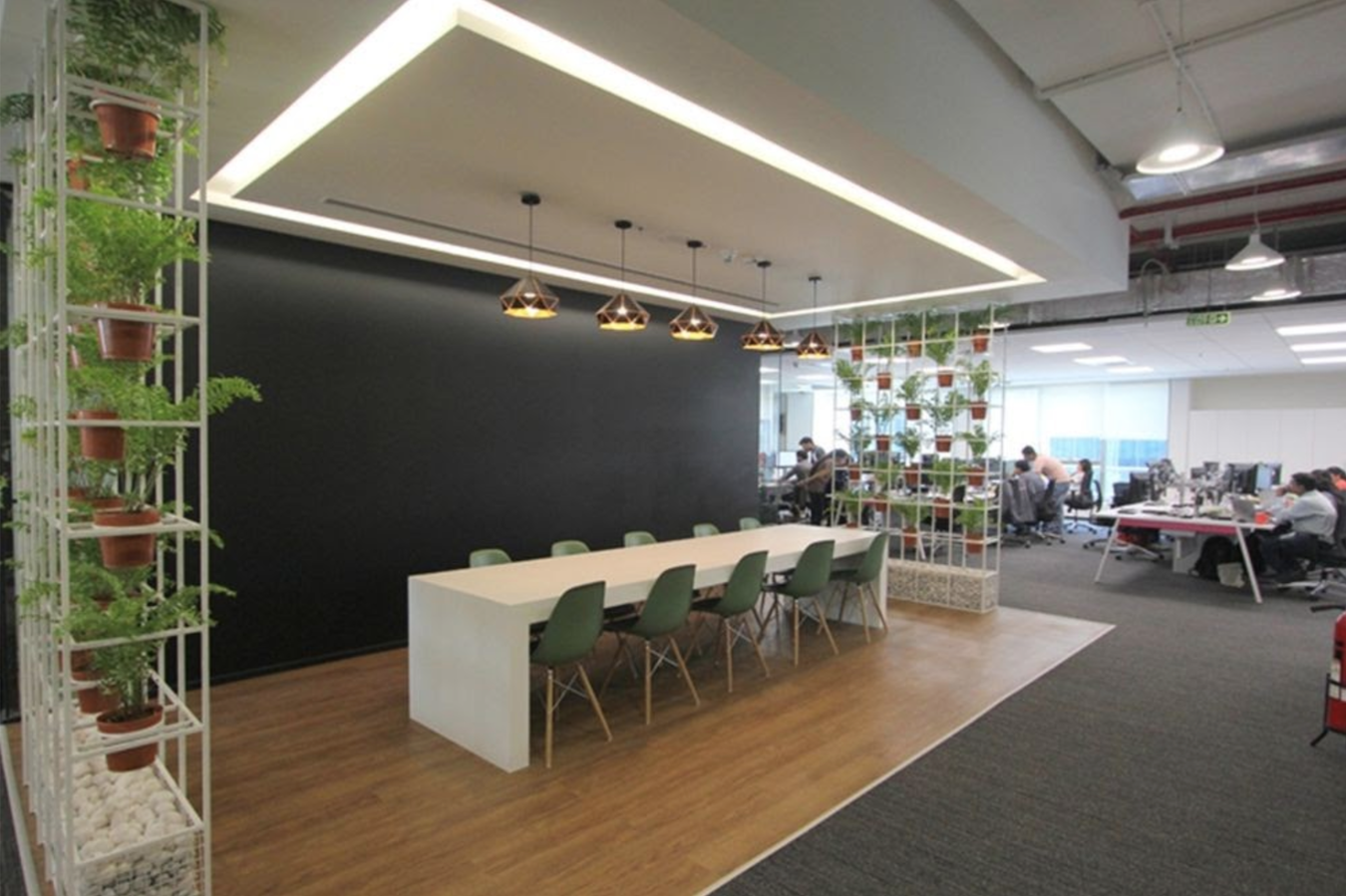 Whether it's a living wall installation, the incorporation of desk plants or a variety of plants in a unique configuration in a common area, including greenery creates an attractive and appealing space.
2. Statement wall – office interior design inspiration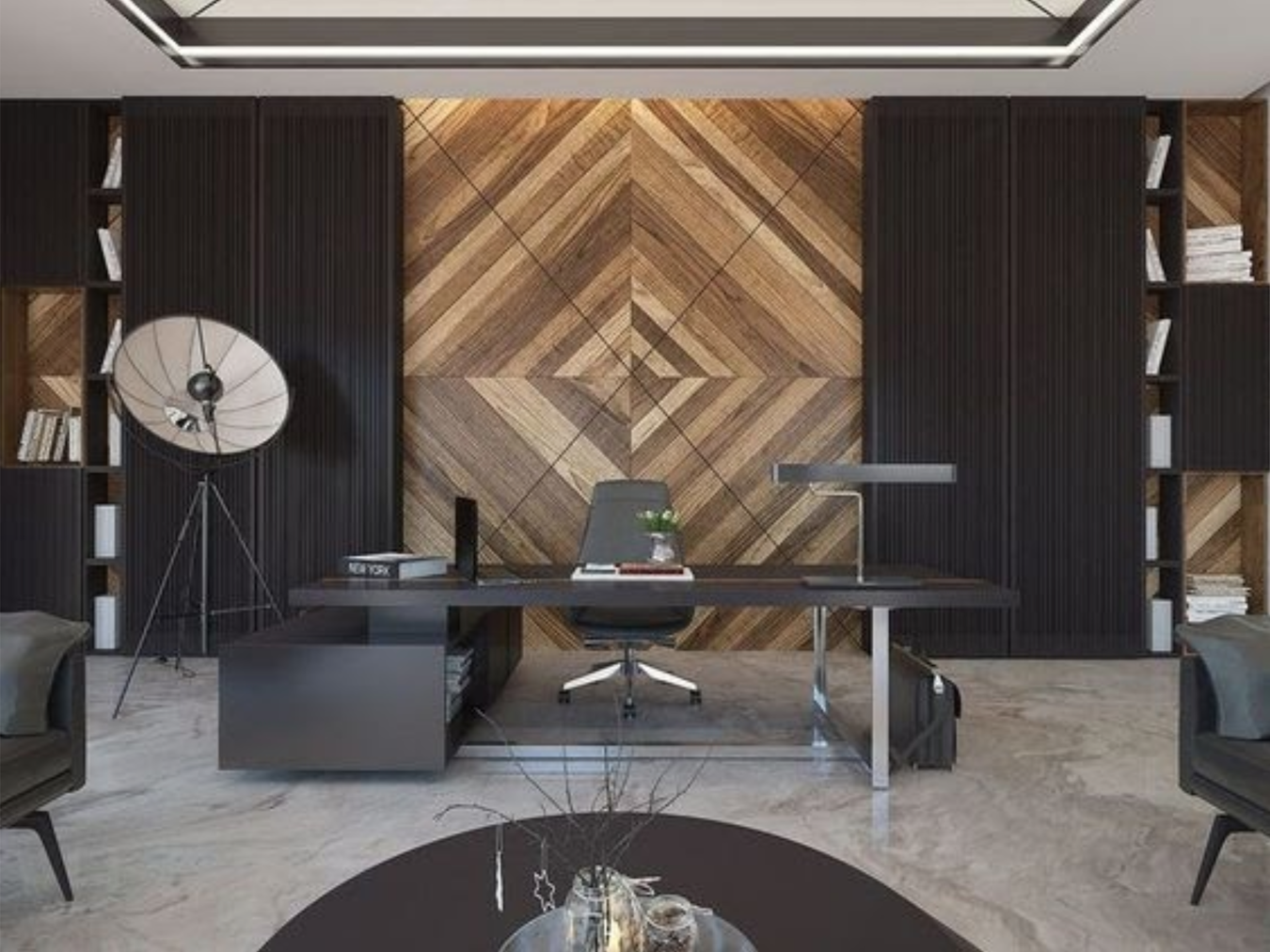 Adding a statement wall to an office creates immediate interest. A statement wall can be as simple as painting one wall a different color than the rest of the office, or it can be an intricate design of wood, tile, or large shelving units. 
3. Make use of large spaces – creative office design inspiration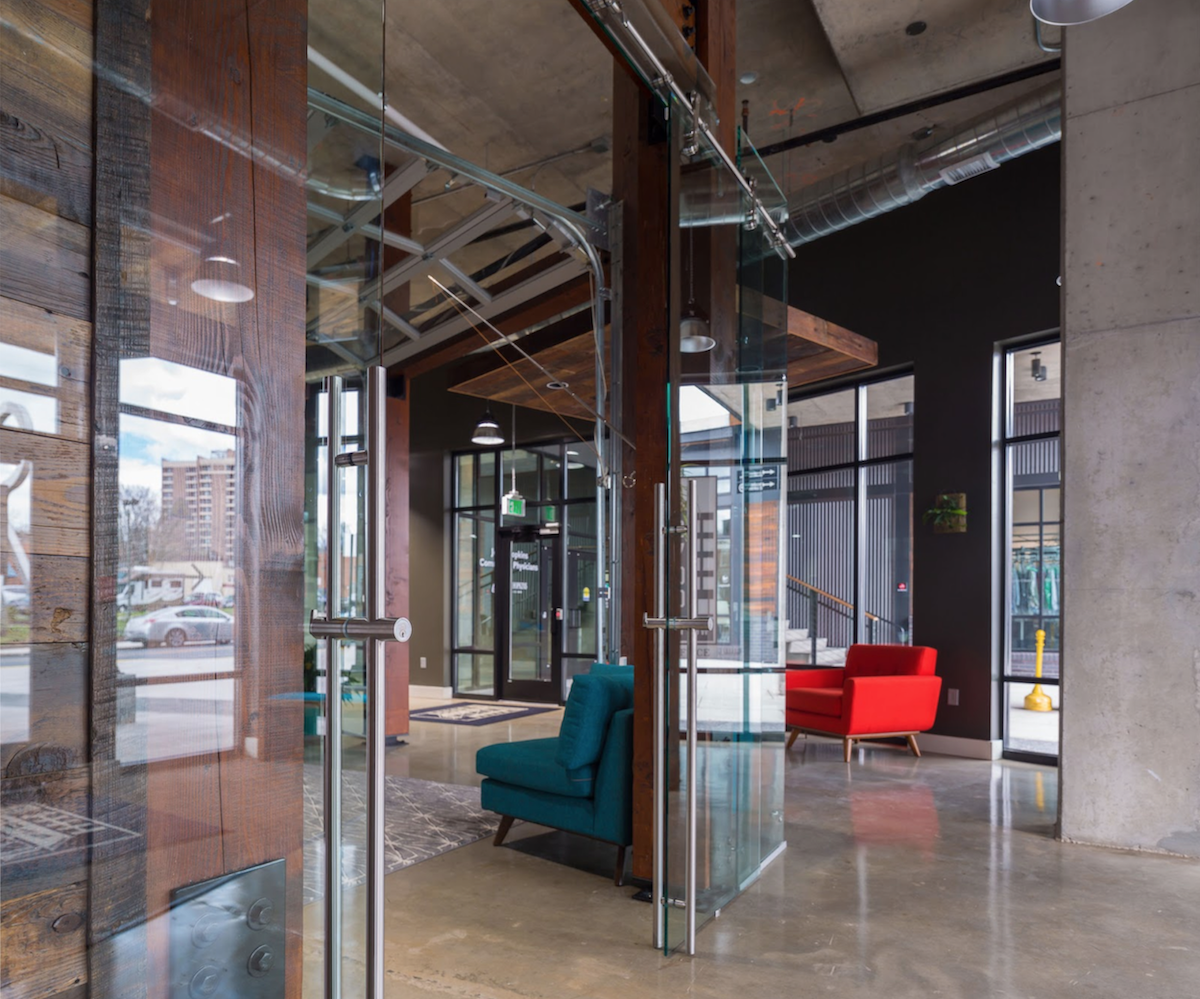 Many offices have taken large industrial spaces and made them more intimate with the incorporation of glass partition panels to create separate spaces. The addition of sliding glass barn doors adds a modern touch that perfectly compliments the industrial space.
4. Blend materials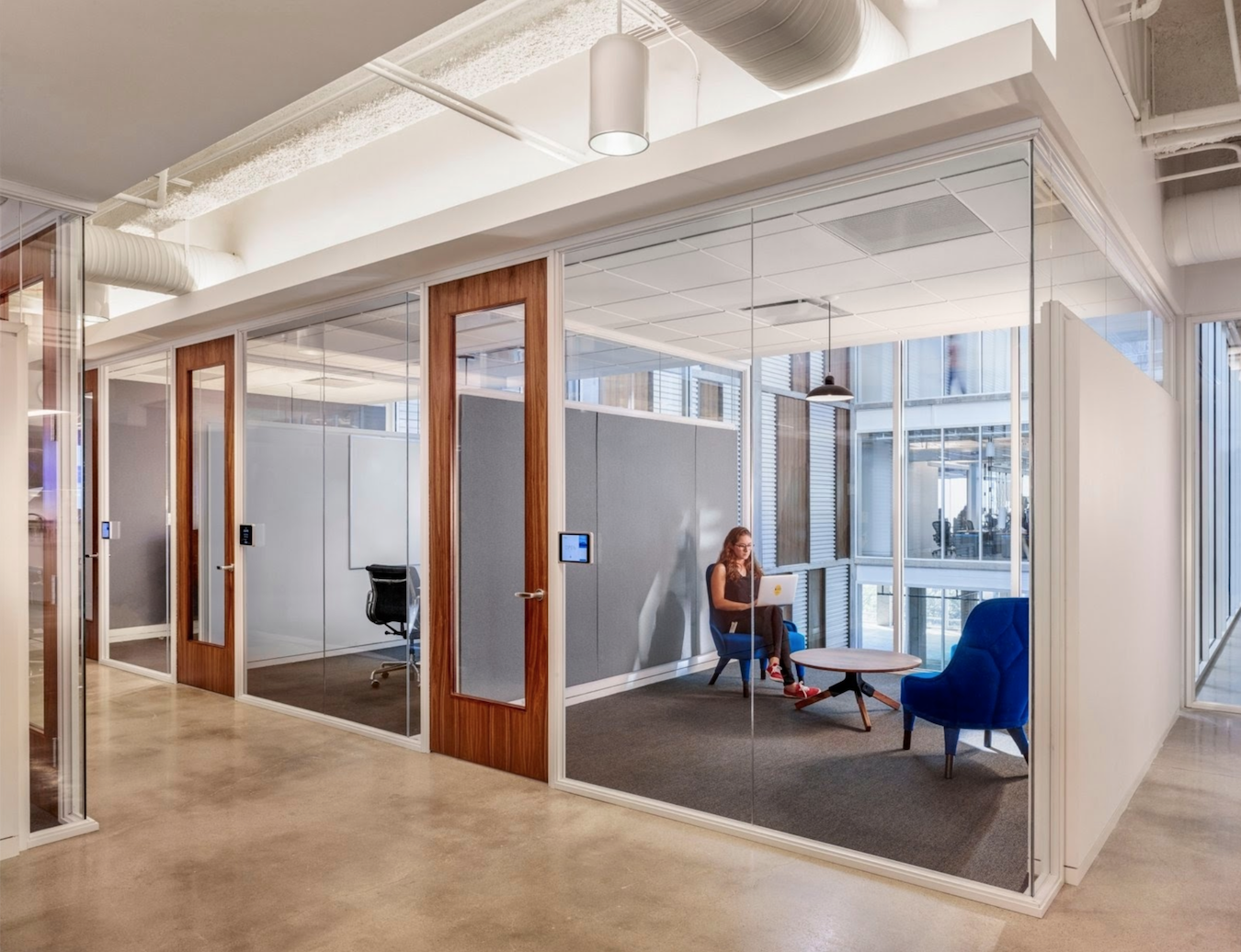 When it comes to designing a workspace, blending materials in a unique office design creates a space that is interesting and functional. Different textures such as wood, glass, and fabric can turn a one-dimensional office space into an inspirational area for anyone visiting or working in the space.
5. Go geometric with office interior design inspiration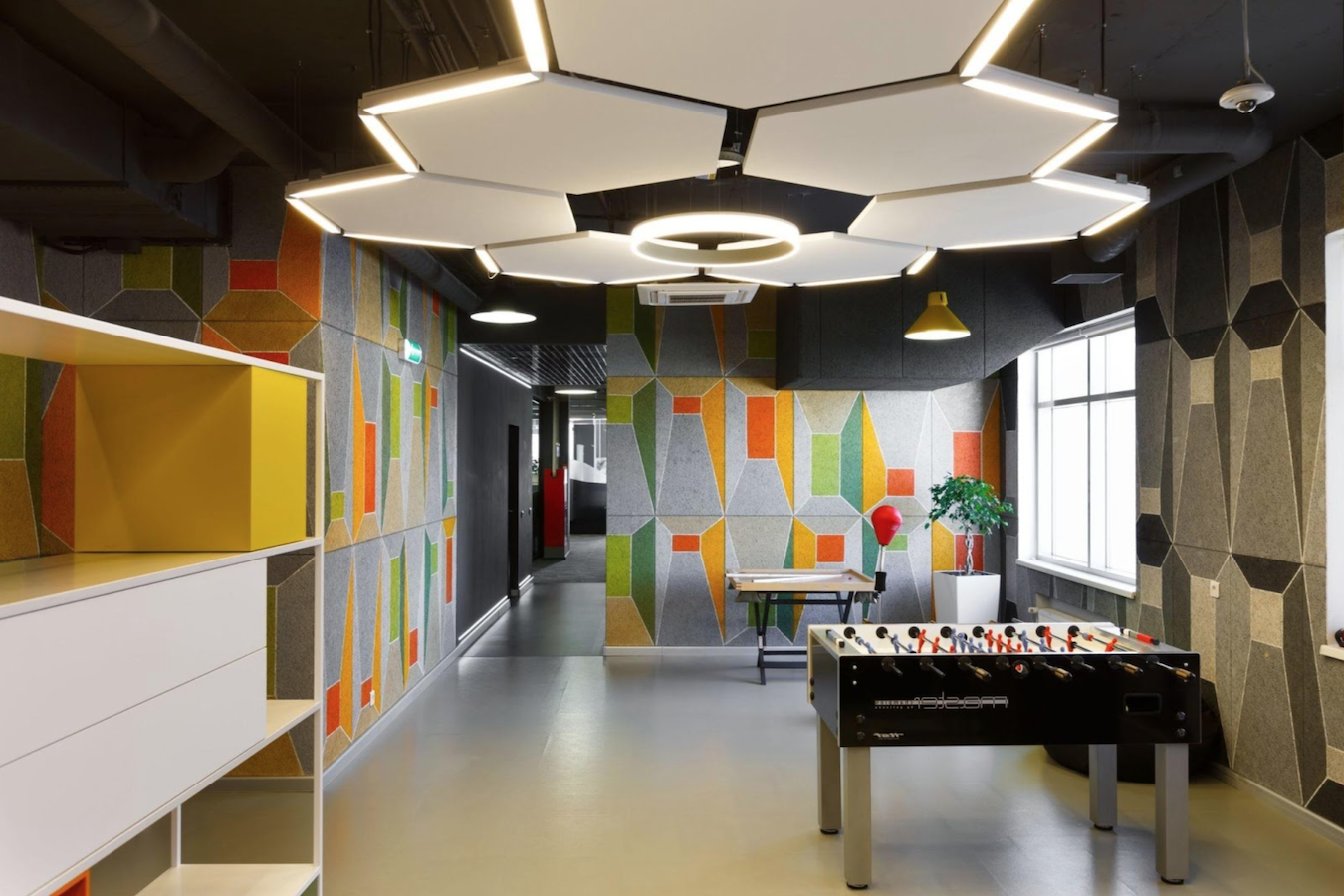 Office design can be incredibly bold, sparking excitement and creativity throughout. Incorporating bold geometric patterns livens up space and bright colors create an exciting visual. Geometric patterns can be incorporated in light fixtures and with painted designs.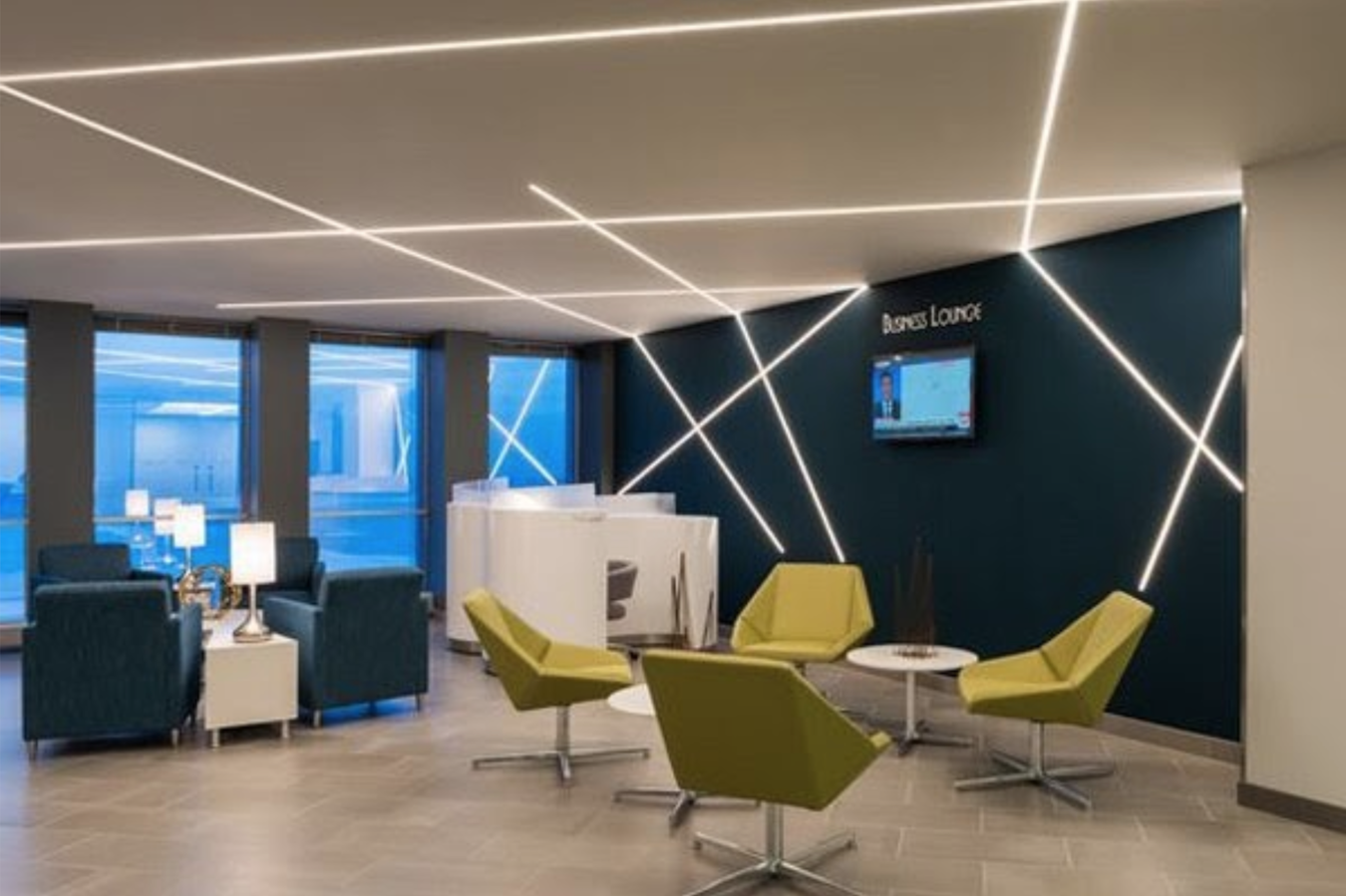 Patterns can also be incorporated in furnishings and in ultra-creative lighting techniques. Integrating geometric designs in this way allows for decor to be switched in the event that a new office design is implemented.
6. Merge industrial and rustic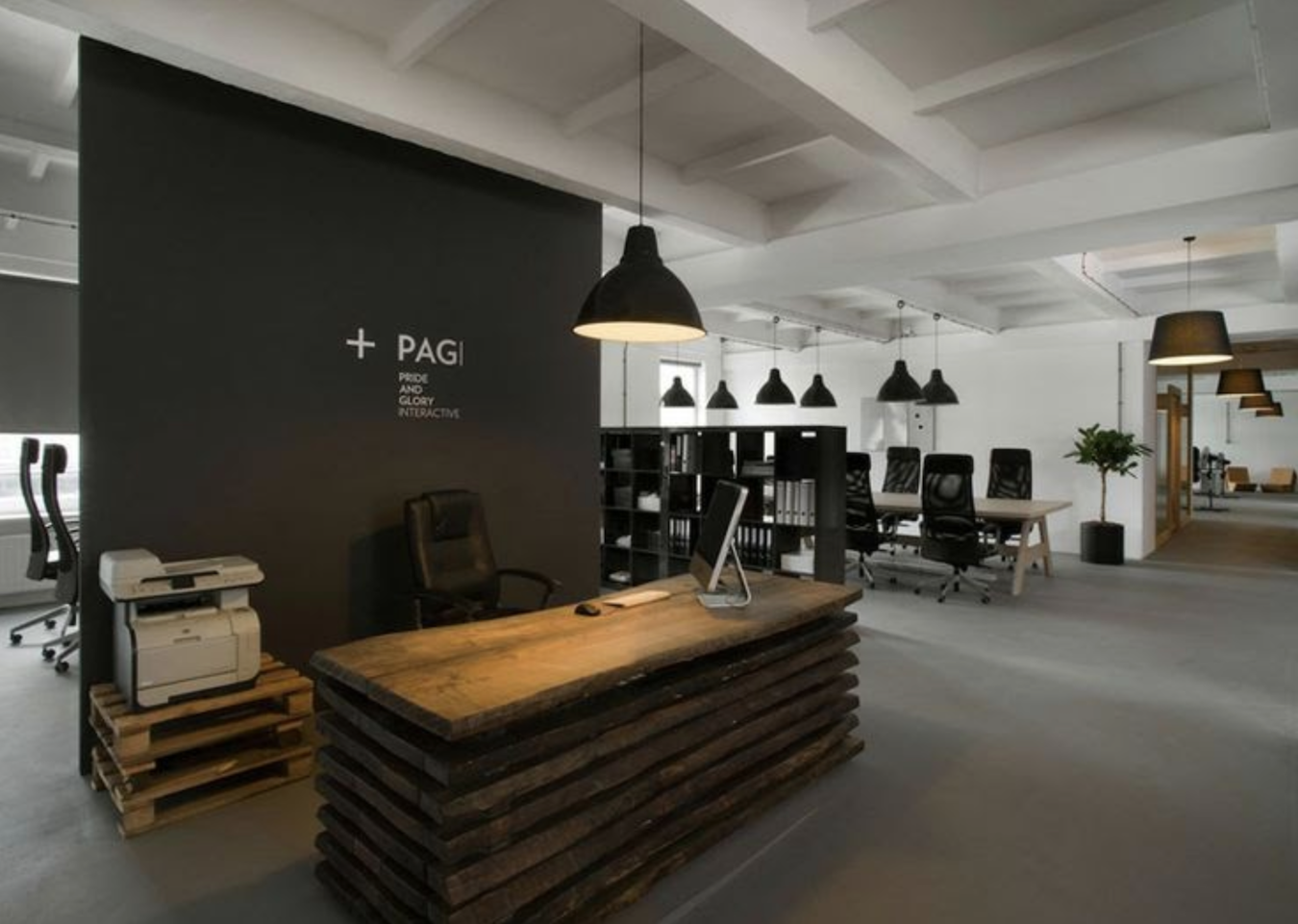 Combining two different aesthetics can be the theme for an incredibly creative office design. Two of the most popular styles to blend in modern office design are industrial and rustic. Large, open spaces lend themselves well to sleek industrial light fixtures, chairs, and shelving units. Rustic elements can then be incorporated throughout the space as accents and tables.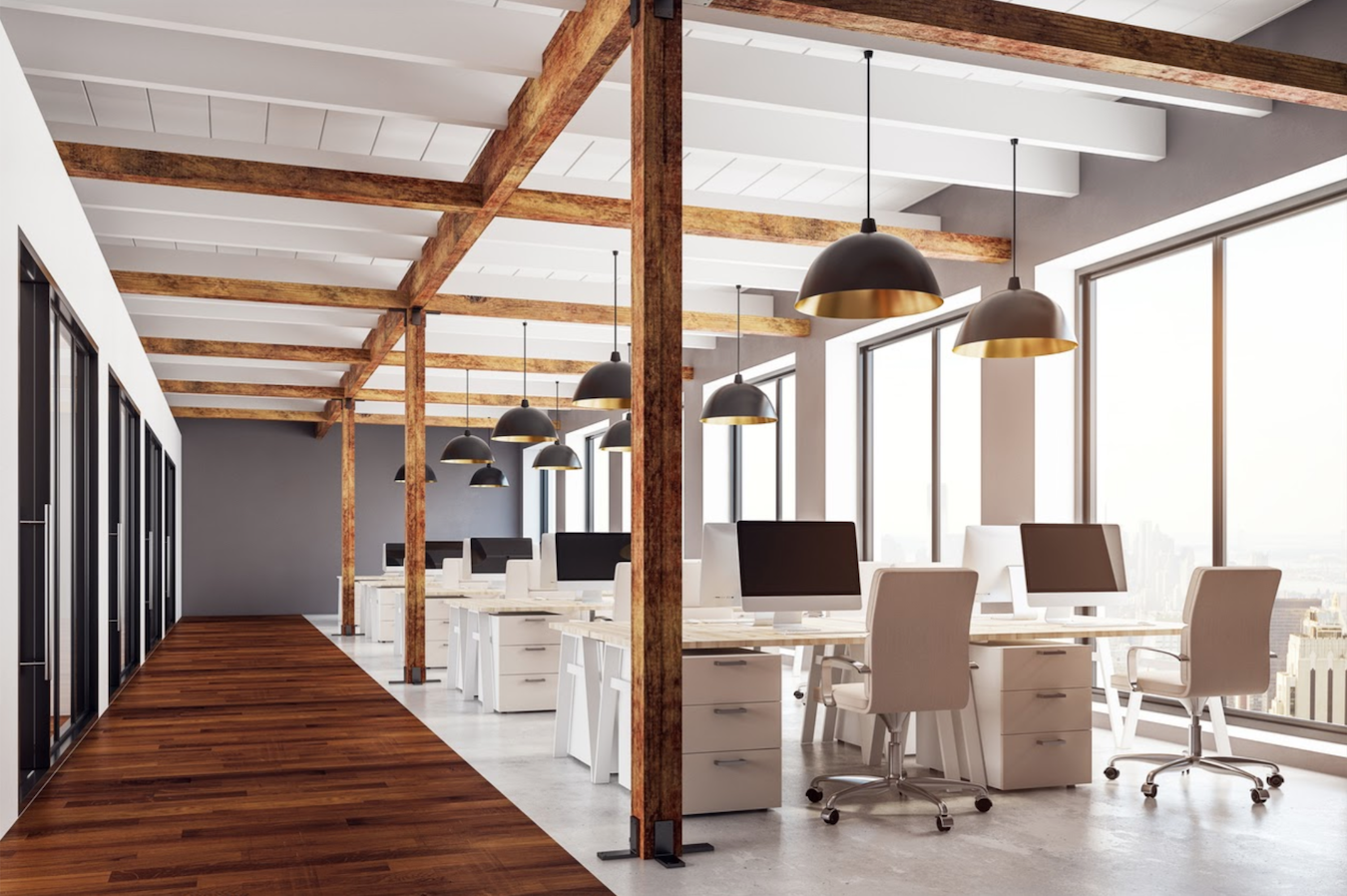 Elements of wood bring an interesting touch when designing a workspace. The industrial fixtures, desks, and chairs could create a cold and sterile feel, but that is tempered by the warmth of the rustic wood posts, beams, and flooring. The natural light flowing through the windows serves to highlight the natural wood and further brighten the already bright space.
7. Incorporate bold colors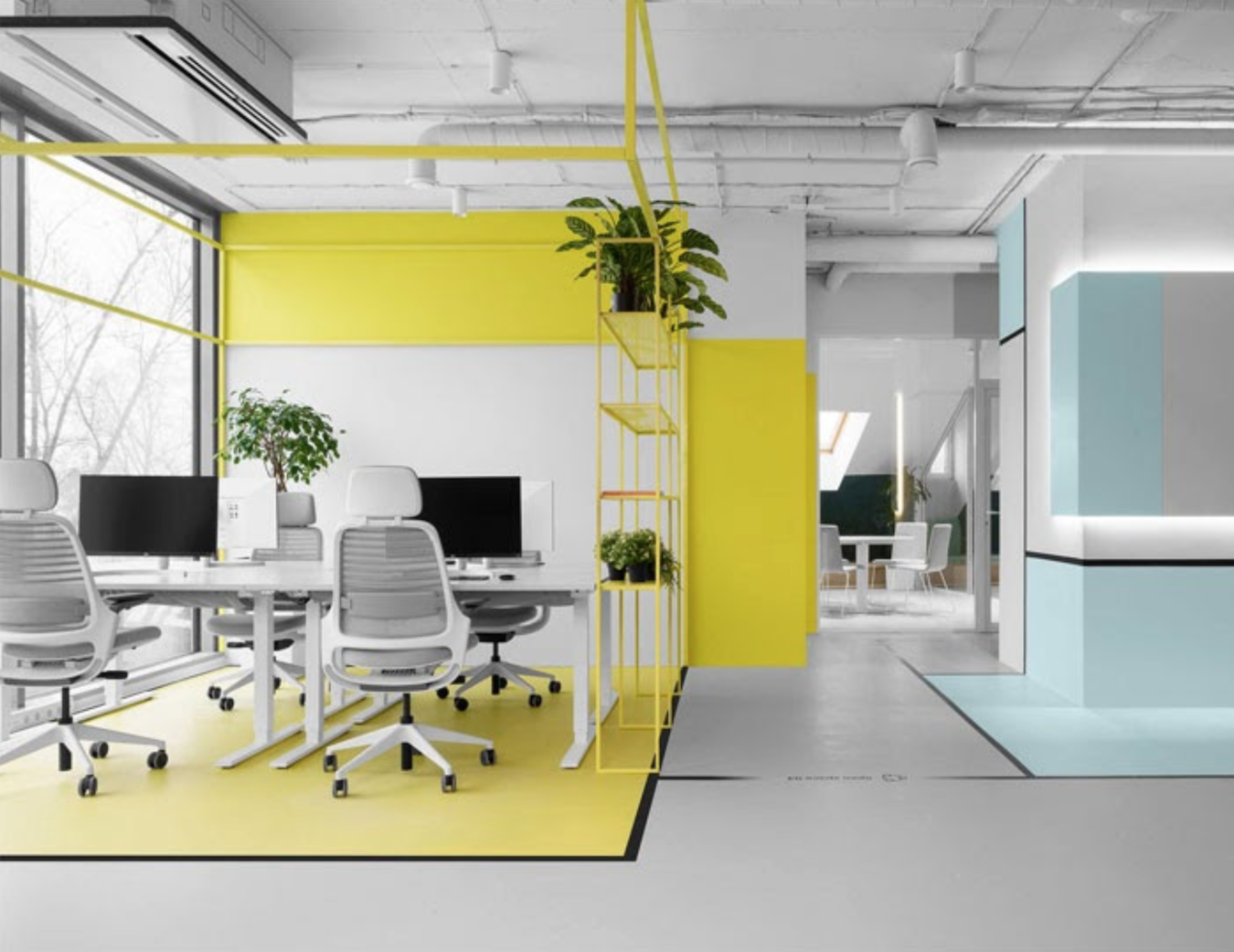 One of the easiest places to find design inspiration is with a pop of bold color. A neutral office palette can be calming and decrease distractions that can lower productivity, but strategically incorporating bold colors on the walls and floor can add just enough excitement to the design to liven things up and spark creativity.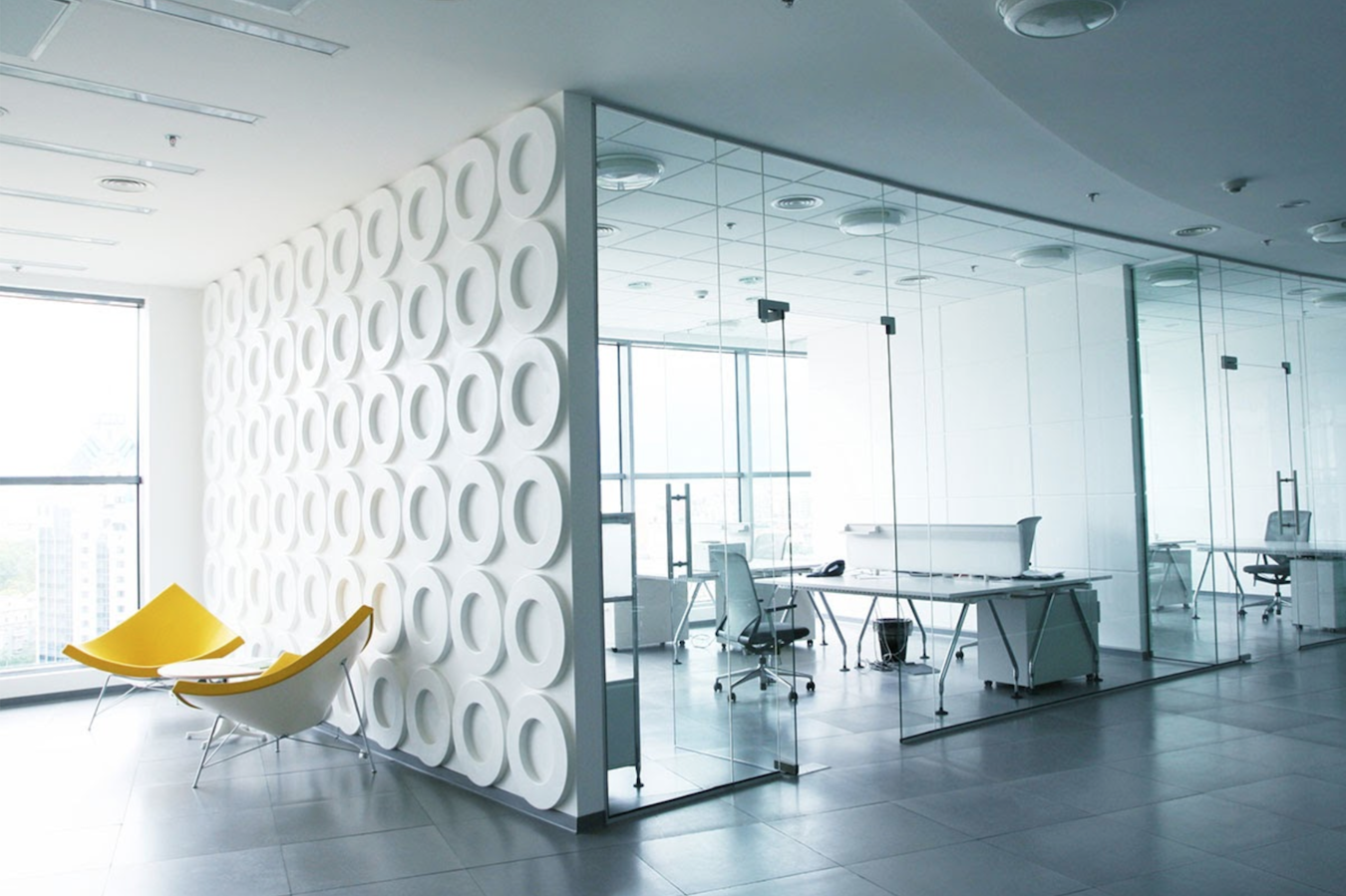 While bold pops of color can be incorporated in a variety of ways, and one of the easiest is to choose a few pieces of furniture that take things to the next level. The color of the furniture brings a unique touch to an otherwise neutral palette and if the design needs to adapt to changing circumstances or situations, the furniture can be swapped quickly and efficiently.
8. Create calm with neutral colors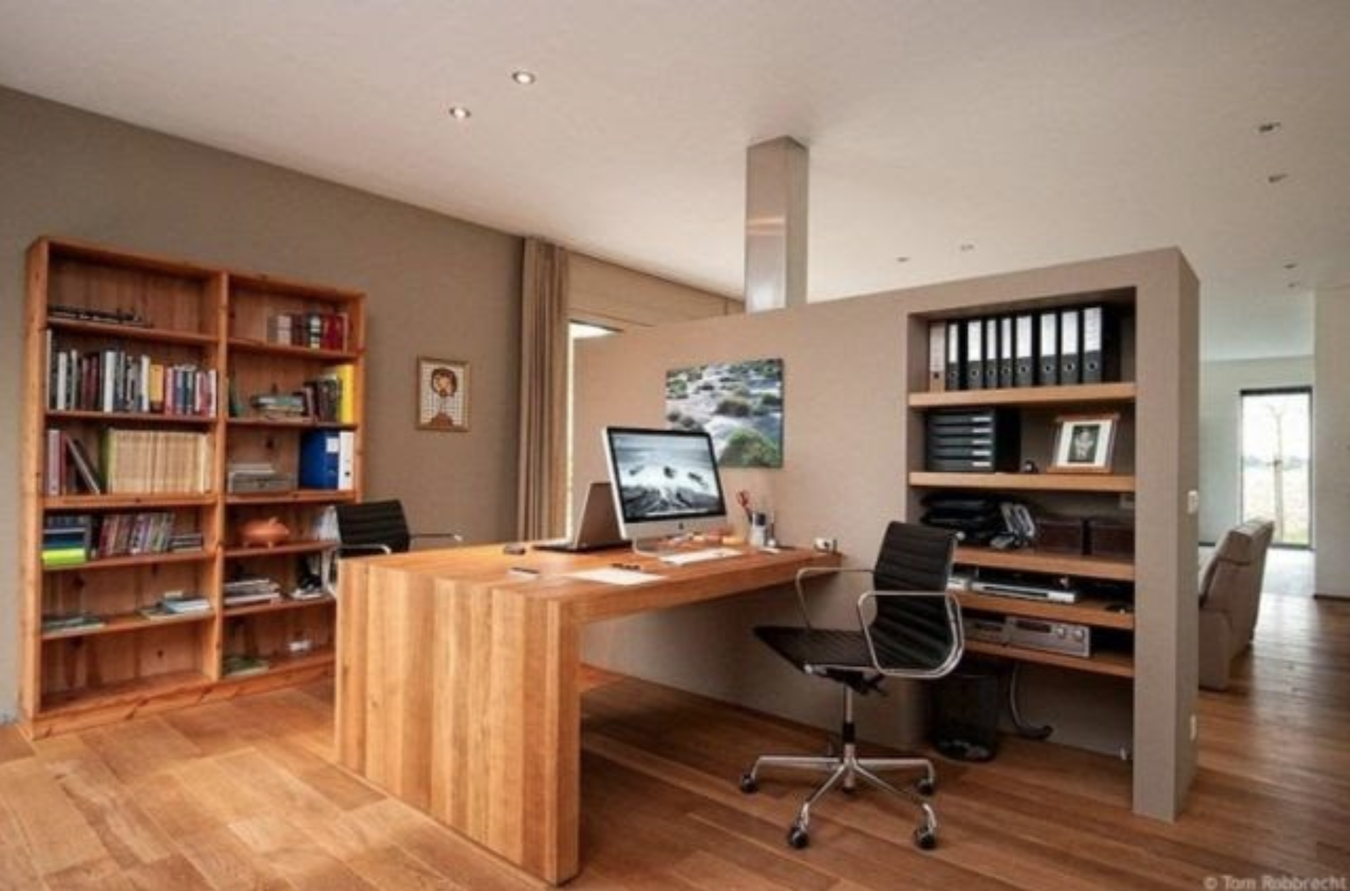 Geometric designs and pops of bold color work for some offices and other office designs benefit from a neutral palette that creates a sense of calm throughout. Soft brown walls and natural wood elements create a soothing atmosphere in the office which encourages productivity.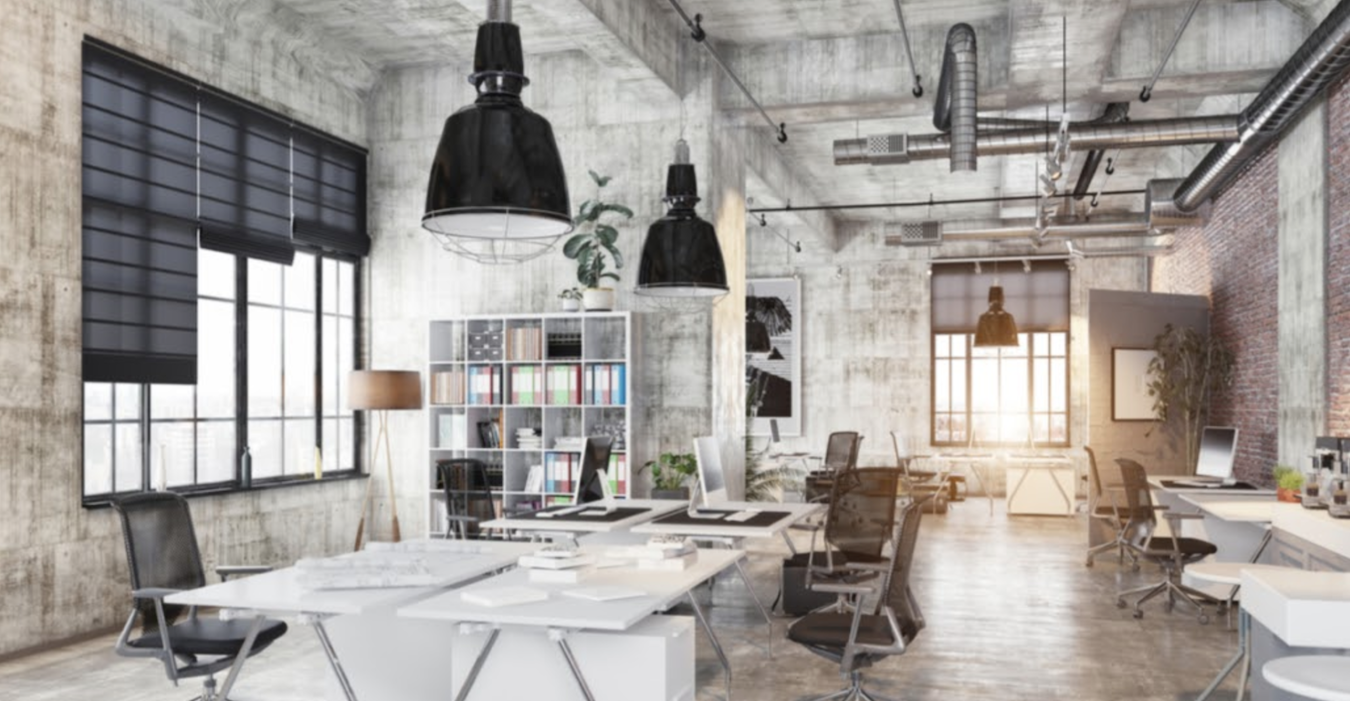 Soft gray, bright white, and stunning black come together in this calming industrial design that welcomes employees each morning and inspires them to get down to business. The streamlined design of the desks and chairs blends well with the industrial light fixtures and exposed ventilation system.
9. Invite the light – office design inspiration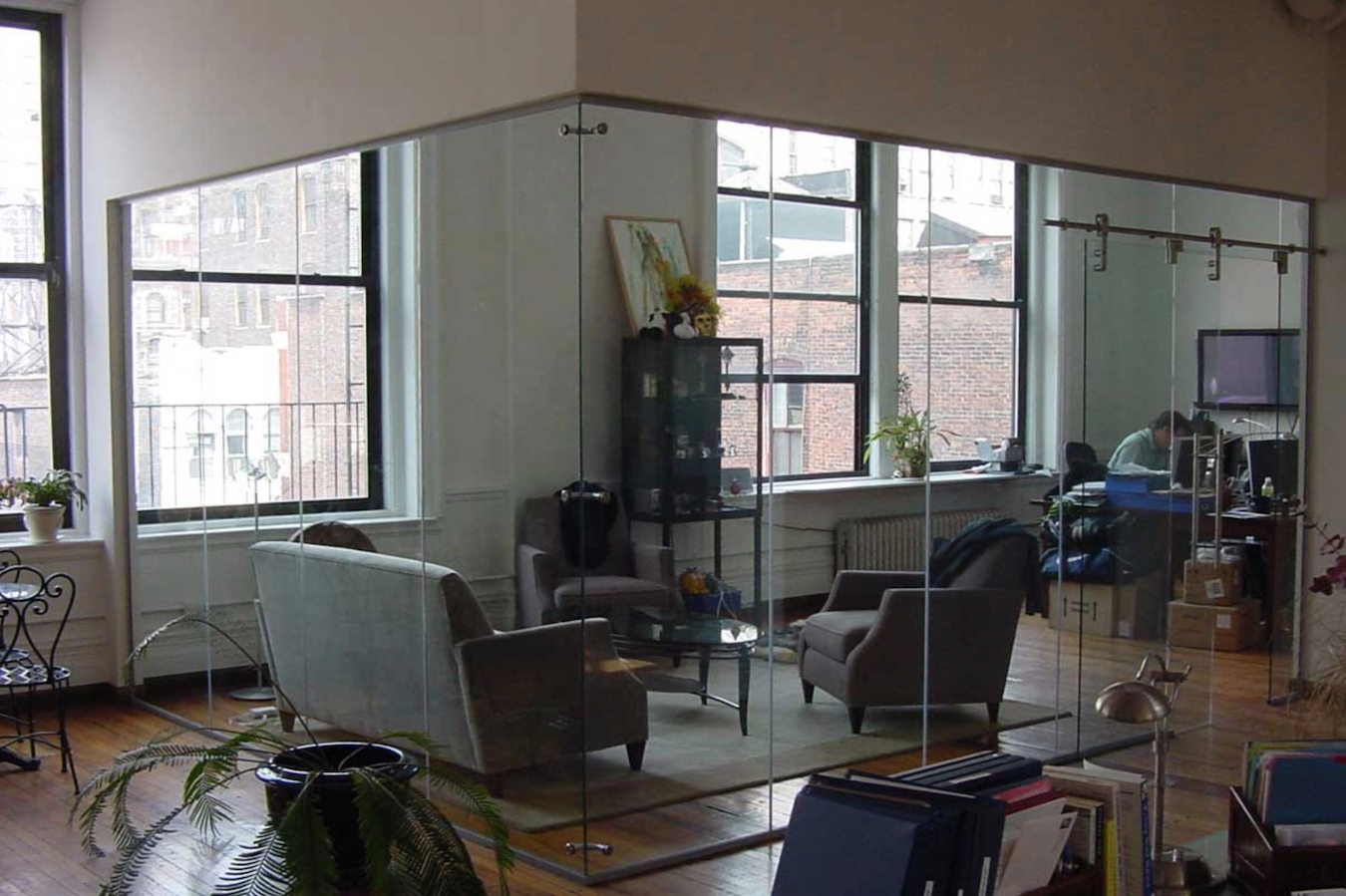 Utilizing glass partitions in an office design allows light into the interior office which has an incredible number of benefits including higher levels of vitamin D, boosting productivity, and increasing morale among employees. In this office design, the glass wall partitions are integrated into a traditional wall, creating privacy in the office while allowing the light from exterior windows to reach the interior of the office.
10. Go modern with this office interior design inspiration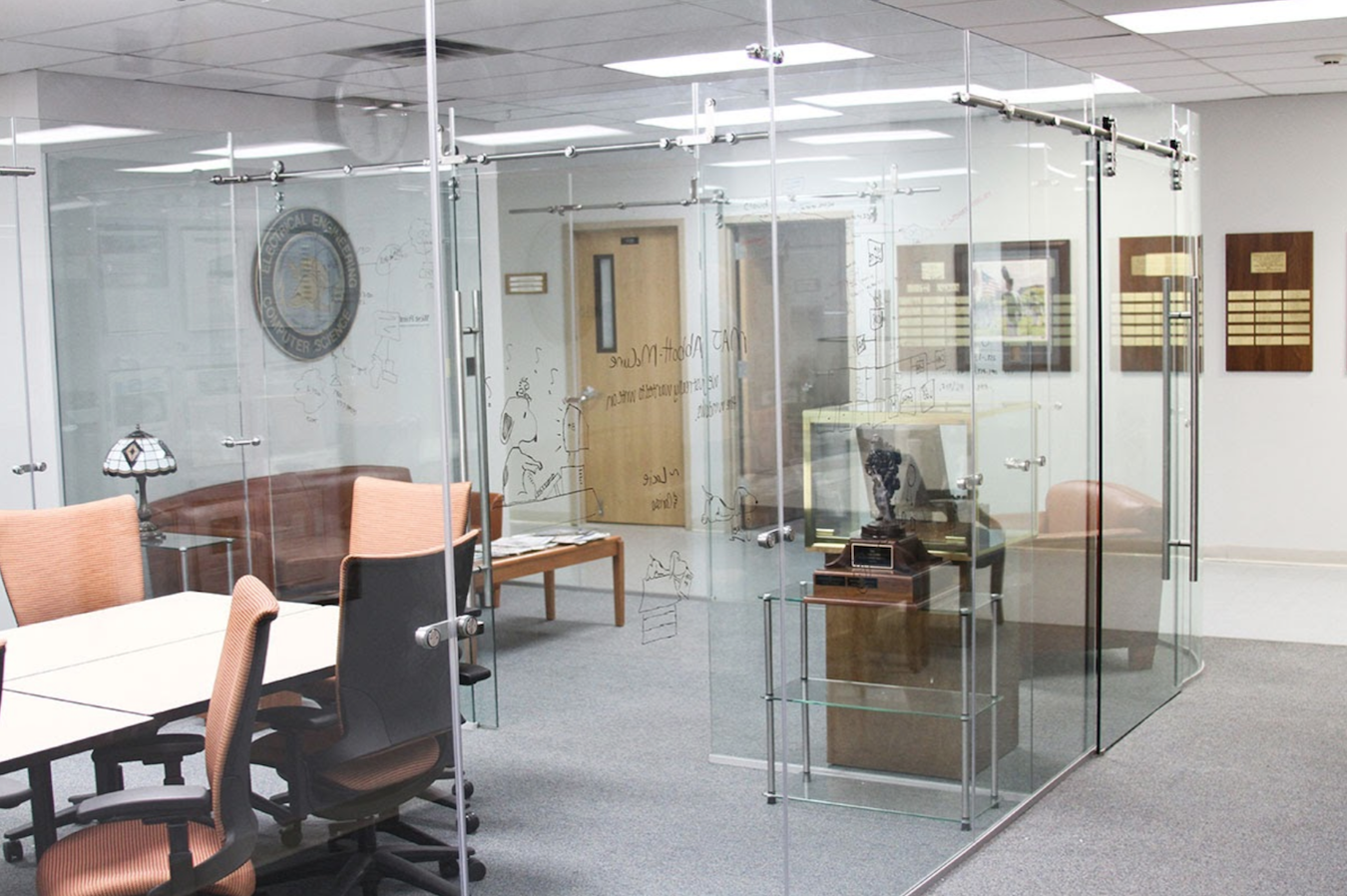 Office designs value flexibility and efficiency. Freestanding modern glass office partitions paired with sliding glass barn doors provide sound privacy while still allowing visual access to the office as a whole. This partition style is flexible in that it can be reconfigured if necessary. As the needs of the office change, the partitions can be redesigned rather than having the office go through a lengthy renovation process.
11. Utilize separate spaces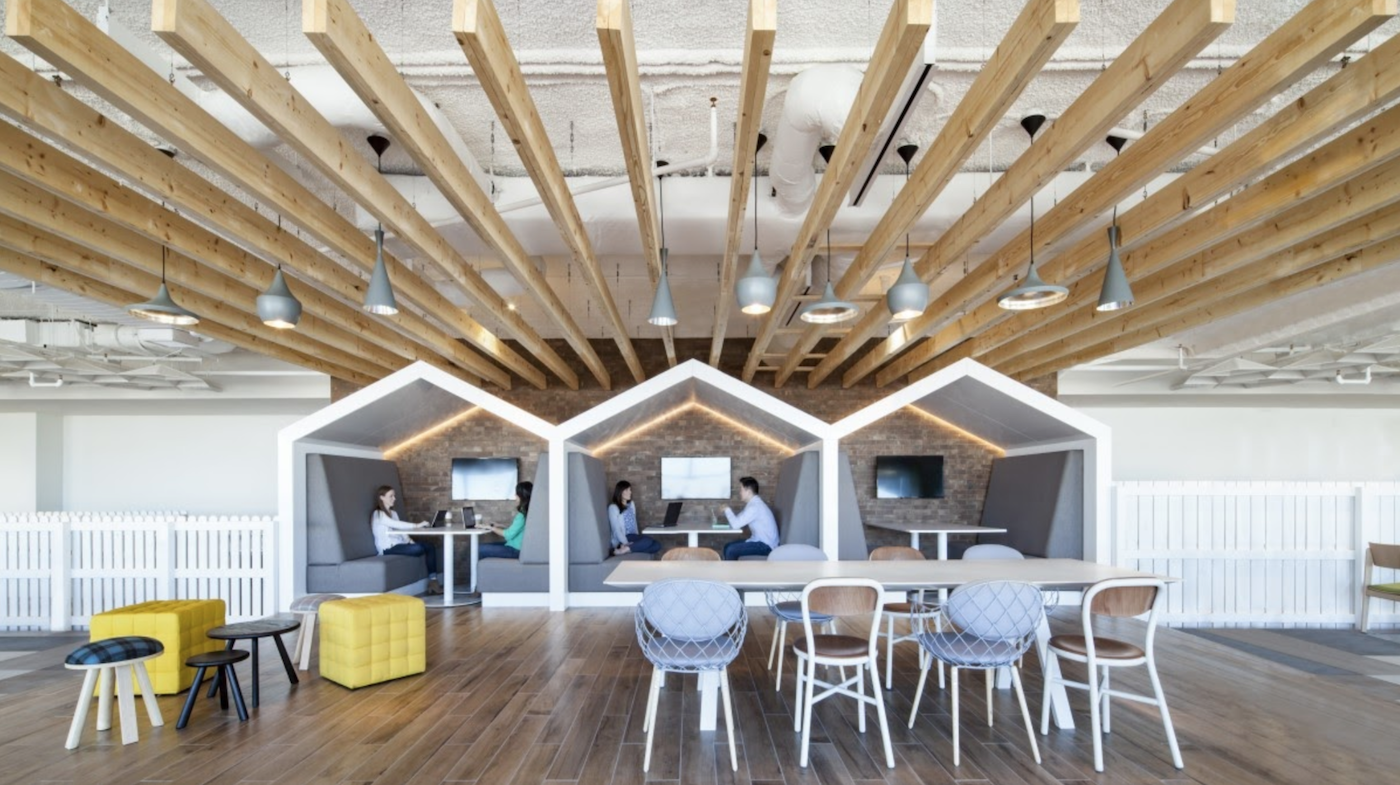 How to design a workspace comes down to each individual company's needs. Open office designs rose in popularity through the 1990s and 2000s, but as office needs change and evolve, it's clear that separate spaces can be utilized to enhance collaboration and create quiet areas for employees to focus on their work. One design idea is to integrate open, pod-like areas that create separation without isolation.
Where more privacy is needed, office cubicles with doors can be utilized to give employees the separation they need to be at their most creative and productive. Glass cubicles with customized frosting on the lower half provides privacy while still allowing for the flow of natural light into the cubicle interior.
For more office design inspiration, check out Avanti Systems to see how glass office partitions can help you create an office that offers the best in design and productivity.