Today's office environment benefits from being flexible and adaptable to changing needs. Privacy glass creates this flexibility in a number of different ways. Not only does the glass create acoustic privacy, but visual privacy can be accomplished by custom frosting on the glass and the integration of LCD privacy smart glass.
As offices strive to return to some semblance of normal post-pandemic, one thing that will likely remain in place is the attention to thoughtful design. Rather than jumping on the latest fad or designing mindlessly, designing with intention is allowing for a faster return to the office, since the office is set up in a way that integrates design with the realities of our changed world.
Creating separate spaces is an integral part of post-pandemic design. The open concept office was the choice of many in recent years, but pandemic protocols have made it necessary to create spaces that allow employees to separate from others whether it's for individual work or meetings with small groups of colleagues or clients. In order to provide the privacy necessary, Avanti has multiple options with the goal of helping you create the office environment that lets you get back to business as usual.
A Double Dose of Privacy with Movable Walls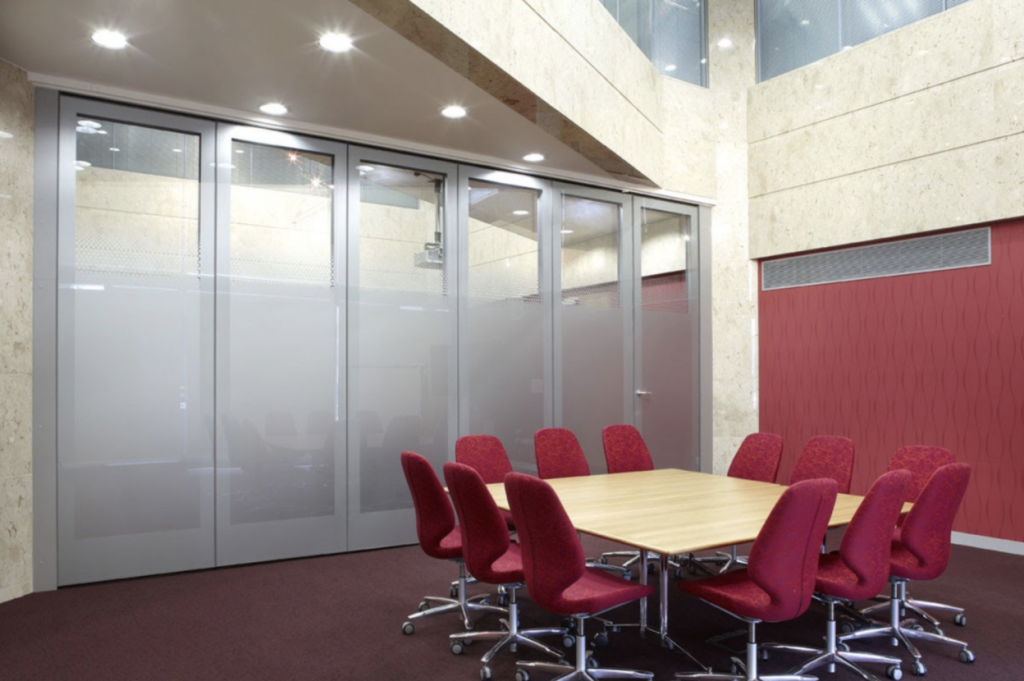 Movable glass partitions create privacy quickly by separating a large space into smaller areas. The MovareTM Movable Double Glazed Glass Partition system has an STC wall rating of 40dB to instantly deliver acoustic performance to areas when they need it. They can be operated manually or by remote control, so they offer an ease of use necessary for a fast-paced office environment.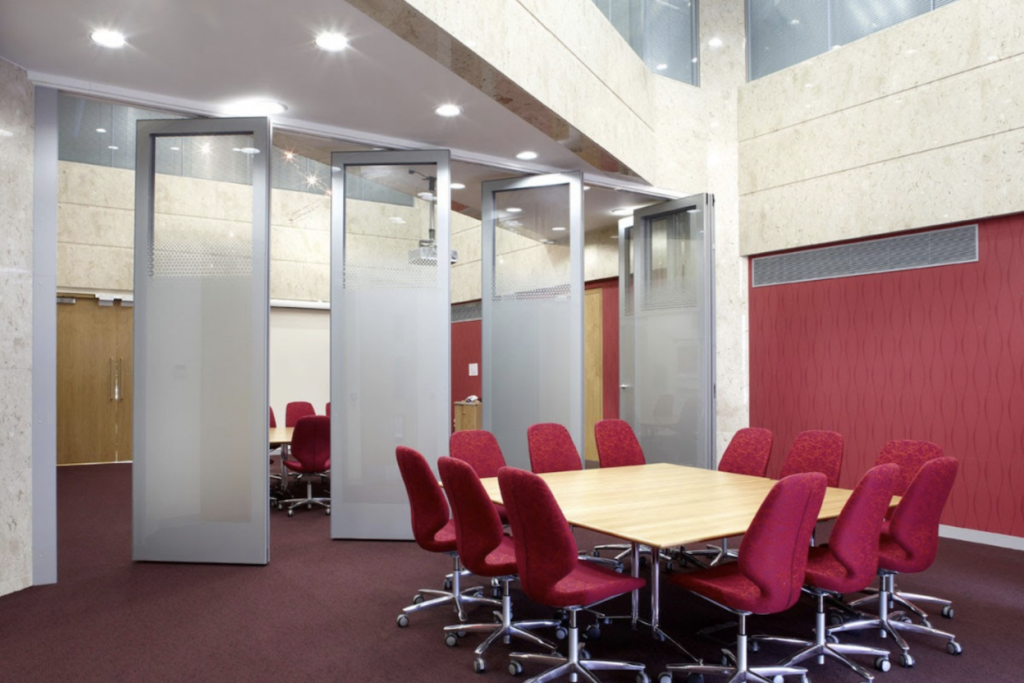 The glass partitions in this movable system can be frosted to offer privacy while still allowing for natural light and visual connection. The double glazed system also provides the option of integral blinds for temporary privacy, allowing the space to be open when privacy isn't necessary.
Remote Sliding Glass Door Operation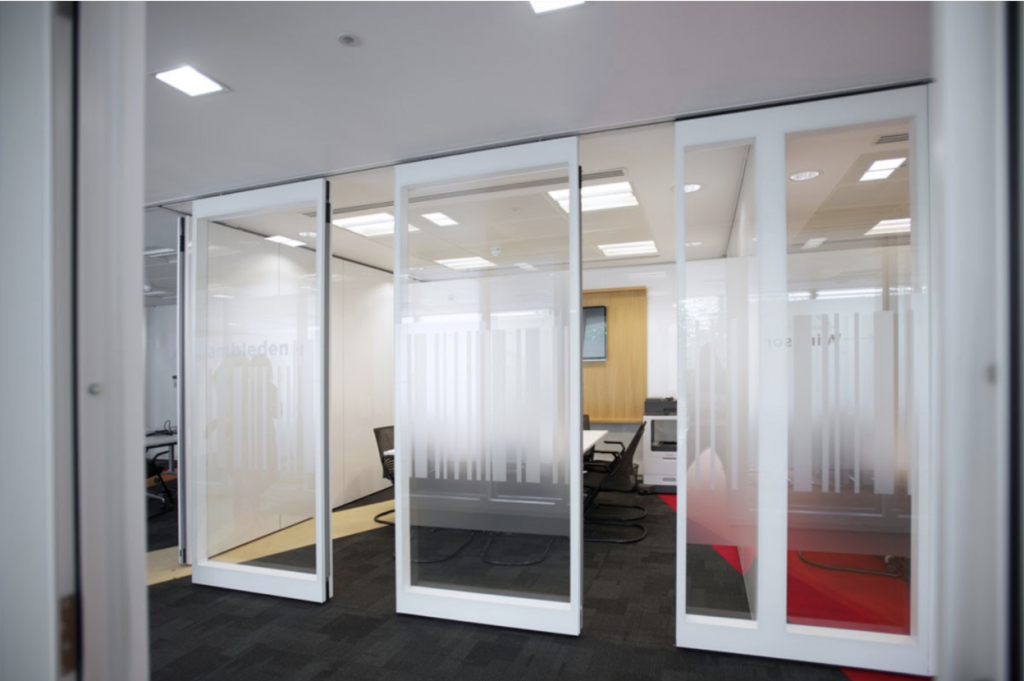 Privacy doors that offer remote operation make the transition between a private and open space quick and efficient. Rather than having to prep prior to a meeting or stop in the middle of a conversation if privacy becomes necessary, a simple push of a button creates the privacy you need when you need it.
Strategically Frosted Glass Partitions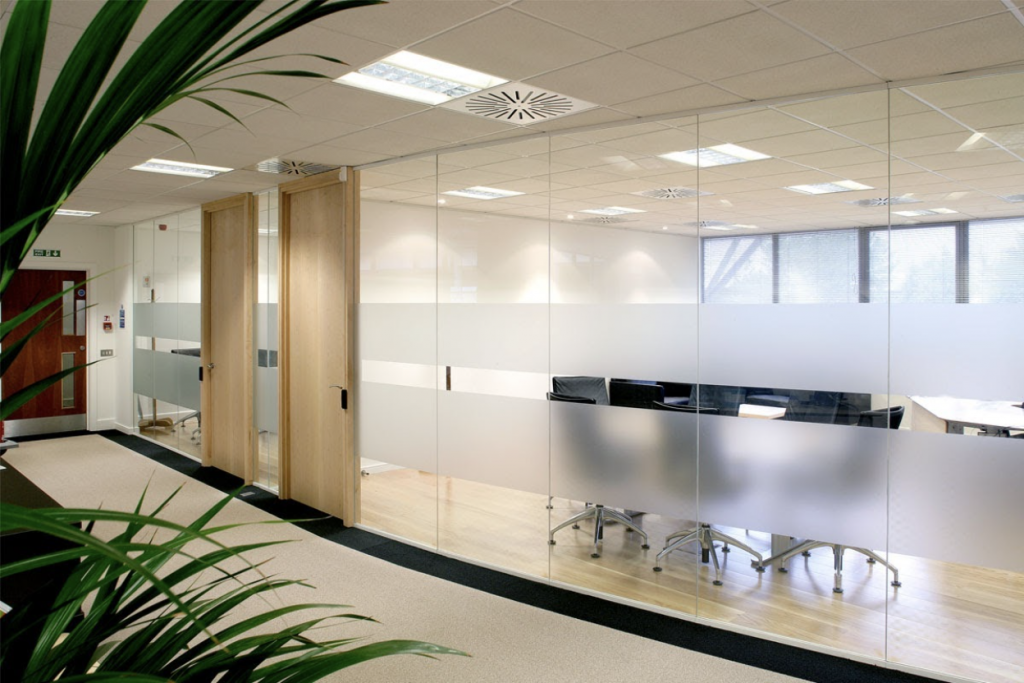 For large glass partitions, strategic frosting creates a sense of visual privacy while also protecting the visual connection throughout the office. A SolareTM Single Glazed Frameless Partition System gives you the opportunity to incorporate mindful design that fits the architecture of your office while meeting privacy needs.
Our double glazed system gives you the additional option of integral blinds that can be manually or remotely operated.
Go High Tech with LCD Switchable Privacy Glass
For a high tech option, LunarTM LCD Privacy Smart Glass switches from transparent to translucent in an instant — 1 millisecond to be exact. Using Polymer Dispersed Liquid Crystal technology, this is the ultimate system for office privacy glass.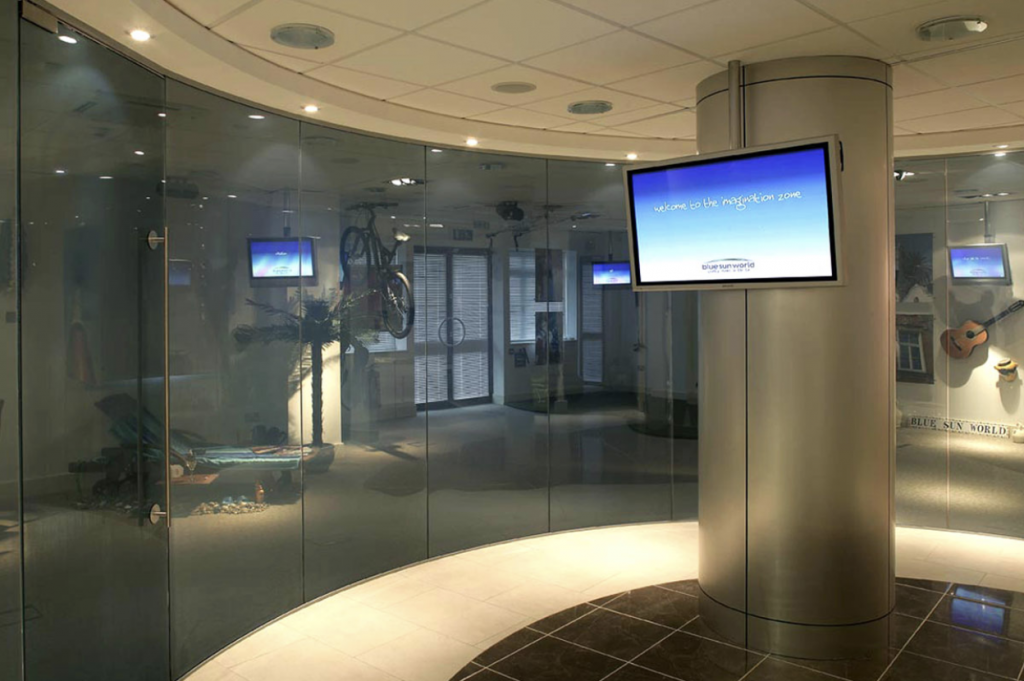 One of the best things about this office glass privacy film is that it is compatible with any of Avanti's floor-to-ceiling or freestanding glass wall systems, allowing you to fully customize your office to your needs and desired level of privacy.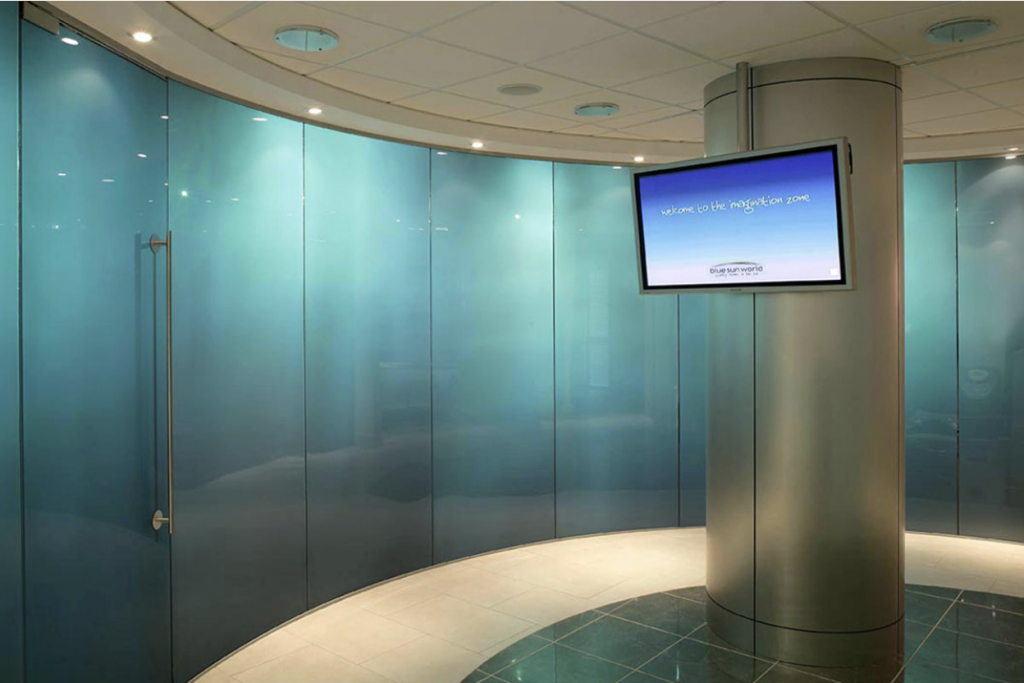 LCD privacy glass for the office is the perfect marriage of convenience and high tech capabilities that contributes to the mindful design that will get offices back up and running in a post-pandemic world.
The benefits of benefits of electronic switchable office privacy glass include; compatibility in various settings like hospitals and schools, still allows light to filter in, and reduces electricity costs and the need for window coverings.
Reap the Benefits of Privacy Glass in Your Office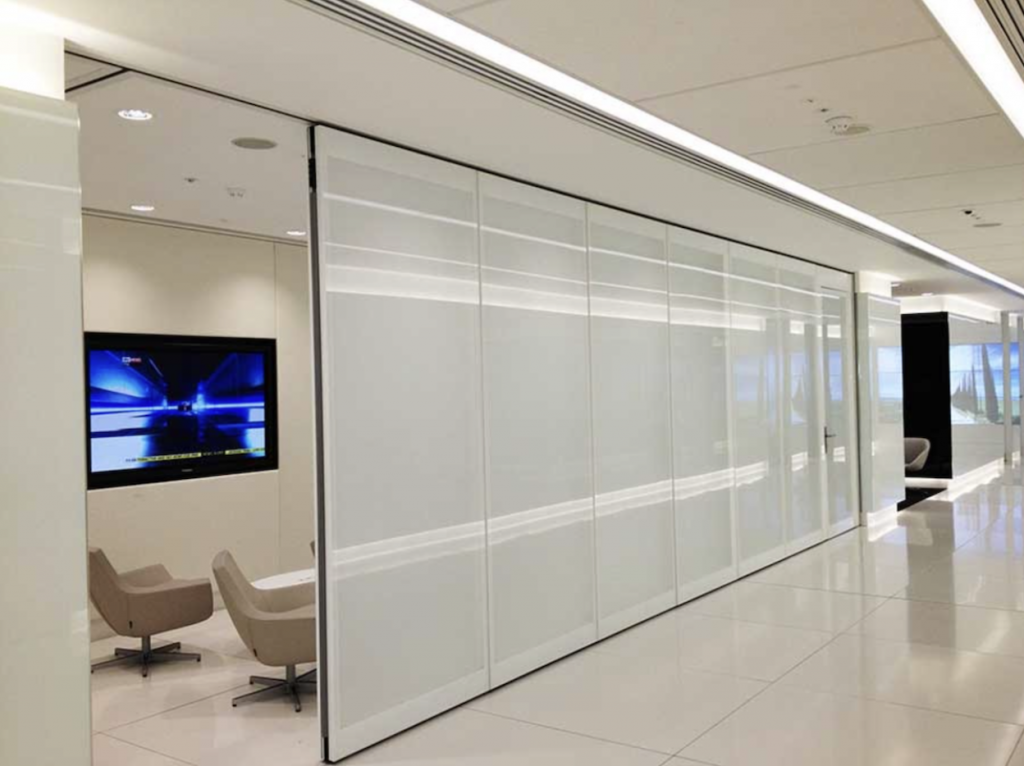 Whether you choose customized frosting or go with the cutting edge solution of LCD switchable privacy glass, incorporating privacy glass into the office design offers benefits to employees that include visual privacy, natural light, and flexibility.
Our range of products are fully customizable and available in a variety of configurations as well as offering different levels of privacy so that you're able to design the best fit for the needs of your office, staff, and clients. We'll take you through each stage of the design process from  inspiration & planning to engineering & design and finally to product supply & installation to ensure you get the perfect fit for your office.
Contact the experts at Avanti Systems today to choose the best office privacy glass for your space.