A growing trend that has revolutionized today's office design is the inclusion of glass partitions to separate workspaces.
As offices focus on creating a more open and collaborative work environment for their employees, glass partitions have become the logical means to achieve this end. As an added bonus, many offices seeking LEED credits can earn points by installing glass office partitions. The Leadership in Energy and Environmental Design (LEED) building system encourages bringing in as much natural light as possible to the office as well as creating outside views whenever possible.
Installing office wall partitions made of glass allows natural light to filter throughout the office in a way that traditional walls and office wall partitions can't. They also increase opportunities to collaborate and feel like part of the overall company culture even when working on a solo project or meeting with clients. With the incredible number of glass partition walls available, you're sure to find something that fits the office design's form and function.
Office Wall Partition Design Ideas
Check out these 27 modern wall partition design ideas that help open up an office space.
Frameless
1. Frameless Conference Rooms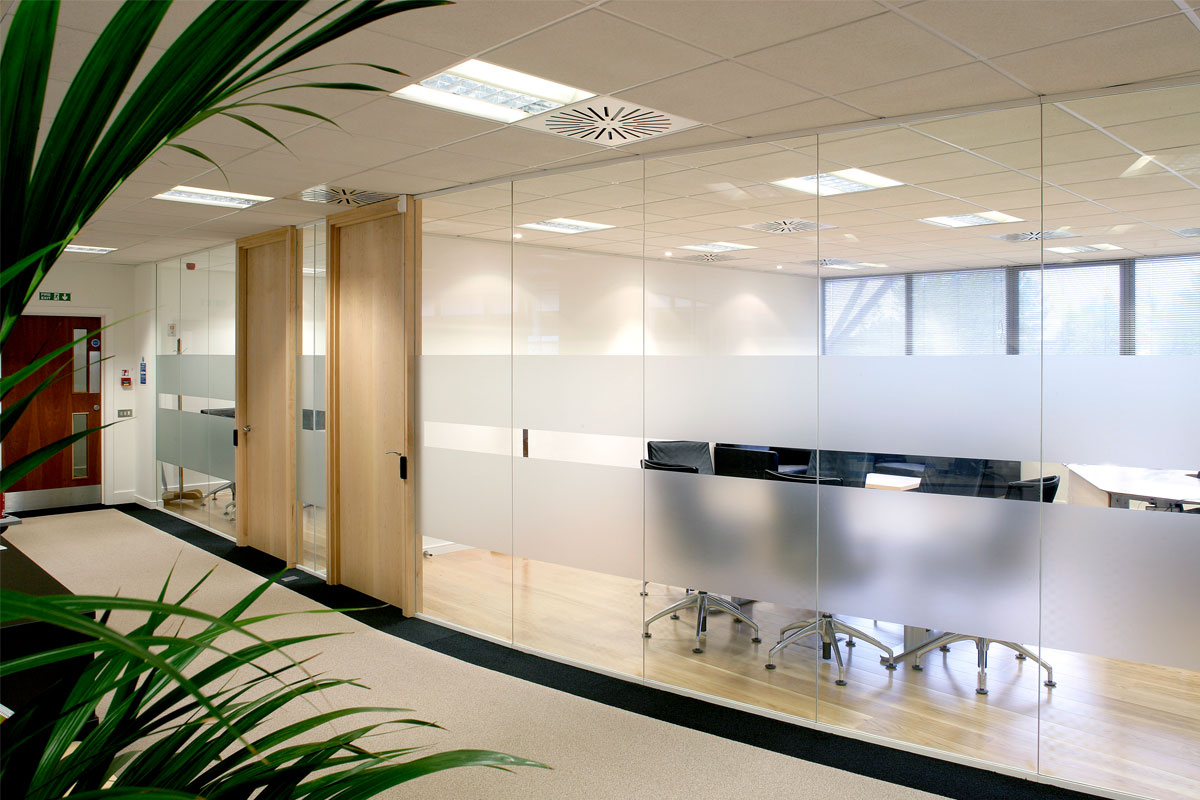 One concern that comes with creating an open work environment is how to balance open collaboration spaces with the need for privacy. In this design, the wooden partition doors create a more definite separation between the conference rooms and the rest of the office, while the frosted areas are strategically placed to create additional privacy while still allowing lots of natural light.
2. Glass Walls with Privacy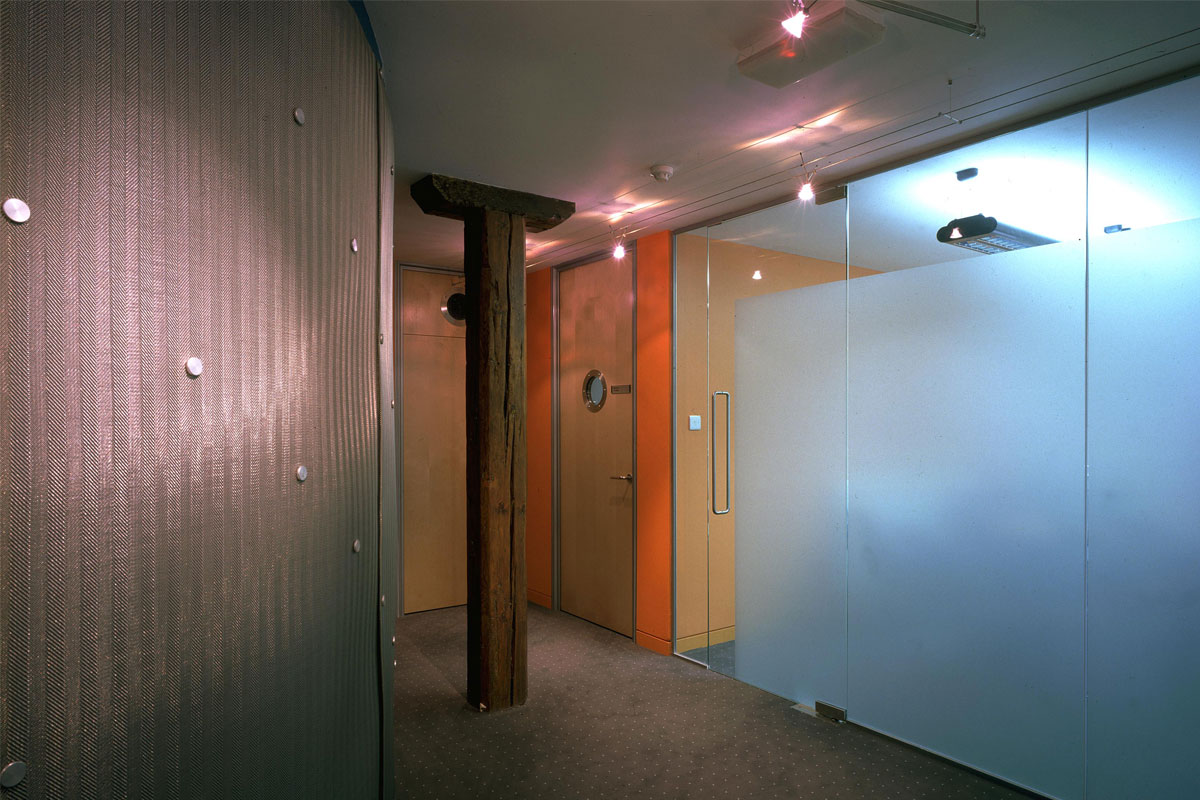 Frameless glass creates an uninterrupted flow in office partitioning, and in places where privacy is needed, it can be frosted to your specific request. In this design, the frosted glass reaches nearly to the ceiling, creating lots of privacy. But because the frosting is left off of the very top of the glass, the office partition still allows light to filter through the lower part and invites it in unrestricted at the top.
3. Open Hallway Concept – Partitions for Office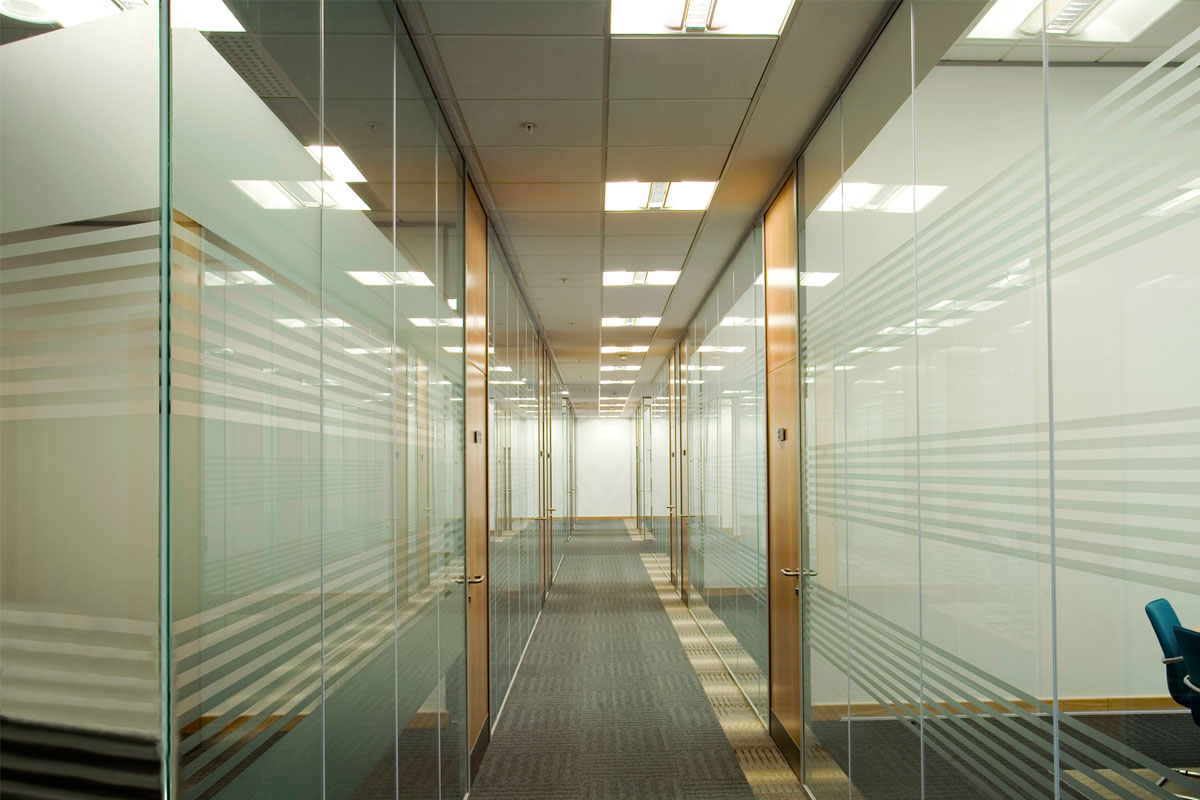 What could be a darkened hallway is transformed into a bright and inviting space with the inclusion of frameless partition offices. Uninterrupted by bulky frames, this design creates a welcome walk while still maintaining a level of privacy through the strategically frosted interior partition walls.
4. Transparent Conference Room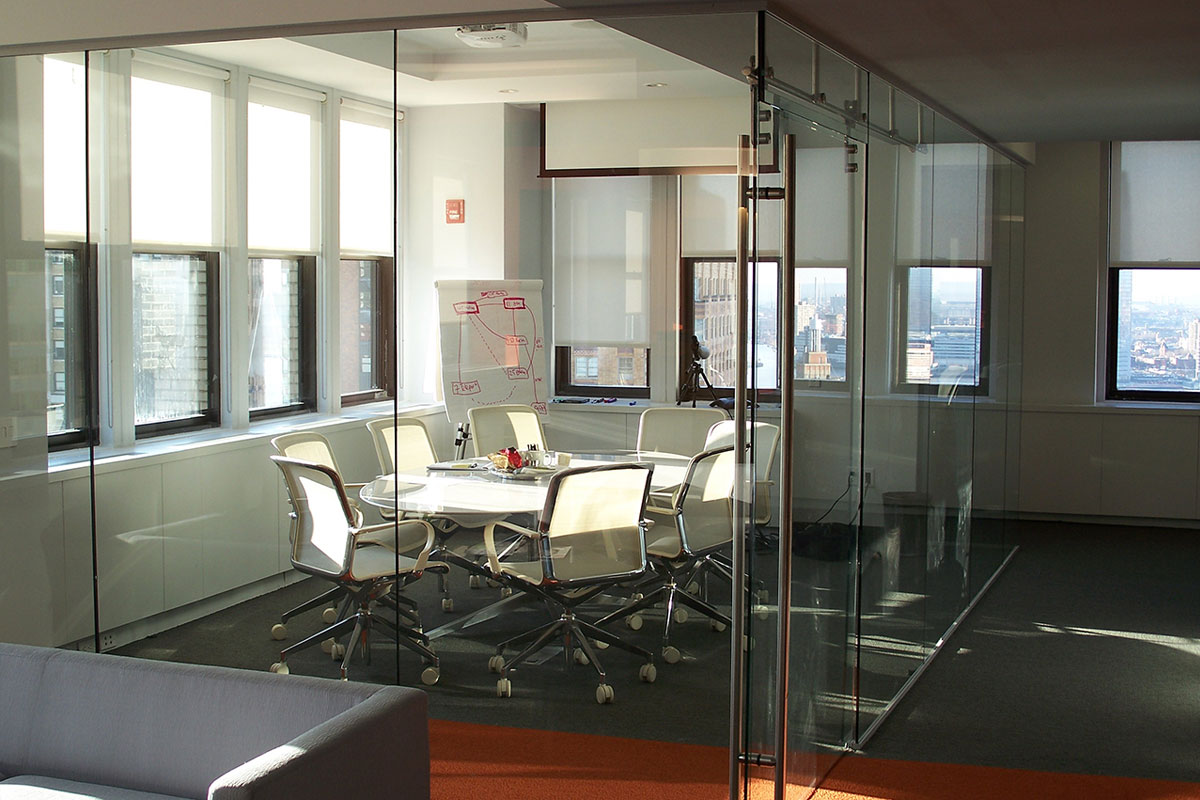 This fully transparent conference room features frameless glass interior partitioning. Situated in the corner with windows on two sides creates an abundance of light that brightens the space and includes outside views.
5. Custom Glass Partition Designs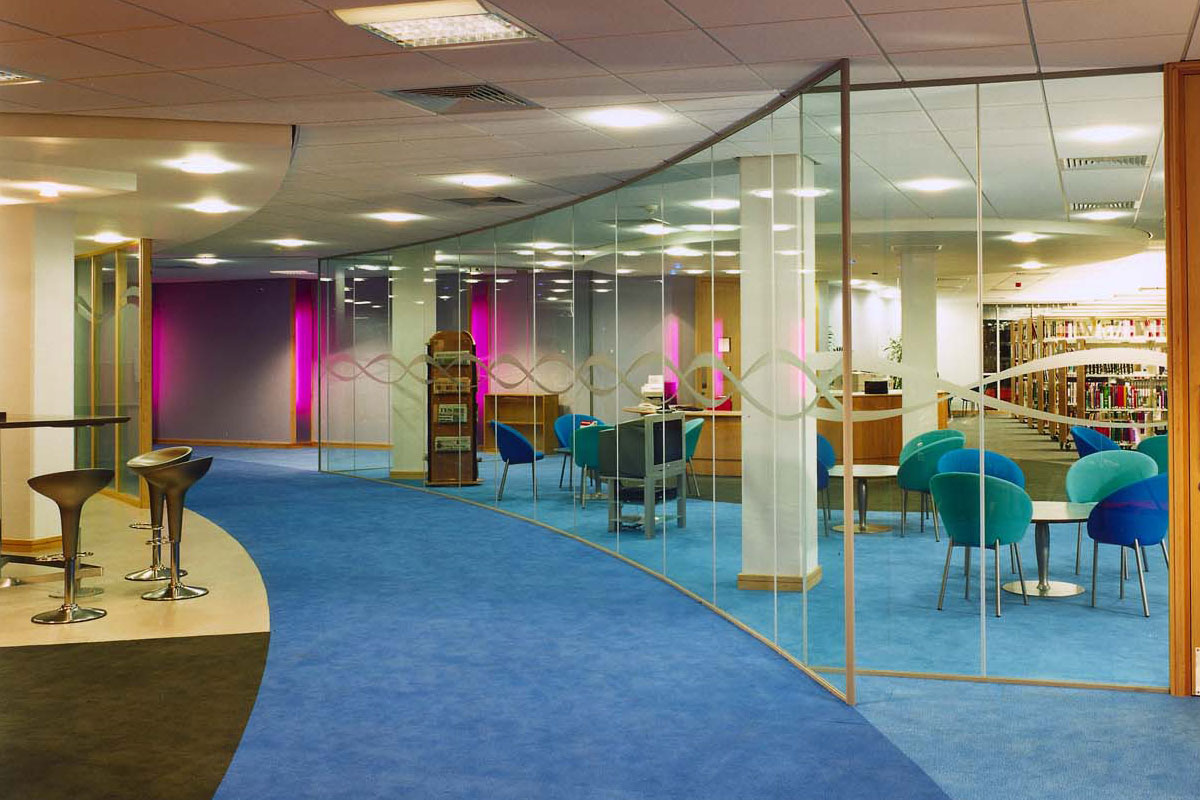 A personal or branded touch can be added to an office design by customizing the frosting on the windows. The curved design on the glass flows with the curved office partition which follows the contour of the hallway. Both of these elements complement the rounded chairs bringing cohesion to the entire design.
6. Glass Partitions with Color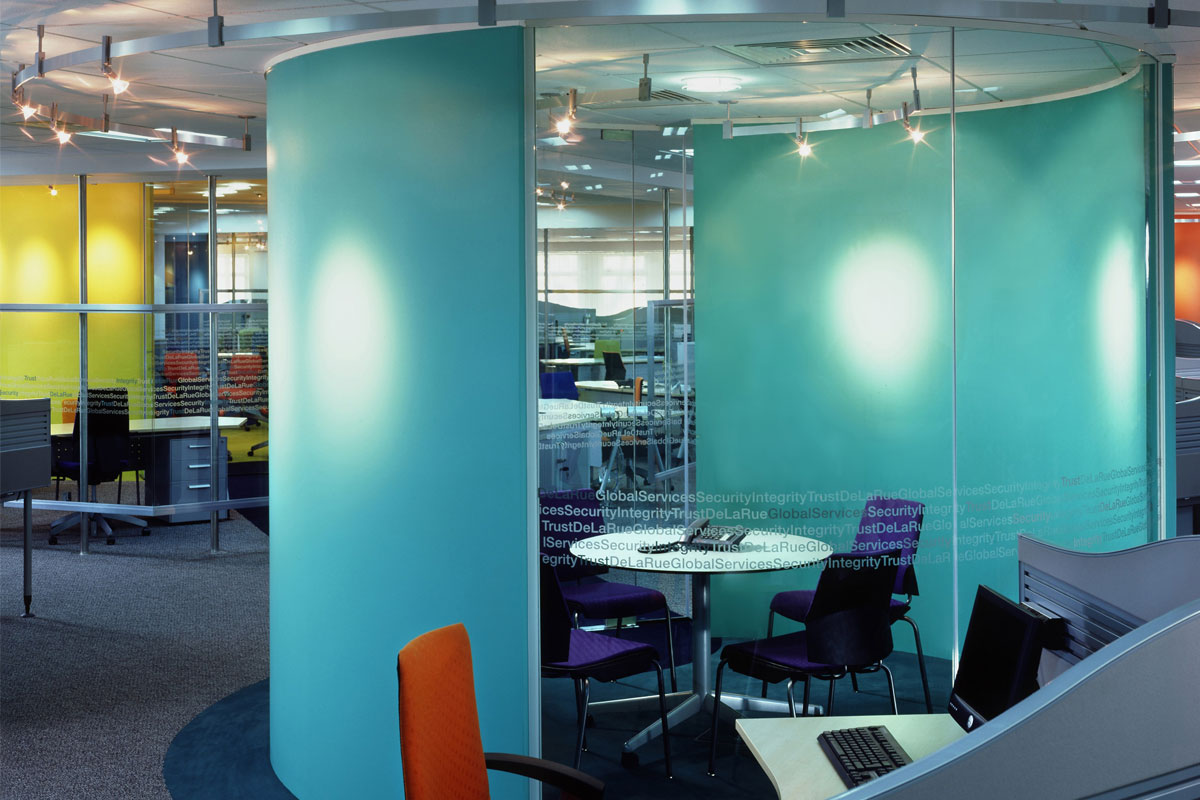 Adding color to the partition office walls can create added interest while also staying on brand by bringing in brand colors. Words can also be included on the glass partitions for offices to reinforce brand ideals and convictions. Curving the interior partitioning creates a private space for meetings or conference calls.
Freestanding
7. Stand Alone Meeting Room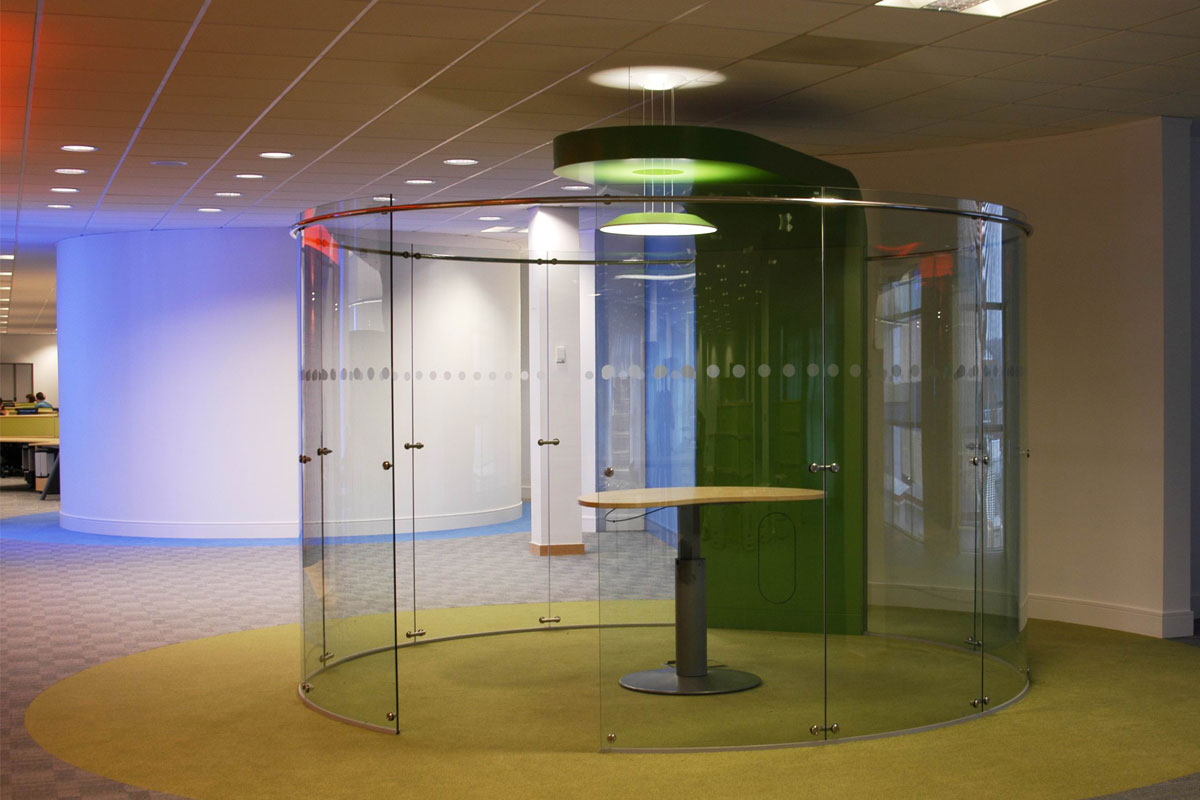 Freestanding glass partition offices give you endless opportunities when designing an office space, because they can be installed nearly anywhere they are needed, as in the case of this mini meeting room.
8. Glass Walls with Visual Aesthetic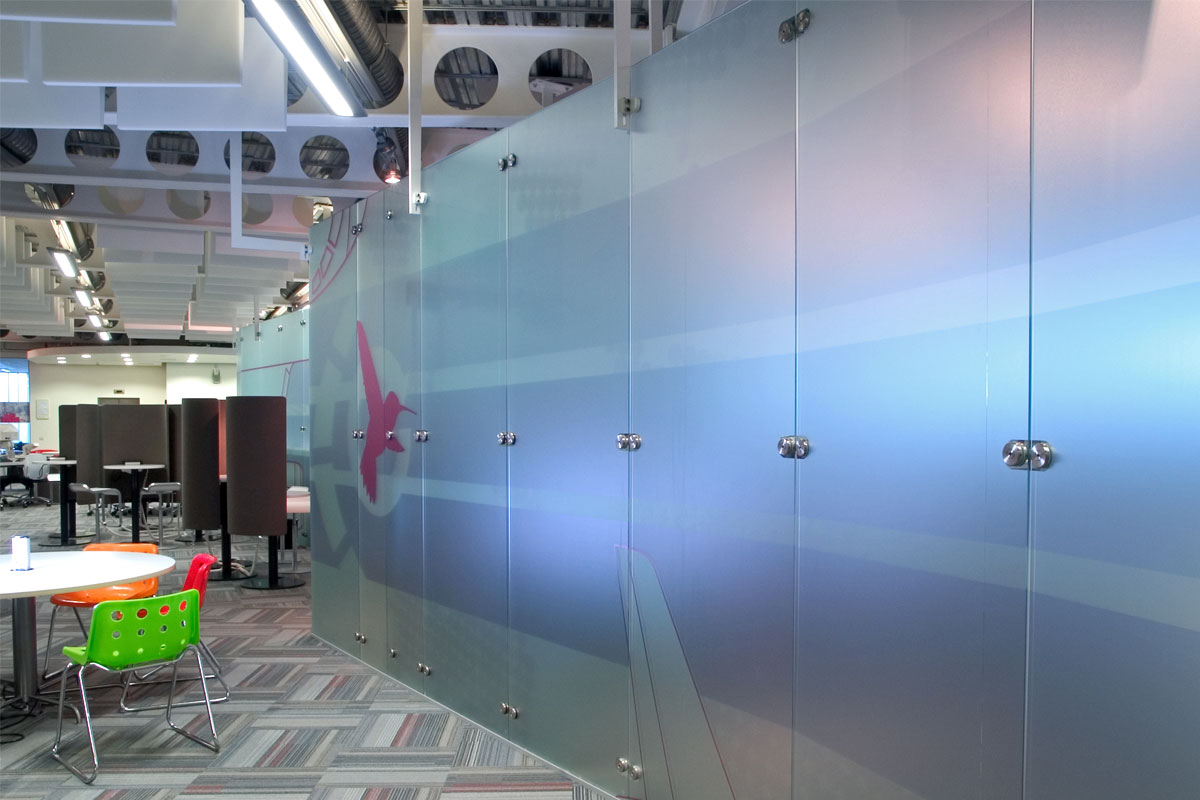 The color included in this freestanding design not only adds interest to the office, but it creates privacy while still allowing light to filter through, enhancing the office aesthetic.
9. Open Feel Office Design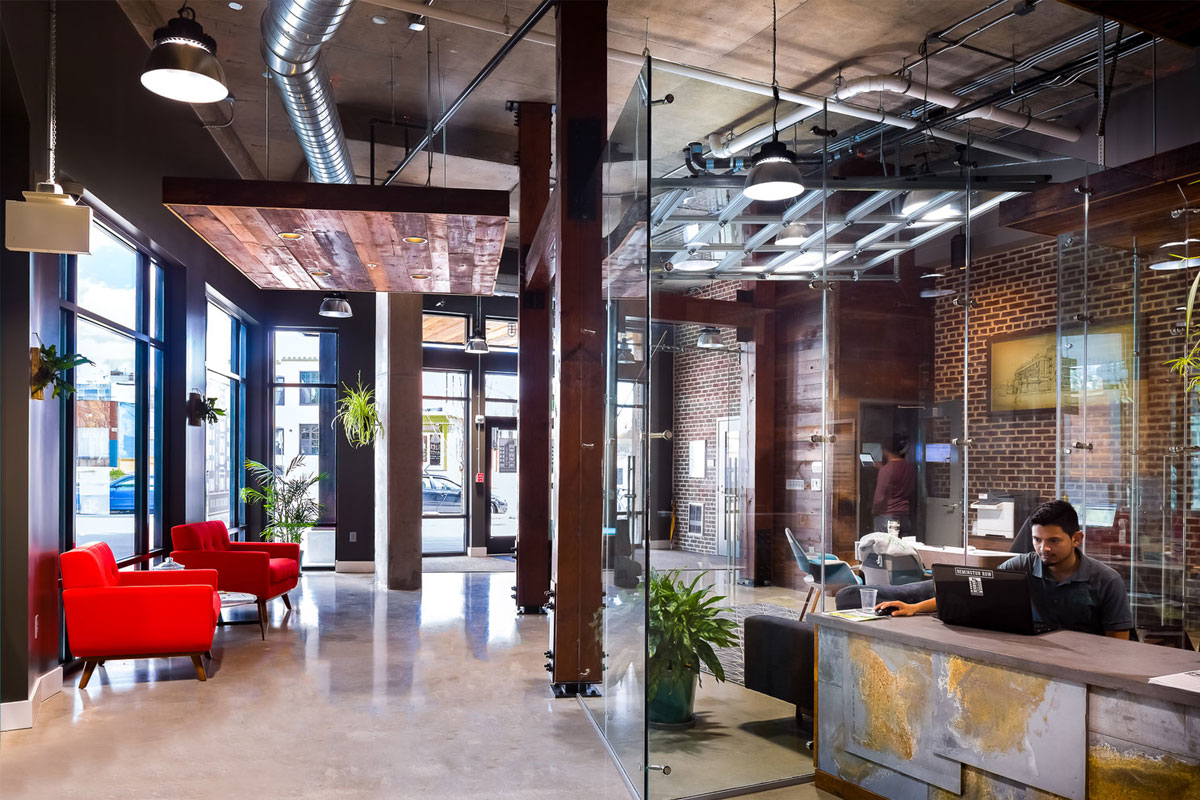 Office partition walls add to the industrial feel of this office space while separating spaces and still allowing light to flow through the space uninhibited by a traditional wall.
10. Glass Partitions for Separation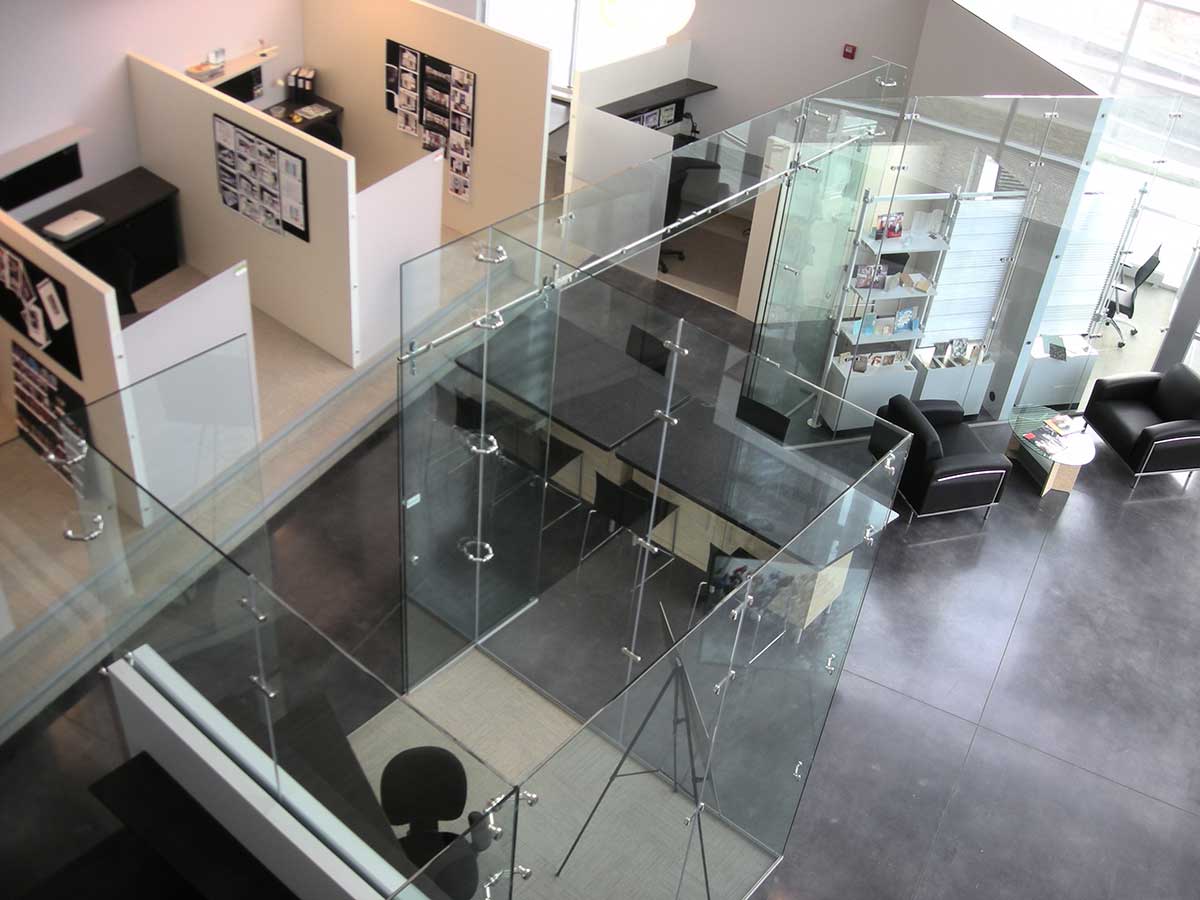 You can also mix traditional and modern office styles with freestanding glass partitions for offices in the middle and traditional cubicle walls for the outer offices.
11. Mid-floor Office Meet Up Space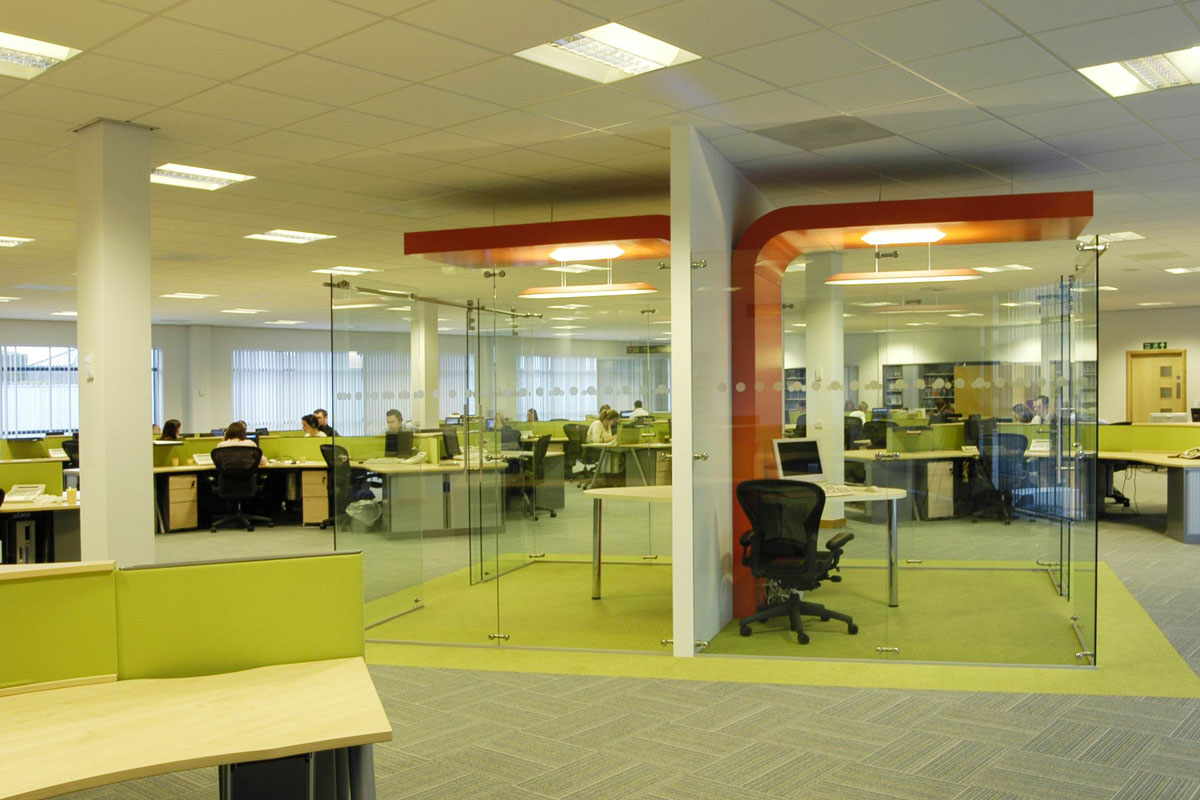 What would be a nondescript office space is made interesting with the inclusion of custom lighting that helps to define the space while still allowing natural light to stream through private areas.
12. Glass Partitions with Optional Privacy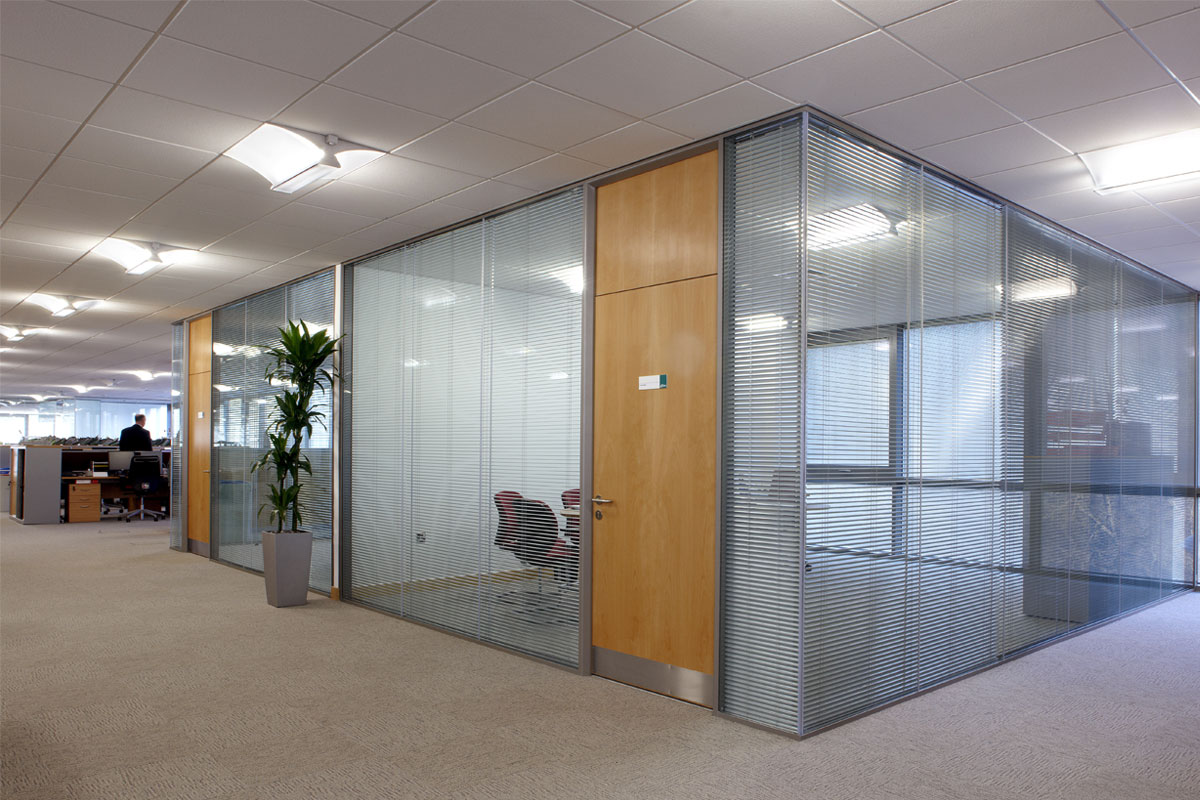 Blinds are included in this interior wall partition design, which along with wood partition doors allow for a high level of privacy when needed and an open feel when privacy is less necessary.
High Wall
13. Floor to Ceiling Conference Room Walls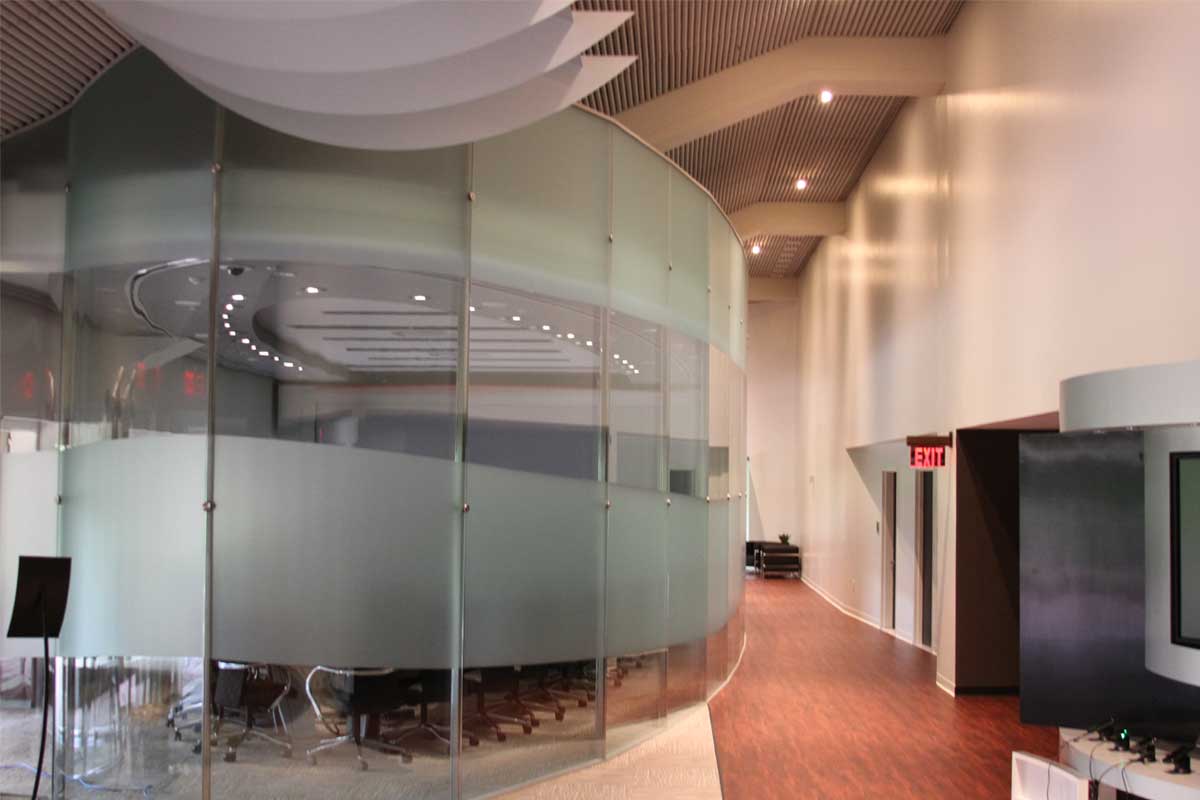 High ceilinged modern buildings can now benefit from using high wall modern office partition panels in their space. Frosting the glass at various levels draws the eye up the high office wall partition and adds privacy for those inside the room.
14. Glass Walls to Divide Spaces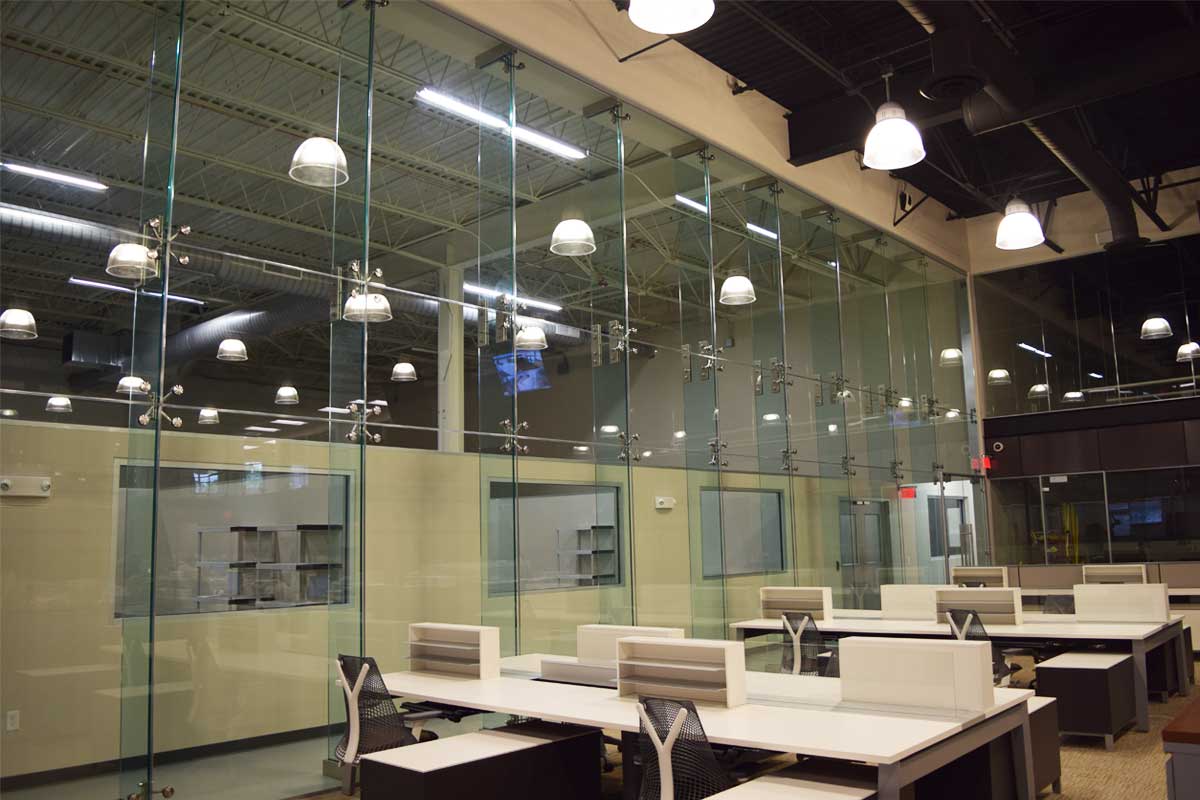 High interior partition walls can separate spaces while still allowing for a natural flow in the office, as is the case with this building. Making use of the high walls to meet the ceiling makes the different spaces clearly distinct while still keeping them integrated.
15. Interior Wall Partitions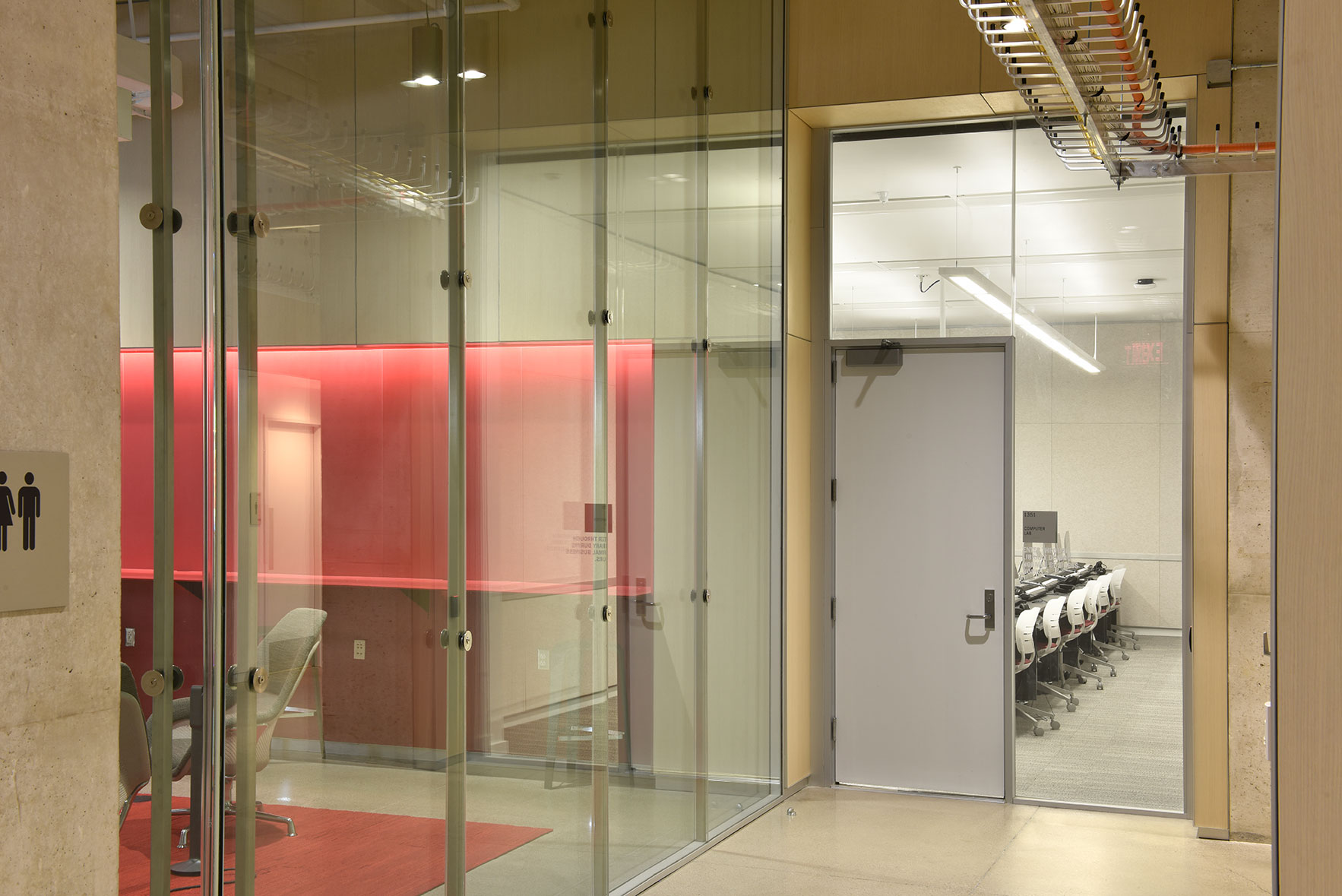 High wall partitions can be integrated into a design that also makes use of traditional walls. In this case, the interior partition wall contrasts the traditional door and walls surrounding it.
Privacy Smart Glass
16. Smart Glass for Optional Privacy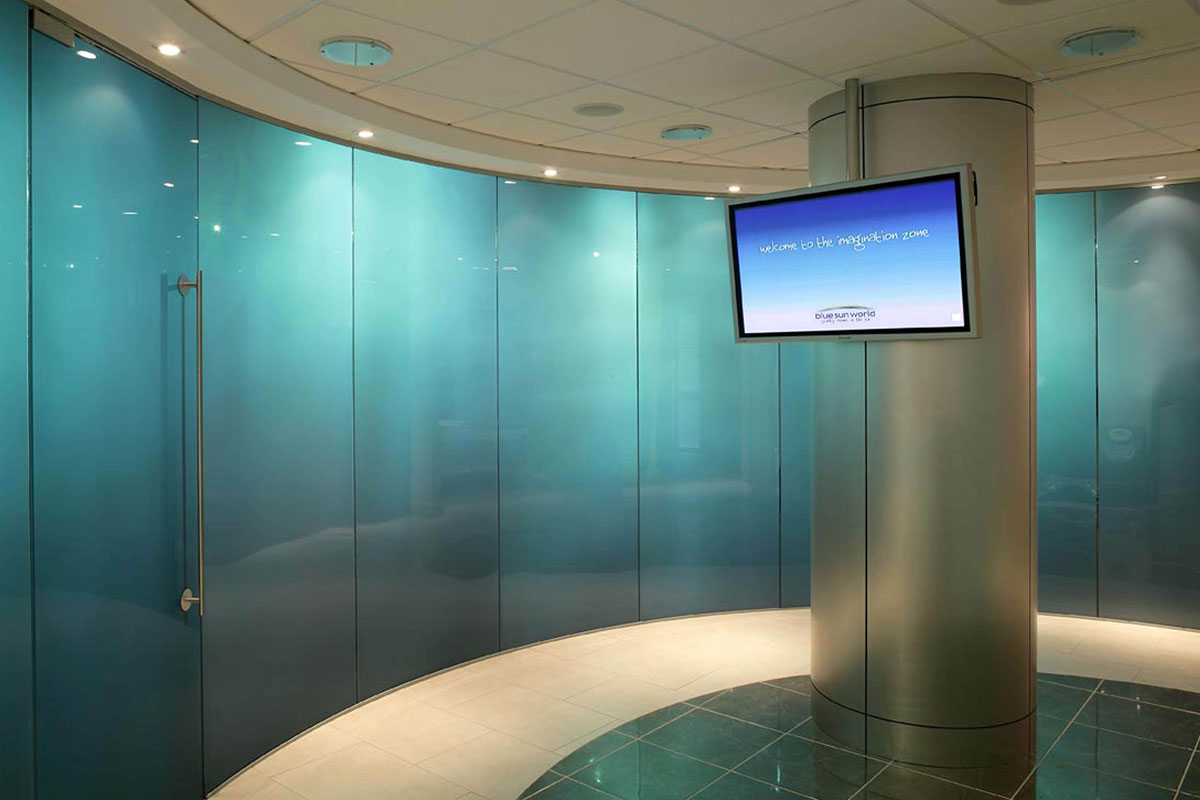 Privacy smart glass can change from transparent to translucent with the flick of a switch, creating instant interest and flexibility in your office design. Using an office privacy wall as part of the office partition design can complement the contours of the building in a curved or angled configuration or to maintain straight lines.
Modular
17. Glass Partitions Easy to Re-Configure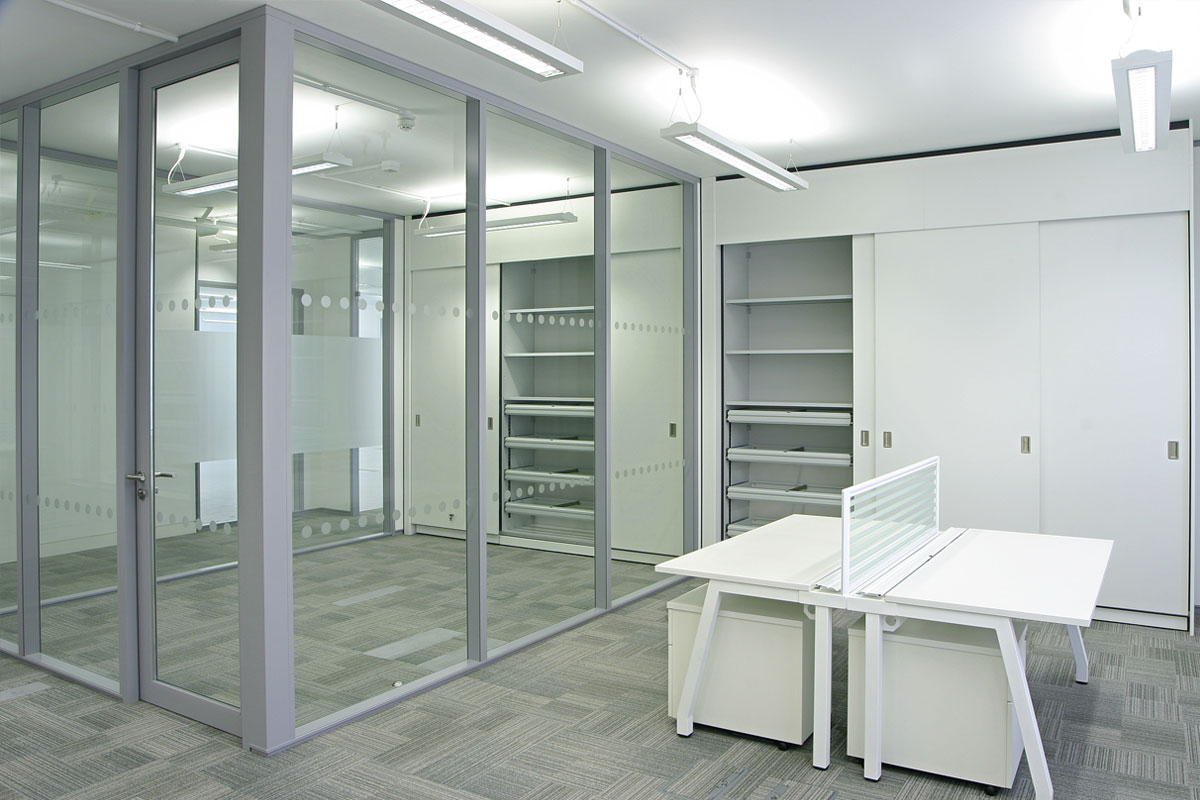 Modular partitions for office use creates an incredible amount of flexibility in an office design when it comes to interior partitions. In this clean and minimal space, modular office partition panels with gray framing and a custom frosted design keeps the space looking fresh and open while serving its purpose of creating interior partitioning.
18. Frosted Designs on Glass Partitions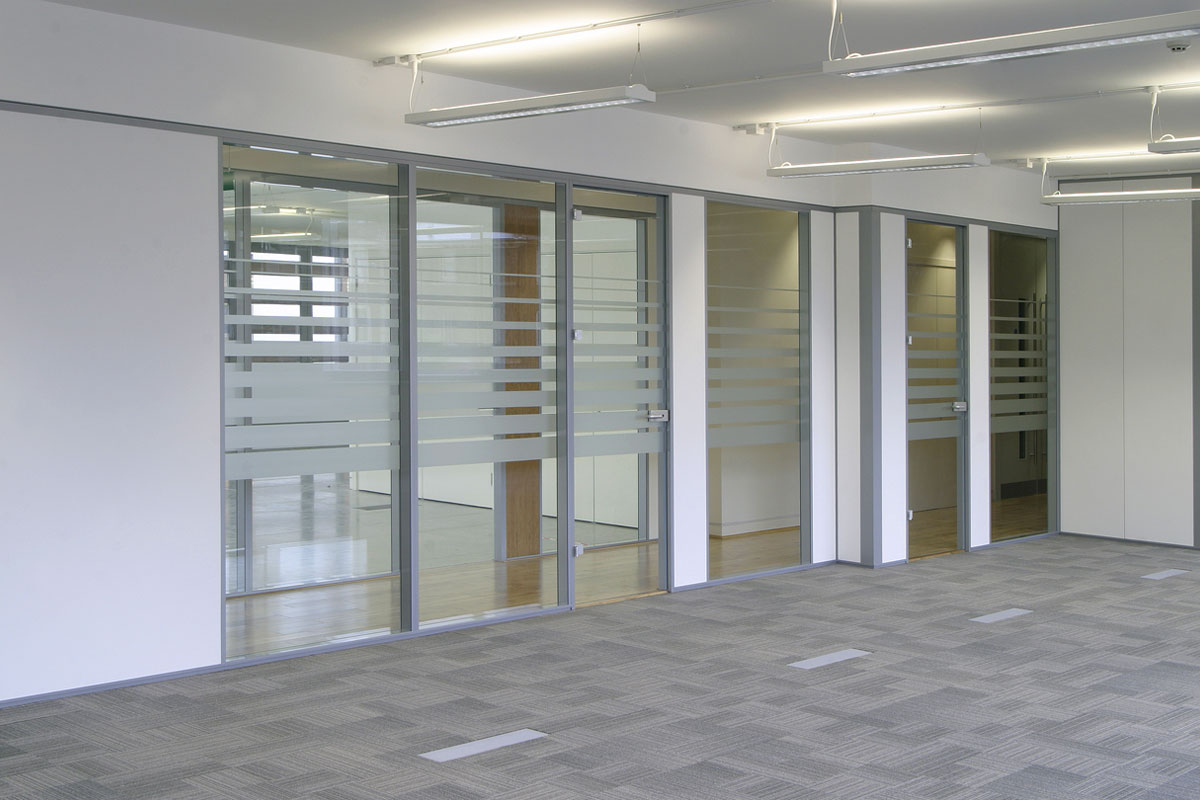 These modular interior wall partitions are integrated with traditional walls to include partition doors. Again, making use of custom frosting to add interest to an otherwise minimal space.
Movable Walls
19. Unique Conference Room Shapes –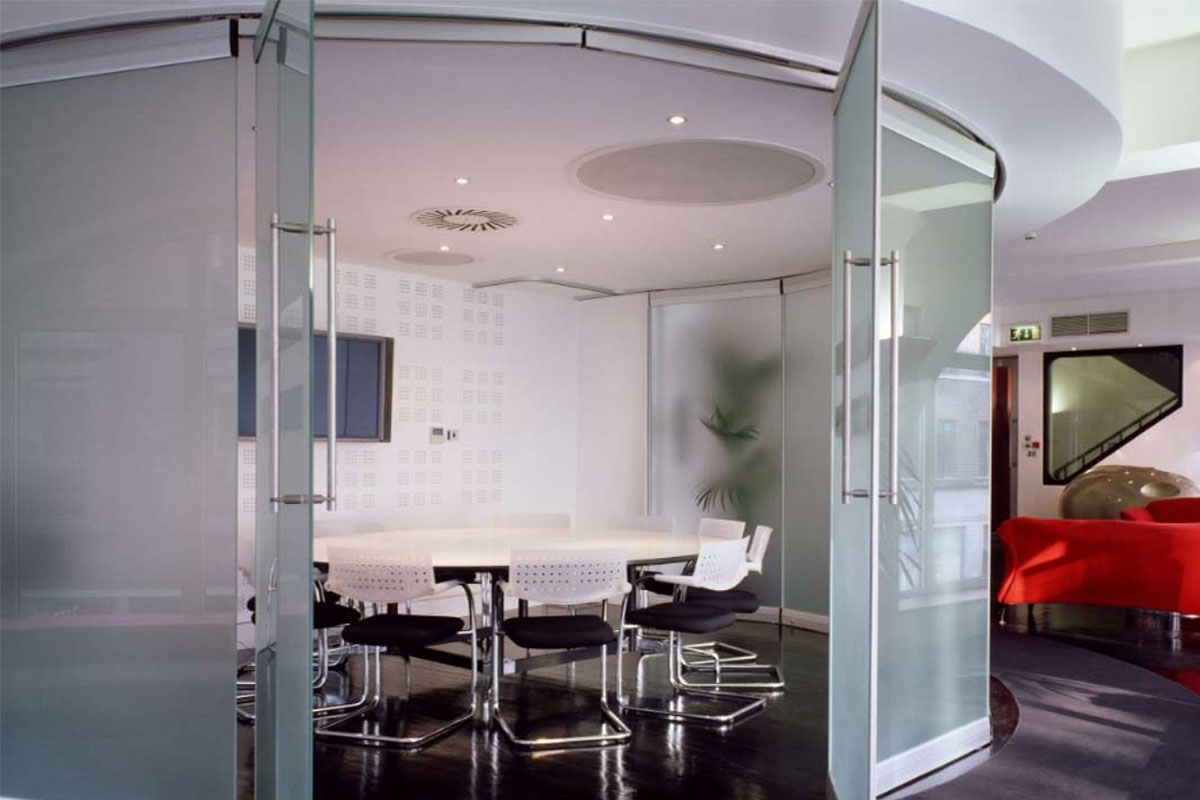 Incorporating movable partition walls for an office design means that rooms can be created and then hidden again in just moments. For this conference room, the angled partition wall panels form a small on-demand conference room and can be neatly tucked away when they have served their purpose.
20. Glass Partition Movable Walls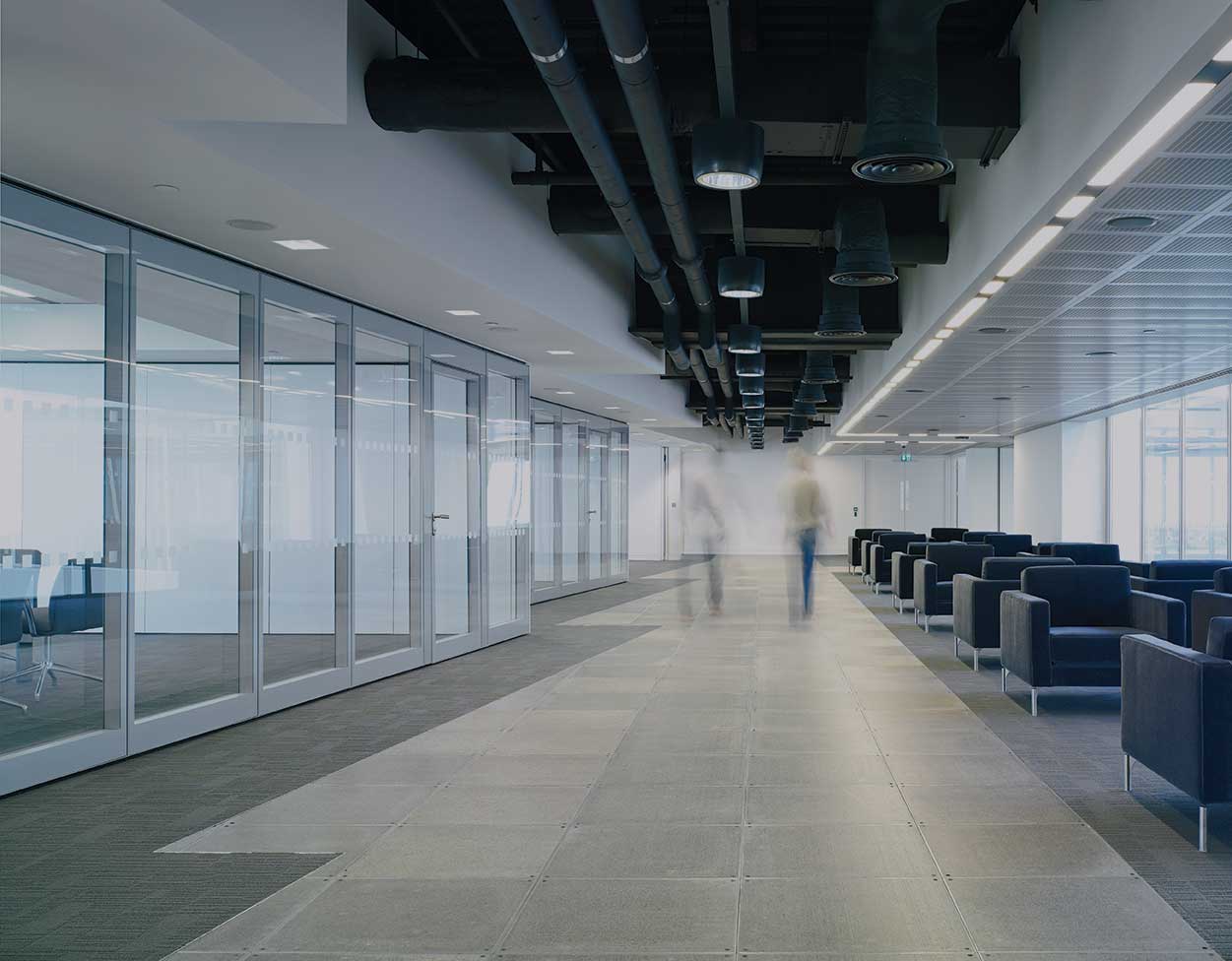 Movable office wall partitions in this space make up the majority of the wall. This is a perfect choice for a space that needs to be flexible. In the event that more space is needed, the walls can be moved to create a large common area, banquet room, or conference center.
21. Glass Walls to Contrast with Floor Designs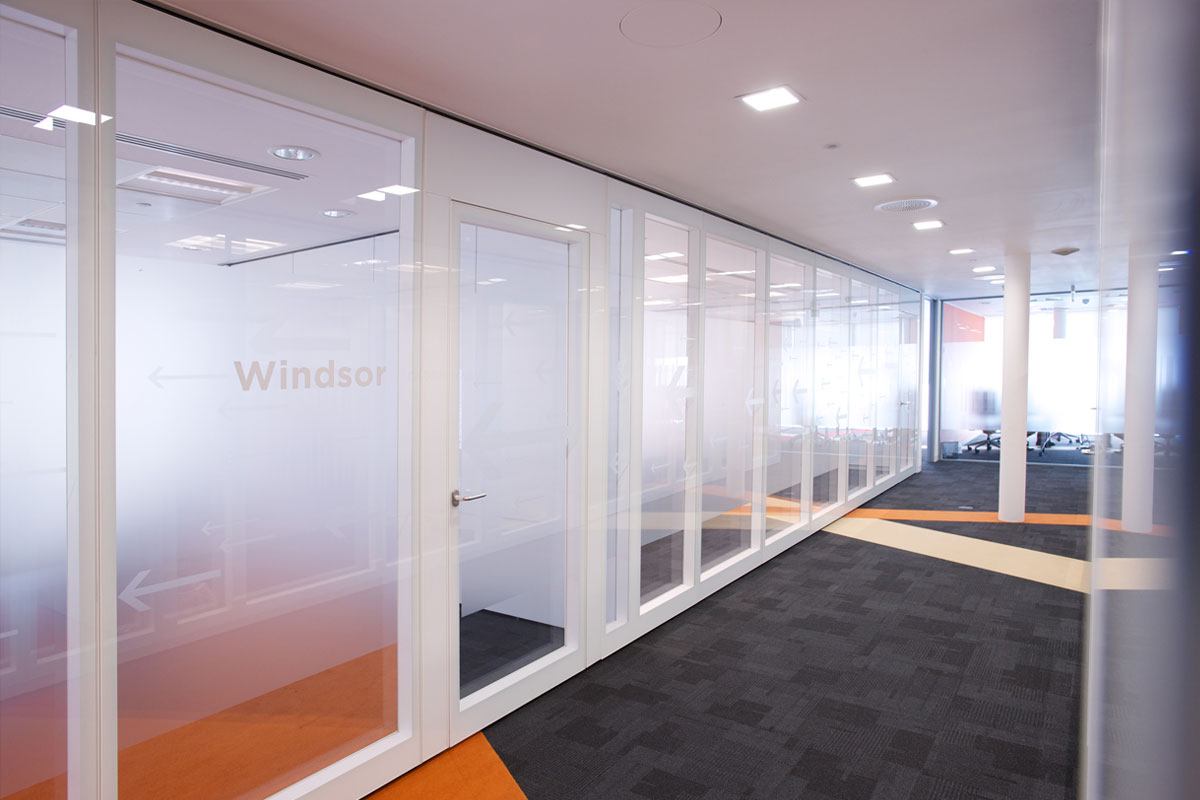 Pairing stark white framing with the bold colors on the carpet creates interest in this design that utilizes movable walls. The design on the carpet cuts through the room, and if the walls are removed, the design will carry throughout the larger space.
22. Sliding Doors for Privacy or Open Feel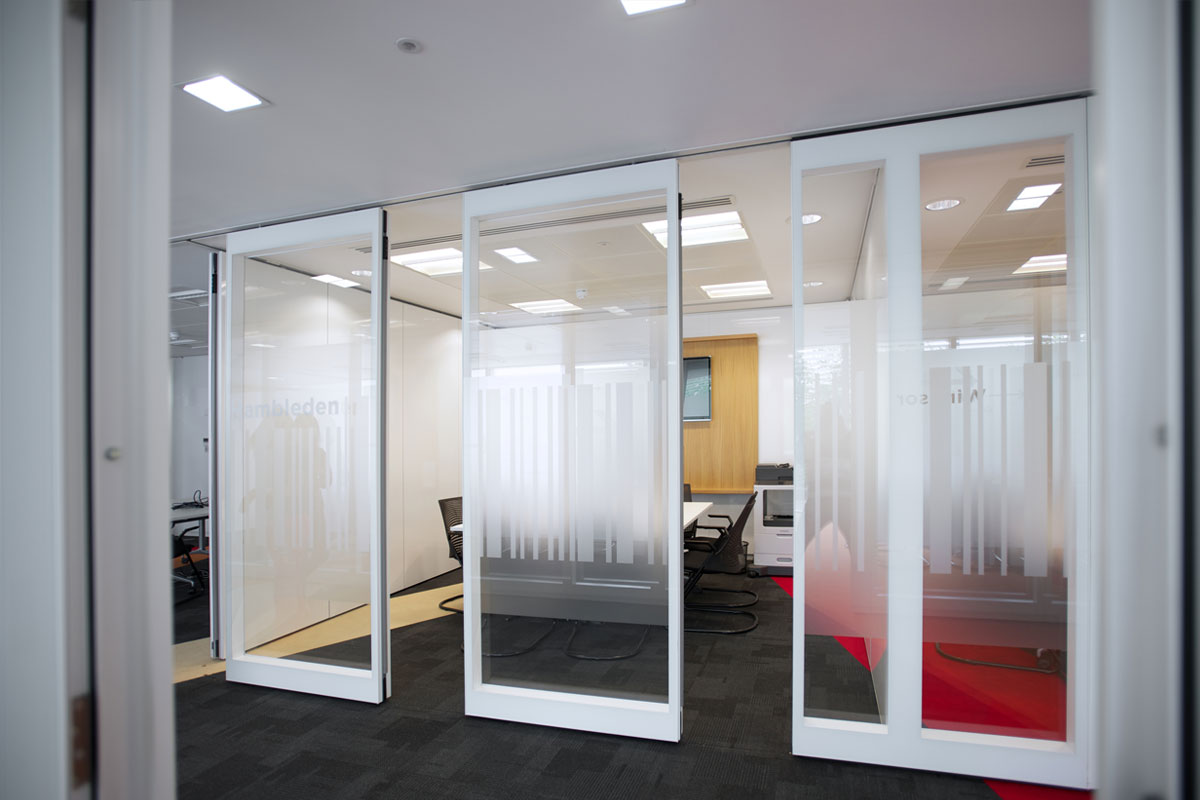 Custom frosting on these movable partition wall panels helps to brand the business and create a cohesive design if used in other areas throughout the office.
23. Neutral Glass Partition Frame Colors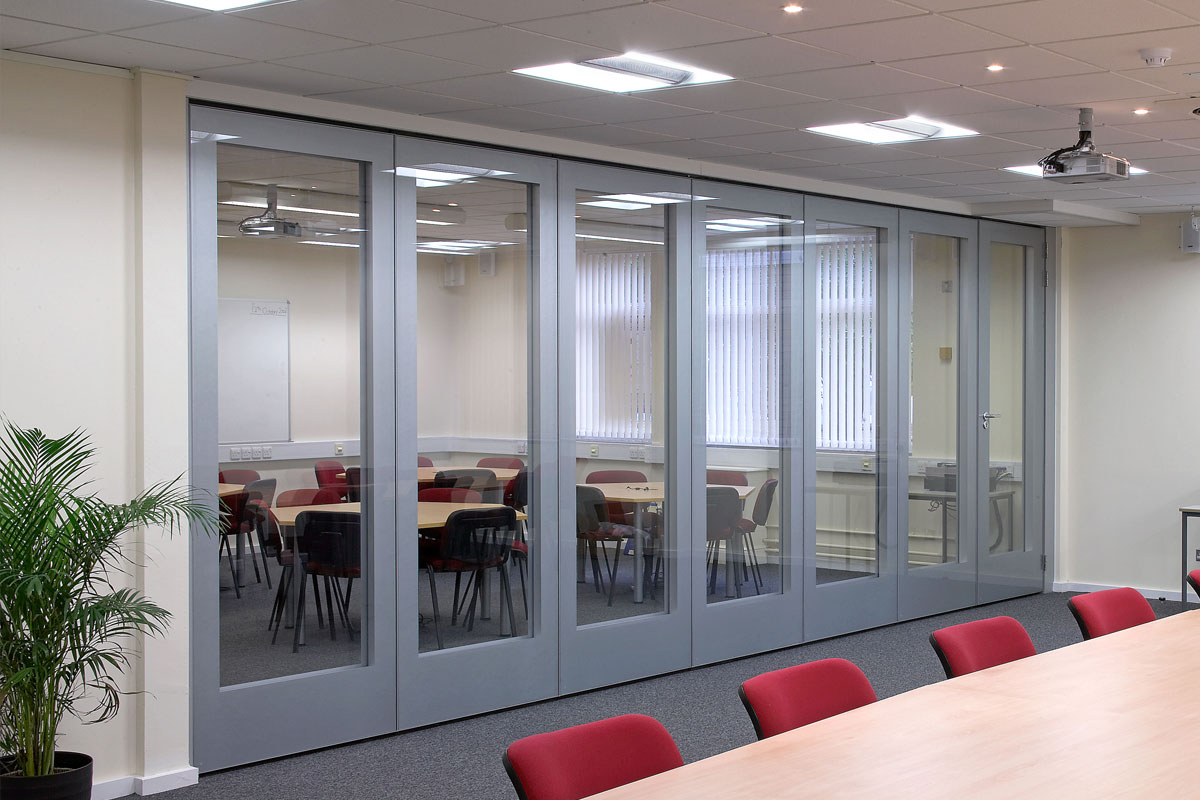 Gray framing on these movable walls complements the carpet and is neutral enough to support splashes of red throughout the rest of the design. This partition system can be easily moved to create a larger space depending on the current needs of the office.
Atrium Wall Systems
24. Glass Lobby Walls for Natural Light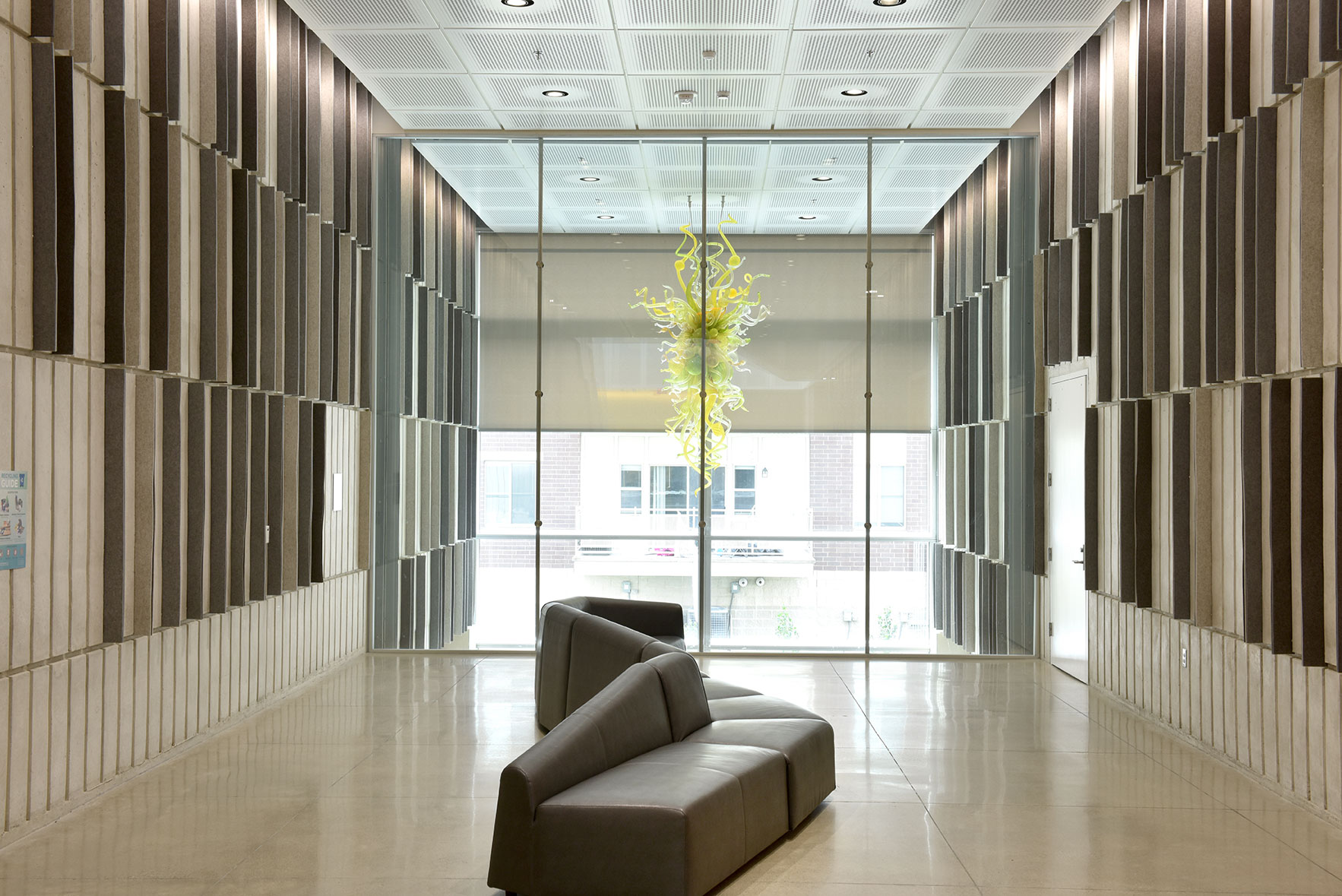 Atrium wall systems allow natural light to flood through the office space, enhancing the work environment and creating more potential for LEED credits.
25. Open Space Feel for Atriums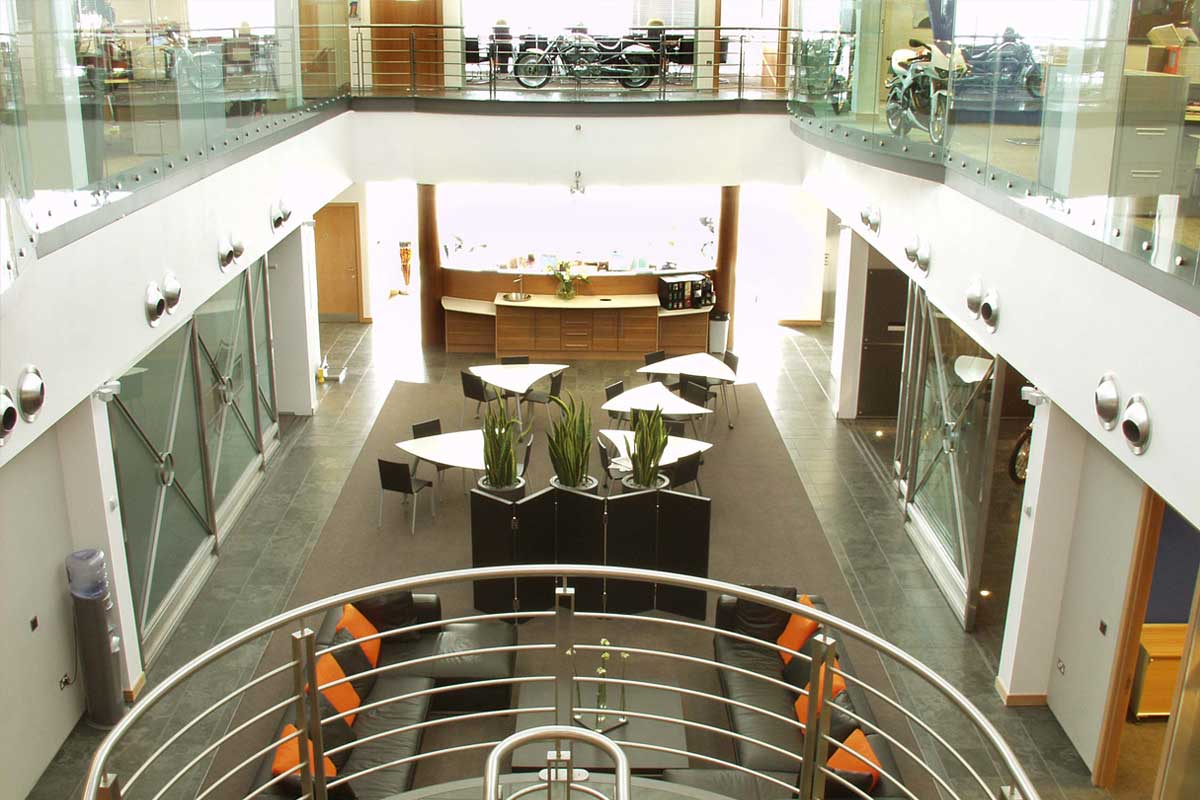 In an office with a large interior where natural light would have a difficult time finding its way to the middle of the space, creating an atrium with interior partitioning can be a beautiful solution. In this design, greenery is included in the main area along with sitting areas. The surrounding offices can take advantage of their interior view and the light that is allowed in.
26. Glass Walls to Break up Concrete Architecture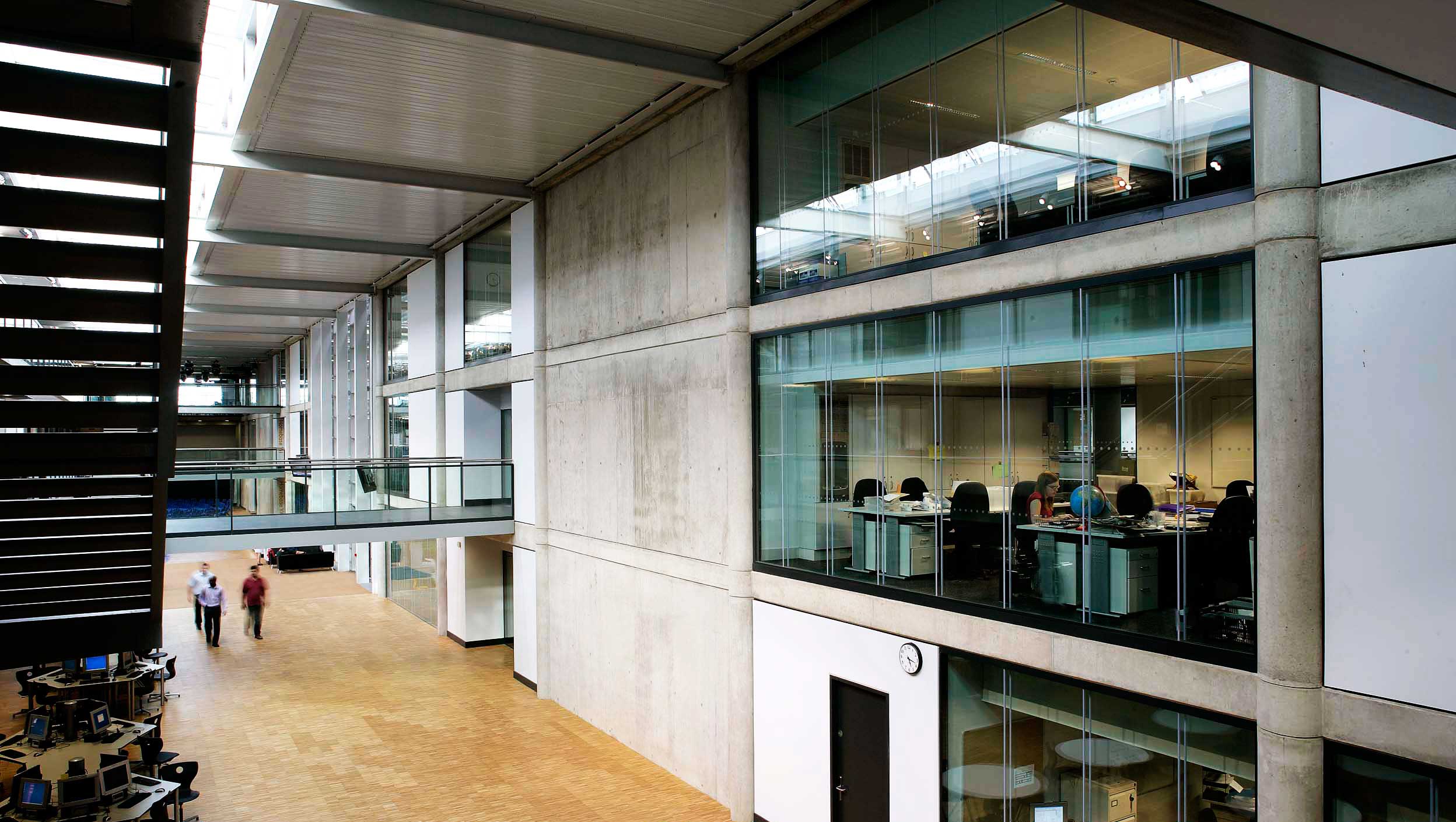 The juxtaposition of concrete and glass in this design makes for an interesting contrast. Including atrium partitions for the office makes what could be a cold, impersonal building, lively and welcoming.
27. Meeting Room That Overlooks Office Space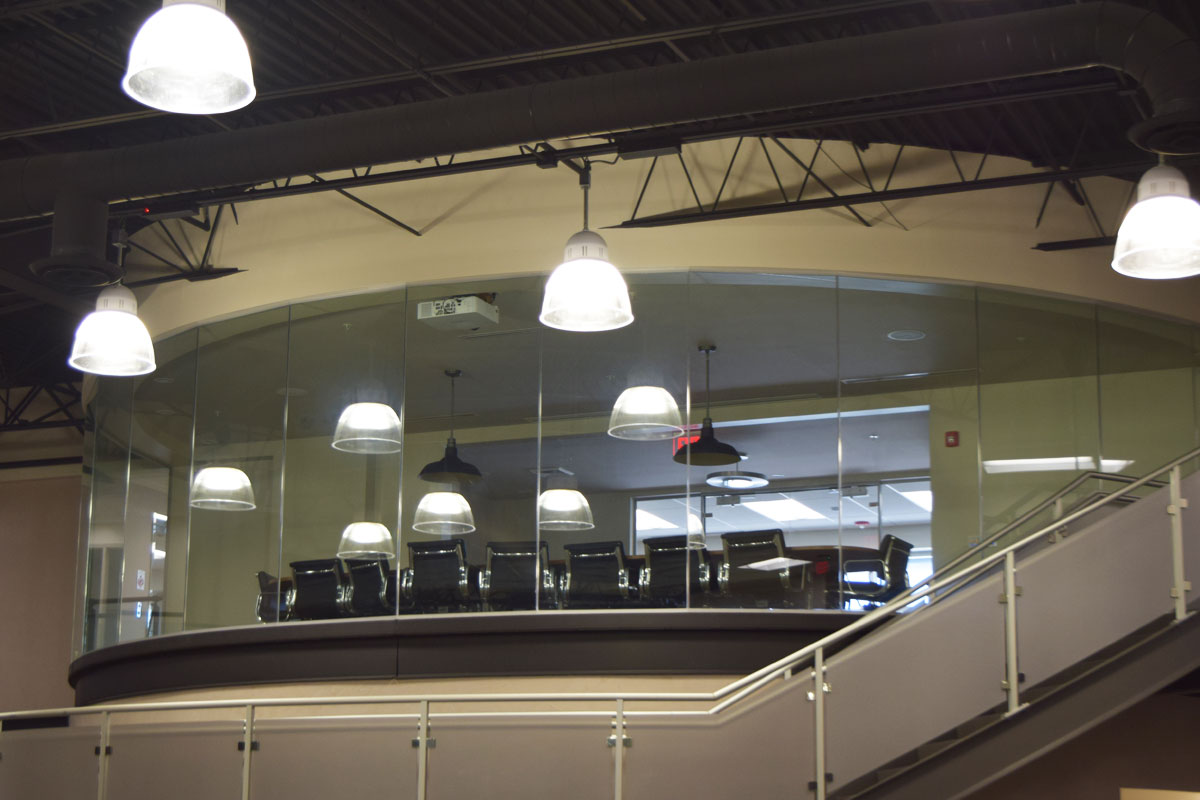 Atrium office wall partitions can also be integrated on a stairwell to avoid a large blank wall. Overlooking the stairs, these atrium partitions for an office allow for a sense of connection despite the separation.
Regardless of the design aesthetic you are creating, there are endless ways to include glass partition walls in the office. From frameless to movable, glass partition office walls increase natural light, create collaborative spaces, and add flexibility to any design.
Contact Avanti Systems for additional help in designing the perfect open-concept office design with glass partition walls.
Other Partitions Resources