Large spaces can be difficult to design, especially if one space needs to serve multiple purposes. This difficulty can be alleviated with a point supported glass system. The point-supported glass allows for flexible configurations, high wall applications, superior aesthetics, and natural light.
What Is a Point-Supported Glass System?
In a point-supported glass system, glazed panels are connected together with spider fittings. They are not load-bearing, so they are easily the perfect solution for large spaces that need to serve multiple purposes.
The spider fittings that connect the glazed panels transfer the loads to a glass structural support fin which is fixed to the floor and ceiling. In some applications, the glass fin can be suspended since it provides a structure for the point-supported glass. This provides the opportunity for even greater creativity and design flexibility.
Why Choose Point Supported Glass Systems?
A point-supported glass system creates a flexible and modular wall that can be used in large spaces to create smaller areas for specific purposes from conference rooms to showrooms. They are also a high wall system designed to work well in large open areas. Point-supported glass systems are easier to install than traditional walls, especially in large, high ceiling spaces.
5 Benefits of Point-Supported Glass
1. Design Flexibility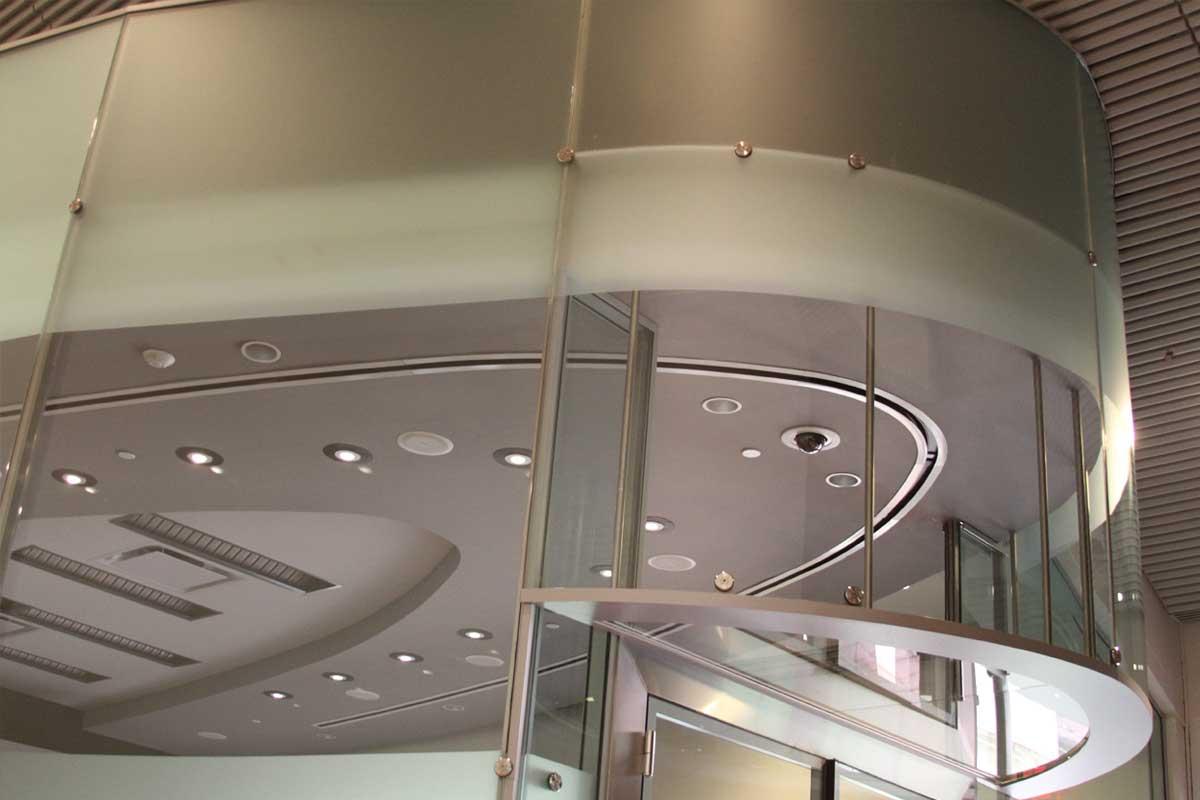 Point-supported glass systems offer superior design flexibility. Their support components are compatible with glass, poly-carbonate, and wood, ensuring that the system will enhance any office design and integrate with existing materials.
In temporary spaces, point-supported glass is a superior choice because of its ability to be reconfigured when necessary. Offices with frequently changing needs, retail spaces, and trade shows especially benefit from this feature.
Rather than being a structural element, point-supported glass is fastened to solid walls at the perimeters, but the glass system itself is not load bearing or structural. This leads to a number of benefits, including the ability to be reconfigured if necessary. The reconfiguration and relocation of connection elements is achieved with minimal holes in the main support structure.
Point-supported glass systems can also be installed in curved, straight, or angled configurations. This allows for incredible design flexibility to not only fit the space, but also to enhance it.
2. Superior Aesthetics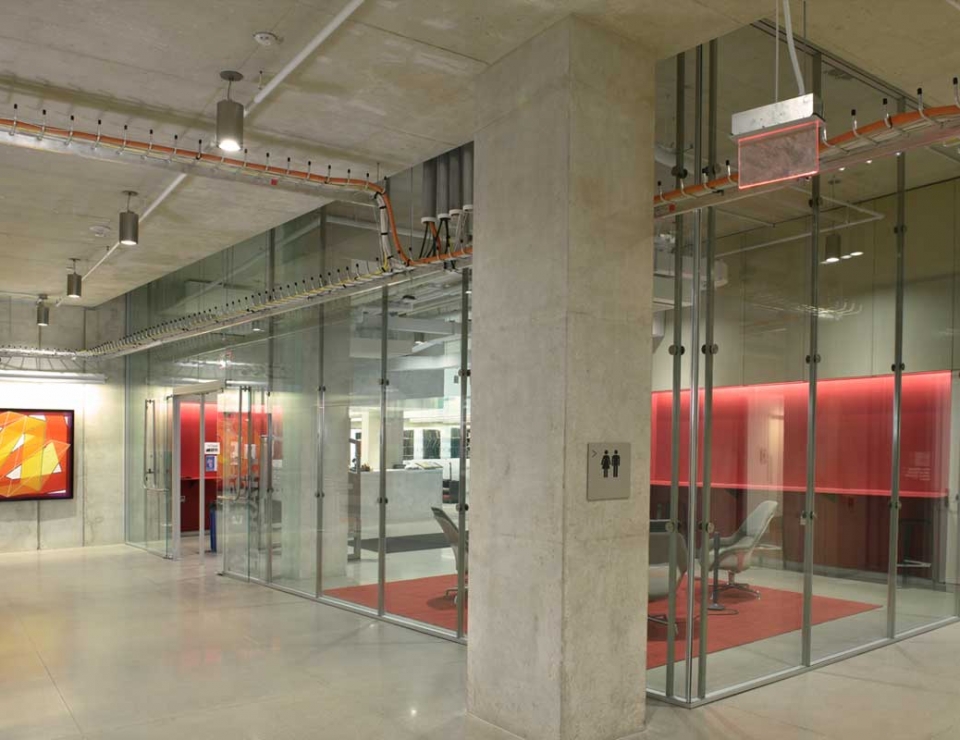 Glazed partition systems are the ultimate in superior aesthetics. They complement modern and contemporary designs while being versatile enough to also fit with a more traditional office aesthetic.
Depending on the design of the office, retail space, or trade show, an unconventional configuration may be necessary. Configurations of point-supported glass can be straight, curved, or angled to create the perfect design for your space.
The Elevare™ Point Support Single Glazed High Wall System is an innovative, complete supporting interior partition system that exudes contemporary style. Its superior aesthetics make it the perfect choice for a wide spectrum of designs and spaces.
3. Acoustic Performance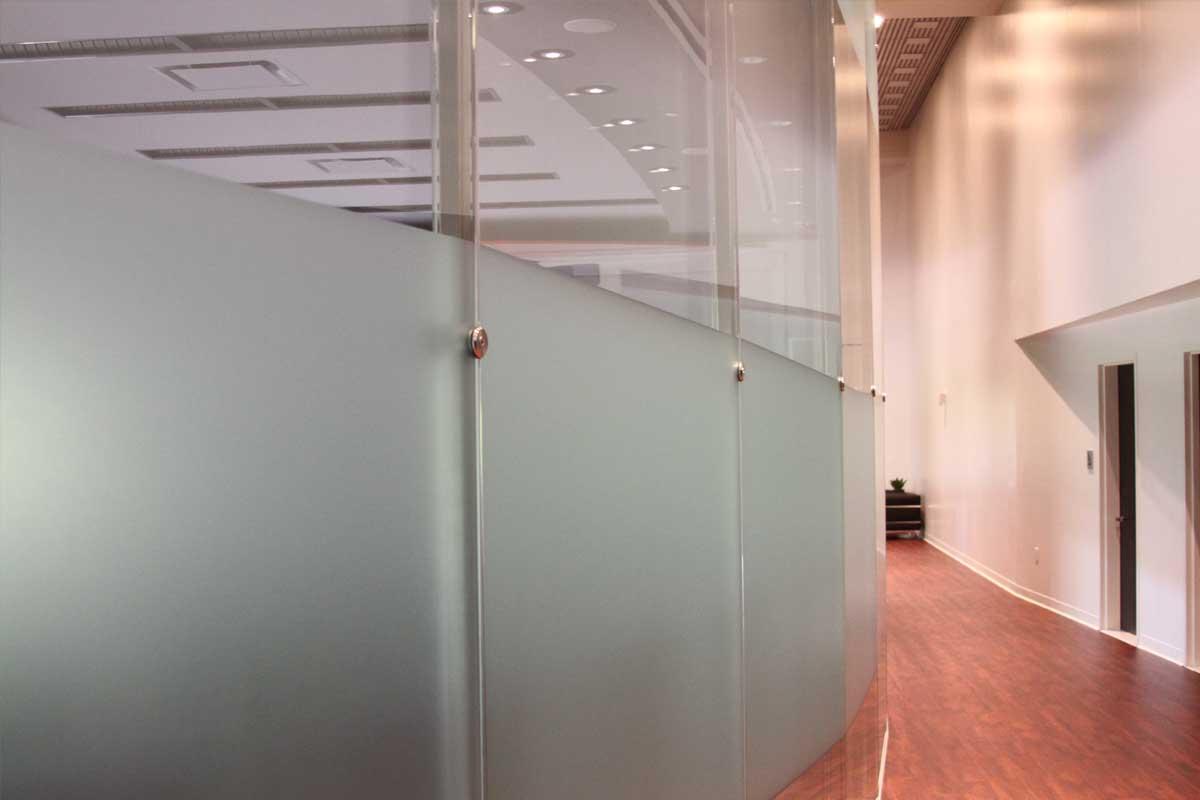 Sound privacy is a substantial concern in open office areas. Without separate spaces, conversations, typing, rustling, and other standard office noises travel through the office and can create an unpleasant and unproductive work environment.
Traditional walls block sound, but they also block natural light and don't have the flexibility of point-supported glass systems, which allow for unobstructed views while also reducing the amount of noise that travels through the space, disrupting those at work. When used to partition off conference rooms and smaller offices, they ensure that private conversations and transactions stay private and don't disturb the rest of the office.
4. Natural Light
Bringing natural light into a space provides a host of benefits. In addition to the aesthetic benefits of better lighting to showcase products or workspaces, natural light offers health benefits as well. From a reduction in rates of seasonal depression to a more productive work environment, natural light is one of the highlights of a workspace.
Integrating point-supported glass partitions in a large office, retail space, or trade show also passes these benefits on to clients and customers. The allowance of natural light can also help to reduce energy costs, such as heating and electricity.
5. Accommodates Large Spaces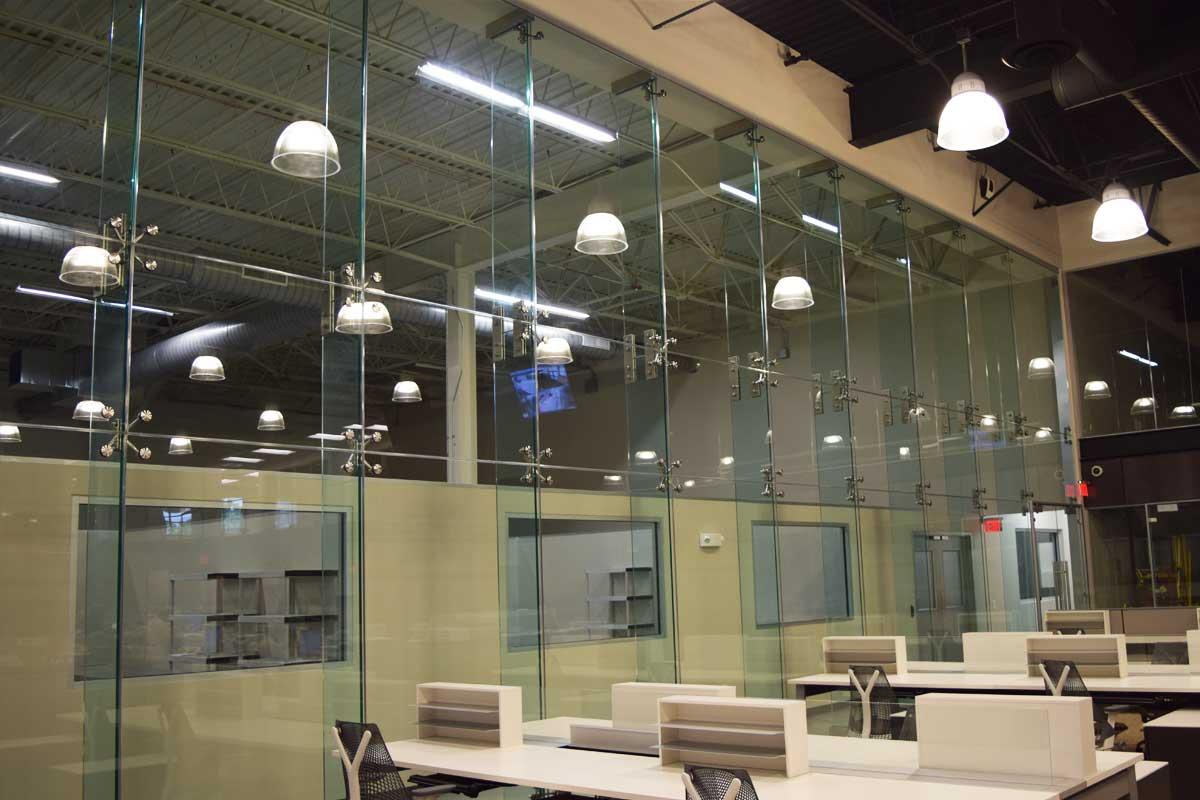 The Elevare™ Point Support Single Glazed High Wall System has a maximum panel height of 24' and width of 48'. These panels are the perfect way to tailor a large space to the specific needs of your business. Large offices, retail space, and trade fairs benefit from the flexibility of point-supported glass systems, especially those that make use of temporary spaces.
The flexible and modular separation of spaces allows you to create multiple areas for a variety of purposes. The point-supported glass panels are fastened to a solid wall at the perimeter and are supported by glass fins at the joints along the length of the system, making them able to accommodate wide spans and high ceilings.
Design Your Space with Avanti
Avanti's Elevare™ Point Support Single Glazed High Wall System is completely versatile and will meet the needs of your large space. To get started, you can request a quote today.