What was once an office-centric working culture has undergone a significant shift as the COVID-19 virus has upended life as we know it. Prior to the coronavirus pandemic and its impact on daily life, only 3.6% of the American workforce was working from home half-time or more. That equaled about 5 million employees. At that time, 43% of employees were working remotely with some amount of frequency.
As safer-at-home orders swept the country, people were forced into work-at-home situations that were less than ideal. The kids were home from school, spouses were also furloughed or working-from-home, and the fear of public spaces made taking breaks and getting out nearly impossible.
Even in the midst of the chaos, people are still managing to get work done, all while juggling their child's education, pet cameos on Zoom calls, and the constant presence of a significant other. This leads to the obvious question of what offices will look like as the world (eventually) gets back to normal.
Since remote work has proven to be a possibility for many more employers than had previously been using it and the fear and danger of spreading the as-yet-untamed virus is still very much alive and well, it stands to reason that work environments are going to undergo yet another shift. 
In the article "Tips for Returning to Work with Design and People in Mind," Pamela Hope states that "As businesses reopen and employees return to work, leaders are forced to consider social distancing within the office to keep employees, partners and customers safe."
Open office designs have been a growing trend, but "the high level of interaction between colleagues increased the potential for distractions, while a lack of privacy and the easier spread of illness also presented issues with the layout" (source). Despite the trend, open office spaces definitely had their downsides. Moving forward, open offices will have to adjust to new safety and sanitation guidelines which creates an opportunity to improve upon the existing open office design, making the office a safer and more comfortable and productive place to work. 
To prepare for the new needs of the modern office, there are a variety of open office design ideas that can ease the transition, creating a new and better office environment for everyone.
Blended Approach to the Workplace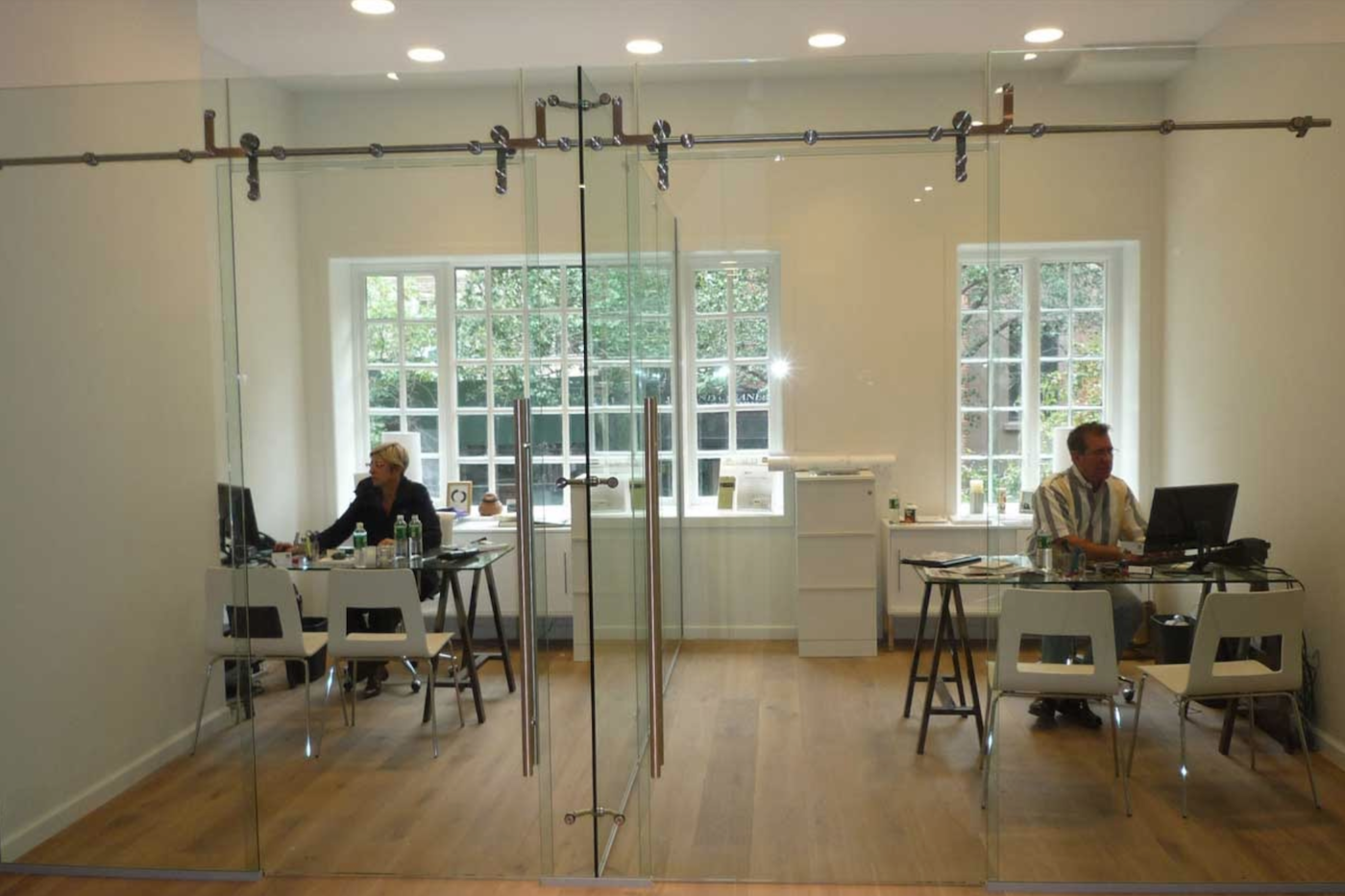 Despite only 3.6% of the workforce working remotely prior to the COVID-19 pandemic, at least 56% of employees have a job that could be done, at least partially, remotely. In addition, 62% of employees report that they could do their job remotely.
Some work is better done at the office or in face-to-face collaboration with team members, so this leads to taking a blended approach to the workplace. If an employee is just going to be sitting at their desk all day, that work could likely be done from home. Giving employees some freedom to choose when coming to the office will have the greatest impact on their productivity can reduce the number of people that are in an office space at any given time. 
If more structure is needed, some companies employ an A-B team schedule, where certain team members only report to work every other day, making room for more space between desks and fewer people in the office.
In either blended approach, where employees come in when necessary or in the more structured A-B team schedule, an open office plan can account for the recommended social distance of six feet by removing desks and workstations. When employees come into the office, they can choose to sit in any available workstation, disinfecting it before they begin working and after they've finished. This also eases the pressure on the maintenance staff as they would only have to clean half the number of workstations each night, giving them more time to focus on disinfecting and ensuring that they're safe for the next day's employees.
Dynamic Spaces
While open office designs have their disadvantages-namely lack of sound privacy and an opportunity for an easier spread of germs-their advantages are what keep them at the forefront of modern office design. With the ability to see who is available, colleagues can collaborate quickly and easily. Open spaces allow light to flow into and through the office, and this natural light comes with a host of benefits, including improving sleep and warding off seasonal depression.
As open office designs have evolved, they have moved away from spaces that are completely open and use only the furniture or architectural elements to delineate what spaces should be used for individual work and which for collaboration. These spaces now include physical barriers to better provide for visual and sound privacy, creating "optimized spaces such as meeting pods, collaboration rooms, and breakout areas" (source).
Creating Dynamic Spaces With Glass Partitions
In addition to allowing in natural light and enhancing the office aesthetic, glass partitions are demountable and movable, making them the perfect office design element as people begin returning to the office. Plus, in a Future Workplace study of 1,614 workers, it was found that "access to natural light and views of the outdoors are the number one attribute of the workplace environment."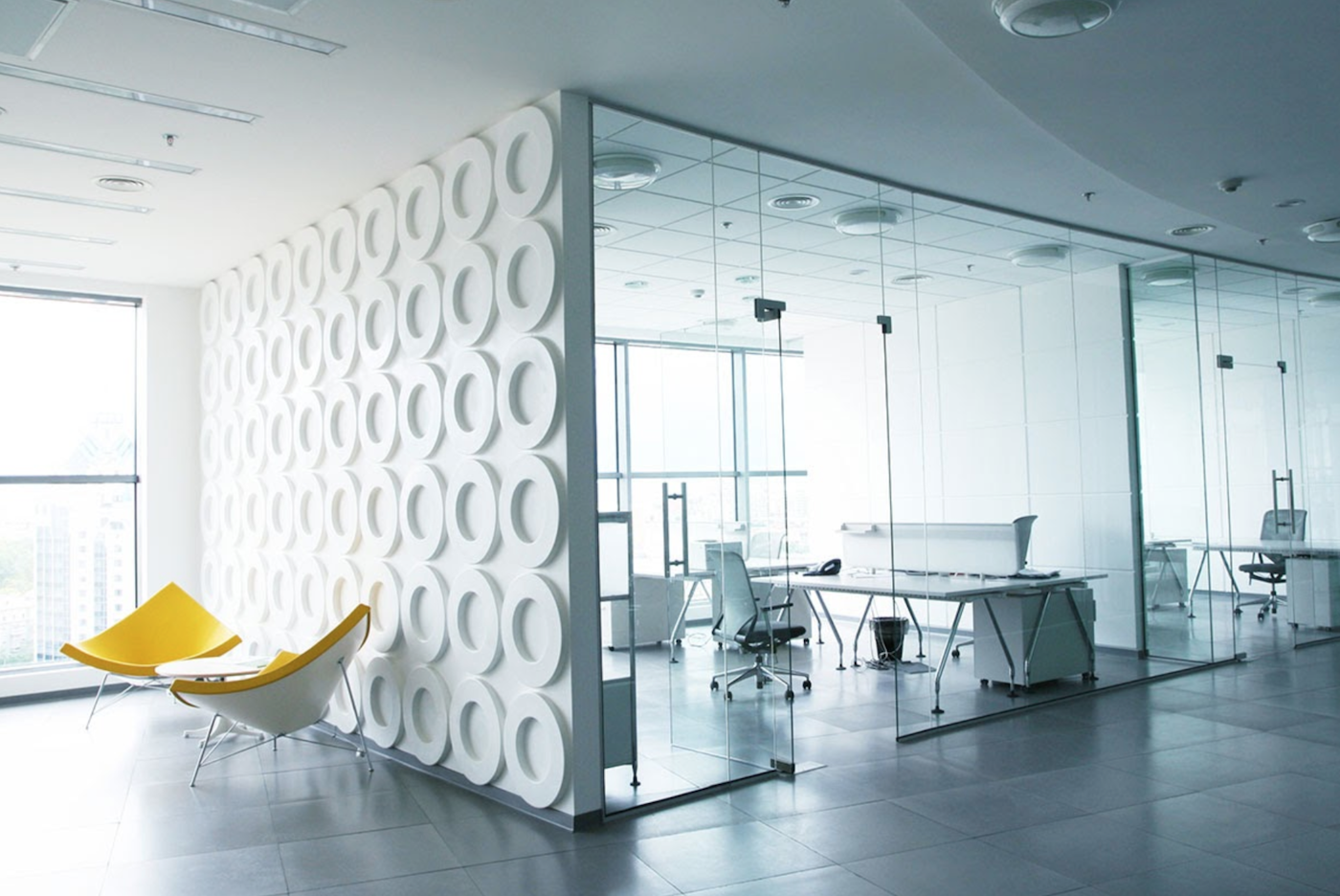 Glass barriers and partitions along with modular and movable glass walls create a workplace that can adapt to changing needs while adhering to social distancing and creating a safe environment for people to work in.
These glass barriers create the look and feel of an established office space, but they are flexible to allow for spaces to change from individual offices to larger conference areas or small group meeting rooms quickly and efficiently without having to remodel the office as would be necessary with traditional drywall.
Movable Walls
Movable walls create incredible flexibility in office design. Sliding open, they create air flow into spaces and visibility throughout the office.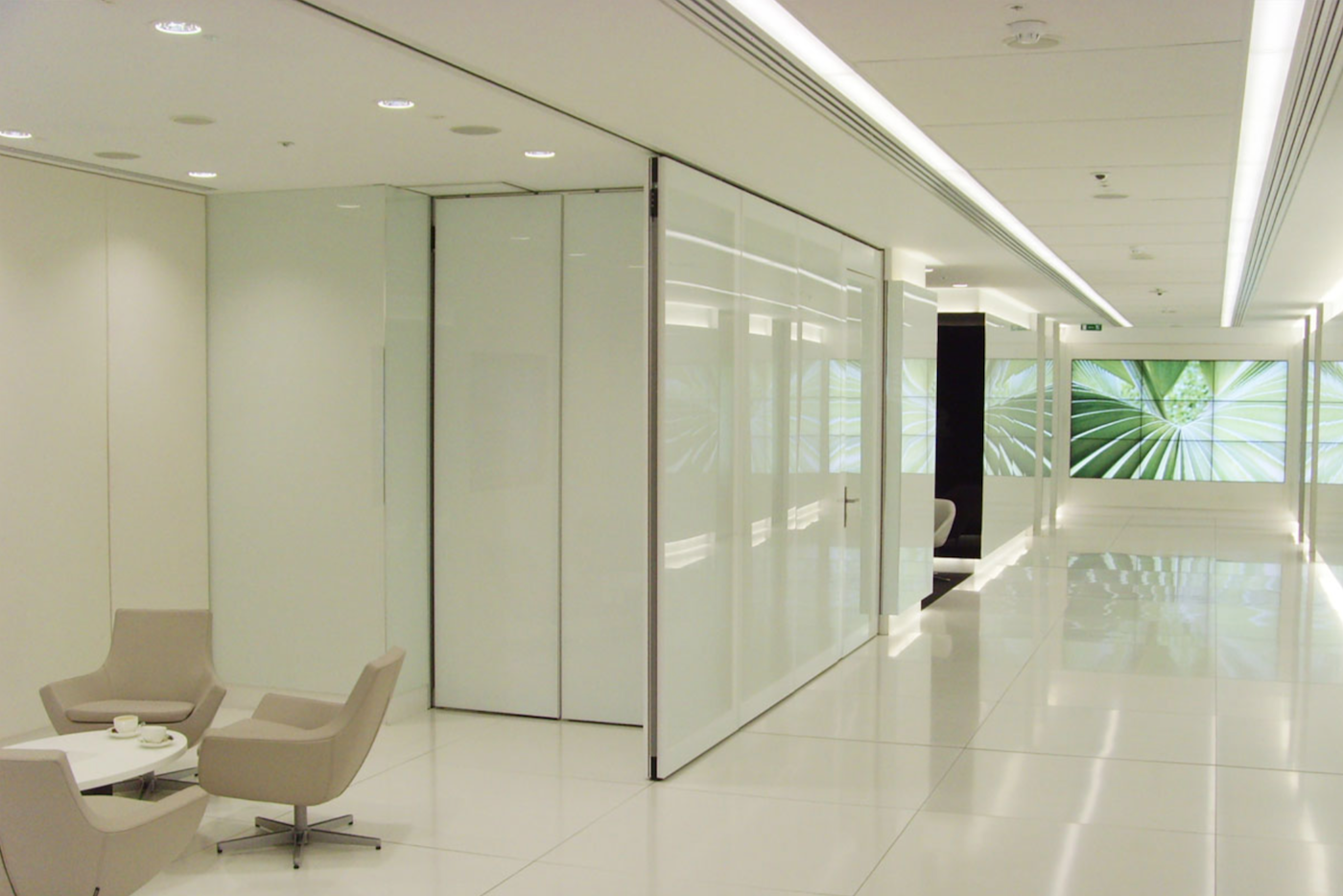 Sliding closed, they create more intimate spaces for private meetings and group collaborations. 
Modular Systems
If the COVID pandemic has taught us anything, it's that we really don't know what to expect from day-to-day life. This can also hold true for daily office needs, especially in the return to work amidst uncertain times. Modular glass partition systems can be easily installed and quickly reconfigured as needed.

Freestanding Partitions
Freestanding partitions can be installed nearly anywhere, allowing companies to provide barriers between people and offices that are easy to clean and sanitize. These partitions create stylish office cubicles that are far from boring, and help to maintain the feel of an open office without the fear of spreading germs.
Sustainable Design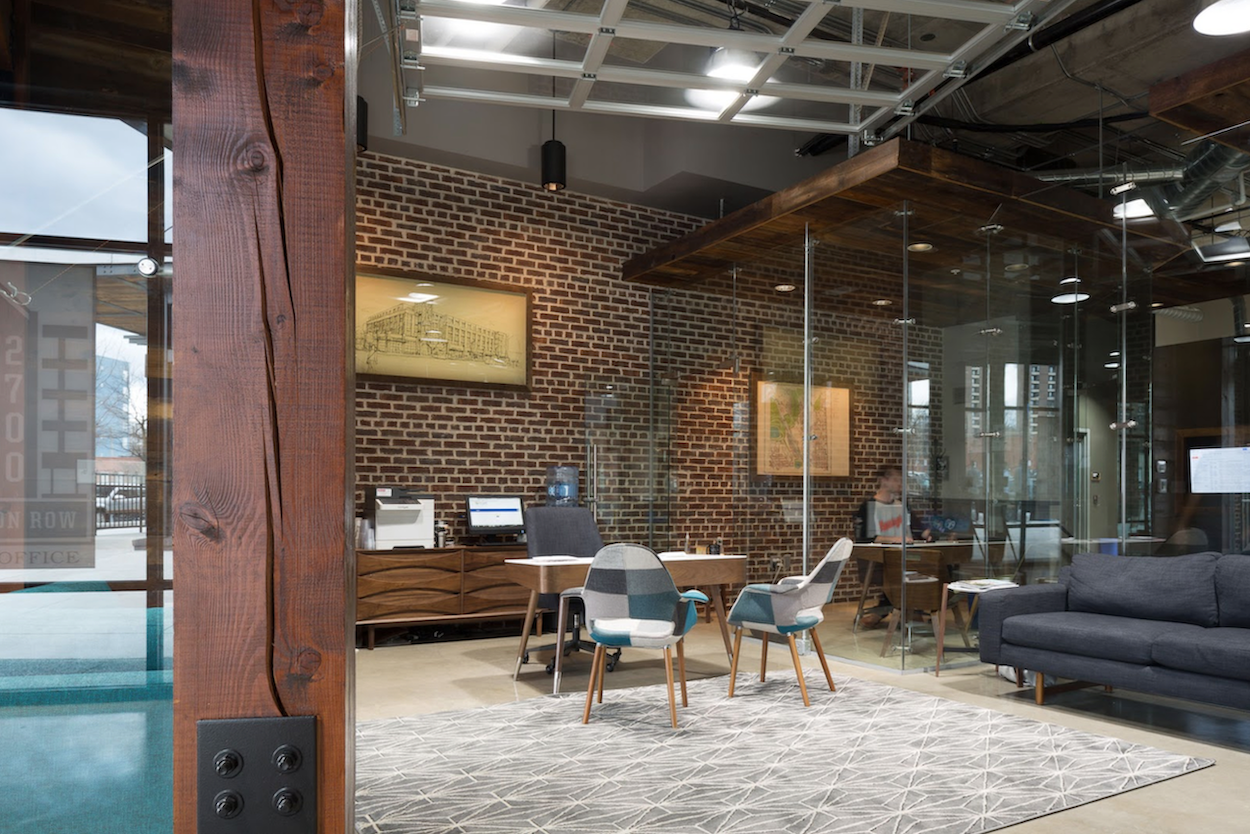 Moving into a post-COVID world is going to mean many changes, but one thing that isn't likely to change is the need for sustainable office spaces and companies that are socially responsible and ethical. In fact, 88% of millennials said that they want to work for a company that takes their social responsibility seriously, and "as a result, modern offices incorporate sustainable design and take energy-reducing measures." 
Using a blended approach to employee's work schedules can have an incredible impact on the environment. In fact, if companies allowed their employees to work remotely half of the time, it "would be the greenhouse gas equivalent of taking the entire NY State workforce off the road."
Designing open office spaces using glass barriers can also have an impact on the office's sustainability. Allowing natural light into the office reduces electric bills by providing light and heat. Because they are able to be reconfigured, offices can avoid costly remodels when their needs change, reusing their existing glass partitions and reconfiguring them as needed. When glass partitions need to be disposed of, they are recyclable, reducing the amount of waste that ends up in landfills.  
The Post-COVID Workplace
Make no mistake, the post-COVID workplace will look very different from workplaces just six months ago, but that doesn't mean that productivity and design need to be compromised. By getting creative with scheduling and office design, workplaces can be as comfortable and productive as ever while taking advantage of this time to make necessary changes. 
To better-prepare your office for a post-COVID environment, invest in Avanti Systems' lineup of glass doors and partitions