This beautiful Art Deco building was built in 1931 and designed by architects Sloan & Robertson. Located in Manhattan's bustling Financial District, the offices at 29 Broadway sought a contemporary space solution to create a conference room and smaller office cubicles. Avanti Systems' glass wall partition systems perfectly complement the Art Deco exterior and bring a contemporary feel to the office. They also offer flexibility for 29 Broadway's wide range of tenants.
A Bright Conference Room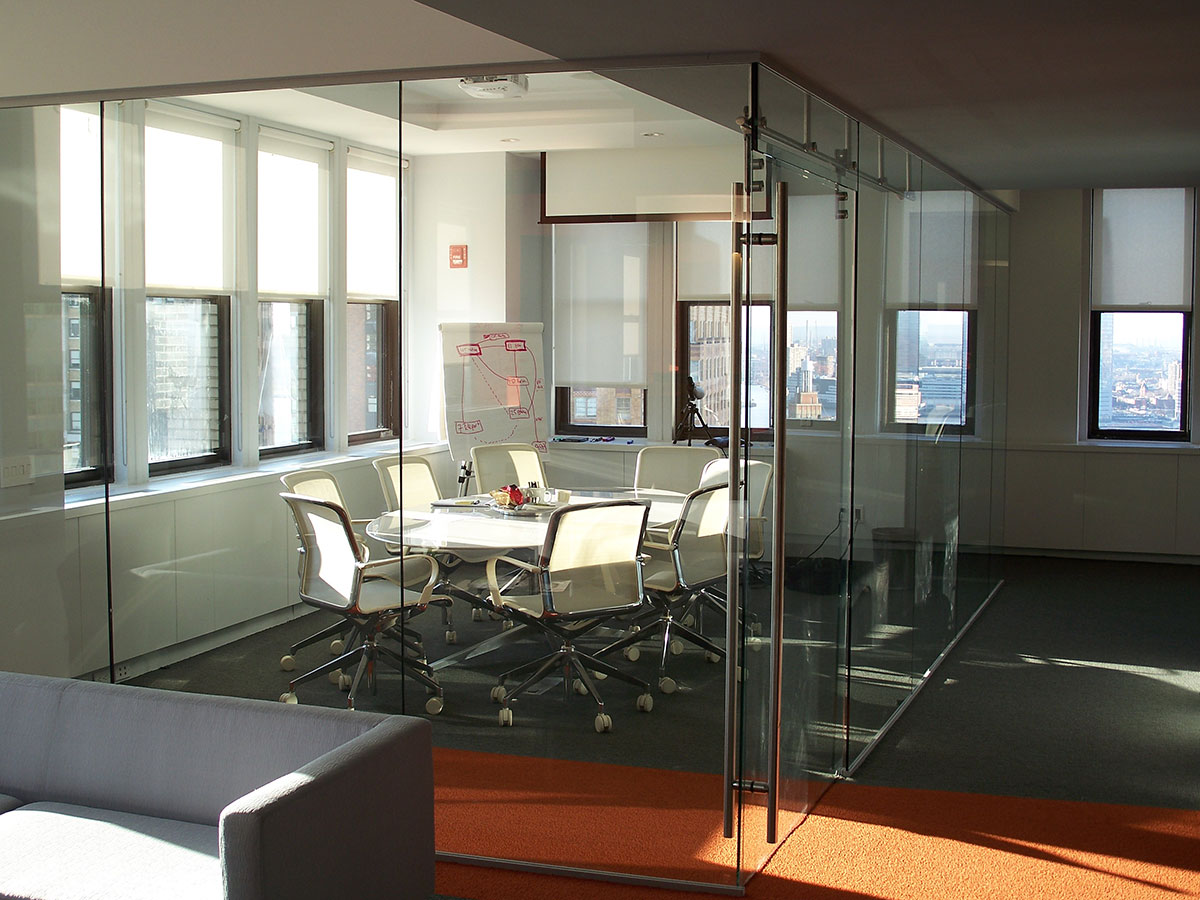 Positioned in a bright corner, this small conference room required a custom partition system. The Solare™ Single Glazed Partition System creates a space that accommodates a conference table and ample seating while allowing light to penetrate into the interior office area. This aesthetically superior alternative to solid walls was the perfect choice to partition off this space and create sound privacy while maintaining an open feel.
Stylish Barn Door Entrance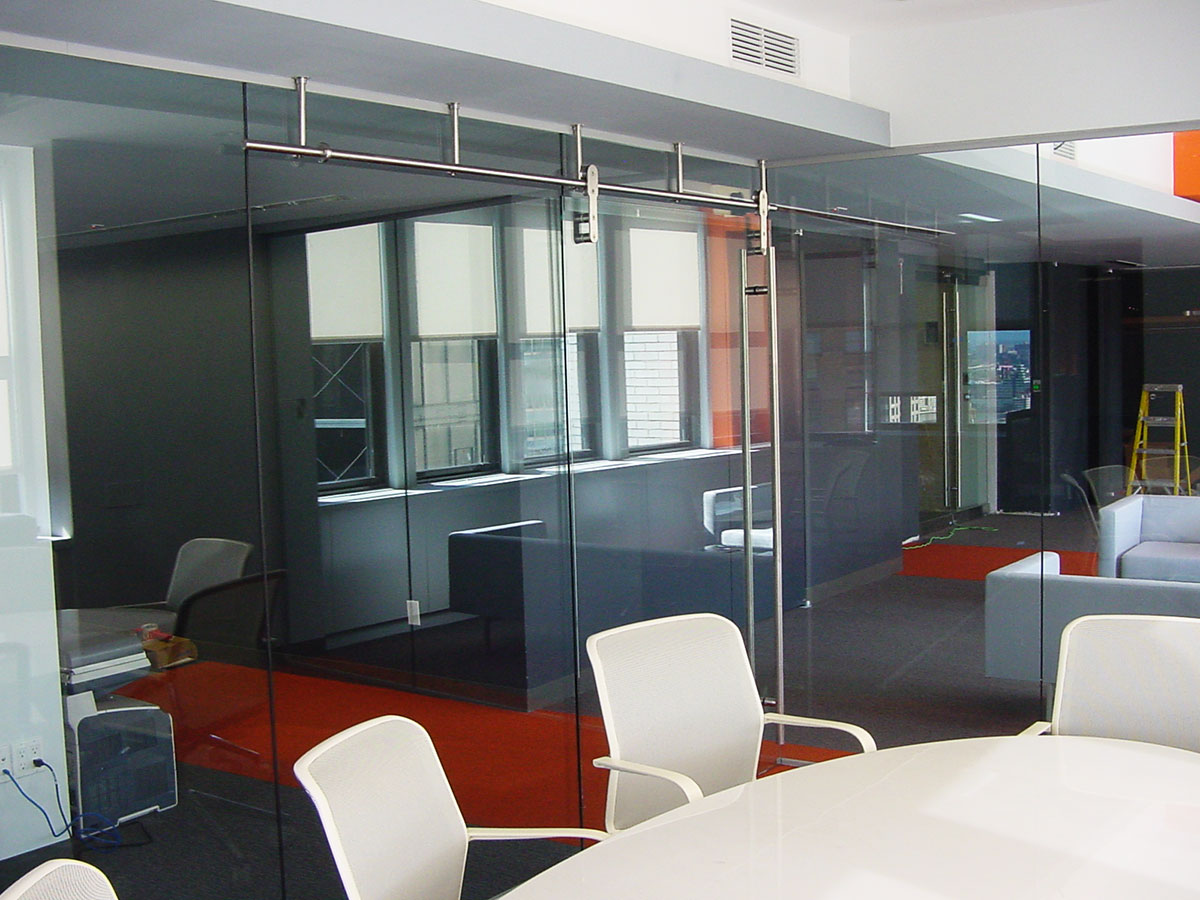 A ceiling (soffit) mounted Eclipse™ Sliding Glass Barn Door slides quietly on its track to prevent disrupting the larger office area. The sliding barn door uses a ladder pull handle with a brushed stainless steel finish for a sleek look and easy opening.
Sleek Office Spaces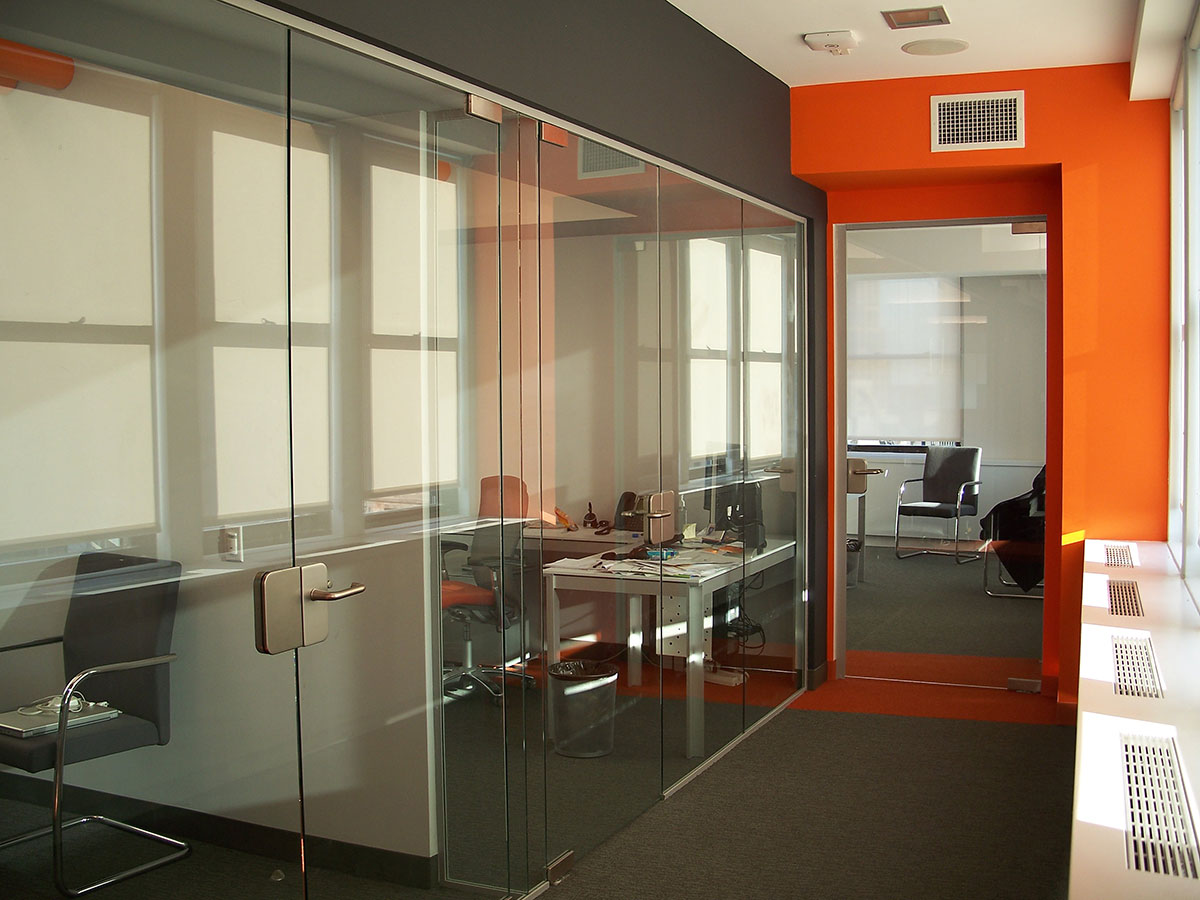 To organize their space into smaller offices, 29 Broadway utilized the Solare™ Single Glazed Partition System to create sound privacy without closing in the space. Leaving the glass clear and free of frosting allows those in the offices to benefit from sound privacy without compromising their view. The outer aluminum frame highlights the transition from wall to glass.
Effortless Access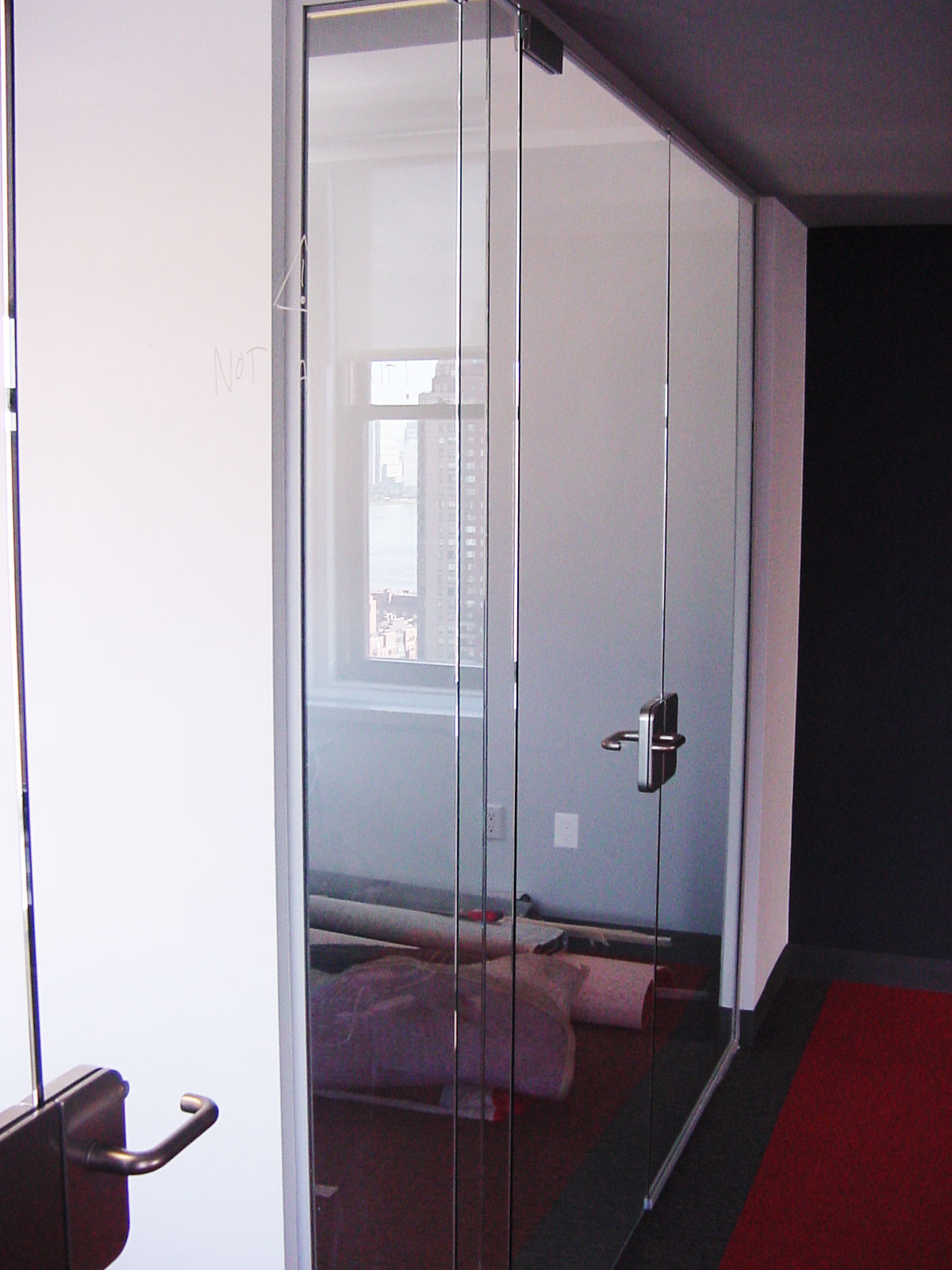 The Pivot Frameless Swing Doors installed in the single glazed office partitions are our luxury glass door solution. They are completely customizable and compatible with every partition system we offer, and they were a perfect fit for 29 Broadway's offices. The patch fittings are slim and sleek, allowing the two-way pivoting doors to provide smooth and easy access into and out of the offices.
Easy-to-Handle Hardware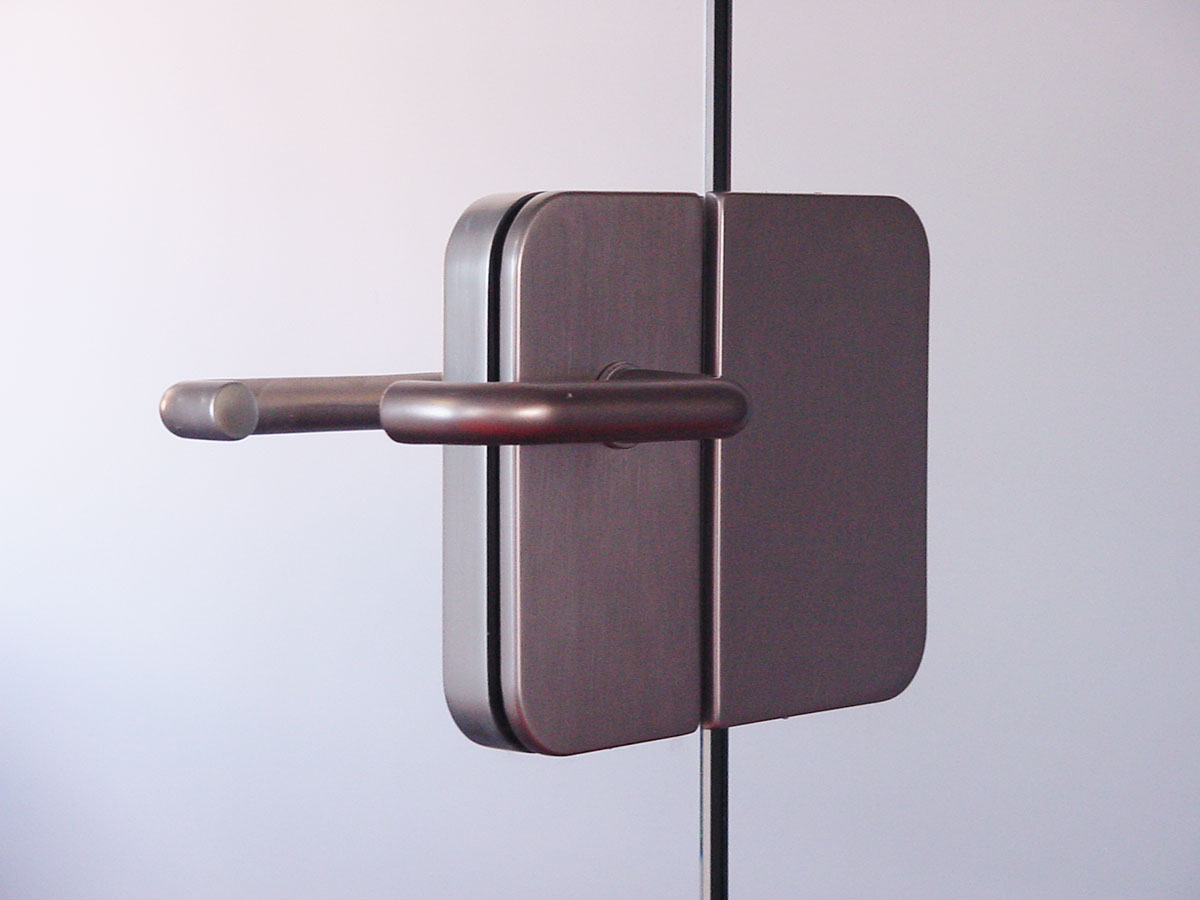 The hardware chosen for the 29 Broadway office doors is an easy-to-use lever, latch, and handle system. This style of handle makes offices accessible to the widest possible range of people. It features a brushed stainless steel finish for a  contemporary look that perfectly complements the Art Deco style of the building.
Contemporary Style Meets Art Deco Flair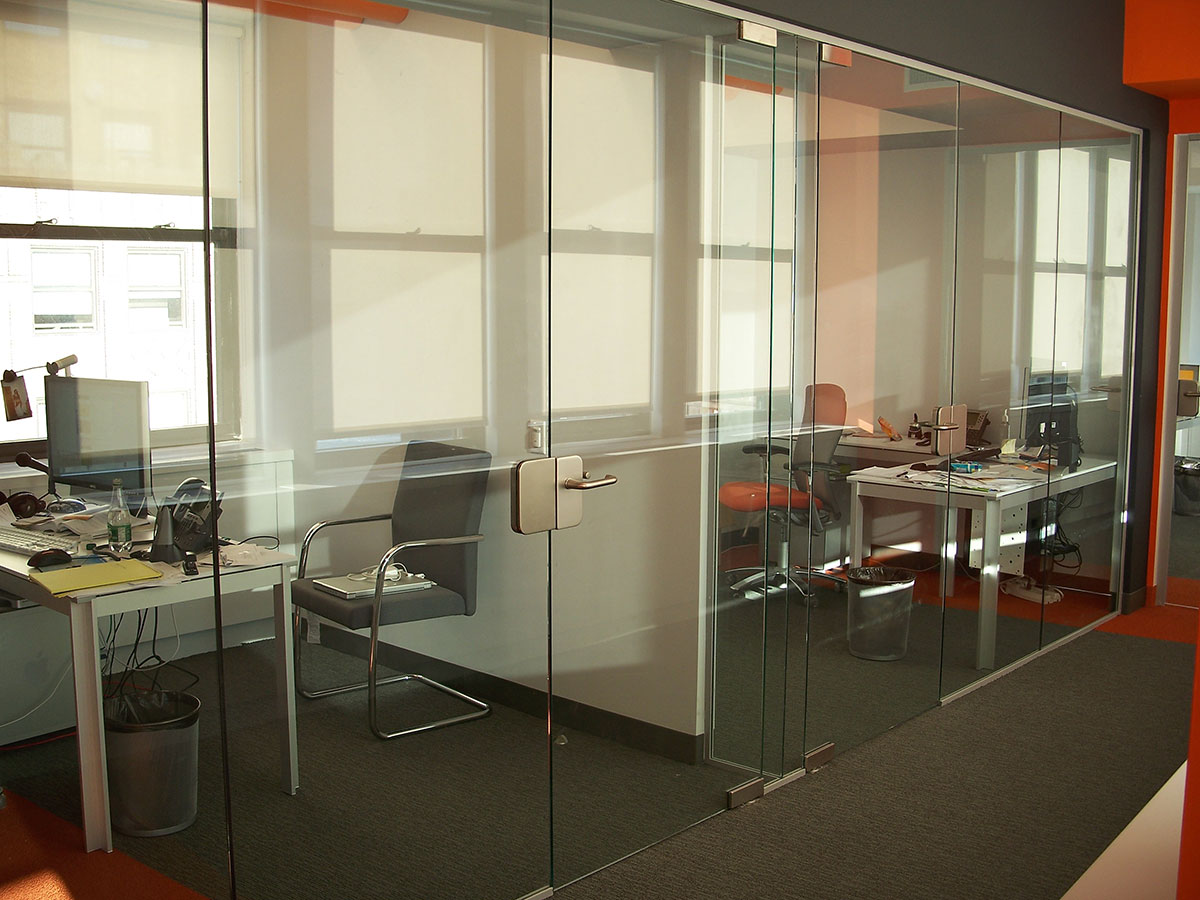 Integrating glass partition panels into 29 Broadway's offices creates a beautiful contemporary style that complements the Art Deco building in which they are housed. Employees benefit from the heightened flow of natural light to the interior of the building, and the easy-to-use handle access and pivot swinging doors create effortless entry. The unique touch of a sliding glass barn door to the conference room sets this design apart from a standard office space. 
Custom design and engineering ensured that we met the unique needs of this space at 29 Broadway. Tenants of this office are able to enjoy unobstructed views, plenty of natural light, and contemporary style in their historic Art Deco building. To begin designing your space, contact us at Avanti Systems today.