Remington Row apartments, located in Baltimore, is a creative space thoughtfully designed for innovators, trailblazers, and entrepreneurs as an inspiring place to call home.
In designing the Leasing Office and Closing Office, it was important that the first impression of Remington Row reflected its overall aesthetic. A blend of textures and materials makes the office space at Remington Row stand out as one of its unique amenities.
The welcoming space boasts natural light and high ceilings that invite prospective tenants to join the ranks of other creatives that call Remington Row home. Remington Row and its architects chose each element carefully and integrated Avanti products to achieve their vision of industrial charm.
A Stunning Statement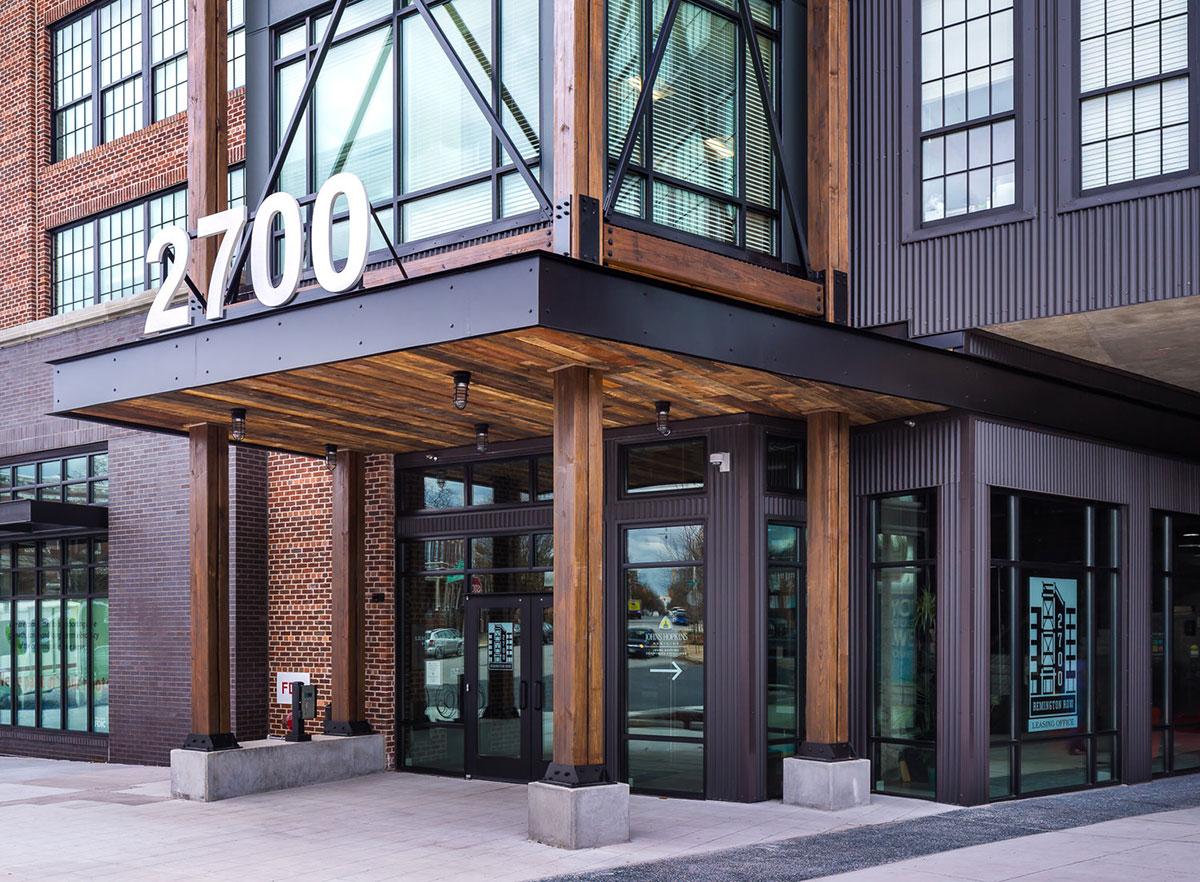 The entrance to the Remington Row Leasing and Closing Offices makes a stunning statement with its oversized address and heavy timber columns settled on cement risers. The intersection of rustic and industrial is on full display and gives a glimpse into the beauty of the interior.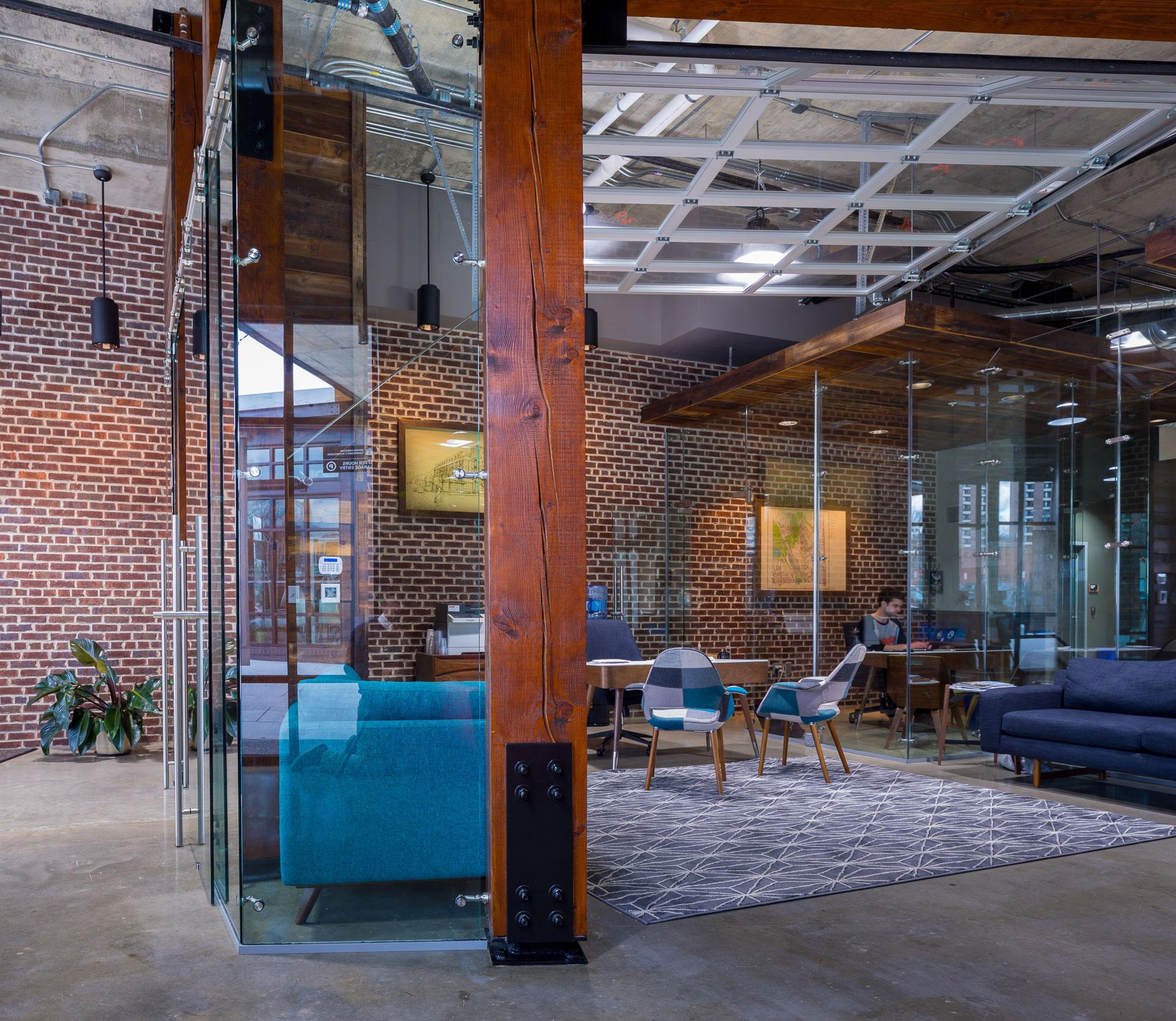 Upon entering, the glass partitions allow for unobstructed views and passage of natural light to the interior of the space. The integration of a fully operational garage-style door increases the open feel and industrial vibe.
Unconventional Angles
Rather than sticking to a typical rectangular office layout that relies on 90-degree angles, Remington Row made use of acute and obtuse angles to create a more interesting layout for their offices.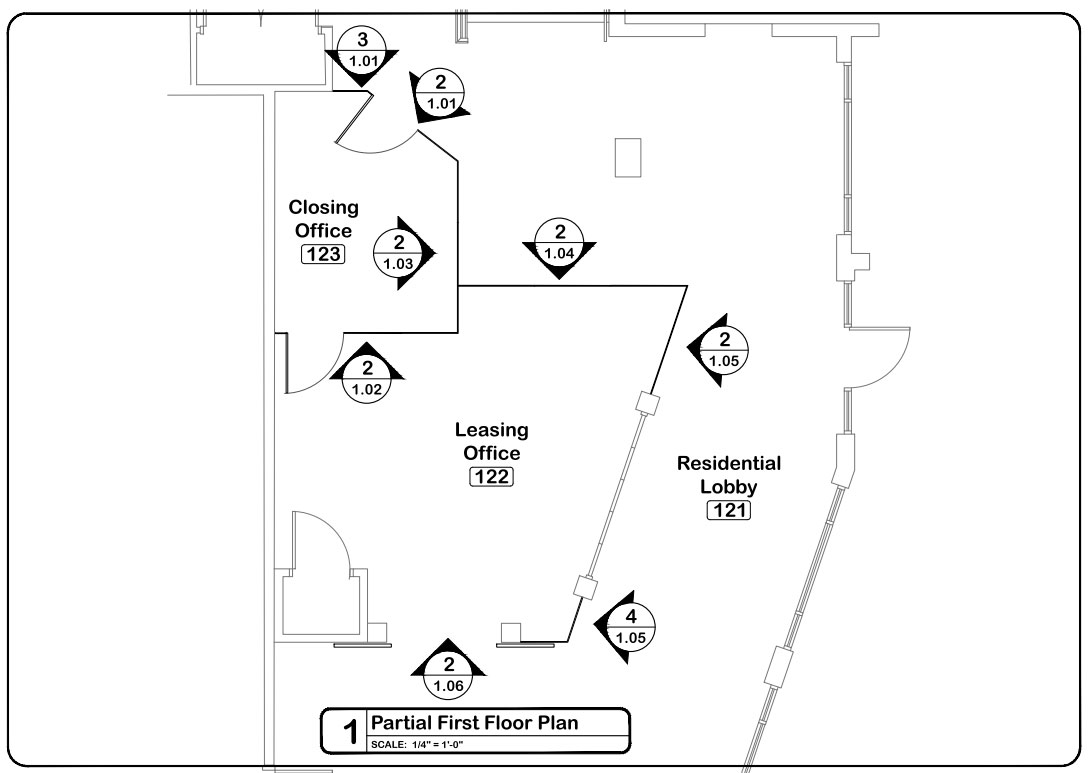 Our Elite™ Freestanding Glass Partition System allowed the glazing partitions to meet at these custom angles to create the perfect office space. This system stands independently in combination with stainless steel components and toughened glass panels, so they were the perfect choice.
Using just single point wall and floor fixings, the freestanding partitions can be placed anywhere they are needed. In the case of Remington Row, these partitions separate the Leasing Office and Closing Office from the Residential Lobby while still maintaining a cohesive space.
Sliding Glass Barn Entry Doors

The entrance to the Leasing Office is through a pair of Eclipse™ Sliding Glass Barn Doors. These doors can be integrated with our glass partition panels, traditional solid walls, or in the case of Remington Row, with both.
Remington Row chose wood planked walls on one side of the entry and glass partition panels on the other. The rustic inspired wood planked wall stands in beautiful contrast to the modern glass barn doors that slide smoothly on their tracks.
With a maximum height of 12', these doors were able to accommodate a taller than normal entrance. Completed with 60" Locking Ladder Pull handles, this barn door makes a bold yet welcoming statement.
Easy Access with a Pivot Door
The Closing Office entry is through a Pivot Frameless Swing Door. This luxury glass door solution is fully customizable and compatible with every Avanti partition system. In the case of Remington Row, it is integrated into the Elite™ Free Standing Glass Partition system. The door fittings and hardware feature a brushed stainless steel finish.
Industrial Charm Meets Innovation
Nestled in a vibrant neighborhood, Remington Row is designed as a nod to historic Baltimore factories. This modern take on industrial charm is achieved in large part due to the aesthetically superior glass partition systems and doors. For custom projects and design inspiration, check out all that Avanti Systems has to offer!