There are times when a meeting that originally was taking place in an open area suddenly becomes private. Whether confidential information is being shared or noise from outside the office becomes distracting, halting the meeting to get up and close the door can disrupt the flow of conversation and hinder productivity. Using a remote control to quickly and discreetly close the doors instantly increases privacy without creating a disturbance in the flow of the meeting and conversation.
Floor Plan Flexibility With the Help of a Remote Control Sliding Door
Today's offices are many times, a combination of public and private spaces with a growing tendency to be designed as an open floor plan. An open floor plan is a great space to encourage collaboration and the free-flow of ideas, but there are times when it may need to be broken into smaller spaces.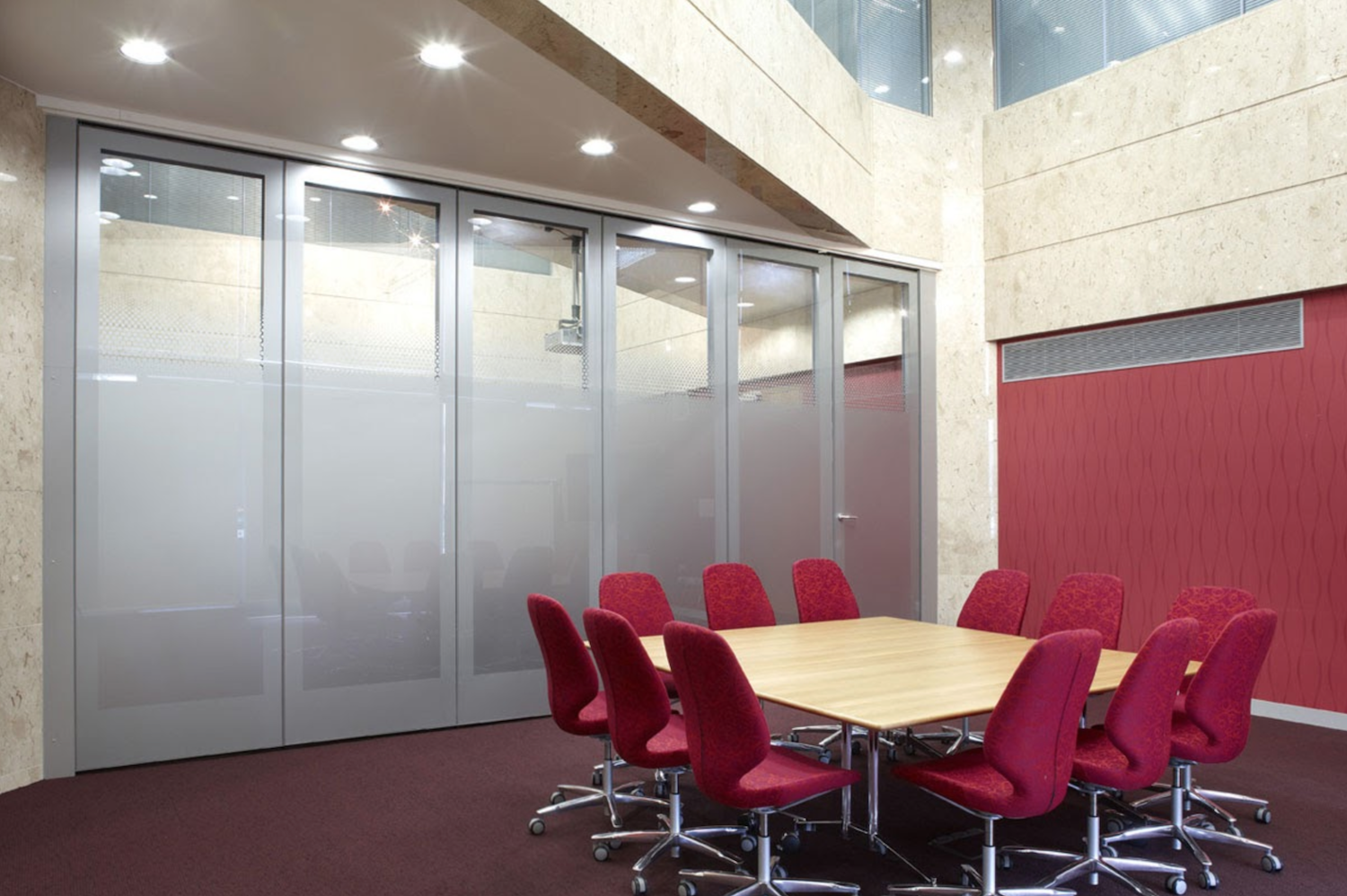 In the event that your company is holding a conference or gathering, smaller spaces may need to be used for breakout sessions while larger spaces are needed for keynotes. Remote control glass sliding doors create the flexibility to turn a large space into a smaller one with just the touch of a button.
Quick Collaboration With the Help of a Remote Control Sliding Door
The efficiency of a remote control sliding door means that collaboration spaces can be opened up quickly so little time is lost to reconfiguring space. The flexible floor plan that remote control glass sliding doors provide creates the option of opening up a small space into a larger one for quick large group collaboration. When the time comes for smaller groups to collaborate, the doors can be closed with the touch of a button to instantly create a more intimate space for sharing ideas.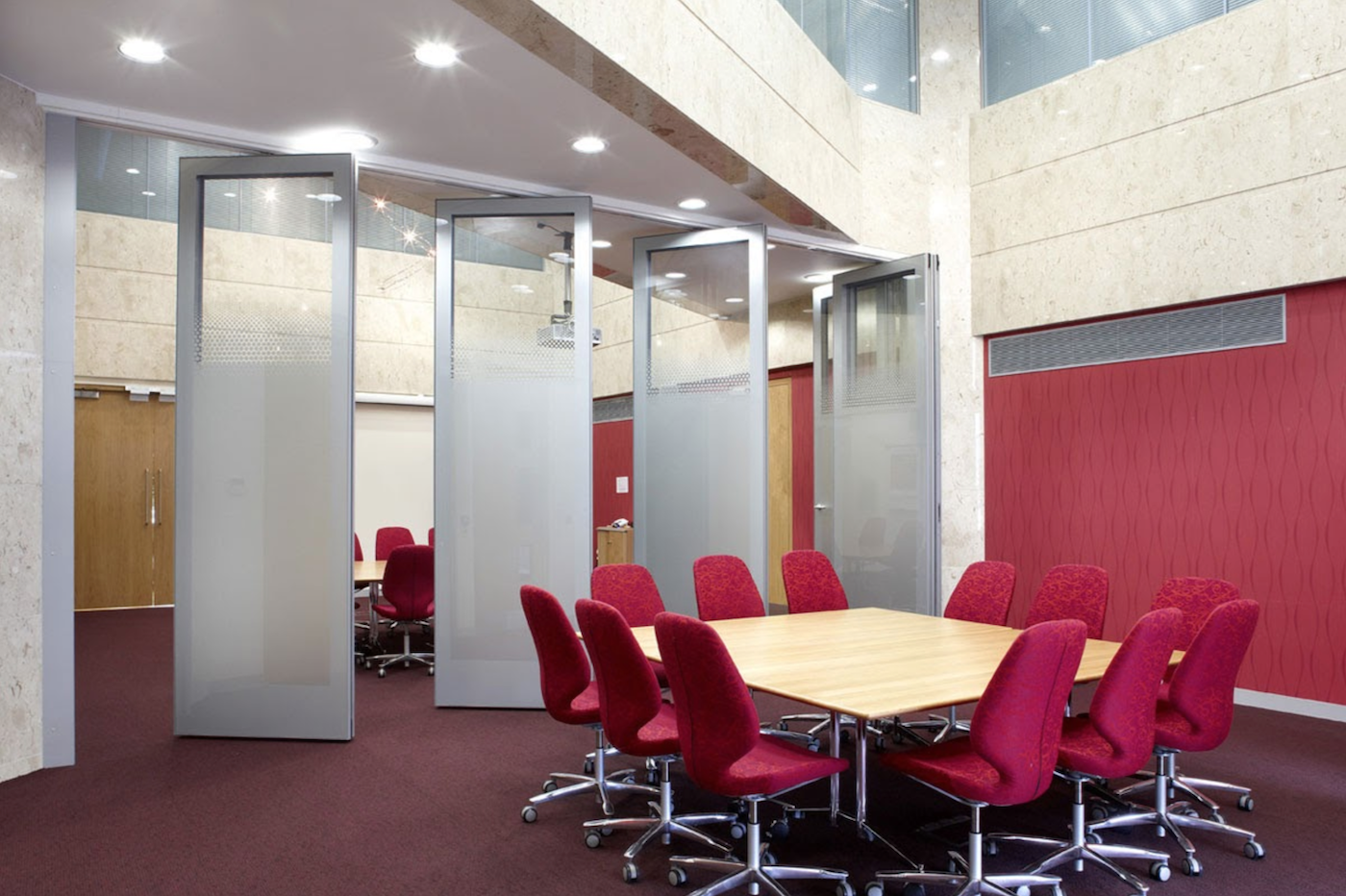 Reduce Touch Points While Maintaining Control
As businesses begin to reopen amidst concerns of Covid-19, much more attention is being paid to the way that employees and clients interact with their environment and in which areas touch points can be reduced. 
Unlike an automatic door, a remote control door gives more control over when the door is open or closed. Door handles are a common contamination point as many people touch them when entering or exiting an office. Using a remote control to open or close one or more doors at a time decreases the number of people that will come in contact with the common surface of the door handle. With one touch, doors are opened or closed, reducing the risk of contamination from when everyone must touch the door handle to enter or exit the room.
Customized to fit office aesthetic
Stylish remote control sliding glass doors come in a variety of styles and are compatible with a variety of glass partition systems. Available in a straight, angled, or curved configuration, the sliding glass doors can accommodate tempered, laminate, low-iron, or LCD glazing. The doors themselves can be wood or glass depending on what's needed to enhance the office design and aesthetic.
Where to Use Remote Control Sliding Doors
Remote control sliding glass doors are a perfect feature to incorporate into an office space, especially in a time where reducing touch points means increasing the level of safety in a workplace, allowing it to stay open for business. Remote control doors can reduce the spread of germs not only in high traffic areas, but also in areas where touching a surface is unnecessary.
Conference Rooms
Installing an automatic door in a conference room entry is one option to reduce touch points, but in that case, anyone walking by can activate the door, disrupting meetings and collaboration. Choosing a remote control glass sliding door gives more control over when the doors are open or closed. With one touch they can be opened prior to the meeting and closed once the meeting begins, eliminating the need to touch the doors when entering or exiting and maintaining control over the space.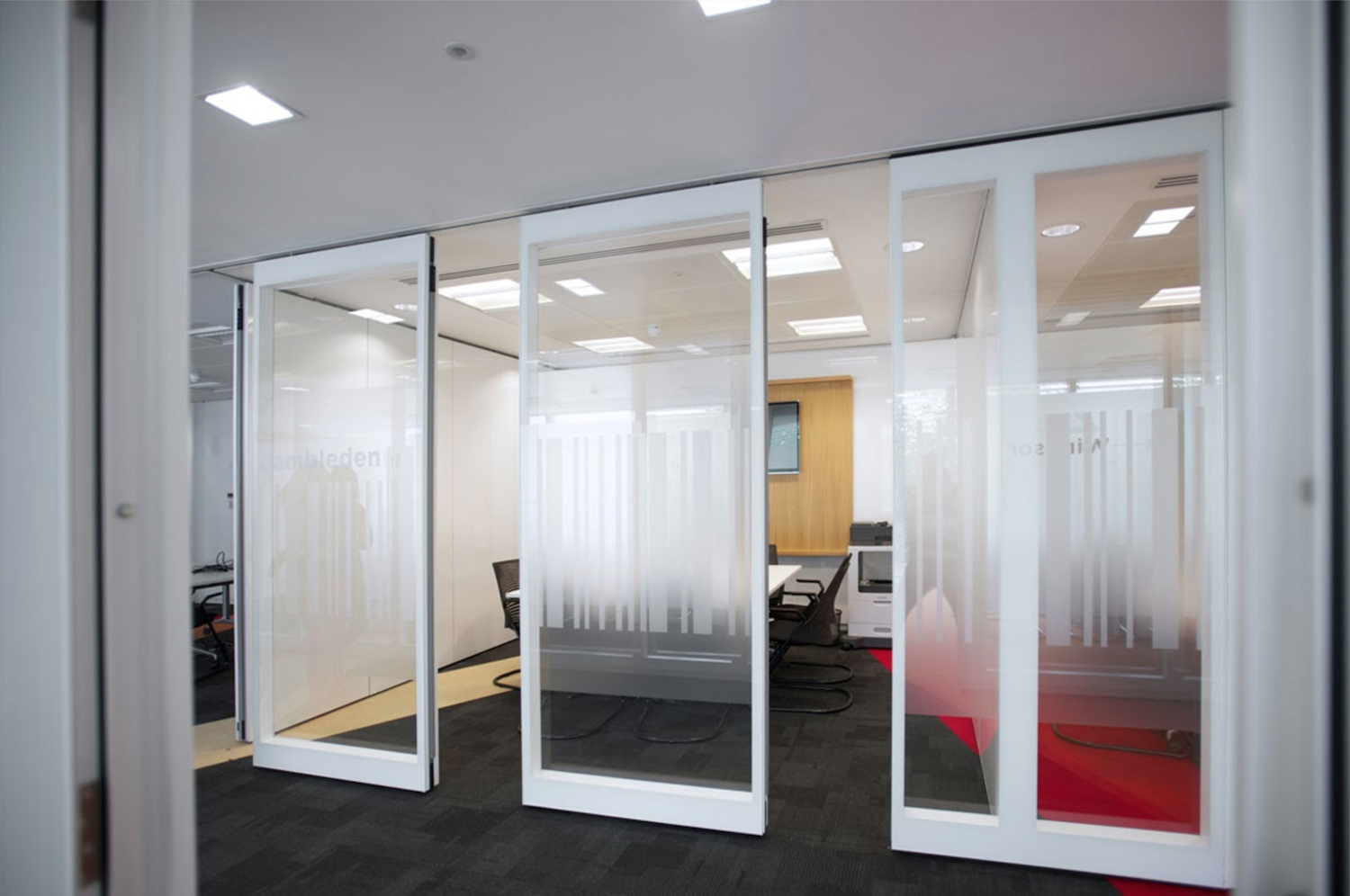 Individual Offices
Allowing easy entry into an individual office, remote control sliding doors give the inhabitant of the office control over who can enter the office with just the touch of a button. This also reduces the number of people that come into physical contact with the door, limiting the spread of germs and surface contamination, allowing employees to come and go safely.
Large Gathering Spaces
In addition to being able to quickly reconstruct an open office area to accommodate smaller areas, they are also able to be quickly converted into larger meeting areas when necessary.  Using the remote control to open doors continues to help prevent the spread of germs in larger areas as well.
Make the Upgrade
Using a remote control for your sliding glass door system will not only provide you with the ability to change privacy levels based on changing needs, but it will also provide a safer work environment for everyone by reducing the necessary touch points within the office. 
Avanti Systems is the best option when it comes to selecting a high-quality, remote control sliding door. Contact a sales representative and upgrade your office today.
Other Doors Resources