Designing an office requires an intentional use of the space available. From the layout of individual offices to the location of the conference room, once the big decisions are made, smaller decisions that can have an enormous impact on office productivity will follow. Decisions including where to place desks, plants, seating areas, coat racks, etc. can seem endless.
When office space is already at a premium, little things like providing clearance for hinged doors can quickly cut into the amount of workspace available and dictate the office layout. This, however, is a problem that is easily solved with the inclusion of sliding pocket doors in the office design.
Noise levels are always a concern in an office space, but including sliding pocket doors creates an office free from the distracting sound of banging doors as employees move between offices, clients are ushered in and out of meeting rooms, and people gather in the conference or break rooms.
Pocket sliding door systems allow the door to slide silently in between double glazed glass wall panels or traditional walls, tucking it out of the way and creating additional space to conduct business. The fact that it tucks into the wall means that office furniture can be placed where it is most needed without the worry of door clearance.
Sliding pocket doors have an ultra-modern design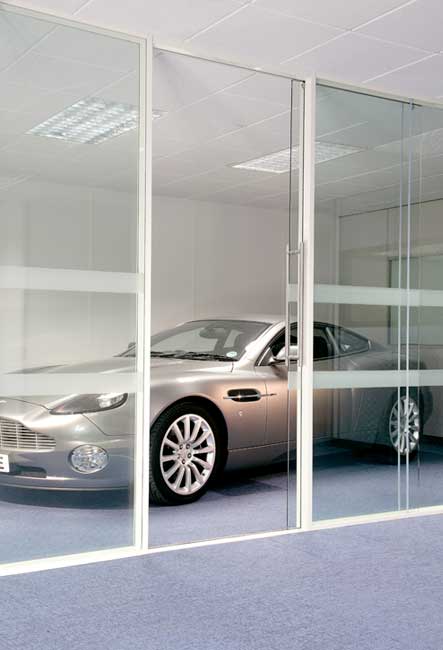 Sleek and modern, sliding glass pocket doors can even be integrated into an office space that features a showroom, giving customers and employees alike an unhindered view of the products that are showcased. The placement of the display can be exactly where it is needed without the worry of being in the way of a swinging door.
Compatible with glass wall partition systems and traditional walls
Whether the partitions in the office are glass or a traditional wall system, sliding glass pocket doors are compatible with each system and slide smoothly to tuck into the wall. A double-glazed glass partition system is created with two panels of glass, so the sliding pocket door can slide right into it, tucking out of sight, and its integration into a traditional wall system adds a modern touch and elevated design element to a traditional office.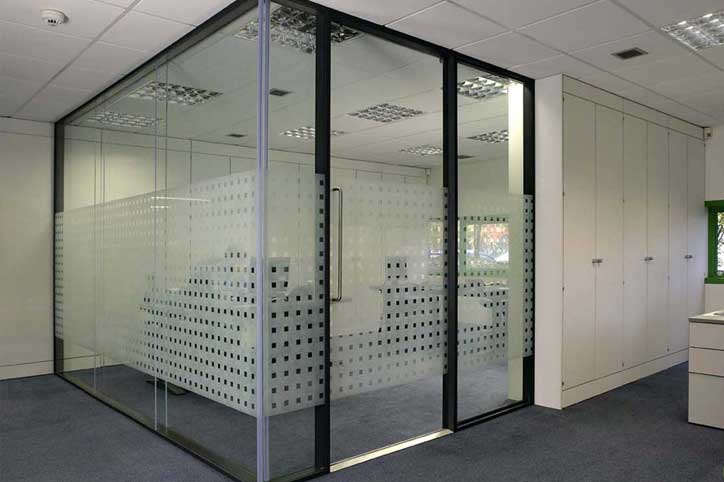 Glides smoothly and quietly on tracks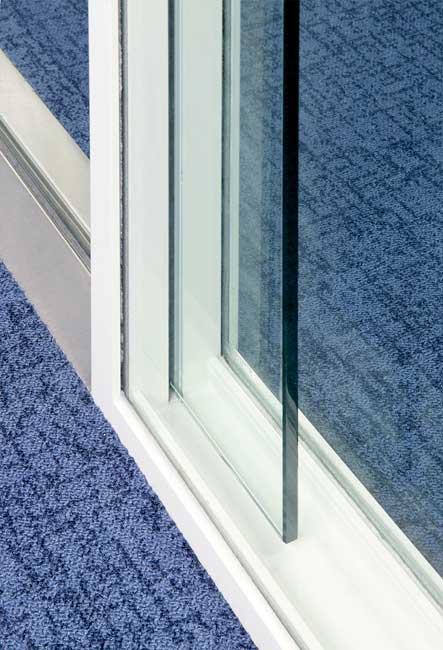 Retracting between the fixed wall panels, either a double glazed glass partition system or a traditional wall system, allows the sliding pocket door to slide quietly into place, neatly out of sight, saving space in the office design for office furniture or workspaces. It also allows for an uninterrupted flow of traffic in hallways and walkways since it doesn't swing out like a traditional pivot or hinged door.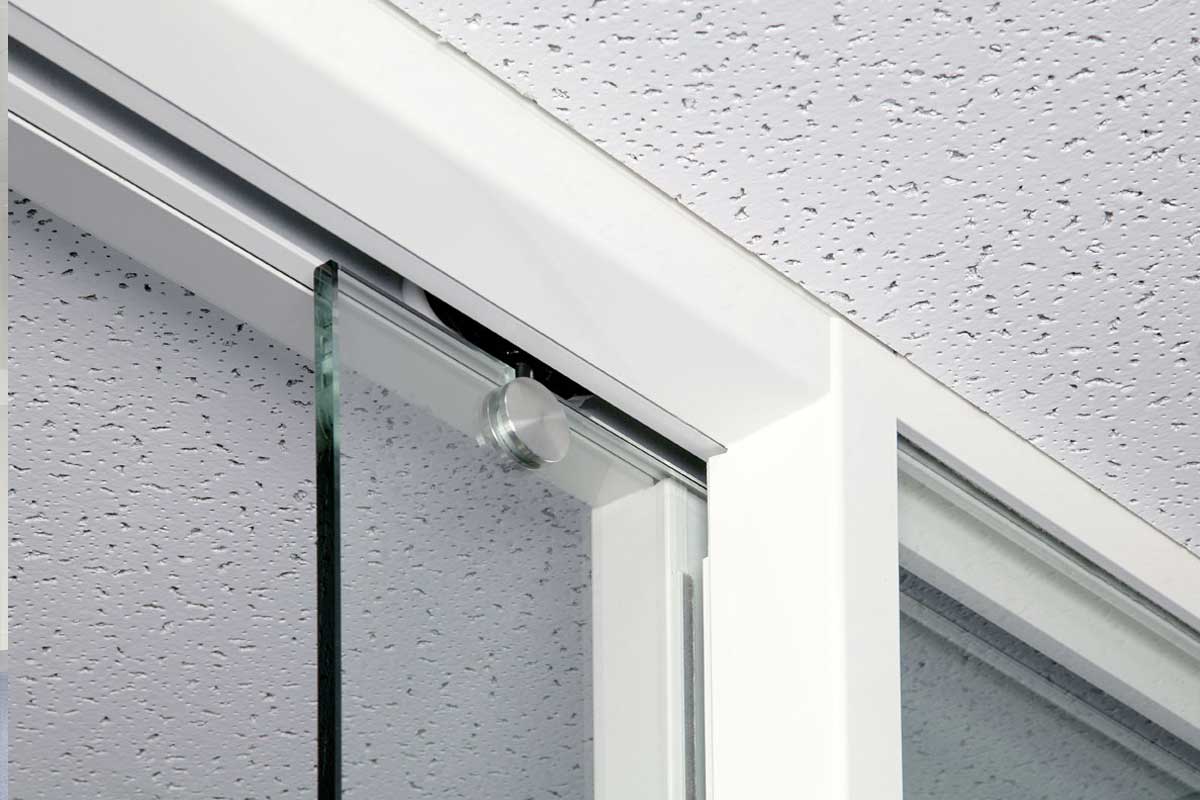 With different track styles available, not only will the sliding pocket door slide seamlessly and silently into the wall, but it will also complement the office design aesthetic, enhancing the overall design and feel of the office.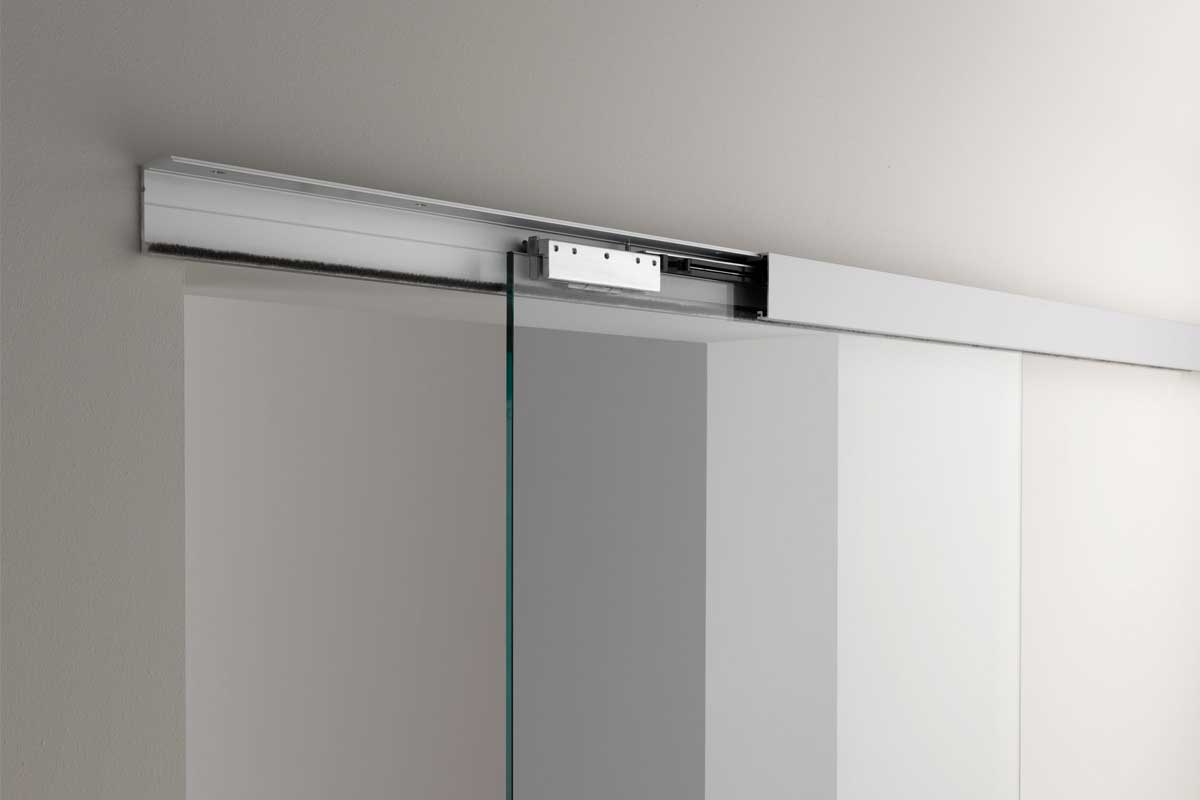 Can be integrated into a curved or straight configuration
Not only will a sliding glass pocket door save space in an office with a glass wall partition system or traditional walls, but it also features the ability to be integrated into a curved wall configuration.
This feature creates a truly unique office design and allows you to take advantage of the space available while designing an office that is both functional and interesting. Because it can be integrated into both curved and straight configurations, the sky's the limit when it comes to design inspiration.
Double doors available for wider doorways
Sliding glass doors can be used for single doorways, but in an area where a larger doorway is necessary, in a conference room, for instance, sliding pocket glass doors can be installed in a pair to create a sliding pocket door for a wide doorway. This allows for a smoother flow of traffic and a more open feel when needed.
Pocket sliding glass doors have customized opening ability
Another benefit to a sliding glass pocket door is its ability to remain partially open when necessary. Whether opening the door to let a breeze in, indicating that an employee is available for collaboration or questions, or simply providing a view into the larger office, a benefit of a pocket door sliding system is that it can be opened partially, allowing for a customized door opening.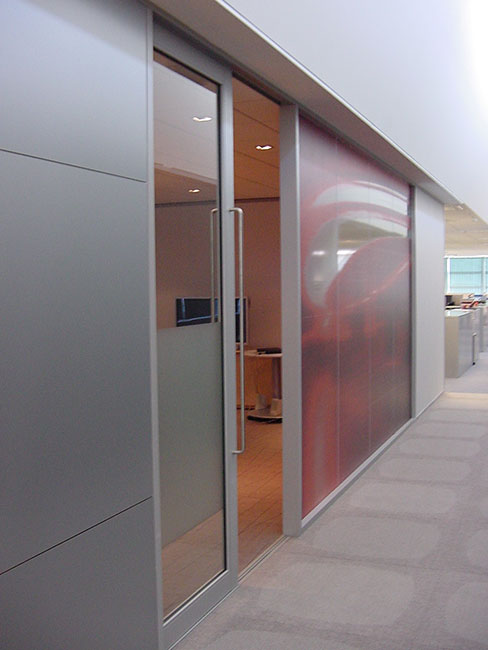 The perfect blend of form and function
Sliding glass pocket doors represent the perfect blend of form and function. They are sleek and modern while serving a greater purpose of creating the flexible space necessary for an ever-changing office where space can be used to its full potential.
Their ability to glide quietly on their tracks and disappear into the wall means that the days of having concentration interrupted by slamming doors are long gone. The smooth glide of sliding glass pocket doors means that, rather than the comings and goings of their office mates, employees can remain focused on what's really important and do their jobs to the best of their ability with fewer distractions.
For more information on incorporating sliding glass pocket doors in your space, contact an expert at Avanti Systems today.
Other Doors Resources