Solar power technology continues to evolve - emerging as a premier source of renewable, affordable energy. Rising to the challenge of making us less dependent on environmentally damaging fossil fuel, a growing cadre of architects are redefining the future of design by focusing on solar power integration.
The principle of solar energy remains unchanged: Photovoltaic materials capture the sun's energy, store it, and convert it for use as electrical power. However, present day science has transformed the concept from an impractical fantasy to a viable, cost effective resource that has the potential to revolutionize our energy consumption.
In order to optimize this technology, architects are being called upon to think far beyond securing those unsightly, bulky panels to the top of a building. In striving to create solar power buildings, they must consider issues like maximum sun exposure, heat distribution, and of course the all-important aesthetics.
Their mission to reduce our carbon footprint without sacrificing the appeal and integrity of building design means finding new and creative ways to merge the best of architecture and technology.
State of the Art Strategies:
Solar Roofing According to Elon Musk, SolarCity will be producing a roof that will eliminate the need for solar panels. The roof will be an example of sustainable energy that does not interfere with existing design.
Solar windows
New developments in windows will use monocrystalline photovoltaic (PV) cells to generate power in a building. The windows will still transmit light, but they will also collect solar energy in PV strips. Instead of being the notorious culprit in energy inefficiency, windows will be the solution. The system is already in use in the Willis Tower of Chicago.
Solar glass
Architects at Oxford Photovoltaics devised a way to print colorful glass that generates electricity by way of a transparent layer of solar cells, no more than 3 microns thick. Other research facilities are working on developing a sprayable form of solar paint that can be applied to plastic surfaces.
Solar walls
Vertical PV panels are a new innovation that is dramatically changing the way architects approach solar installation. Instead of overcrowding a roof, they have used exterior walls to collect the sun's power.
The Future is Now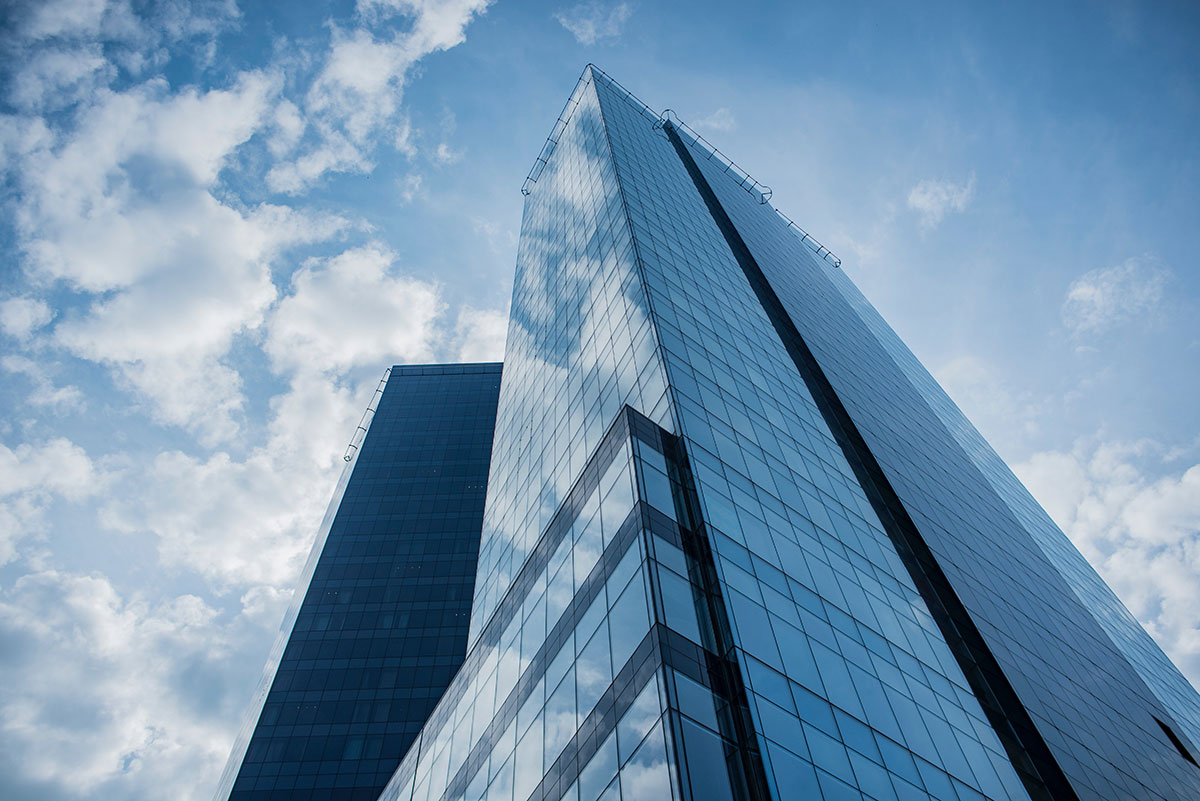 Apple's Spaceship HQ
Apple's new headquarters in Cupertino, dubbed the spaceship, will contain the largest pieces of structural glass ever made, as well as one of the largest solar arrays for a corporate building in the world. The thousands of solar panels will generate an estimated 16 megawatts of power.
Melbourne's Off-Grid Skyscraper
The design of a new 60-story apartment building in Melbourne, called Sol Invictus (invincible sun), integrates a façade wrapped in solar cells, supported with roof-mounted wind turbines, sustainable design and a massive storage battery system. The building's curved exterior will be positioned to capture as much of the sun's rays during the day as possible.
General Electric's "Solar Veil" HQ
General Electric's new sustainable headquarters will include a solar veil composed of solar slats that will let light through but not until it bounces off their photovoltaic surfaces. After completion sometime in 2018, GE expects its HQ to be certified as one of the greenest buildings in the U.S. As the sun inspires architects all over the world, the golden age of solar energy has just begun.

Like this post? Read more on sustainability with these four ways to make your workplace more sustainable, here.