Incorporating windows, glass partitions, and glass doors into the design of a business has a number of benefits. They allow light to flood into a room. They create a connection to the outdoors and provide the feel of a wide open space while still maintaining a separation between rooms.
---
In many modern offices, traditional glass panels are being upgraded for switchable privacy glass. With traditional glass panels, light can flood in, heating a room and causing you to use more electricity by running the air conditioning. Glare from the sun affects presentations on a projected screen. Privacy is minimized during an important meeting or consultation.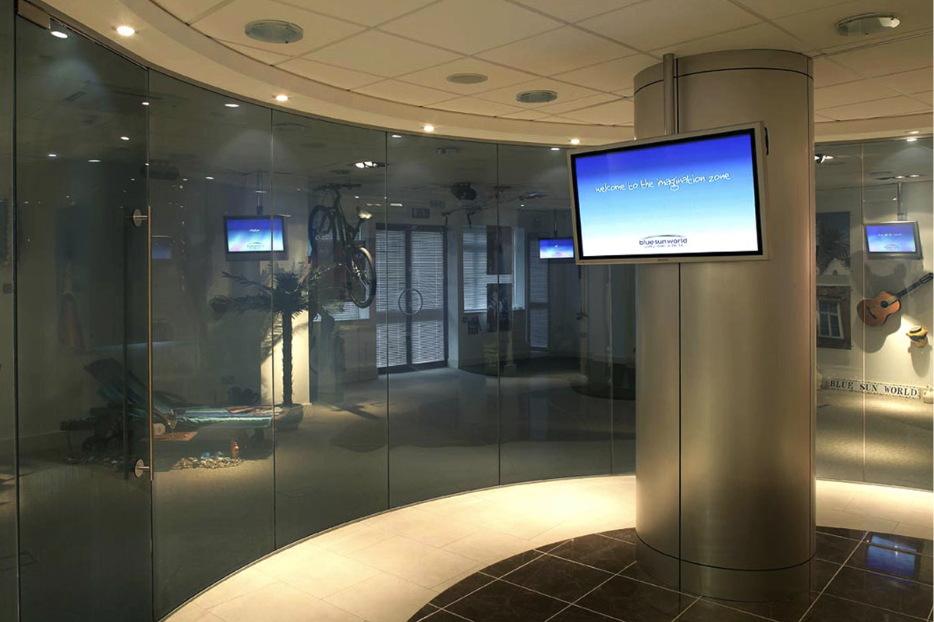 To combat these issues, we've traditionally used blinds or curtains, but that solution is outdated because of new and exciting switchable glass technology that can transform from transparent to translucent in 1 millisecond.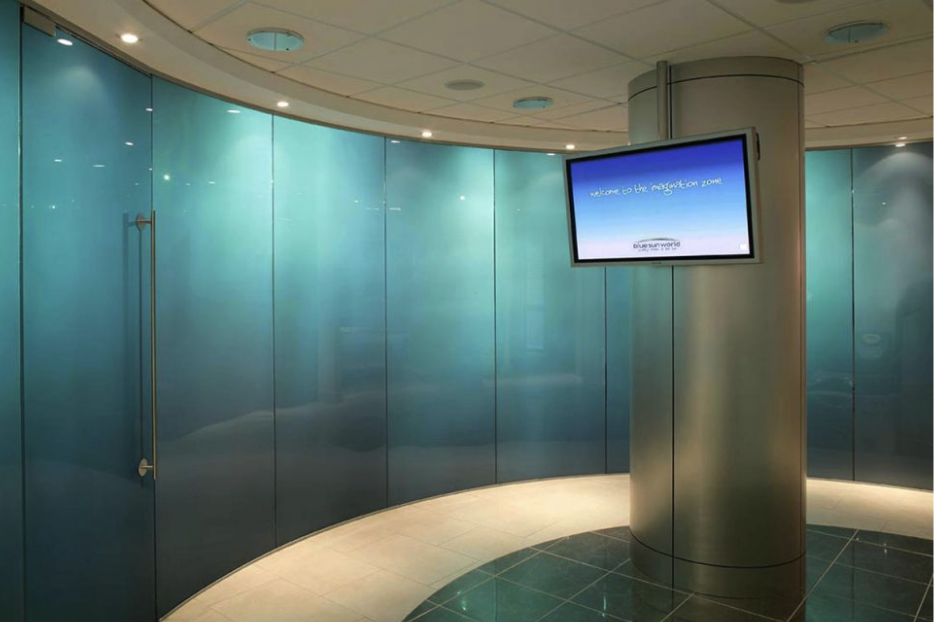 Imagine installing a wall with switchable privacy glass in your business. You can let light in and create a welcoming feel for partners and customers alike. With the flip of a switch, the switchable double glazing will cause the wall to become opaque to block unwanted light and glare.
Switchable glass partitions
in offices can create the feel of a large, open space, but when privacy is needed for a client meeting, just flip the switch, and almost instantly, you have privacy while still enjoying the soft light filtering through the now opaque partition.
Before we get into more of the benefits, it's important to understand how switchable glass works.
How Does Switchable Glass Work?
Electric switchable glass panels are created by layers of film installed on the glass made up of liquid crystals at rest. When these crystals are at rest, they are randomly scattered throughout, making the glass opaque. Using
Polymer Dispersed Liquid Crystal (PDLC) technology
, when electricity is applied to the glass, the crystals line up allowing light to pass through uninhibited, therefore creating a transparent window. When electricity is cut off, the crystals rest in their natural state, creating the milky white of a translucent window.
Benefits of Switchable Privacy Glass
The following benefits make it clear that switchable privacy glass is a great choice for the office.
Yes, this fact seems a little obvious. But the benefits of switching from transparent to translucent glass span a multitude of industries and purposes.
Offices - can incorporate switchable glass into their designs as switchable privacy glass doors and partitions allow meeting rooms and offices to be part of the overall design but will easily convert to a private room whenever necessary.
Hospitals - can utilize switchable privacy glass doors and partitions to create instant privacy for patients. They can then switch the glass back to transparent to observe the patients or allow them to feel connected to spaces outside of their particular rooms.
Hotels - can increase the feeling of space in what are otherwise tight spaces by using switchable glass partitions between the dressing area, sitting area, and bedroom while still allowing privacy when their guests need it.
Schools - can install switchable glass windows and switchable sliding glass doors with the ability to control light and incoming solar heat by switching from transparent to translucent.
Yes, this fact seems a little obvious. But the benefits of switching from transparent to translucent glass span a multitude of industries and purposes.
2. It allows light to filter in
When you switch from transparent to translucent, the opaque finish on the window still allows light to filter in. So, whether you're in a conference room or a hospital room, you'll still feel a connection to the outdoors and receive the benefits of natural light as it filters through the translucent glass while still maintaining privacy.
3. Eliminates the need for window coverings
Choosing and incorporating window coverings into an office can create added hassle in the design process. A benefit of switchable privacy glass is that is will enhance the aesthetics of the office, creating sleek partitions that are both versatile and functional.

In hospitals, curtains and blinds harbor germs and come with the added costs of frequent laundering. Installing switchable glass, however, can improve germ management in hospitals.

They'll also reduce the amount of time spent adjusting curtains and blinds to block the sun as it continues its constant motion throughout the day. With switchable privacy glass, all you have to do is flip a switch and the glare will be blocked.
4. Reduces electricity costs
Switchable glass panels have the potential to substantially reduce your electricity costs while adding convenience to your life. They can reduce glare and heat from the sun in the summer, reducing air conditioning costs.

The need for lights and lamps is also reduced by creating a more open space and allowing natural light to filter through more areas of the business than if a solid wall was used as a partition. The switchable glass panels can then become translucent when needed for privacy.
Consider the Benefits of Installing Switchable Privacy Glass
Overall, the benefits of switchable privacy glass make it the easy choice for your business. Installing switchable glass in your office will create savings, customization, and flexibility in your space for years to come.
For more information on how your space can benefit from incorporating switchable privacy glass, contact a professional at
Avanti Systems
today.