A modern office deserves modern conveniences. One modern convenience is the integration of tempered glass sliding doors. Offering safety and ease of installation and use, sliding glass doors are the perfect choice for your office.
What Is Tempered Glass?
Tempered glass has undergone a specialized heat-treatment process. Glass is run through a tempering oven and then goes through a quenching process. Quenching is a process during which "high-pressure air blasts the surface of the glass…[then] cools the outer surfaces of the glass much more quickly than the center" (source).
Through this process, the center of the glass cools more slowly than the outer edges. The center then tries to pull back from the outer surfaces. This creates tension in the center and compression in the outer surfaces.
As a result of the tempering process, tempered glass is four times stronger than regular (annealed) glass. Tempered glass typically won't break until 24,000 psi (pounds per square inch) is applied. Annealed glass, on the other hand, will break at 6,000 psi.
The tempering process creates glass that is much stronger and more resilient to force than standard glass. In the event that it does break, it breaks into smaller pebble-like pieces. Where annealed glass breaks into jagged shards that can cause significant injury, the pieces from tempered glass are much less harmful.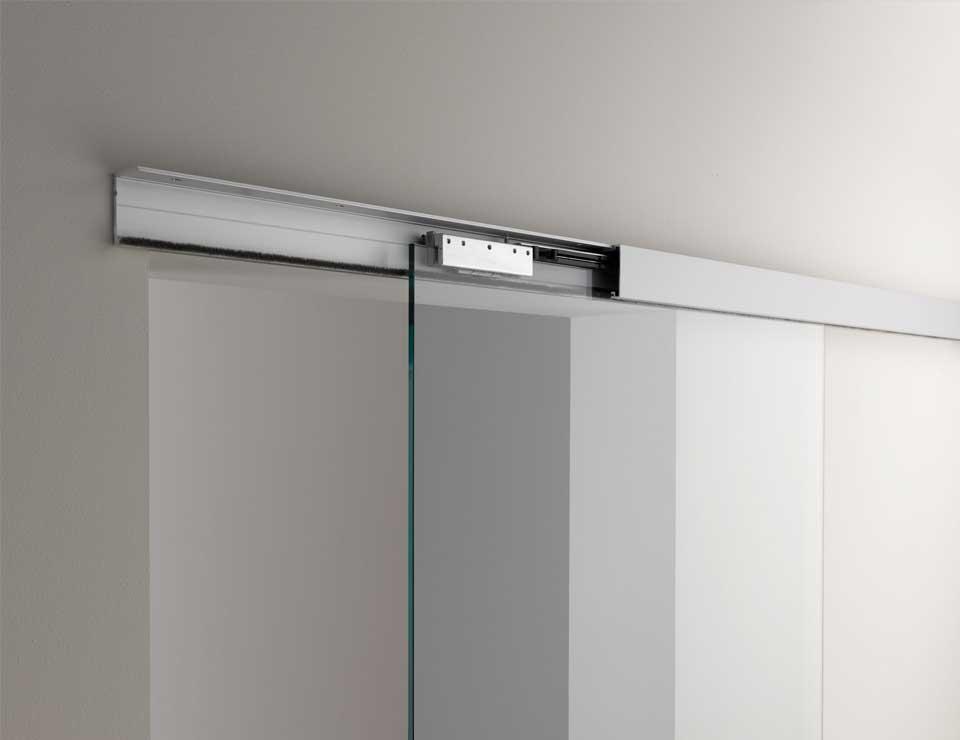 Why Choose Tempered Glass Sliding Doors for Your Office?
Office spaces must adhere to the International Building Code which requires safety glazing materials such as tempered glass to be installed in hazardous locations. One such location is the glazing in doors. According to the IBC 2406.4.1, "glazing in all fixed and operable panels of swinging, sliding and bifold doors" are defined as being hazardous locations.
With this in mind, tempered glass not only meets building code requirements and increases safety, but when it is installed in a sliding glass door, it has additional benefits.
Sliding glass doors allow employees and clients to move swiftly through the office without the disruption that traditional doors cause as they slam closed. They also remove the need to attach door stoppers where traditional doors can slam against the wall, marring its surface.
Tempered Glass Sliding Door Designs
When you're designing your office, there are a variety of sliding glass door styles to consider. Each sliding glass door fits with a variety of design aesthetics to create the perfect office. And in the event of an impact, you can be sure that tempered glass sliding doors provide the safest option.
Sliding Glass Barn Doors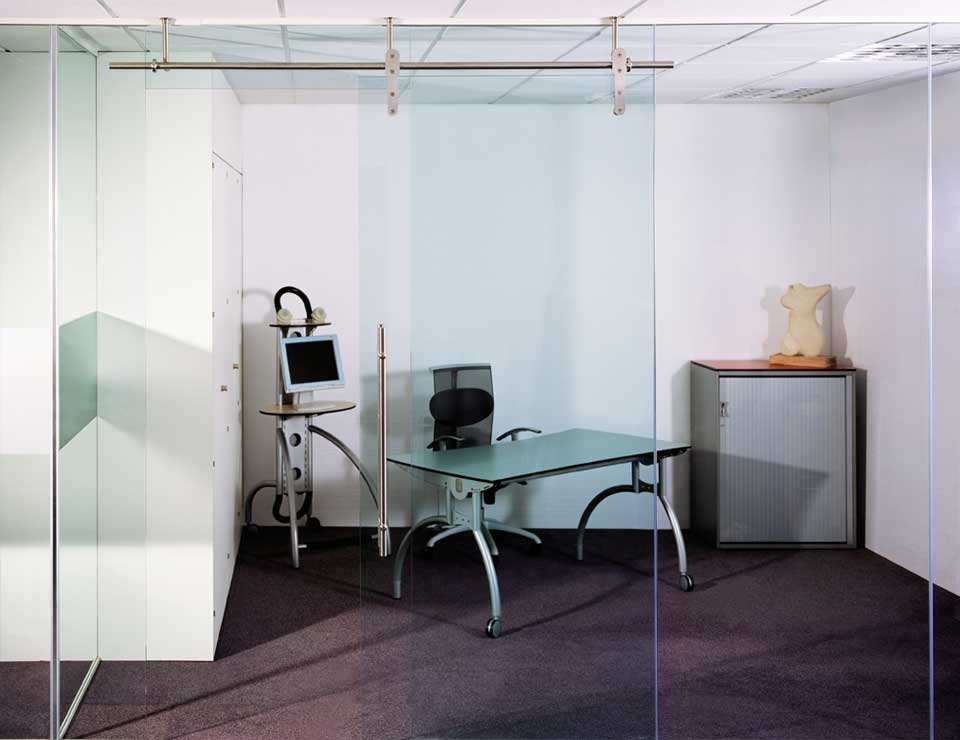 Sliding glass barn doors add modern style to any office. In keeping with the popular modern farmhouse trend, these doors provide easy access to offices and conference rooms as they slide smoothly on their tracks.
Paired with modern or rustic design aesthetics, Eclipse™ Sliding Glass Barn Doors with tempered glass can be integrated into a Solare™ Frameless or Elite™ Freestanding partition system as well as a solid traditional wall to create the perfect entryway solution.
Sliding Glass Pocket Doors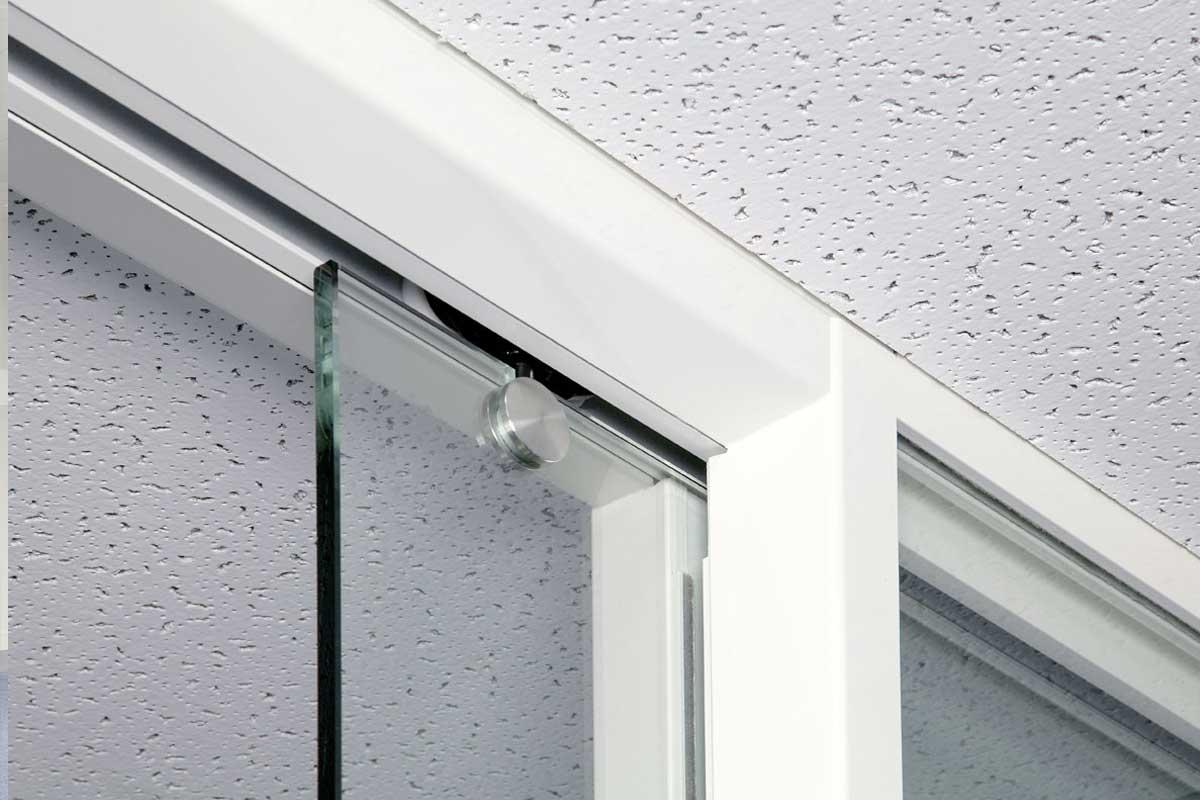 Pocket sliding glass doors slide smoothly into a double glazed partition system. They can also be integrated into a solid traditional wall for added flexibility.
Tempered glass sliding pocket doors are the ultimate space-saving strategy for an office, especially where lack of space is a concern. Since they don't need space to swing open and closed, office furniture can be located anywhere it is needed without worry of obstructing the door.
They also slide smoothly open and closed, and they help to reduce office noise, creating a quieter office experience. Eclipse™ Sliding Glass Pocket Doors can be frameless or include framed glass. The glazing can be clear or patterned, or it can include custom frosting to further the office aesthetic.
Sliding Glass Double Doors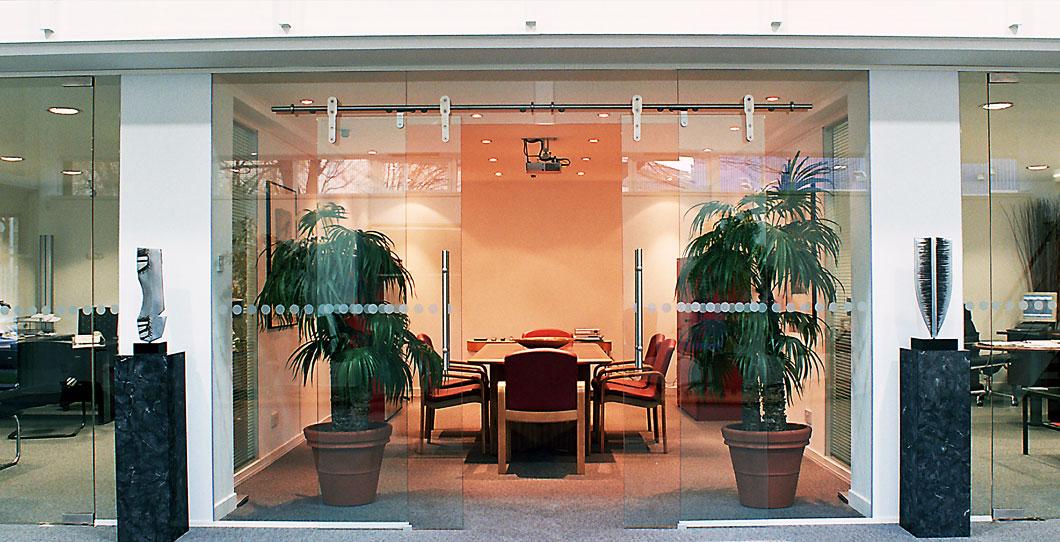 In wider entryways, a set of double sliding glass doors is the perfect solution. The Eclipse™ Sliding Glass Barn Door has a minimal gap of ⅝" between the door and fixed panel which reduces the risk of trapping fingers. They also offer locking hardware for added safety and office security.
Sliding Glass Doors with Custom Frosting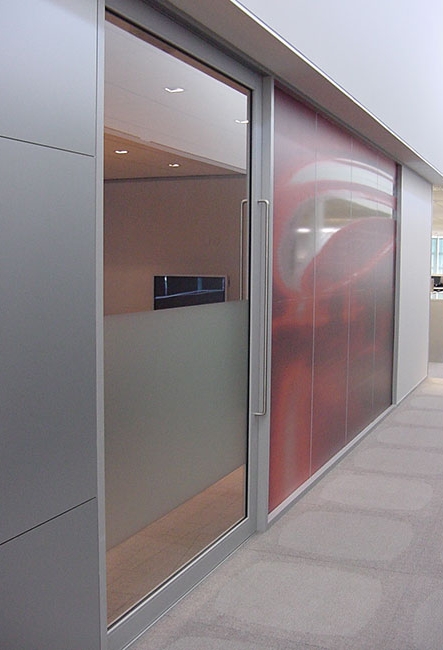 For added privacy, tempered glass sliding doors can include custom frosting. Frosting can be designed to obscure certain areas from view, or it can be used to enhance business branding through a custom design or logo.
Whether they're used for increased visual privacy, branding, or both, the perfect frosting design adds to the office aesthetic while also being a functional design element.
Sliding Assisted Close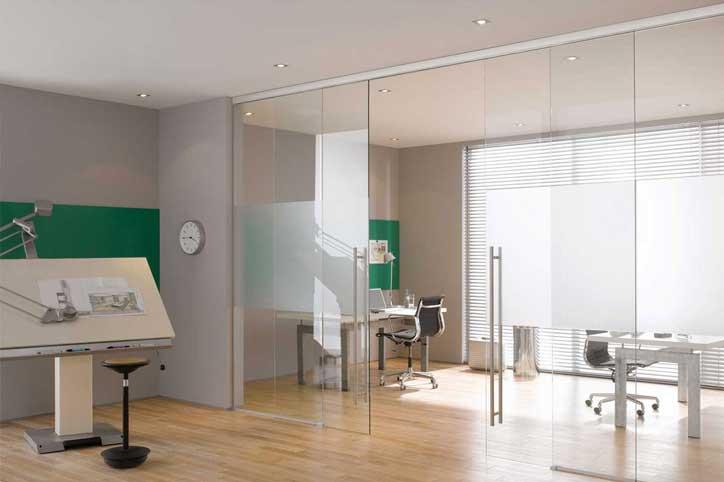 For the ultimate tempered glass sliding door, the Cloud™ Assisted Close Sliding Glass Door is the premium solution. This system requires minimal maintenance and slides closed smoothly.
These doors can be integrated into the Solare™ Single Glazed, Solare™ Double Glazed, and Elite™ Free Standing partition systems as well as a solid traditional wall to create a superior office entryway.
With cutting edge technology, such as our patented Comfort Stop and Exact Trigger engineering, as well as locking hardware for added security, these tempered glass sliding doors will complete your office space beautifully.
Curved Sliding Glass Doors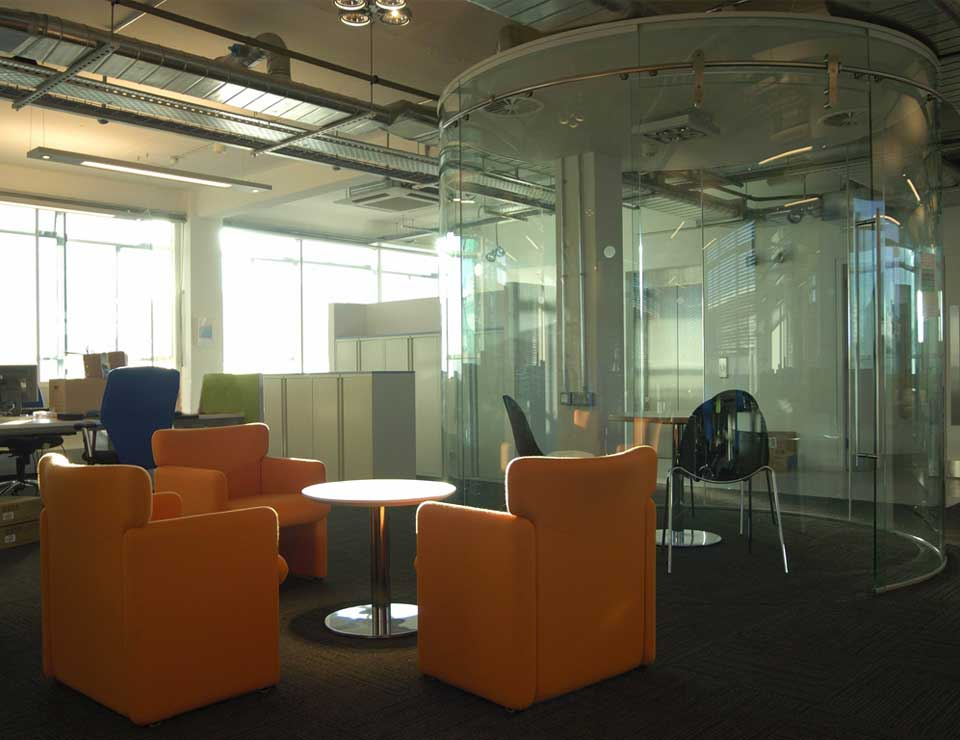 For the ultimate in style and customization, sliding glass barn doors can be installed in a curved configuration. This allows for the flexibility to integrate a conference room, small meeting room, or even office space wherever you may need it. Plus, the unique design will enhance an already stylish office.
Ready to Get Started?
Contact the interior glass wall specialists at Avanti Systems today to request a quote.