As the use of glass in offices and workspaces grows in popularity the world over, its many uses are being discovered and put to use in the most modern buildings and retail locations everywhere from Beijing to London, Barcelona to Zurich, and of course Los Angeles to New York City. From colored glass to sliding glass, textured glass to ceiling glass and much more, one thing is clear: glass interiors are on-trend and have the stylish staying power that will keep your office from needing a facelift forever.
Moveable Glass Walls: Creating More Spacious Settings as Needed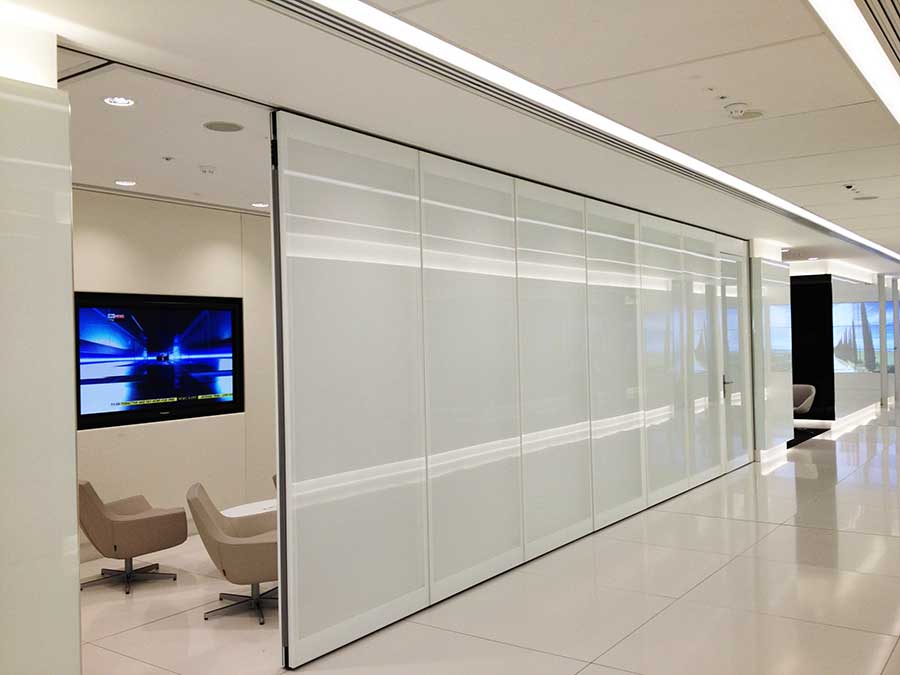 When you have a large, open office layout, you have a great way of inviting in natural light and making people more accessible to one another. Open layouts are increasingly popular. However, drawbacks can occur as a result. Sometimes, workers need to break off into groups, or clients come in for a meeting and needs discretion, but also needs to meet with a group too large to fit into an office suite. The only other option is a conference room, which many workspaces with open layouts don't have, or may seem too large for the size of the group — this creates an awkward physical imbalance and disturbs the mood or flow of the meeting.
With the advent of the sliding glass wall, companies can work with architects or remodeling professionals to decide how many glass walls they want, where they will be placed, and the various sizes of spaces they can create. Glass walls move quickly, easily, and quietly, so different groups can create different-sized spaces throughout the day or week. This transformation of the workspace suits the needs of the team from a meeting to a breakout session, or from a meeting that requires discretion to a single-person project that requires a level of placidity.
Large, Ultramodern Interior Glass Doors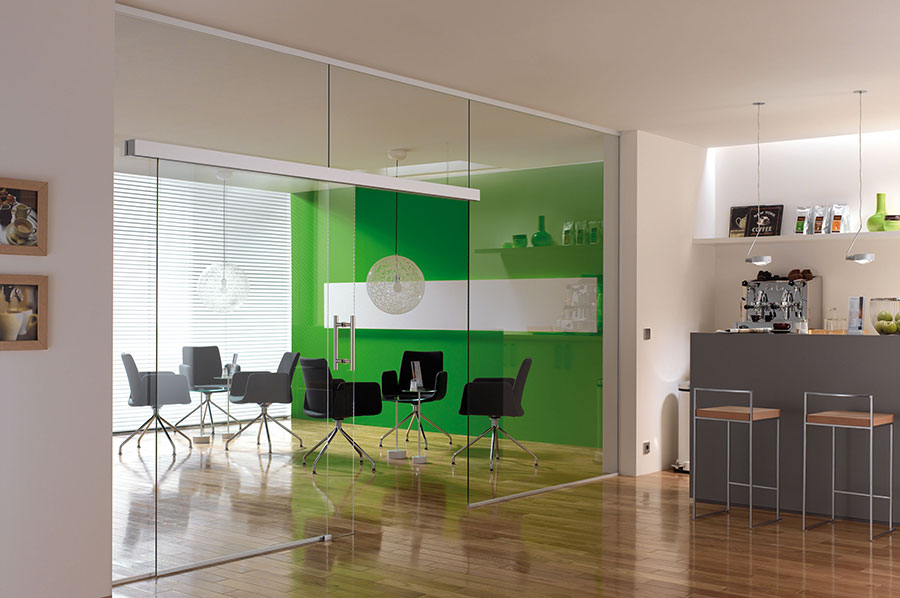 Glass doors have been around in offices for quite a while, but the glass doors of today are much more innovative in their style, design, and utility. For example, as part of the interior design motif in some offices in Japan, glass doors that lead to different offices and rooms are colored in different vivid hues. In American offices, the CEO's corner suite might have a larger glass door than those of others in the office as a show of their station as well as a way to accommodate higher foot traffic and meetings where multiple team members converge each morning.
Large glass doors add pop to the interior of the workspace and also create a more inviting atmosphere. For progressive companies that have an open-door policy, the translation is a literal one. Workers are more likely to take advantage of such a policy when their superiors have glass doors as opposed to wood doors that isolate senior executives inside. A closed solid wood door is intimidating, and makes the idea of knocking scary for junior associates.
Glass Meeting Rooms
Glass meeting rooms are a beautiful addition to any office space, and are usually comprised of glass walls, which may or may not be on sliding tracks and glass doors, which may open in the conventional way or operate on sliding tracks. Glass meeting rooms have replaced the solid, walled-off conference rooms of the past, and offer an inviting ambiance for newcomers and regular clients. Glass meeting rooms can be large enough to accommodate a partition or sliding glass wall — this turns one meeting room into two for busy days when the company is double-booked, or to create a smaller, more intimate space for a quiet meeting retreat.
Glass Floors and Ceilings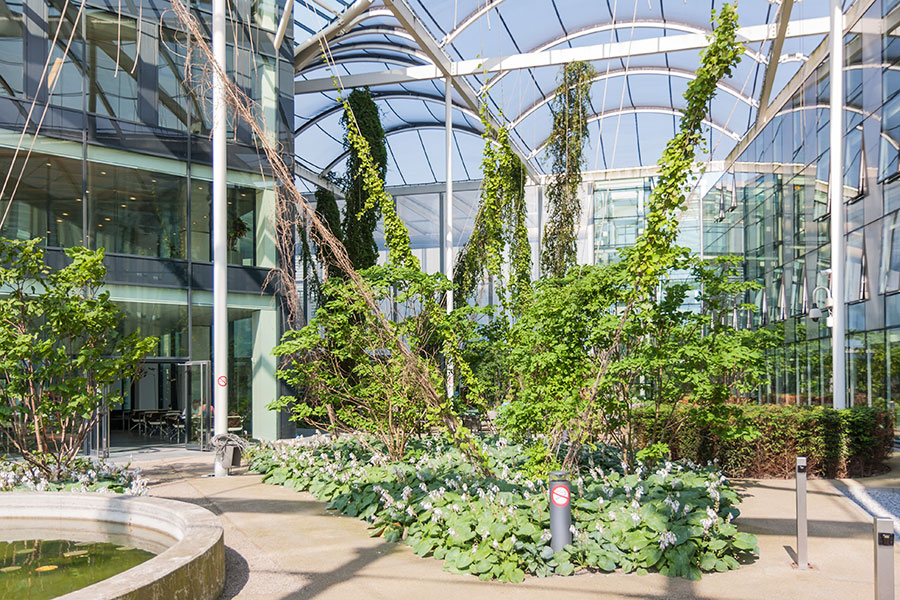 Creating suites using glass as the primary building material really opens up the atmosphere of the entire office. Allowing in more light, allowing workers to see whether or not the person inside is on a call or otherwise preoccupied, and creating the appearance of a more expansive floor plan are just some of the perks of glass office suites. Of course, for occasions that require privacy, beautiful custom shades can be added in any variety of colors that pair well with other office decor. Many glass office suites in Japan are interconnected with sliding glass walls: this allows inhabitants of each office to literally open up to one another. On days when no clients are expected, the whole office becomes one large space where everyone can hear each other and enjoy open, out loud communication and the ability to walk to each person's desk free of any encumbrances.
Glass Office Suites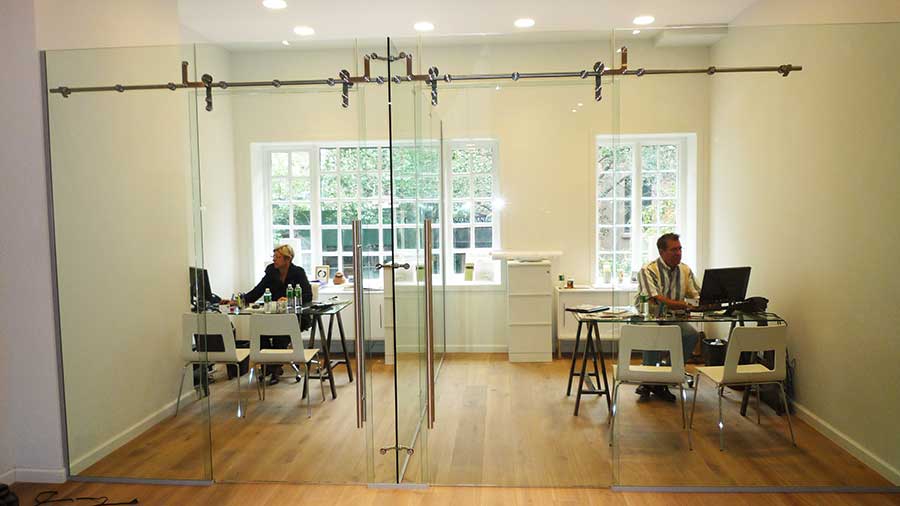 Today's ultra-progressive offices might incorporate glass floors or ceilings. In some instances, glass floors may be opaque or completely solidly colored to appear like wood or another material, while in other instances, glass floors may be left clear or translucent, which creates an even more modern interior design.
Glass ceilings are an incredible way to add a whole new perspective, as it adds the dimension of the outside world and draws it right into the office. This makes workers feel more in touch with their outdoor surroundings, and provides an incredible amount of light into the interior world. This is actually healthier for people who spend the majority of their time indoors, because glass ceilings provide natural sunlight, which is also proven to improve mental and physical health and make people more productive. Buildings with glass ceilings also have a shade, usually on the building's exterior, which allows the amount of light let into the space below to be controlled. In this way, everyone can benefit from natural light but also shutter some of it out on particularly bright days, in the morning, or when the workday is over.
Colored or Textured Glass for Privacy
For offices that provide one-on-one therapy, physical examinations, or law firms and other workplaces where client privacy is paramount to the services rendered, colored glass is an excellent choice. It creates the same level of discretion that any heavier, thicker material will, and can be glazed to keep out any prying eyes. Most offices with glass doors and walls will choose one uniform color, though at a place like a pediatrician's office, different glass walls and doors might be a variety of fun, brilliant hues. When glazed glass is used, it actually lowers the cost of heating and cooling, lowers the carbon footprint of the structure, and does away with drywall, sheetrock, and old-fashioned insulation that can all cause allergy flare-ups and other discomforts. Office that utilize thick, opaque colored glass contain excellent spaces for confidential meetings and other dealings that protect the best interests of both clients and your enterprise.