2020 took everyone by surprise, and with many companies transitioning to work-from-home models throughout the year, offices were left empty. Fortunately, 2021 is seeing many employees returning to work. Some are eager, ready to get out of the house, but for others, the transition back to work will be difficult. 
Even as people return to work, it's clear that changes are being made to keep people as healthy as possible. Increased space between employees, more partitions, easy to clean materials, and natural elements are being used to create commercial workplace interiors that welcome people back to work.
Many of the top commercial interior design trends are geared towards creating a more comfortable environment for employees returning from the comfort of their homes. From living walls to resimercial designs, commercial interior projects are getting creative in order to make the transition back to work as smooth as possible while creating spaces that encourage productivity, social distancing, and health.
Top Commercial Interior Design Trends:
1. Living Walls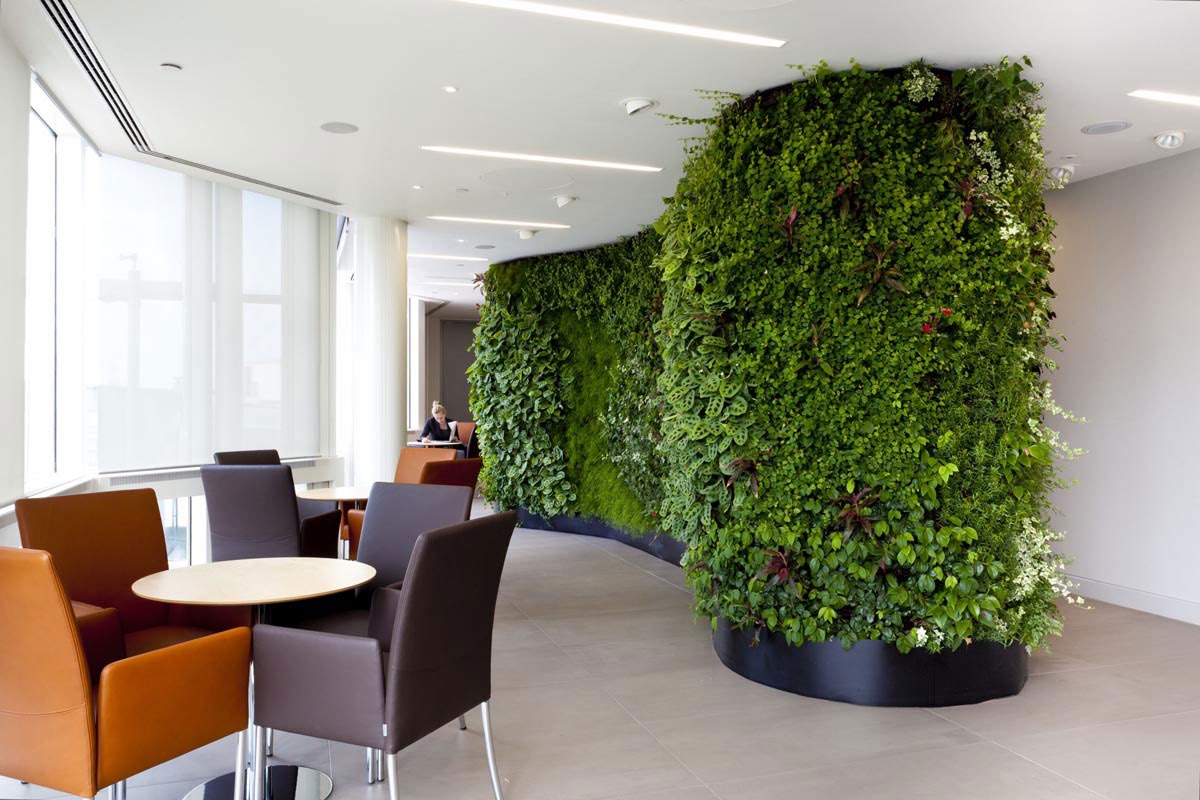 Adding greenery is one of the fastest ways to liven up a space, and with the growing trend toward biophilic design elements, living walls breathe life into the commercial interior design. The benefits of introducing greenery into an office include air purification and improved acoustics as well as increased productivity and reduced anxiety and depression.
2. Black, Industrial Framing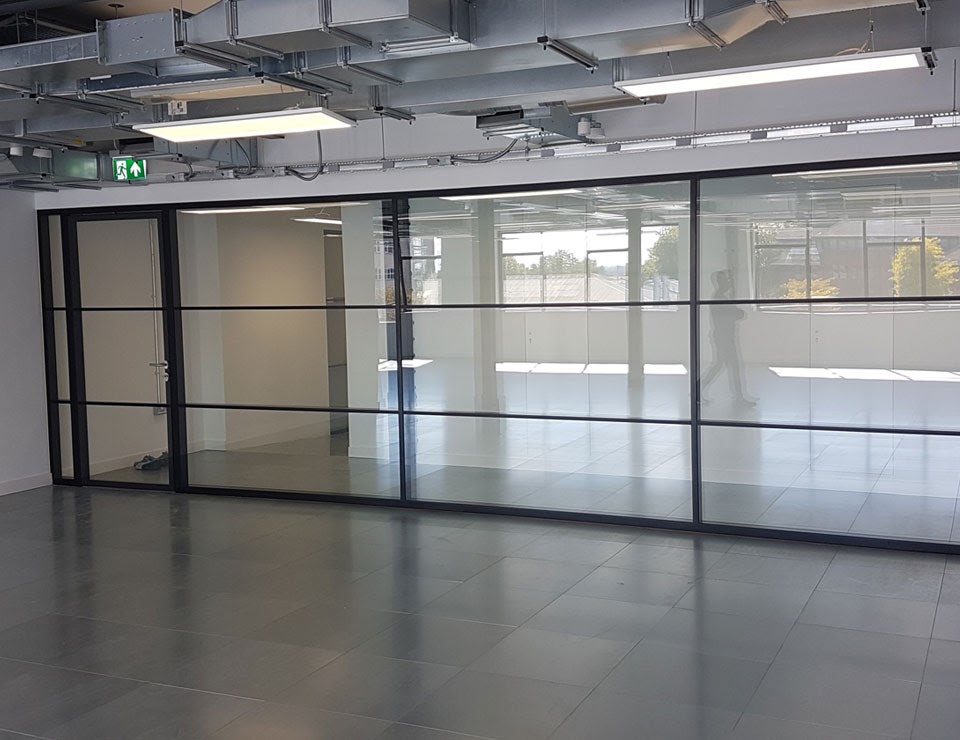 Crittall-style doors, walls, and windows date back to 1860 when Francis Henry Crittall created steel-framed windows. This industrial style, with its black-framed glazing, lends a contemporary edge to any design. Clean and fresh, this commercial space design allows you to separate spaces in a stylish and functional way. Paired with a full-height door, this modular system is stylish and accessible.
3. A Design with a View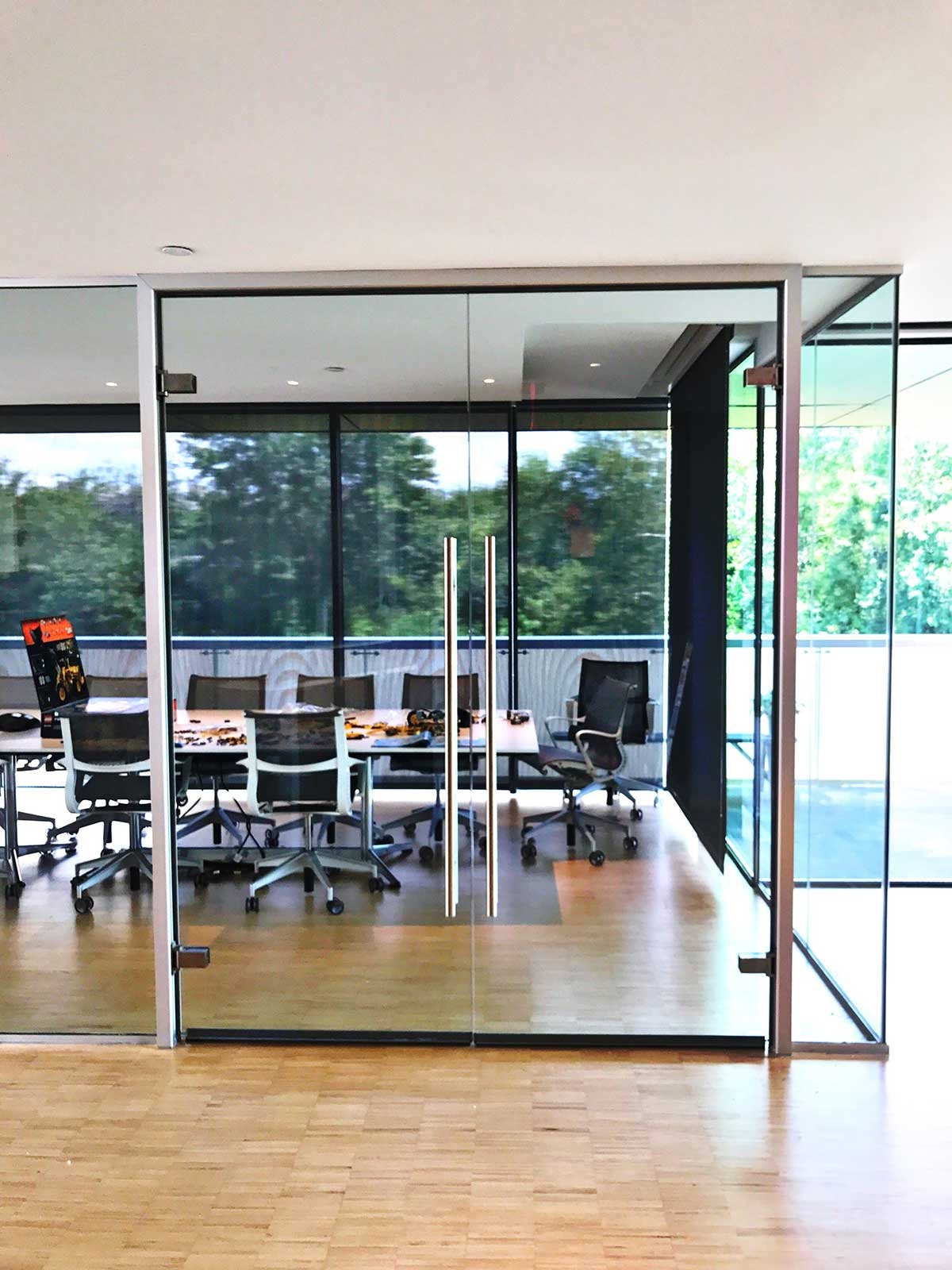 Views of nature make people happier in the workplace. Glass partition systems in commercial interior projects allow light to flow through to the interior of the office, providing the benefits of natural light to everyone, not just those with exterior offices.
4. Small Team Meeting Rooms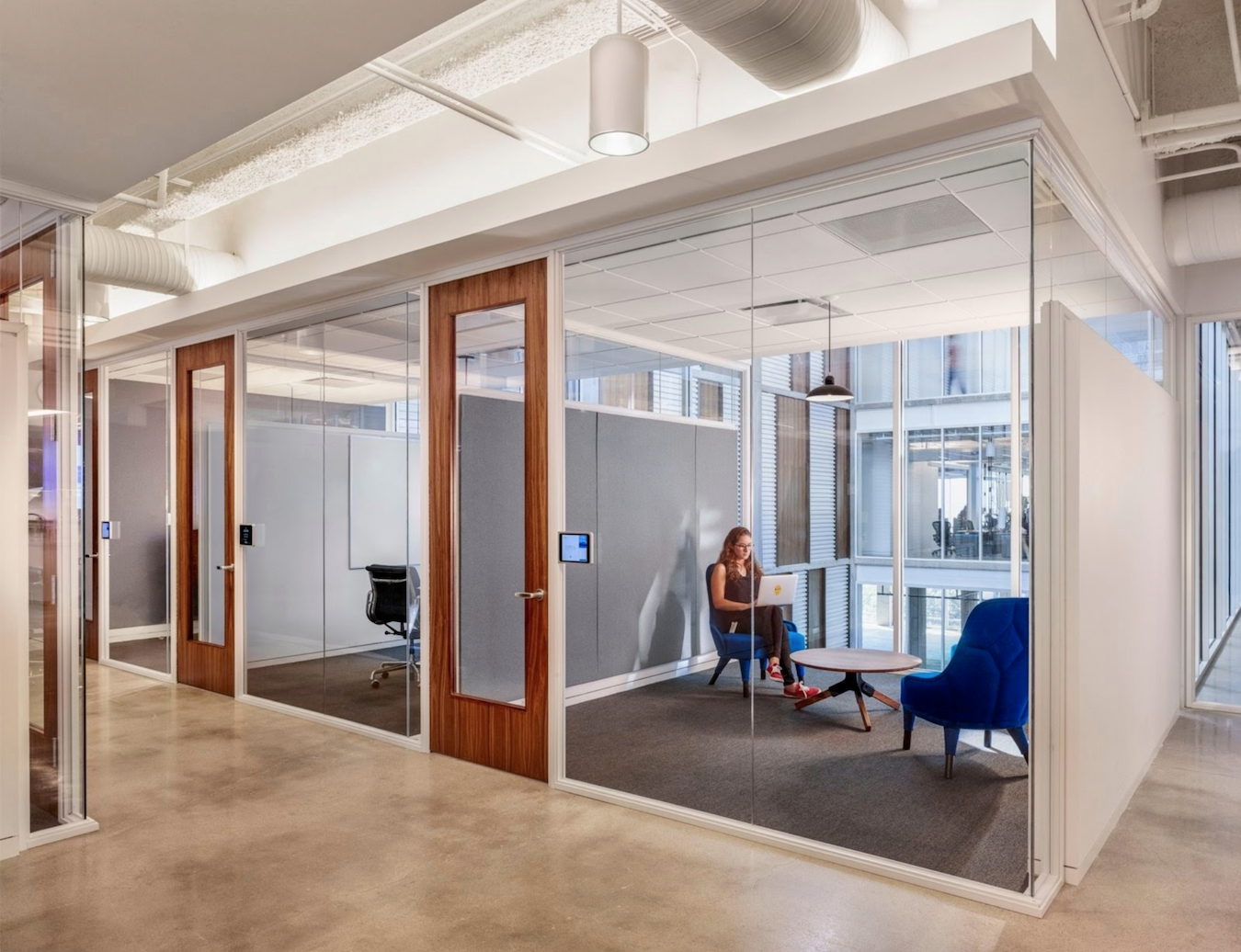 For the foreseeable future, people are going to be avoiding large groups, which includes large work meetings. Despite the usefulness of Zoom for connecting large groups, small meetings will still be a necessity for many offices. 
The idea of creating multiple small meeting rooms in a commercial office space design can seem overwhelming, but using flexible partition systems can ease the stress and virtually eliminate the disruption that traditional construction and remodeling would cause.
5. Reclaimed Elements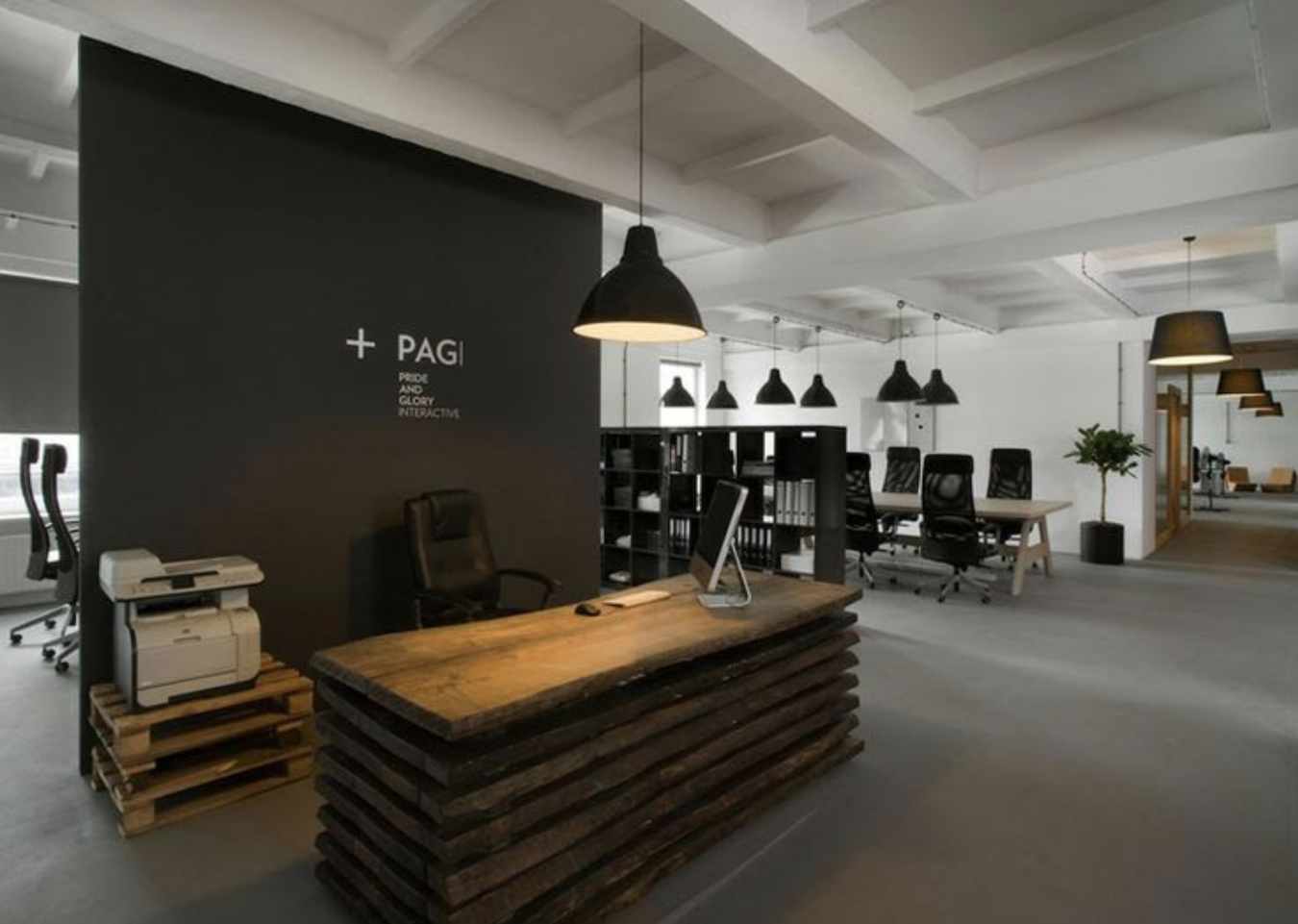 The modern farmhouse may be on its way out, however sustainability is definitely in. Eco-friendly designs that use reclaimed materials, such as pallets or barnwood, decrease the waste created when constructing an office. They can also reduce commercial interior design costs.
6. Modular Walls for Easy Installation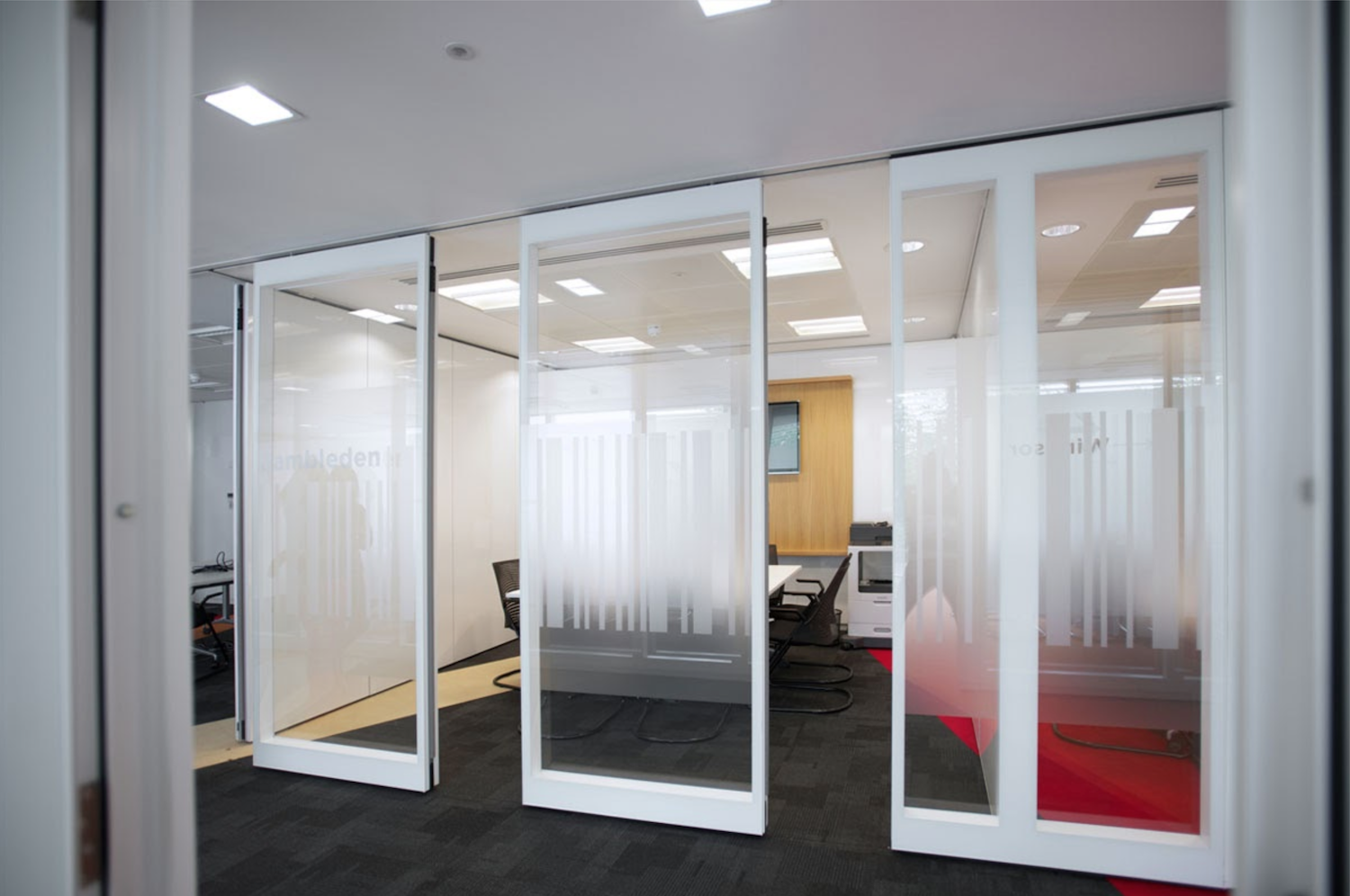 A fully demountable partition system is an interior design element for commercial office space that offers unparalleled flexibility. These preconfigured partitions for commercial office interiors can be installed quickly, allowing you to be able to utilize the space in record time.
7. Partitions for Health Safety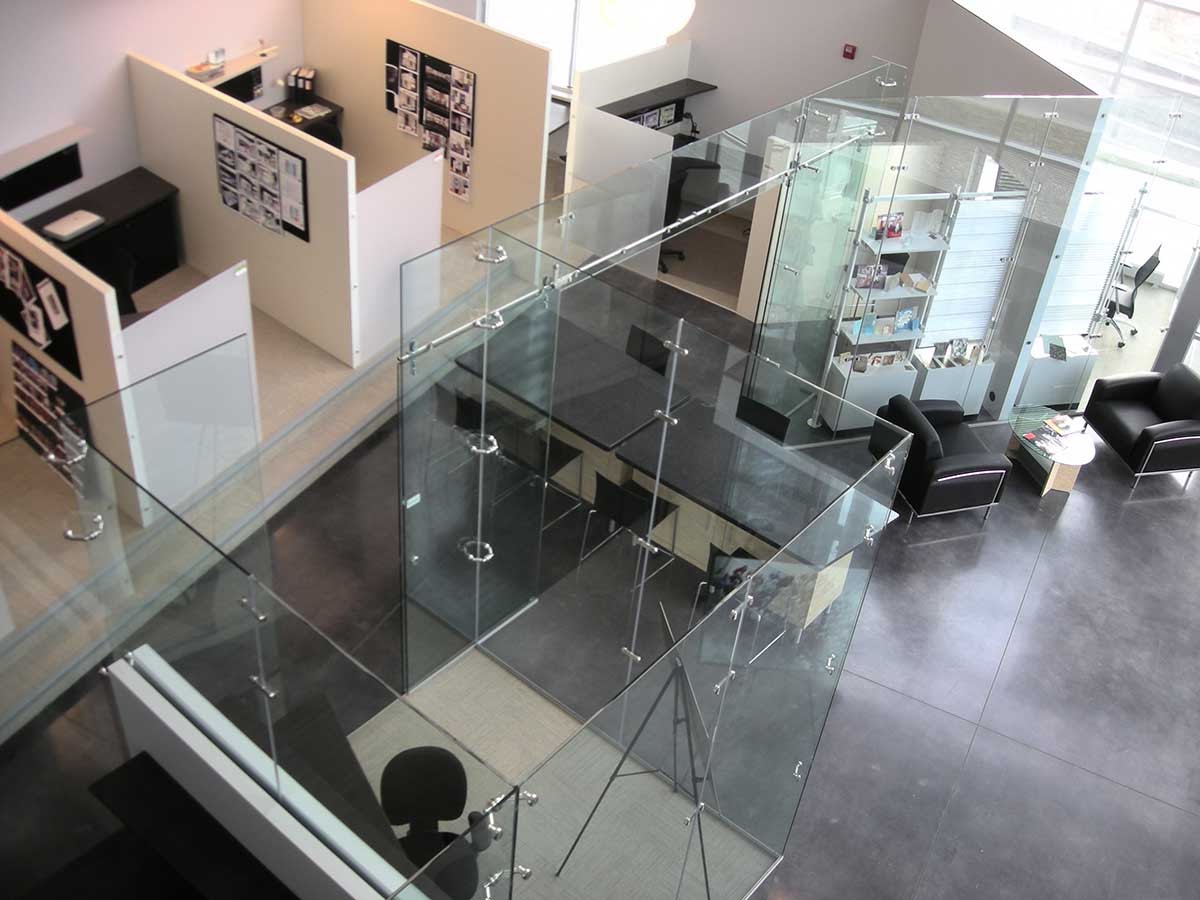 Mitigating the spread of germs was the big theme of 2020, and it's carried into 2021 and won't be going away anytime soon. This means that creating physical barriers between employees is imperative to the health and safety of the overall office. 
Open office designs have been the trend in recent years, however, moving forward, partitions and separate spaces will be the new normal.
What if you have an open floor plan and don't want to undergo costly remodeling? Freestanding partitions for commercial interiors are the perfect solution. The system stands independently in combination with stainless steel components and toughened glass panels, allowing for flexible installation wherever you need it.
8. Natural Color Palettes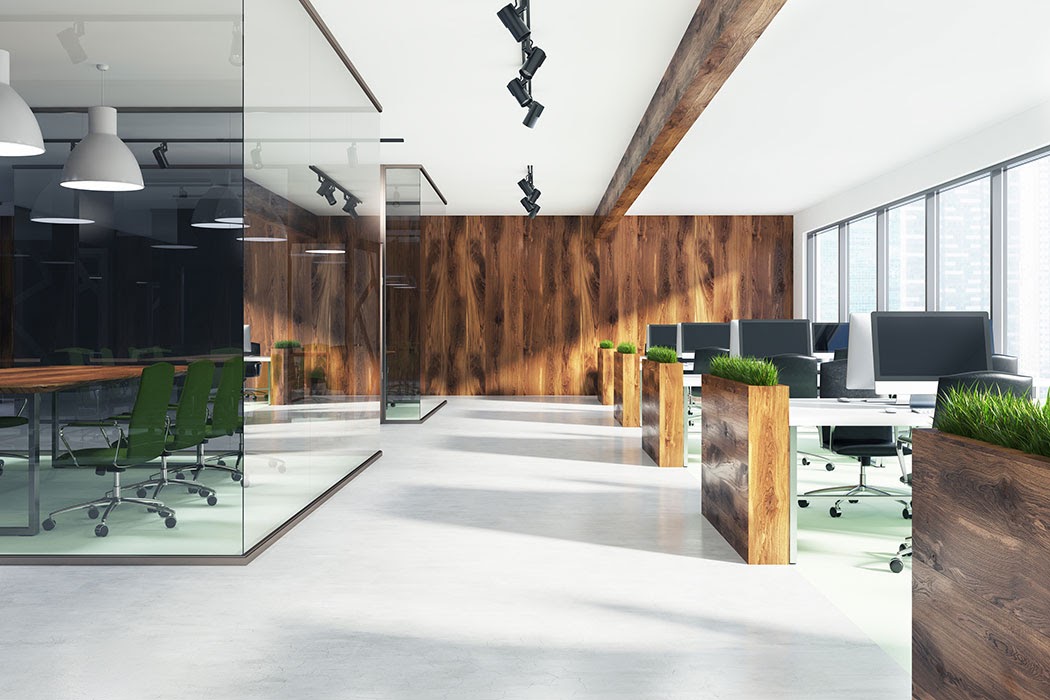 As biophilic design continues to make its way into commercial office interiors, natural color palettes will be incorporated into the office, though not as an afterthought or simple placement of a potted plant on a desk. It integrates nature into the very design, through the use of natural colors, materials, and accents, as it focuses on our innate connection to the natural environment.
9. A Zoom Friendly Space
If 2020 taught us anything, and it taught us a lot, it's that travel for work meetings isn't always essential. People may be back in the office, but in-person meetings will likely still be conducted with Zoom and other teleconferencing options.
This trend will reduce the need for large conference rooms or even smaller meeting rooms, but individual spaces with good acoustics and an aesthetically pleasing background will need to be included in commercial office design ideas.
10. Resimercial Design
Resimercial design is exactly what it sounds like: A blend of residential and commercial design elements. 
As people emerge from their homes and re-enter their offices and workplaces, many have become accustomed to a certain level of comfort. They may not be able to show up to work in their sweatpants, but adding a few residential touches, like a couch set up with a coffee table, a few houseplants, and a welcoming rug will go a long way to making employees feel comfortable back at work.
Upgrade Your Commercial Interior with Avanti
Among these top commercial building interior design ideas, iIntegrating glass partition panels into commercial office interiors is one of the best ways to take advantage of natural light, maintain physical distancing, decrease the spread of germs, and create flexible work spaces that can be adjusted based on changing needs.
At Avanti, we will work with you throughout the process to ensure you're designing the right space for the building and employees as you keep on top of commercial design trends. Contact us today for a custom quote.