Imagining a typical office space generally calls to mind rows and rows of cubicles. They're sterile and impersonal, but you can customize yours by pinning pictures of your family and dog to the fabric walls. Coworkers peer over the partition to ask a question before ducking back into the isolation of their cube. Conversation is muffled and collaboration is hindered.

But, today's trend of open spaces and collaboration is revolutionizing the way offices are designed and how they are run. Rather than sticking people in a 6'x6' box, companies are trending towards more open spaces that encourage collaboration and flexible work spaces.

Along with this trend, however, comes the added challenge of balancing the open environment with the privacy that is sometimes necessary in the workplace.

This is where modular office partition walls really step up to create a workplace that is open and collaborative while still maintaining privacy when and where it is needed. They create a perfect, flexible balance in the office that will maximize production and effort.
What are modular office partition walls?
Modular partition walls
are a configuration of walls that are pre-assembled into your desired design. These modular office partition systems can then be quickly put into place when and where a private office, meeting room, or conference room is needed. They can be constructed from a variety of materials, including glass, gypsum board, wood, laminate, melamine facings, and vinyl.
This freestanding system can be installed quickly and efficiently and is fully customizable to fit the existing design of your office. Most importantly, it offers the flexibility that is compatible with the ever-changing needs of your business and office space.
Quick and Efficient Installation of Modular Office Partitions
Making any changes to your office can understandably cause a certain amount of stress. Installation of new features can disrupt the daily flow of the office and displace team members. This is where modular office partition systems can make the transition to an updated office must more efficient. By reducing the mess that comes with any installation project and allowing for quick installation, modular partition walls will have a minimal impact on the day-to-day routines of the office.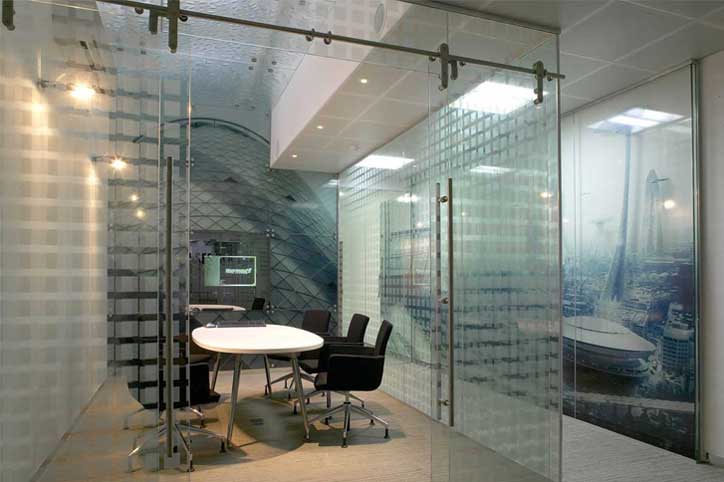 The need for excessive cleanup after an installation project is minimal because modular office partitioning allows for the use of gypsum board, eliminating the need for joint compound. This feature reduces the amount of mess after the installation. The pre-assembled partitions are also available in glass, wood, laminate, melamine facings, and vinyl.

Whether you're waiting for your new office space to be completed or updating your existing space, waiting for installation and post-installation clean-up to be completed can take valuable time away from actually working. Because they are pre-assembled, modular office partitions can be installed quickly and efficiently. As a result, the on-site labor, as well as waste, is substantially reduced. And day-to-day office routines will be minimally impacted as the office is updated.
Fully customizable to fit within the existing design
Modular partition wall systems can also be customized to the needs and aesthetics of each individual office. When making any changes to an office, it's important that the new elements don't draw attention to themselves or contrast the existing design.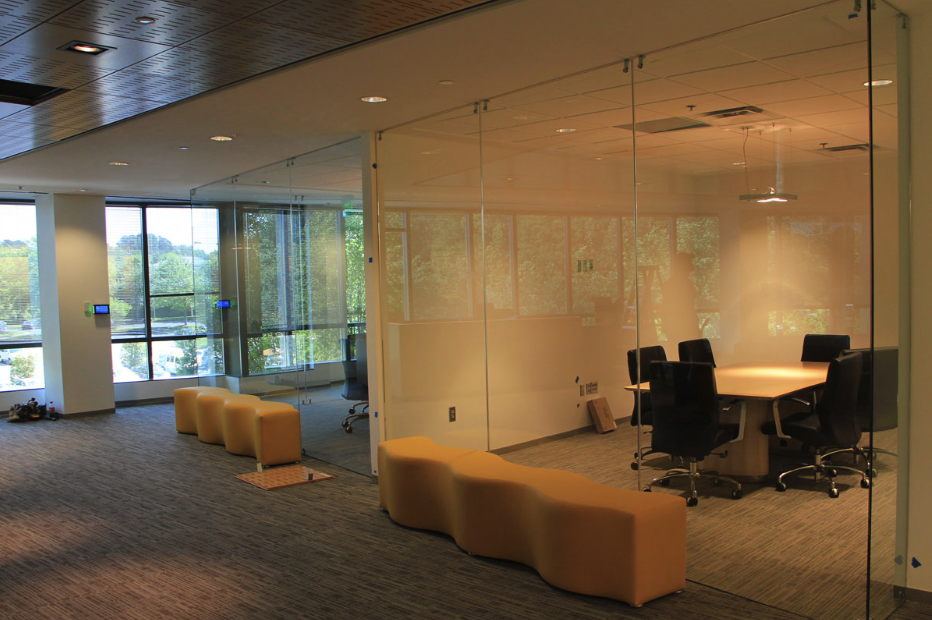 Depending on the needs of the office design, the modular partitions can be of a straight, angled, or curved configuration, allowing you to tailor them to the existing office design. Additionally, the modular partitions can accommodate tempered, laminated, low iron, and LCD glazing, creating lots of options which will fit seamlessly into the existing design of the office.

If glass panels don't fit your needs, you can also choose from gypsum board, wood veneer, laminates, melamine facings, and vinyl to enhance the style of your office and meet your desired purpose.

Fittings can also be customized with options that include aluminum finish, standard colors (Jet Black, Silver, Grey or White) or a custom color.

The customization options apply to the doors as well, giving you the choice between LCD, pivot, hinged, and sliding doors to complete the modular wall partitions. The doors can be either wood or glass (single-glazed or double-glazed), depending on the desired level of privacy and aesthetic.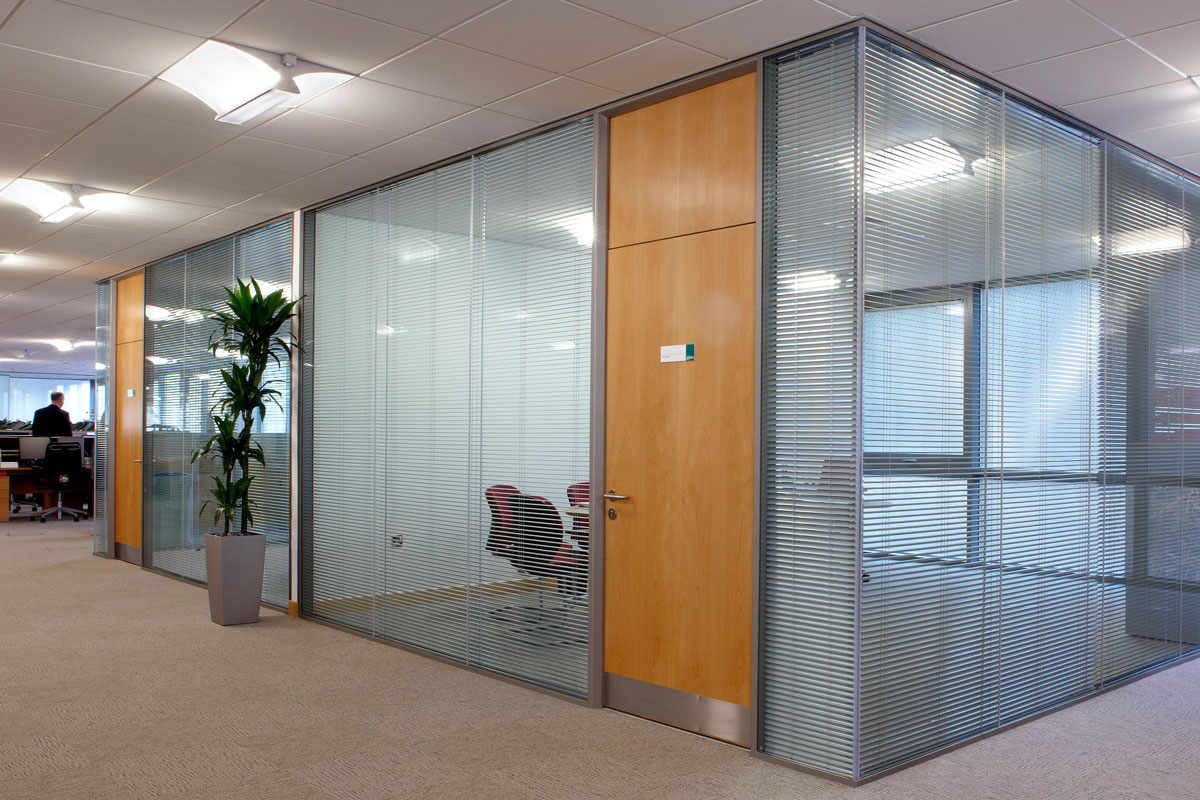 The design on the glass is another customizable element of modular partition walls. Whether you want clear glass or a frosted design, you can customize the look of the actual glass so that it ties in seamlessly with the existing design elements.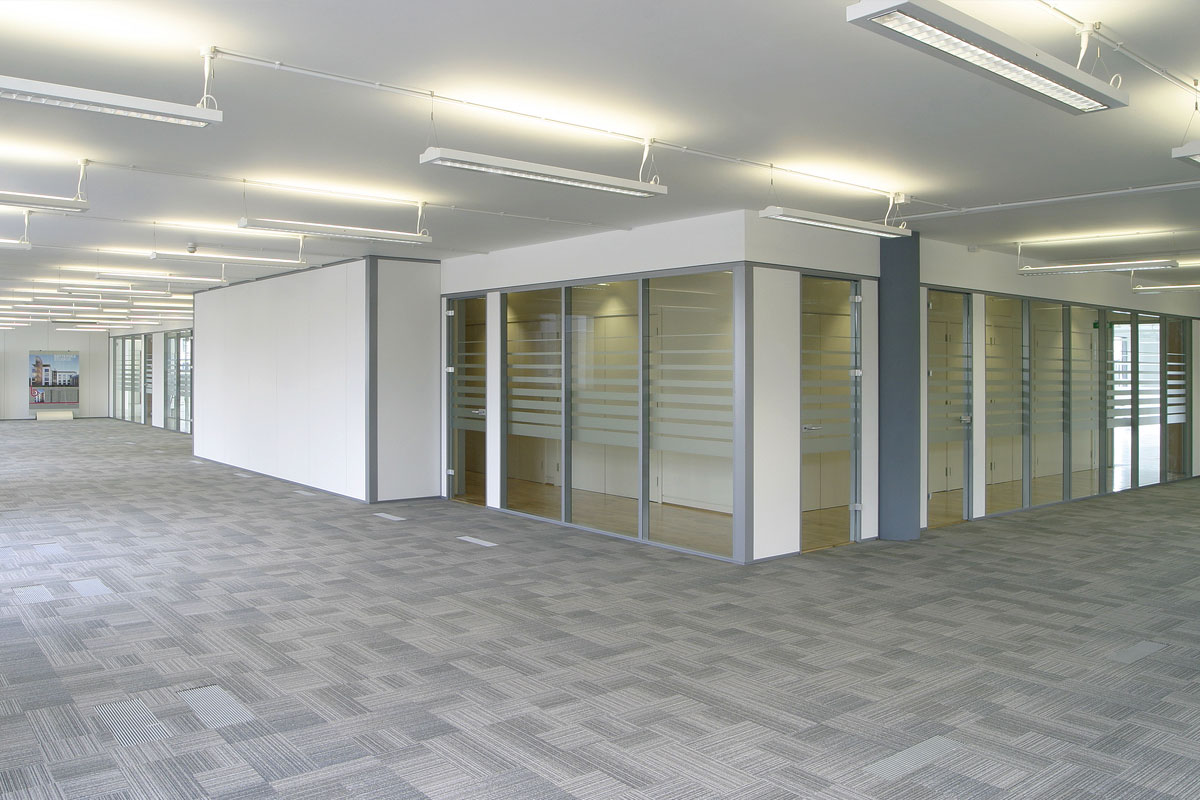 Flexible configurations for evolving needs customizable to fit within the existing design
The needs of businesses are always evolving. From the early office days of cubicles to today's more modern open concept, it's good to stay flexible to meet current needs, whatever they may be. Modular office partition walls can be assembled in different configurations depending on the current needs of your business. You'll be able to adjust workspace based on the projects that you have rather than forcing people into less than optimal configurations.
The flexible nature of modular partition systems means that your business can adjust quickly as the needs of your business and staff evolve. Modular partitions are great for setting up offices and conference rooms, and it can be done quickly without the hassle and mess that comes with installing traditional walls.
With demountable panels that can be as large at 48"x120", you'll be able to accommodate the specific needs of your office. And, because these aren't traditionally built walls, you will be able to uninstall and reinstall them in a different configuration should the need arise.
Making decisions when it comes to building or updating office space is never an easy task. Utilizing modular office partition wall systems can make the decisions a lot easier knowing that they don't have to be a permanent fixture in the office. Their ability to be customized will also make the building or renovation easier because you'll know that you'll be able to integrate them into the existing design without a full redecoration.
To speak with an expert on incorporating modular office partition walls in your space, contact a specialist at
Avanti Systems
today.
---