Partitioning an office into private workspaces used to mean installing cubicle walls or traditional, and permanent, drywall partitions. This idea has become outdated in recent years due to a number of factors. This type of separation inhibits collaboration, blocks natural light, and creates a drab office that doesn't inspire creativity or productivity.
As the modern office evolves into a collaborative space that is both welcoming and functional, modern office partitions are becoming more and more popular. Increasingly, companies are using glass partitions to open their space to both the flow of light and the flow of ideas.
How modern office partitions can benefit the office design
1. Increases aesthetics
More and more focus is being placed on designing a space to be both beautiful and functional. Intentional design means that form and function are combined to build a beautiful space, one that encourages employee well-being, increases collaboration and welcomes clients. These atmospheres don't happen by accident, they are intentionally designed by choosing elements that complement both the practical and aesthetic needs of the company and its employees.
Modern office partitions are largely responsible for creating this atmosphere.
2. Builds a sense of inclusion
As any company knows, helping employees build a sense of ownership in the company is essential to a satisfied staff and a positive company culture. Modern office partitions allow employees to have a sense of their own space to work quietly on their own while still feeling connected to the greater company culture.
Rather than tucking into a traditional cubicle or drywalled office with little connection to anyone else in the office, modern office partitions allow employees to create a space that is their own while still being part of the larger office.
3. Creates structure and flow
The open-concept office has also taken root in the modern office. The problem with this design, however, is that it can lead to a confusing space where employees feel overwhelmed with options for where to work or have trouble establishing a workflow in a certain area. Where workspaces aren't clearly delineated, confusion can take over.
Modern office partitions allow the design to be broken into specific areas intended for specific purposes while still maintaining a flow to space. Employees can flow seamlessly between private workspaces, collaborative areas, and conference rooms. Feeling as though each space has a designated purpose can help to increase focus and productivity.
4. Integrates cost-effective options
Designing an office space can become costly. Investing in an infrastructure that is permanent can create problems later if a new configuration is necessary. Additional cost and waste is incurred as the office scrambles to adjust their floorplan to accommodate their new needs.
An easy solution to this problem is to install modern office partitions from the start. Many office partition systems are demountable, meaning they can be removed from their tracks and reconfigured to meet the current needs of the office. For a larger conference room, an increased number of private workstations, or an open area for a conference or large gathering, demountable partition systems provide flexibility with little to no additional cost.
5. Creates sustainable solutions
Rather than undergoing a costly remodel, modern office partitions create a sustainable solution that also decreases waste, as well as cost. When an office has been divided with traditional walls, any remodel creates a large amount of waste, harming the environment and costing the company more.
Instead of tearing down and rebuilding walls, modern office partitions allow for office space to be reconfigured when necessary.
6. Bridges the gap between open concept and traditional office space
While many companies are tired of the standard cubicle farm look, some are hesitant to go to a fully open concept design. Modern office partitions allow an office to bridge the gap between the traditional route and fully open floor plan.
Glass partition systems create an open line of sight throughout the office and encourage natural light to permeate the whole of the office, but they also allow for the formation of private workspaces and areas designated for a specific purpose.
6 ways to integrate modern office partitions into an office design
1. Industrial inspiration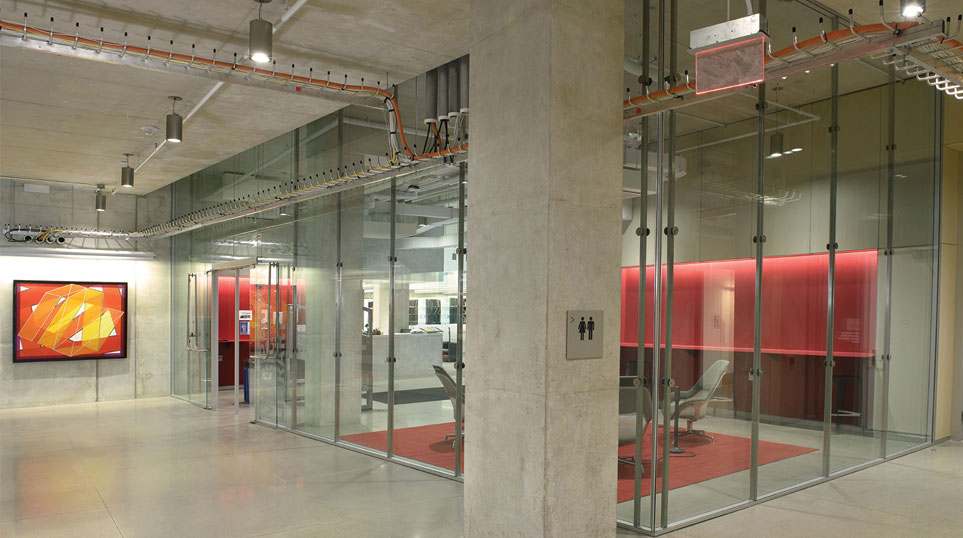 These glass walls separate workspace from common, higher-traffic areas while seamlessly integrating into the industrial design. Paired with white concrete floors and pillars and exposed wires, this is the ultimate modern office design.
2. Sleek design with bursts of color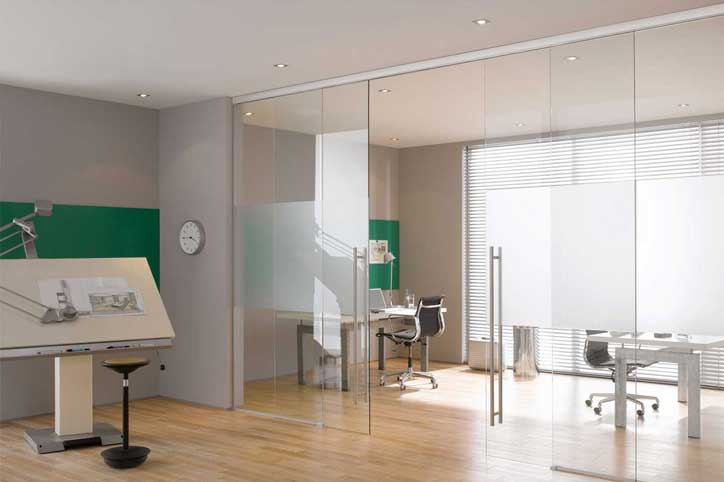 In this neutral design, the glass office partitions with sliding glass doors provide quick access to private or common spaces. The neutral pallet is accented with deep green, adding a burst of interest to the space.
3. Add interest with unique contours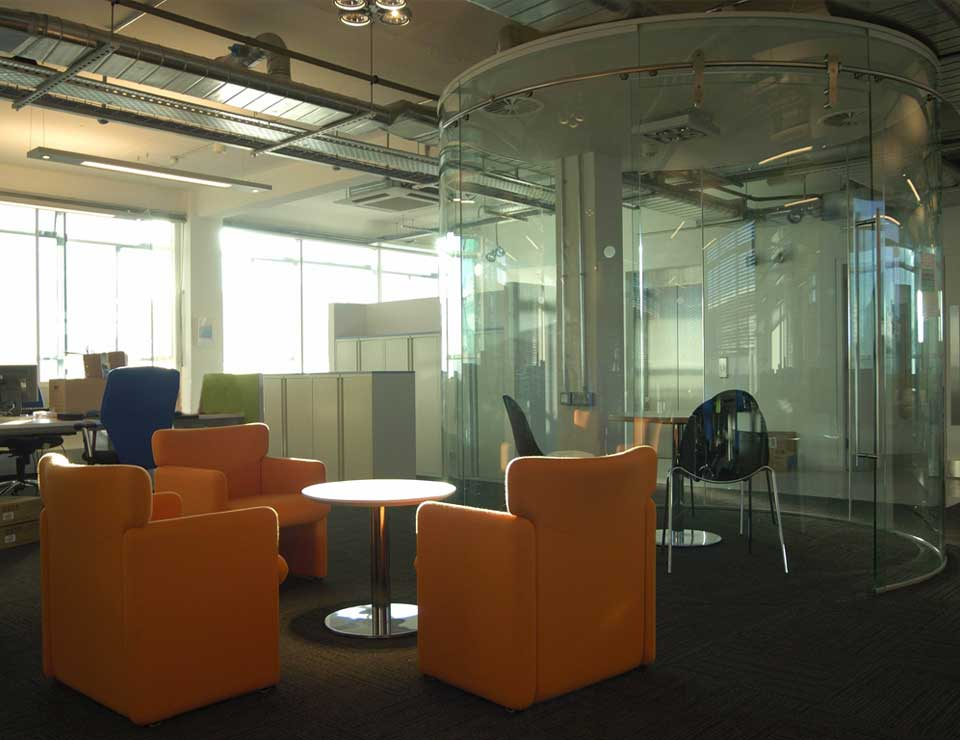 Many modern office partition systems can be installed in a straight, angled, or circular configuration. The unique contours of a circular partition can add a unique touch to an otherwise straight-laced office.
4. Blend modern and traditional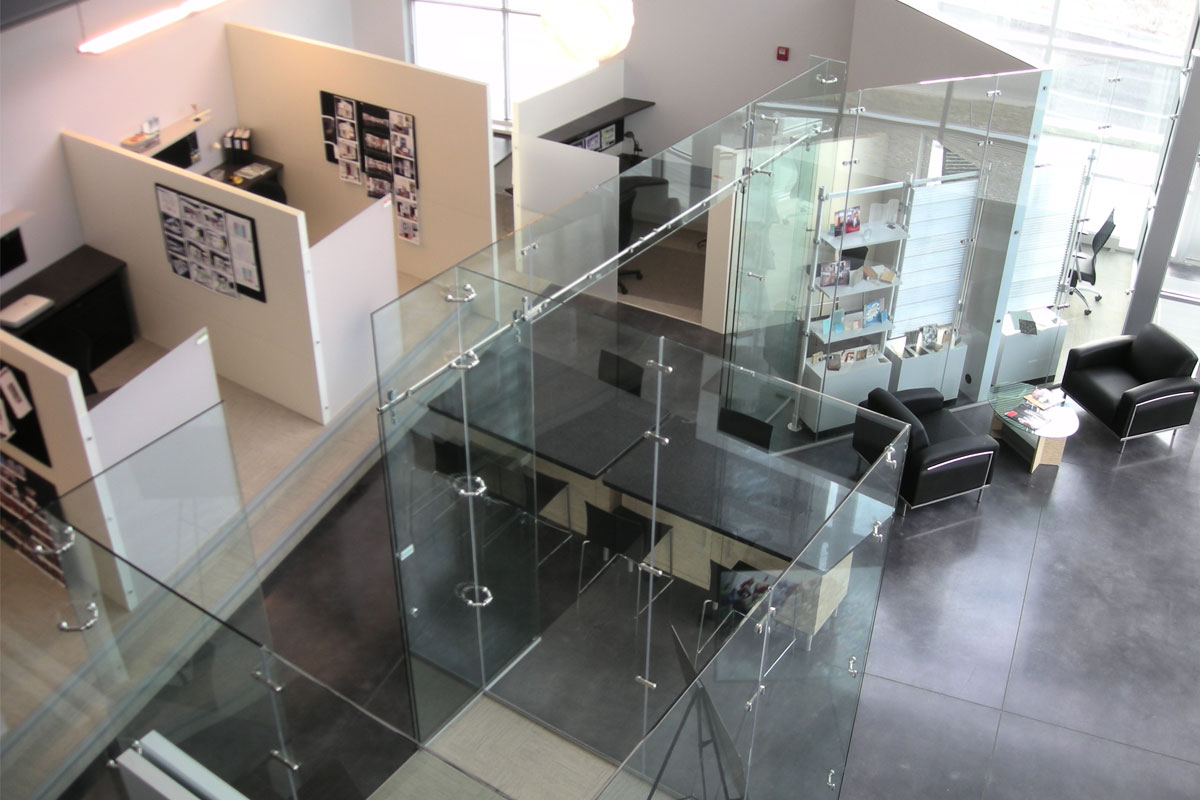 In this design, more traditional cubicles line the outer edge of the office while freestanding glass partition systems create separation in the center of the room. Blending the traditional with modern is a surefire way to add a surprising element to any office design.
5. Use doors to increase flexibility
Utilizing sliding glass doors, such as this barn door style, instantly creates options and flexibility for a space. Leaving them open creates an atmosphere of collaboration and flow, while closing them indicates that there is private work being done.
6. Mix textures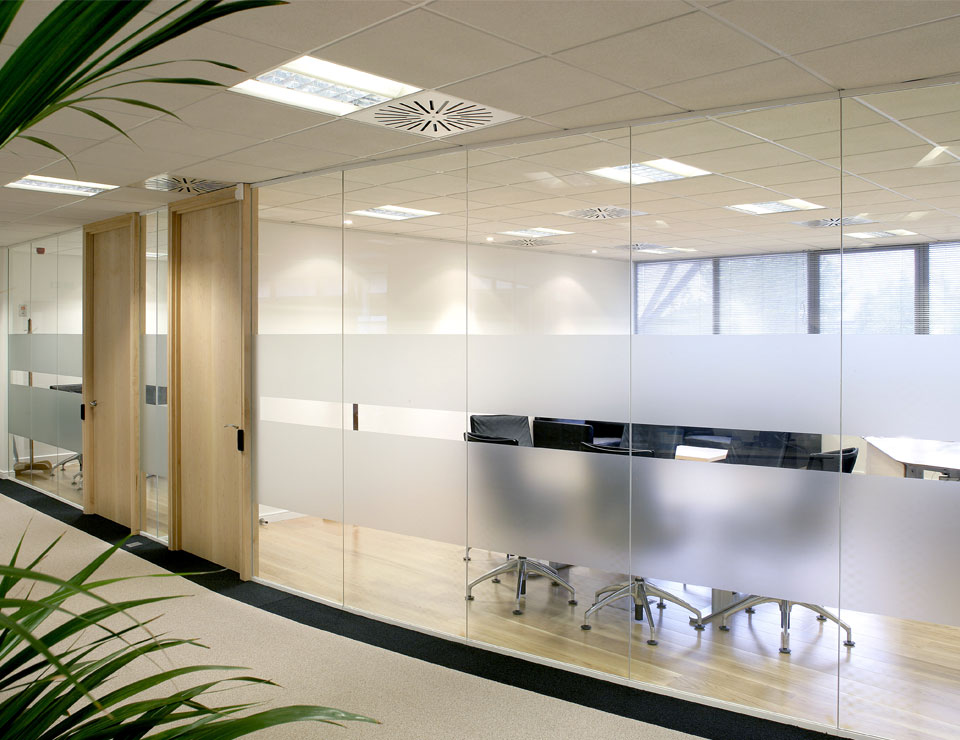 Mixing glass office partitions and wood doors increase interest in the design by utilizing different textures. The frosted glass in this design adds a third texture that serves to enhance the design while also creating additional privacy for those in the room.
No matter what style or design, there is a modern office partition system that will fit the needs of your company. Avanti Systems can assist you in the design of a modern office that utilizes glass partition systems to increase focus, productivity, and aesthetic value of the office.
Other Partitions Resources