Glass partitioning systems can be used as freestanding wall systems with open entryways, but adding partition doors can turn glass wall systems into a complete room. Utilizing door partitions can increase the levels of privacy and noise reduction while adding an aesthetic touch to an office design.
Avanti Systems offers a wide variety of partition doors that, when paired with a glass partitioning system, can complete the space.
Pivot Frameless Swing Door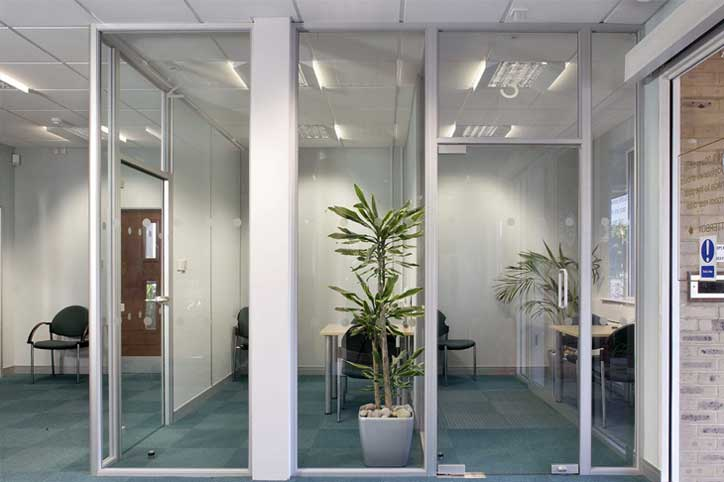 A completely customizable door partition, the Pivot Frameless Glass Swing Door offers compatibility with every Avanti Systems partitioning system as well as with solid traditional walls. This luxury glass door solution can be free swing or self-closing and can be integrated with a straight or curved configuration. If the entry is too wide for a single door, this door partition can be installed (as a pair) to accommodate the wider entry.
A pivot partitioning door easily swings open and closed and is ideal for individual office spaces due to its quiet closure. Free of a traditional frame, this sleek option integrates seamlessly with the most modern and contemporary designs.
Hinged Framed Swing Door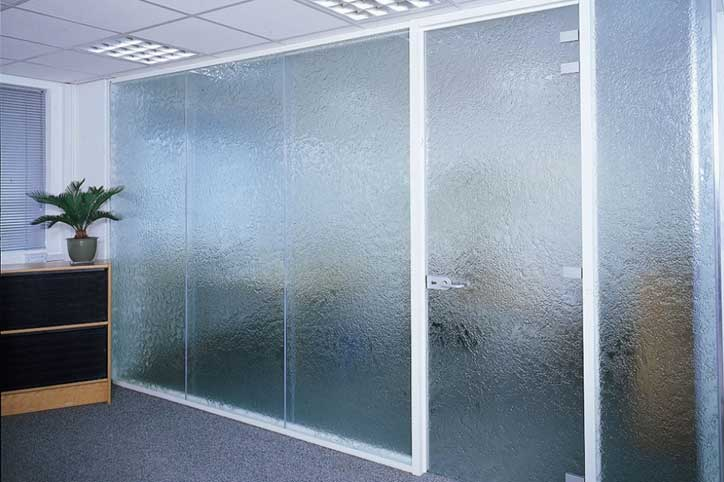 The Hinged Framed Glass Swing Door blends modern and traditional since the glass door partition is integrated into a standard door frame. The glass options include tempered, laminated, low iron, LCD glazed, clear, or patterned as in the above example.
These partition doors integrate seamlessly with a variety of glass partitioning systems as well as with traditional walls. Pairing a glass door partition with a traditional wall can have the benefit of introducing more natural light into the interior of the room while also adding a unique aesthetic touch to the design.
Acoustic Double Glazed Glass Swing Door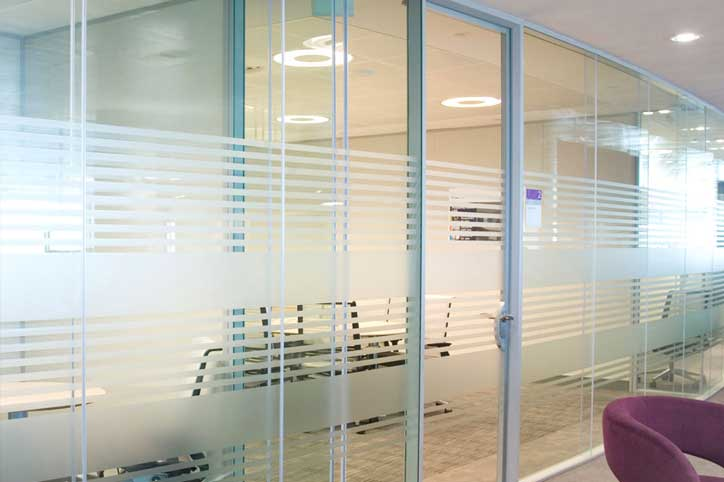 In a space where noise reduction is a top priority, the Acoustic Double Glazed Glass Swing Door is the best choice of partition doors. With an acoustic rating of up to 43dB, it will reduce the noise that can travel from one area of the office to the other. This creates the perfect space in which to conduct private meetings or create space for employees to work quietly and away from the buzz of the office.
Panic Doors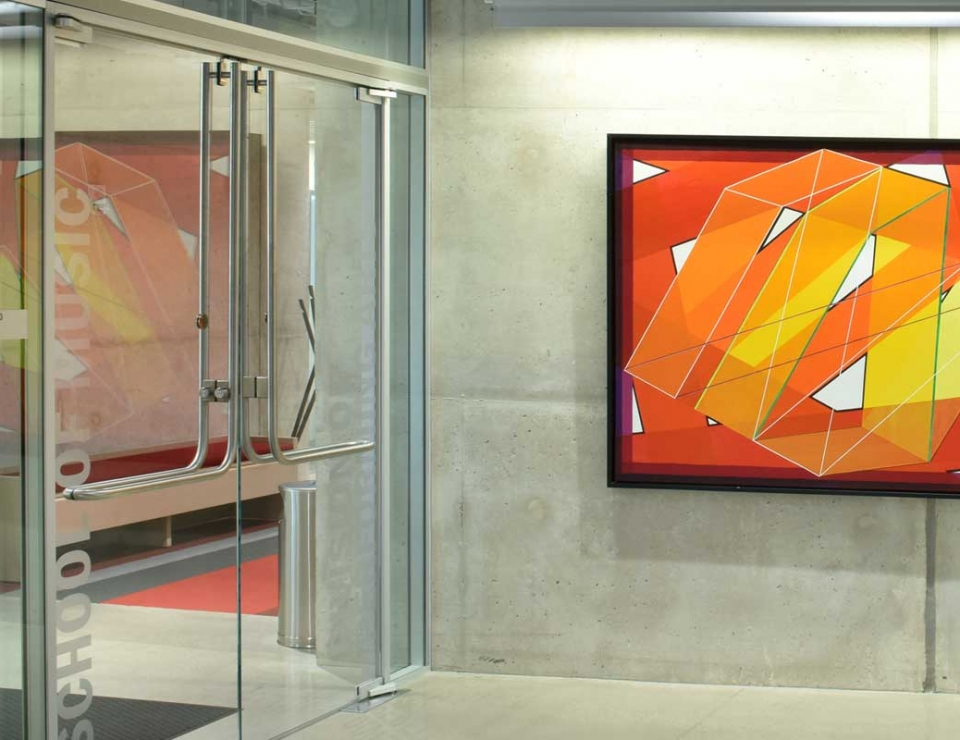 Panic Doors are specifically designed to ensure that glass doors comply with building code egress requirements. These doors provide secure locking mechanisms that are available in a variety of options, including a closing system through a side latch (rim device) or a closing system through top and bottom down bolts (pair of doors). Additionally, the locking side is reversible for single doors (rim device), providing options for configuration and installation.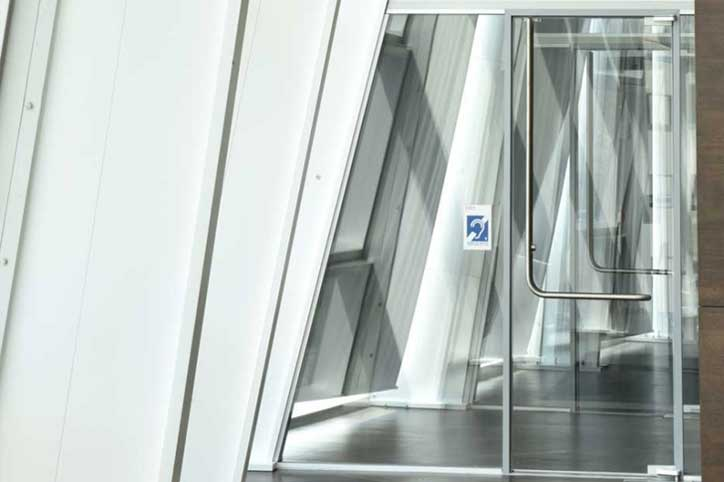 Further options include doors with no access from the exterior side, the ability to open from the exterior with a key, and the ability to open from the exterior by key and lever handle. These doors allow you to secure certain areas while leaving others open for use.
Timber Swing Doors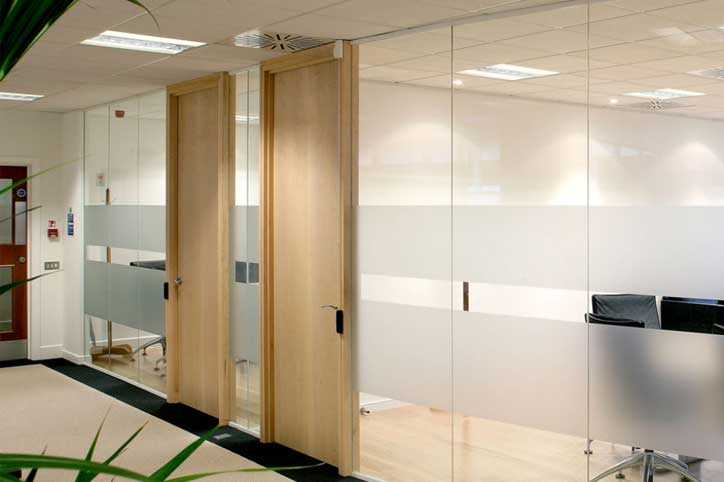 Timber Swing Doors provide an alternate style of door to contrast the glazing partitions. Additional sound insulation makes Timber Swing Doors the perfect option for conference rooms and other spaces where privacy and noise reduction is essential to productivity.
These partitioning doors also create an interesting design element and break up large expanses of glass.
Cloud™ Assisted Close Premium Sliding Glass Door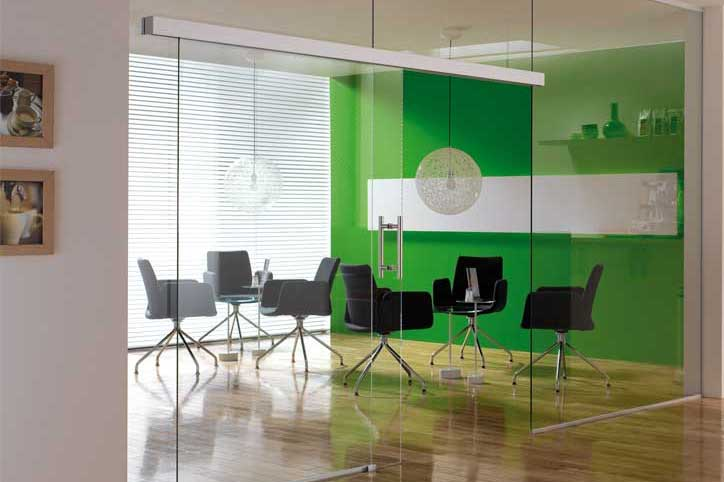 With Avanti's patented comfort stop, auto close, and exact trigger technologies, the CloudTM Assisted Close Premium Sliding Door is a premium interior sliding glass partitioning door that adds a touch of modern style to any entryway.
This door system requires minimal maintenance and is perfect for high traffic offices. These door partitions can be installed as a single or double door, depending on the width of the desired opening.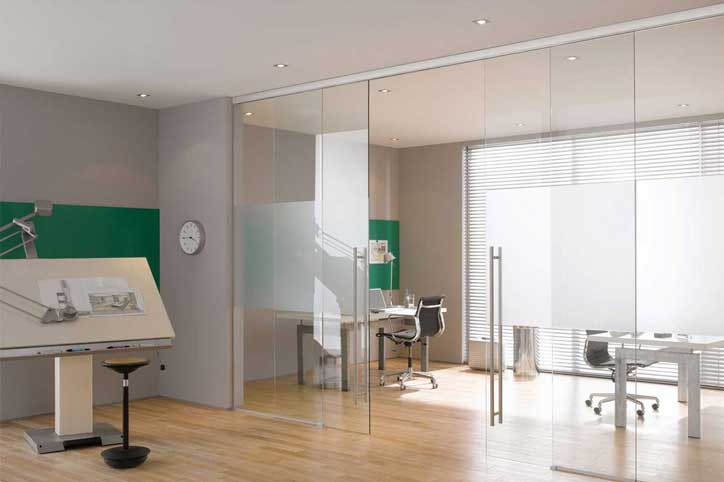 The assisted-close technology enhances traffic flow and ease of use as areas can be quickly and quietly partitioned off when necessary.
Sliding Glass Barn Doors
EclipseTM Sliding Glass Barn Doors are interior manual sliding glass doors that can be integrated into frameless and freestanding glass partitioning systems as well as a solid traditional wall. This style of partitioning door has the ability to be installed in a straight or curved configuration.
Sliding glass barn doors take advantage of the farmhouse trend that is so prevalent in today's designs and create an interesting element in the office design. Because they slide open and closed, they are the perfect option for areas that need to remain quiet for meetings or employee concentration.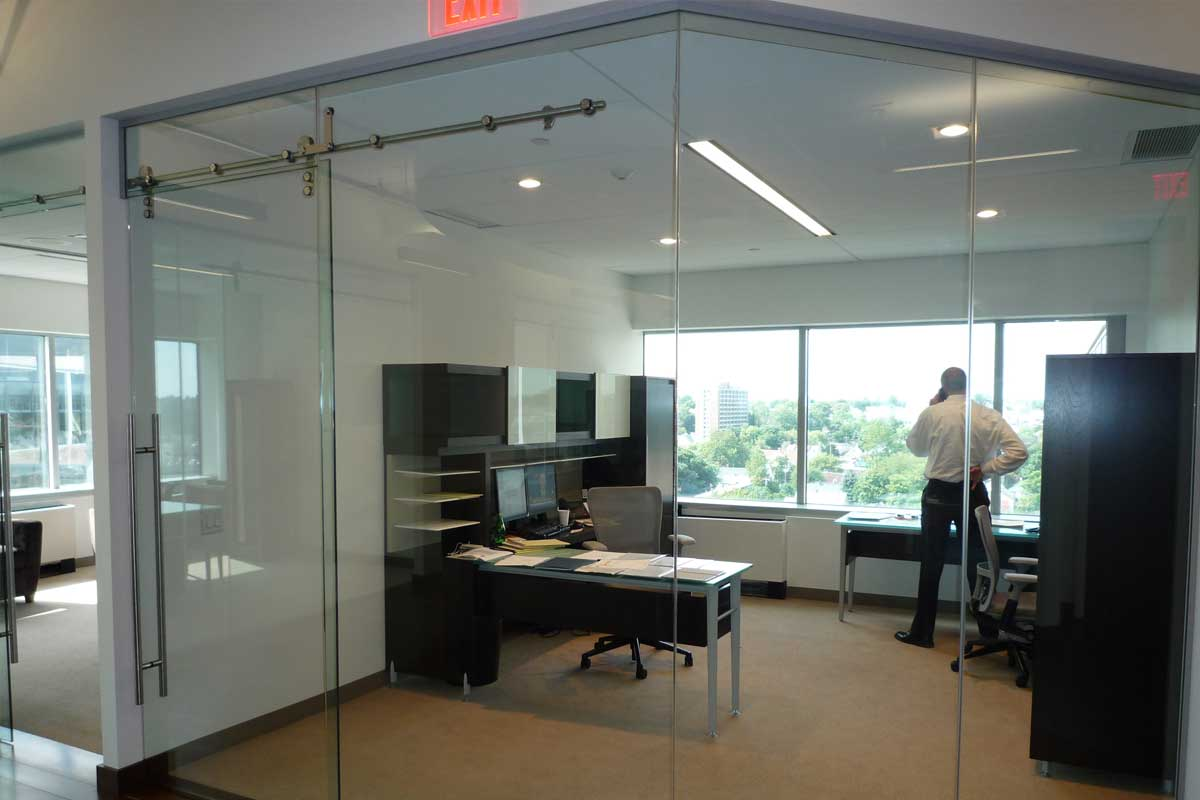 Sliding glass doors also provide a unique and contemporary option when it comes to partition doors. Their tracks add an interesting design element as well.
Glass or timber partition doors help to create designated spaces throughout an office design. Choosing the right door partition depends on the needs of the business and employees as well as additional considerations such as the need to secure the doors with locking mechanisms or noise reduction in a space.
Regardless of the needs of your business, Avanti Systems will work with you to create the glass partitioning system and door partitions that will create the most efficient and productive workplace possible.
---
Other Partitions Resources
---
Other Doors Resources